When it comes to holiday shopping, it's all about the deals. The good news for shoppers is that those deals are being offered earlier and earlier, making Black Friday more of a month-long event than a single-day sprint. As we head into the busy shopping weekend, we took a look at holiday shopping online. We checked out search trends on Google, insights from Google Consumer Surveys and the top trending purchases on our same-day delivery service, Google Express. Mobile stands out, with nearly 50% of 25-34-year-olds using their phone to shop online while standing in line at a store. That's just one of the interesting trends we uncovered.
With more and more retailers offering holiday deals earlier in the season, the excitement about Black Friday is no longer confined to a single day. Now it's more like a month-long event. As a result, one in five shoppers plan to head to stores on Thanksgiving Day to capitalize on Black Friday deals.1
To get a read on the trends heading into Black Friday, we took the temperature of holiday shopping online. We looked at search trends on Google, insights from Google Consumer Surveys and top trending purchases on our same-day delivery service, Google Express.
Mobile shoppers are out in force
As smartphone shoppers hunt for deals during snackable moments throughout their day, this holiday season will likely be the most mobile ever. Shopping searches on Google coming from smartphones have increased 3.5x year over year and continue to grow.2 And we're currently sending more mobile traffic to retailers per week from Google Shopping than we did during the peak of last holiday season.3
The smartphone has become the most powerful shopping assistant while consumers are out and about, helping us read customer reviews, watch product demos and find other retailers with product in stock nearby. So it's no surprise that the top spending days in 2013 for in-store sales are also the days we saw the biggest spikes in shopping searches on mobile devices.4
This coming weekend, expect to see many of your fellow shoppers checking for deals on their smartphone while braving the lines and crowds at the mall. Nearly 50% of 25-34-year-olds use their phone to shop online while standing in line at a store.5 To help these shoppers research products more easily this holiday weekend, we rolled out new mobile features to Google Shopping such as 360-degree imagery and more detailed product information.
Top trending gifts of the season
To get a sense of the hottest gifts likely to sell out this season, we used Google Trends to identify the top trending toys, devices and apparel searches on Google Shopping.
Game consoles and tablets continue to be the top gifts trending on Google Shopping, but wearable technology such as the "fitbit" is also on the rise this month.
Certain retro toys are making a comeback this season. Thanks to the new movie "Ouija," searches for "Ouija boards" are up 300% since October. And queries for "Barbie Dream House" and "My Little Pony" are up as well compared to last month.6
Cold-weather staples, such as "Hunter boots" and "Canada Goose jackets," are among the most popular apparel searches, up 46% and 140%, respectively, since October. But "jogger pants" are the newcomer gift this season, up 39% from October.7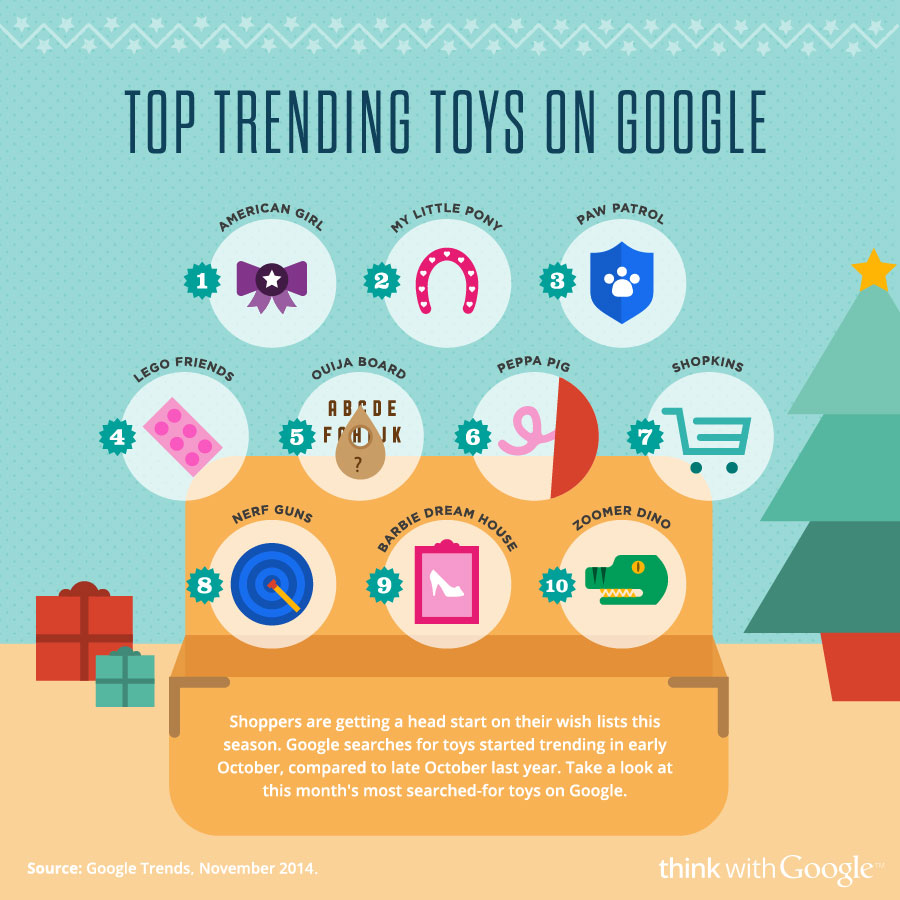 Hunting for deals online
Shoppers are already prepping for Black Friday shopping by researching purchases and deals online. We found that 27% of shoppers have already begun hunting for Black Friday deals online.8
Black Friday searches are trending the highest in the following places:
Westland, MI
Augusta, GA
Louisville, KY
Nashville, TN
Omaha, NE
Source: Google Trends, November 2014.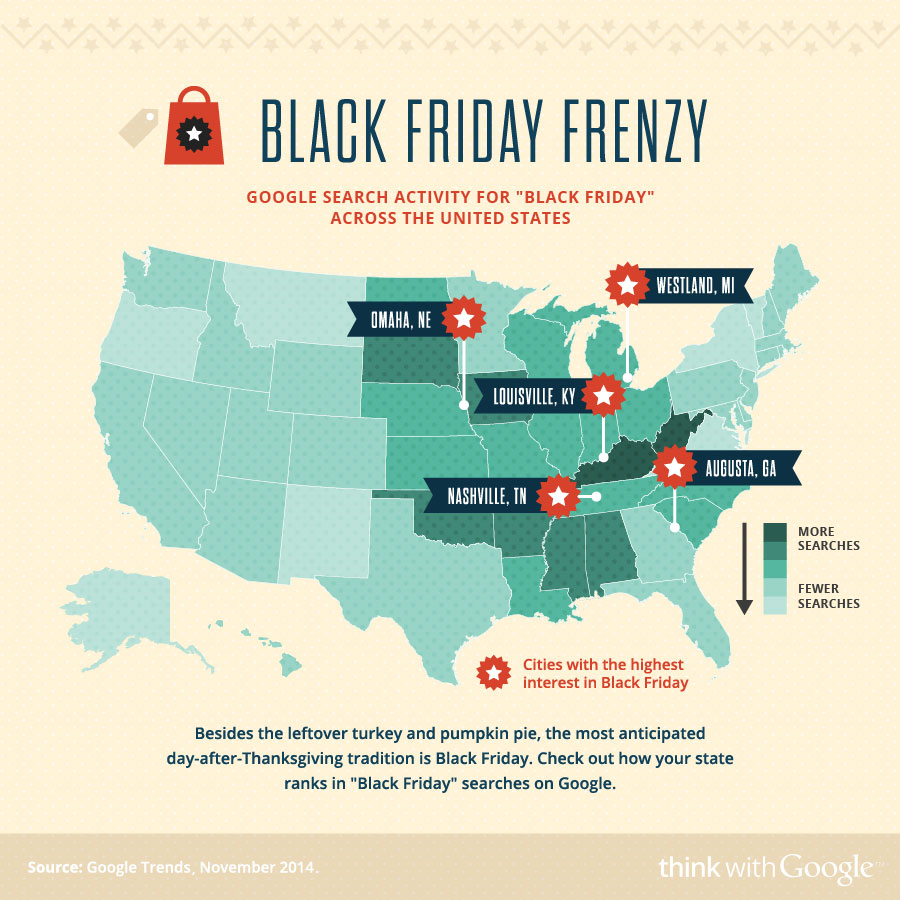 The top questions people are asking about Black Friday on Google Search are:
What time do stores open on Black Friday
What time does Black Friday start
When does Black Friday end
What to buy on Black Friday
Source: Google data, November 2014.
Beating the holiday rush with same-day delivery
We wanted to take the pulse of the people making purchases this weekend as they prepare for the Thanksgiving festivities. Here's an overview of the top trending purchases on Google Express across locations.9
San Francisco: No gingerbread cookies here. San Franciscans are seeking a nutritious holiday with lots of bananas, avocado, coconut water and quinoa. And talk about eating clean: Disinfecting wipes are also among top shoppers' searches.
West LA: The City of Angels is ready to party. Disposable silverware, plastic cups, paper plates, tortilla chips and garbage bags are all they need for hassle-free entertaining.
Manhattan: New Yorkers start off the day right with cereal, almond milk and—why not?—butter croissants. After a long day, residents relax with snacks such as mini pretzels and almonds.
Boston: Bring your appetite to Boston parties. Salty treats such as maple bacon chips, green pea crisps and peanuts top shopping lists. The city also buys more ketchup and popcorn than any other city.
Chicago: Baby boom. Chicago households are stocking up for tots this winter with lots of baby wipes and goodies such as chocolate and sparkling juice. To ward off sniffles, Chicago is loading up on vitamin C and orange juice.
Washington, D.C.: The capital is stocking up on healthy bites such as whole wheat crackers, fruit snacks and diet soda to wash it down.
To learn more about digital trends and how they're affecting holiday shopping, visit ThinkwithGoogle.