As the year draws to a close, we take a look at travel trends in 2016, going beyond destination searches to understand how travelers booked and what they looked for when researching the ideal holiday. The results showcased some interesting facts…
The MENA traveller is becoming more adventurous. Amusement parks are a big draw locally and internationally. Business travellers generate a higher share of tourism revenue for some countries in the GCC. We have seen increased searches from MENA leisure travellers for Iceland, Azerbaijan and the Maldives. And while searching for travel on mobile may be old news, roughly 25% of travel bookings in UAE and KSA are now on mobile. Find out more in the 2016 travel review! 
Shake it Up
2016 has been a year of political shakeups that have impacted global travel. There is also curiosity about new destinations, such as Iran, that are just beginning to open up.
What has this meant for tourism into and from the Middle East, and what can we expect in 2017?
The GCC remains a stable tourism destination
Tourist arrivals in Egypt dropped by 20% in 2016 and by 5% in Turkey. On the other hand, arrivals to the GCC countries have grown by 7% in the same period.
Search activity reflected a similar trend. Searches for Egypt as a tourism destination dropped by 26% yoy while Turkey remained flat. Interest in GCC grew 4%.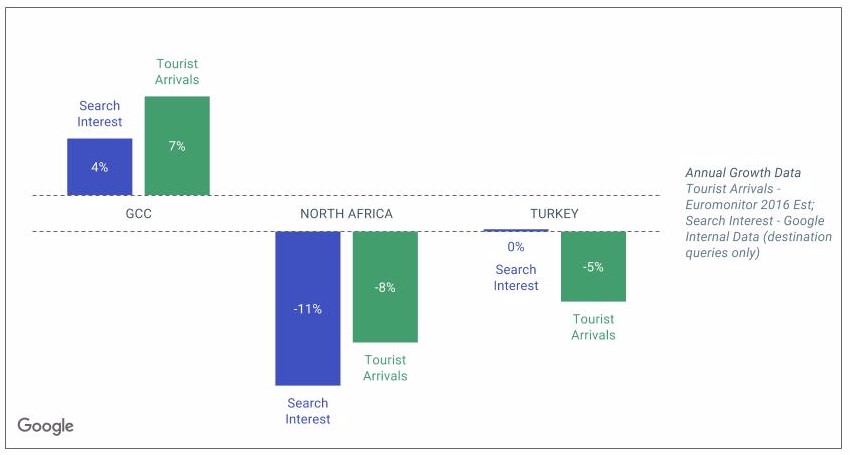 2017 should see sustained momentum for the GCC at least. The region continues to court international visitors with the opening of the Louvre Abu Dhabi. the Expo 2020 in Dubai and the FIFA 2022 World Cup in Qatar. Being home to three world class international airlines (Emirates, Etihad and Qatar Airways) should further help brand awareness. 
Good news on the horizon - Travelers Ahoy!
Search interest in the UAE as a destination saw a resurgence from Russia in 2016. Interest in tourist activities increased by 10% after a flat 2015; searches for hotels and air travel grew 26% after negative double digit trends in 2014 and 2015.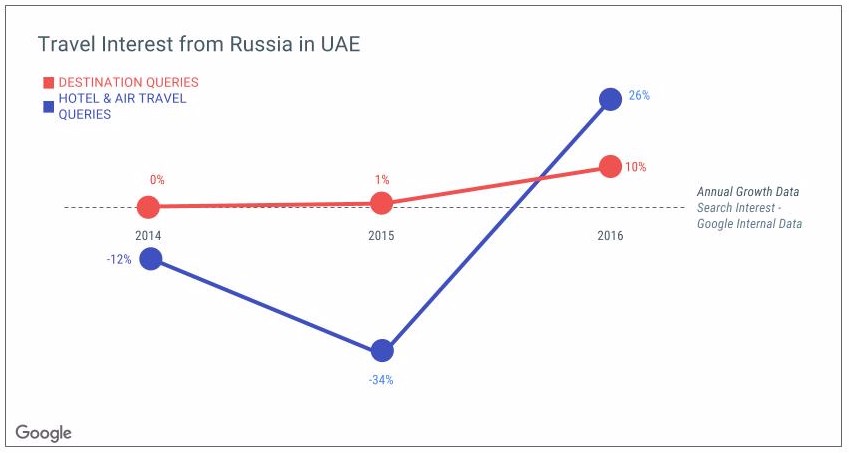 This could bode well for the UAE travel industry in 2017. Other markets that have amped up search activity for the UAE include Japan, Ukraine, Taiwan and Nigeria.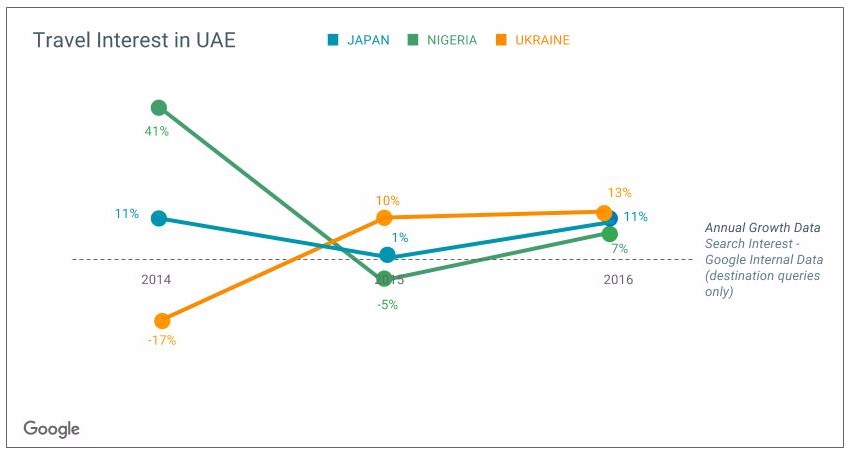 Business travel remains an important driver of tourism revenue.
According to Euromonitor, Bahrain, Oman and Kuwait together derived 2.4X times the revenue from the average business traveler as compared to the leisure traveler. More developed tourism markets such as the UAE and Turkey saw a proportionate contribution to revenue from business and leisure travelers. Bahrain in particular is amping up its efforts to draw in more MICE-related travel, and continues to be on our watch list for 2017.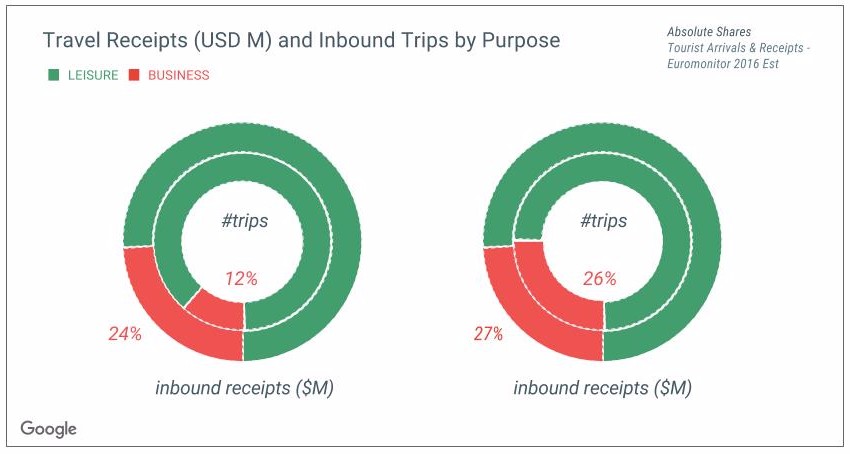 The outbound MENA traveler is getting adventurous.
UK and India remain prime destinations for the outbound GCC traveler. France is high on the list for North African travelers. This trend is largely explained by large expatriate populations who travel home regularly and visit friends and family.
But 2016 also revealed a more fun side to the MENA traveler!
MENA saw a spike in interest for more exotic locations such as Iceland and Azerbaijan. The Olympics sparked a flurry of interest in travel to Brazil. Connectivity matters as well - Georgia and Azerbaijan have benefitted from relatively cheap short haul flights from the Middle East.
We found that the outbound MENA traveler was particularly interested in theme parks and island destinations.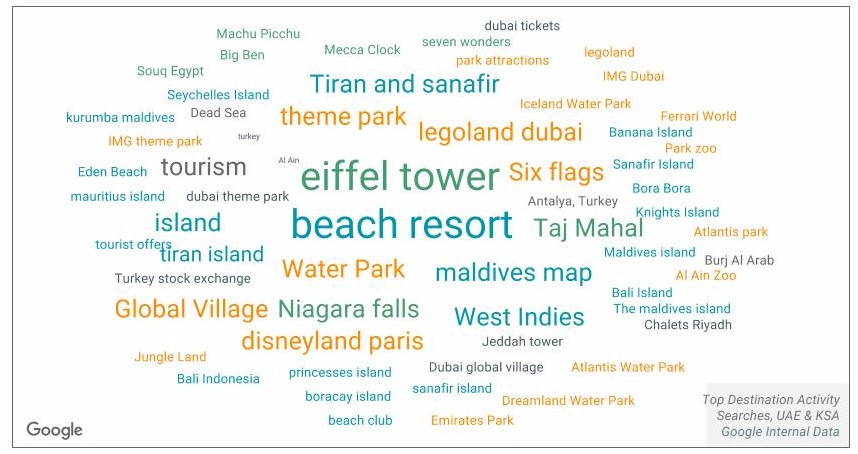 According to Euromonitor, 40% of outbound GCC travelers are aged 15-34 and 60% of North African travelers fall into that age bracket. These millennials are looking for more than just museums and shopping. We saw increased interest in adventure sports, safaris, walking tours and people looking to understand more about eco tourism.
Booking on Mobile
Research on mobile is old news. But our most recent research shows that bookings on mobile have now reached critical mass. Saudi Arabia booked 25% of leisure hotels and 37% of flights on mobile. UAE was just behind at 21% and 26%, respectively.
We often get questions on app versus a mobile site, and our latest research found that roughly 70% of travel bookers in the region used both, with a slight preference for m-sites.
Bringing it all together…
If you're thinking about drawing more tourists from the MENA region, engage them in conversations around unique travel experiences. The region is extremely active on video platforms, and searches heavily on mobile - your presence on these modes of communication is a great start.
The same rules apply for local engagement (hello, theme parks!). Additionally, airlines should pay special attention to growing mobile bookings. You will never have the perfect mobile app or site - so launch and iterate!
Happy travels!