For marketers, achieving brand awareness has long been the overriding goal for many campaigns. And understandably so. Once consumers know about your product, the hard work is done. Right?
Not any more. A recent study by Kantar1 shows that while consumers may be aware of many different retailers, they actually end up buying from just a select few. And while store awareness levels might vary by category, the number of stores shoppers actually buy from stays fairly constant.
Take Germany, for example. Consumers there know 16 online stores on average, while shoppers in Spain are aware of 13, and Italians can recall 10. Yet in each of these countries, consumers typically buy from only 3 stores.
In other words, establishing your brand in people's minds doesn't necessarily mean they'll end up buying from you.
What should brands do next?
Achieving brand awareness is still important, of course, but it's not guaranteed to generate conversions.
In Norway, Denmark, and Sweden, 69% of shoppers say they're extremely satisfied with the shops they buy from (in-line with EMEA average). Yet in those same countries, just 44% claim to have a strong preference for using any of these stores – suggesting that preference is harder to achieve than satisfaction. In the Czech Republic, it's 39%. Shoppers in Spain and Turkey also have a strong preference (10 percentage points above EMEA average) — whereas Germany, France, and the Netherlands are bang on average, at 53%.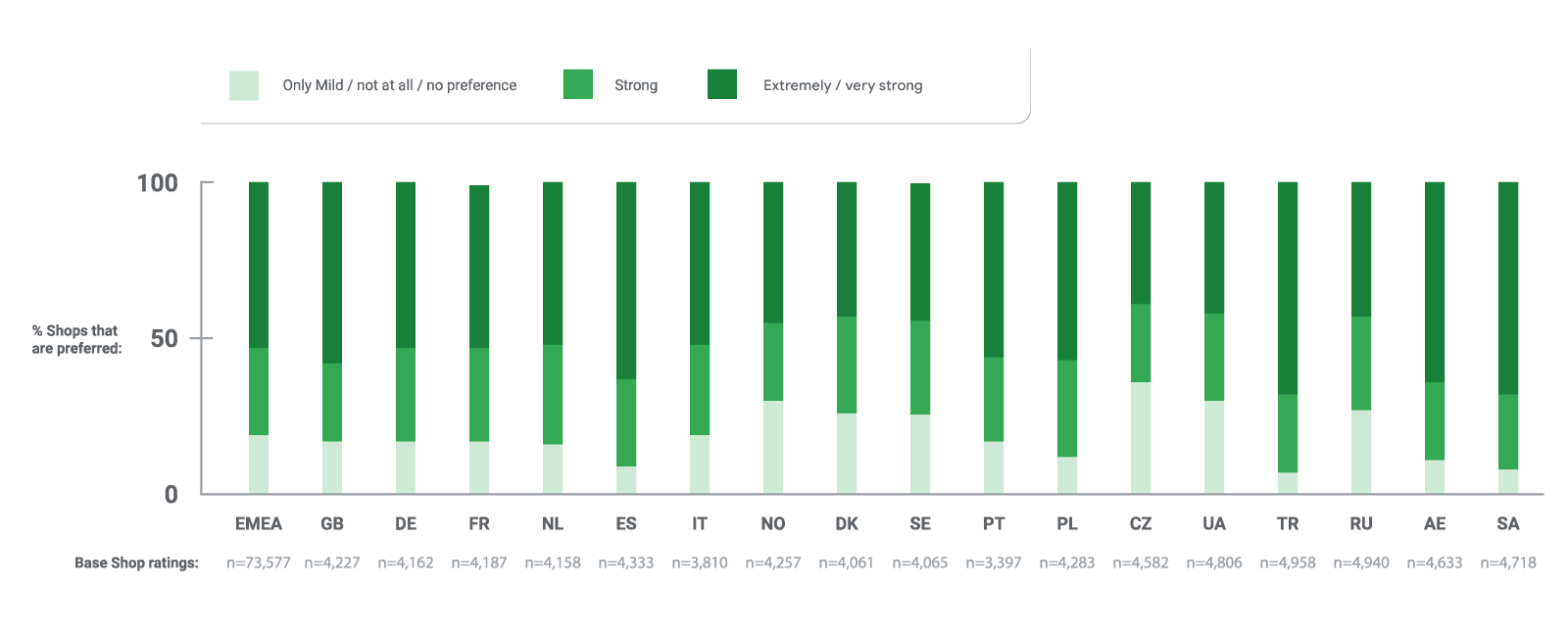 Therefore, rather than focusing solely on raising brand awareness, brands must also invest in achieving other goals like improving acquisitions, refining the customer experience, and driving better customer retention.
Focus on the consumer
Improving the overall customer experience will ultimately help drive recommendations and referrals. To do this, brands must have an in-depth understanding of their customers.
Aside from running your own research and user testing, a good place to start is by looking at some typical qualities shown by EMEA's online shoppers.
1. They're curious
In the UK, Germany, and Turkey especially, users value a wide range of products to choose from, while the priority for Italian shoppers is ease of search and navigation. The ability to configure products is also highly prized, particularly in the fashion, furniture, and home decor sectors.
2. They're demanding
Secure payments are also a top priority for many shoppers in France, Italy, and Spain — while in Germany, Poland, and the UK, they like seeing clearly displayed prices (notably so in the UK, which scored 11 percentage points above EMEA average for this requirement).
Personalisation is also a big deal for online shoppers. For example, content and support that's tailored to their individual buying habits and purchases — and also loyalty reward schemes that are geared towards them.
3. They're in a hurry
Fast load times, a speedy checkout process, and easy access to product availability are high priorities for EMEA's shoppers — and potentially a rich area of opportunity for marketers.
Ensuring the purchased product arrives quickly and in one piece is always important, too — particularly in Germany, where the value placed on being able to track delivery increased from 48% in 2018 to 52% in 2019.
A smoother journey to conversion
While there is still much that brands can do to improve their customer experience, the state of online stores — and consumer perceptions of them — is mainly positive.
Right now, brands should focus their efforts on improving loyalty, delivering seamless navigation, and creating shopping experiences that are second to none. Because at the end of the day, brand awareness is just the beginning.