In Part 1 of our Ecommerce Series, we talked about why the fourth quarter presents the biggest online shopping opportunity of the year for brands and how advertisers can use specific data to build attractive campaigns. Now, let's delve into how you can leverage the data and insights to push awareness into consideration and ultimately have a consumer buy your product or service.
Let's begin with the three main stages of a typical marketing funnel, then make suggestions of one way to look at a product mix and achieve objectives at each stage.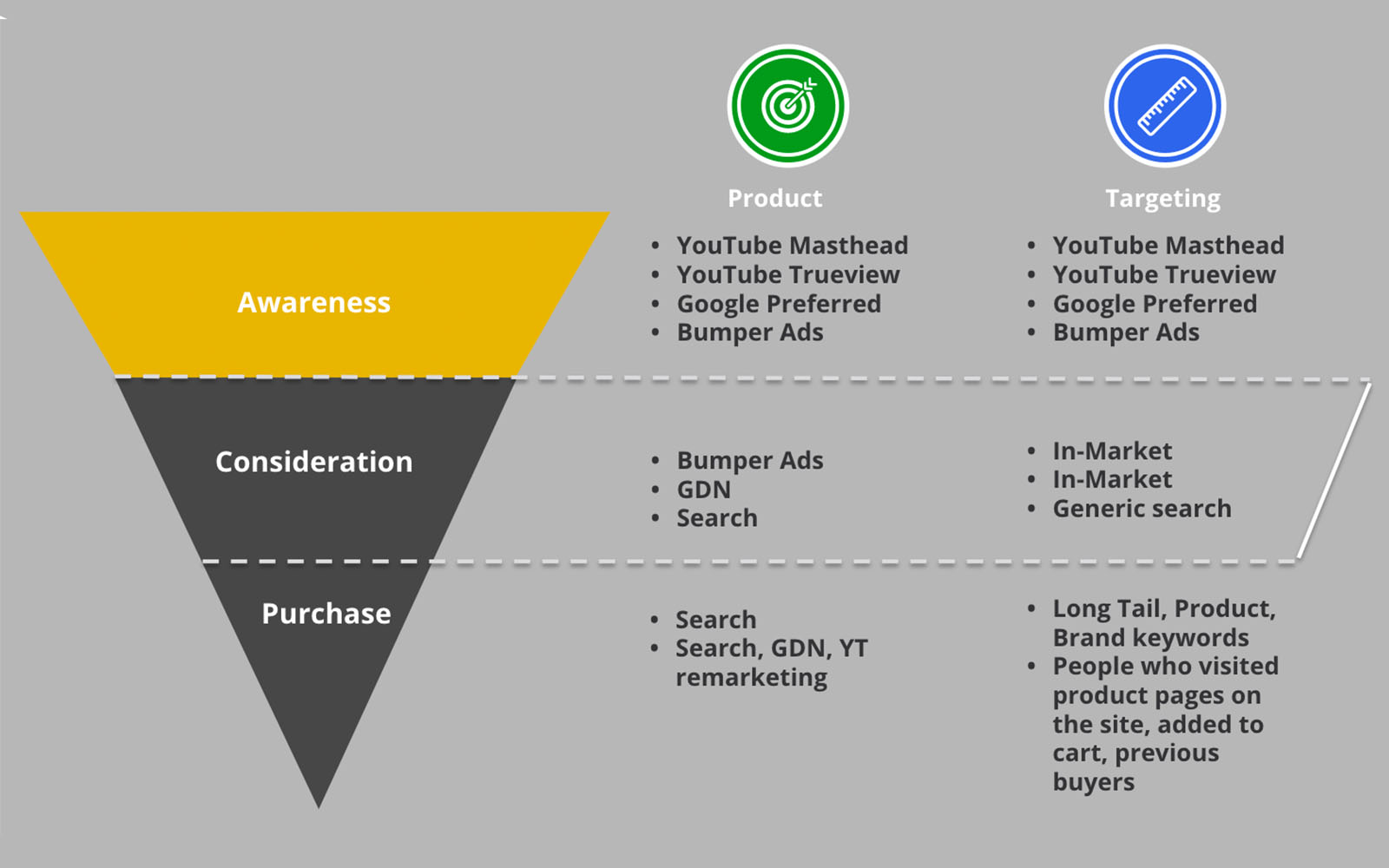 1. Awareness: Pre-launch
The first order of business is to decide on the length of the event - are you raising awareness for a single day event, such as Black or White Friday, where you go through all these stages quickly in the week leading up to it? Or is it a more gradual build up for two weeks of holiday shopping at the end of the year? Awareness is about letting people know that there is an announcement in the most timely manner. Whether it's a new fashion collection, a new offer or new phone launch, this is the time to let them know that the product they are interested in is online and available for purchase. The key is to stand out with messaging and the type of offering.
In fact, in 2016, "White Friday" related queries started rising as early as one month before and there was a 9X increase in searches for "White Friday" during the 14 Days leading up to the sale day in 2016 vs 2015. So people are increasingly aware of these events and start researching earlier each year, according to Google data.
At the awareness stage, people are looking for inspiration. Let's say a fashionista is looking for inspiration of what to wear for the holiday season. At this stage, this consumer may look at videos about "fashion trends" or "runway highlights". In fact, during Q4 last year, YouTube watch-time in Saudi Arabia and the United Arab Emirates doubled for fashion and beauty content, and tripled for content about consumer electronics compared to the previous year. More than a third of all content watched during the year in these categories is consumed in Q4 only, according to Google data.
More than a third of YouTube goes beyond a static image: content on YouTube is experiential and voyeuristic in a way that lends itself to powerful emotional storytelling that resonates deeply with audiences.
True, there's a lot of content on YouTube, so how do you help direct a consumer to what they may be interested in? This is where affinity marketing comes in.
Here's an example of how a brand or advertiser can activate this:
Starting with a YouTube Masthead lets people know about a key event. An advertiser can then follow up with TrueView ads to seed interest, pushing the message from the brand to different affinity segments.  With Affinity audiences, you can reach audiences based on a holistic picture of their lifestyles, interests and needs while achieving TV-like scale. Google's best-in-class algorithm distinguishes these users that are truly passionate about a topic vs. those that are merely interested.
Another way to build brand affinity with a specific audience is by leveraging Google Preferred. This is a premium YouTube ad format optimized to serve on content that consumers are most engaged with. It is ideally suited to building fast awareness and can be coupled with TrueView products.
Bumper ads, or short 6 second ads that roll before a YouTube video, are also very effective at this stage. Internal Google data shows a pick up in bumper ads recently; a global survey of 300 bumper ads between Jan - Sept 2016 found that 9 out of 10 drove a significant lift in ad recall. This they are straight to the point highlighting a single piece of information: that an event is happening, a new offer etc.
You can always play with targeting and messaging to use any of these products that are more tailor made to your needs. Bumper ads can also be used across all stages if that suits you best.
2. Consideration: Seriously Thinking of Buying
This stage is when a consumer is in-market and seriously thinking about buying a product or service. There's an intent to purchase at this point and new factors come into play for the consumer, such as price, location, detailed reviews, comparison shopping, availability of product in stock. This means they will go to search to look into these factors, or go to YouTube, where consumption of shopping related video content on YouTube in Saudi Arabia and the United Arab Emirates in 2016 was 3 times that of 2015, growing steadily each year, according to Google data.
How to activate this:
Ensure a strong presence on search. For example, someone who searches on Google search for "Dubai smartphones" is viewed as someone who is in a consideration phase. It doesn't have to be a specific brand or model. At this point, looking for a product in Dubai means they likely have an intent to purchase.
In-market audiences is a way to connect with consumers who are actively researching or comparing products and services across Google Display Network publisher and partner sites and YouTube. To qualify someone as being in-market for a specific product or service, Google takes into account clicks on related ads and subsequent conversions, along with the content of the sites and pages they visit and the recency and frequency of the visits.
In this way, Google accurately categorizes users so you can target those most interested in your offerings.  In-market audiences can drive incremental conversions, helping you to connect with consumers as the last step before they make a purchase decision. Google Display Campaigns can help you leverage real-time data and a powerful classification system based on demonstrated in-market behavior. At this stage, you would customize the display banners to reflect your specific category or product offer so people who are in-market can related to it and get to your site to explore it further.
Bumper ads are also very useful at this stage. You can adapt the content of the bumper ad to specific categories. For example, if a consumer is looking for home improvement and a brand has great offers in this category, you can get the message through to them in this short and sweet format at the right time. Bumper ads can be super specific, centered on a product or category. In the same global study mentioned above, 6 in 10 Bumper ads drove a lift in Brand Awareness with an average lift of 9%1.
3. Sales
At this point, the customer is ready to make an online purchase.
Search is key here: you need to make sure to be prominent on search related to the brand and the type of product. If you're in the UAE, you must have full shopping coverage and ensure that shopping campaigns are up to date and optimized.
Many customers go online for part of their purchase journey, if not all. For example, they may do all their research online, then go to a store in the mall to make a purchase based on an informed decision. Or they may browse through stored before buying a product online, which can often be the case when online products are competitively priced.  In fact, 50% of consumers in Saudi Arabia and 35% in UAE conduct online product research before completing a purchase, according to Consumer Barometer 2016.
Make sure that you don't forget to bid on mobile because people use this device to convert a lot - whether to purchase online or find directions to a store. If that's the case, ensure you have location extension (opening hours, location etc) linking your store to an ad on search. This is how you drive footfall to the store as well. Mobile represented 46% of queries at the start of 2014, however in Q4 2015 it represented 60% and in Q4 2016 it represented 63% with an upward trend. This suggests that mobile's share of shopping queries is only going to rise in Q4 of this year.
Lastly, leverage remarketing solutions to encourage people who visited the site, but didn't make a purchase. This is when you can convince them to buy. They've gone through the awareness and consideration phases. You can also use remarketing tools for repeat customers, to cross sell products, or introduce them to new things that they are likely to be interested in. This is available in YouTube, in search and on YouTube shopping ads.
There are moments when you need a greater degree of influence while consumers are in a purchase mindset, and for those moments you can use the power of video, sight, sound, and motion. TrueView for shopping - currently launched in the UAE in MENA - is an effective way to add product details and shopping links to your video content.
Stay tuned for the next installment of our e-commerce series that focuses on performance and KPI's across the different stages of the funnel in order to properly measure success.
Happy online shopping!