In a world that is moving away from 'mostly offline and sometimes online' desktop to 'always online' mobile, brand recognition is more important than ever. People are searching for information differently: a growing part of search now concerns immediate needs, like restaurants open at 3 AM, the nearest ATM, directions to a friend's apartment, or hotel availability for the coming weekend.
What implications does this need for immediate gratification have for travel suppliers?
When they advertise, airlines, hotels, and destination marketing organizations are essentially starting 'conversations' with potential travelers. The more informed and proactive their side of this conversation, the higher the chances of a potential traveler becoming a confirmed customer.
Peak travel season is about to kick off in the UAE, where six markets account for more than 60% of inbound travel search queries: UAE, India, Great Britain, USA, Germany, and Saudi Arabia.
Each of these markets has a unique need in terms of information sought. For example, >40% of travel query volume from the UK concerns hotels while German travelers are more likely to search for general information on the UAE. Indian travelers on the other hand are more interested in specific activities and points of interest.
Understanding these nuances can give travel suppliers incredible insight into customer preferences and help them make the most of the aforesaid conversations.
Here are four questions to check if you're equipped to win your customer this holiday season.
Are you on the right device?
Mobile usage is growing but some markets are further along the curve than others. So, while desktop search may still capture the lion's share of volume in Germany at 70%, not focusing on mobile leads you to miss out on the 60% of travel search volume coming from Saudi Arabia.
Queries for travel to the UAE on mobile devices grew 66% in just the last year. While desktop search may still capture the lion's share of volume in Germany (70%), not focusing on mobile means you miss out on the 60% of travel search volume coming from Saudi Arabia.
Mobile presence becomes even more important when you think of markets such as India where large segments of the population access the internet only on mobile devices.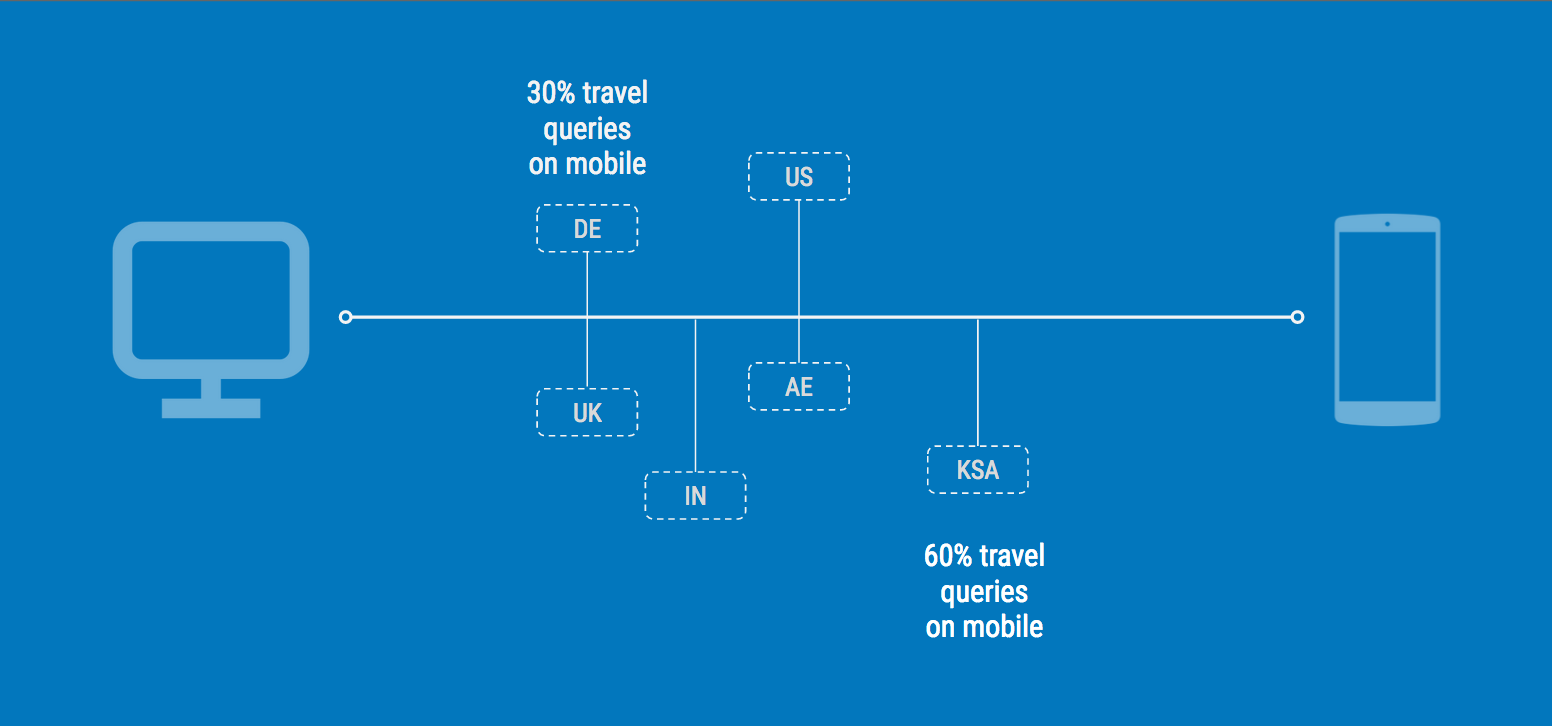 Are you speaking the right language?
As search becomes more personal, people have started to think and act in different languages, based on their device and the need at hand.
Let's take the example of Saudi Arabia and UAE markets when they search for travel to or within the UAE. A significantly higher number of queries (65%) are generated in Arabic in Saudi Arabia, and this number is even higher on mobile devices (75%). There are also nuances by category, with people more likely to search for hotels in Arabic (21%) than for airlines (10%).
We see people starting to search for generic travel information on their mobile devices, often using a language that they are more comfortable with. As they start to firm in on decisions and to compare travel products, they shift to desktop and use the English language more often. This is still an emerging trend but may have important implications for that traveller conversation in the months to come.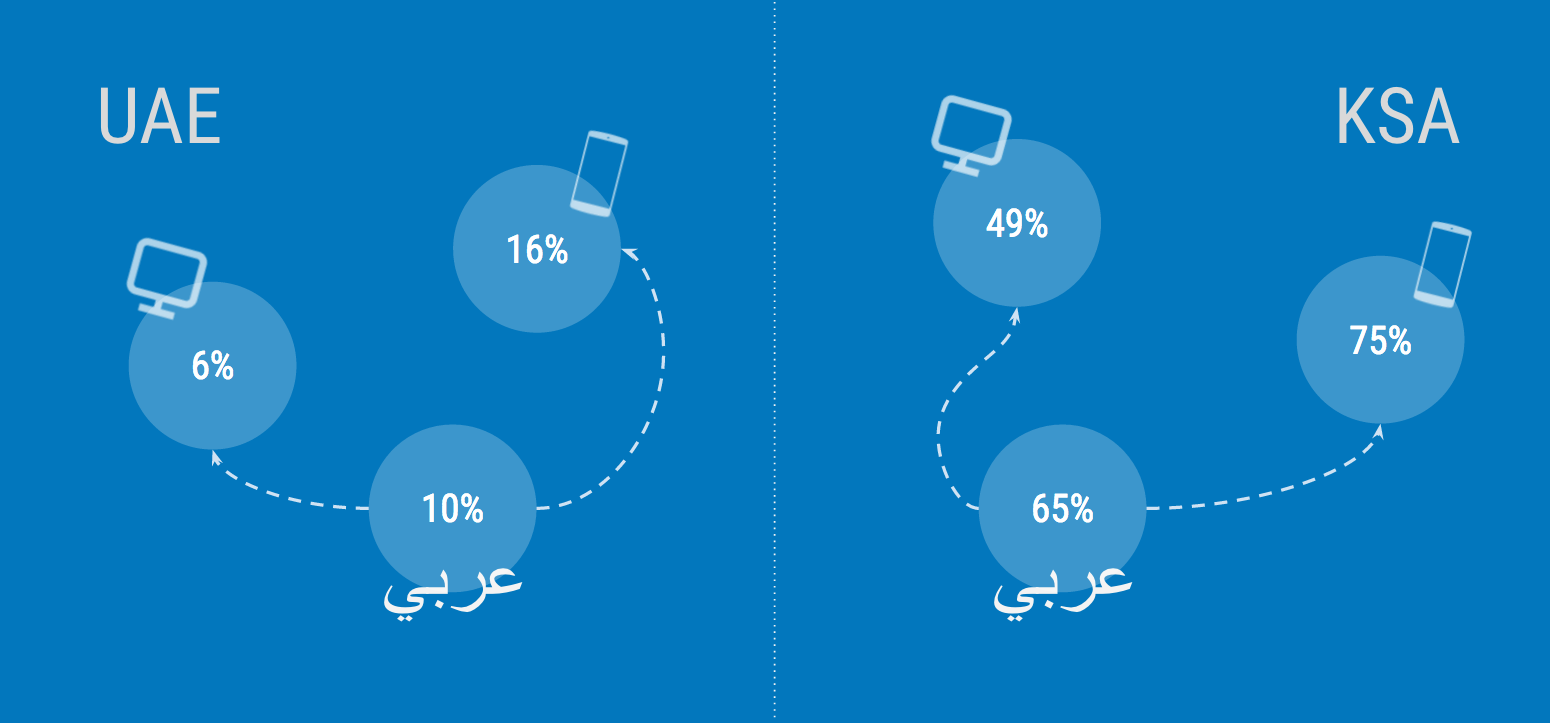 Are you engaging at the right time?
In general, travel search activity is higher during the work week; late night searches peak on the last day of the weekend; mobile searches rise during the weekend. But there are some interesting differences between key feeder markets that search for travel to the UAE (and in general).
India searches most for travel on Tuesdays - both on desktop and mobile. Desktop search is highest during the week - specifically between 2 PM and 4 PM. Mobile search, on the other hand, peaks between 9 PM and 10 PM. In India's case, mobile activity does not change significantly during the week, and desktop falls only by 15-20% on the weekend.
This is quite different from the more local and hotel-focused searches in the UAE where desktop plummets by >50% and mobile searches increase by 15-20%. Peak travel search time for the UAE is on Sundays, between 11 AM and 1 PM; mobile search is highest on Fridays between 2 PM and 4 PM.
The American traveler to UAE prefers searching more for travel on Saturday but in the afternoons between 3 and 5 PM. Desktop searches peak between 11 AM and 1 PM on Tuesdays (similar to India) and decrease significantly on weekends.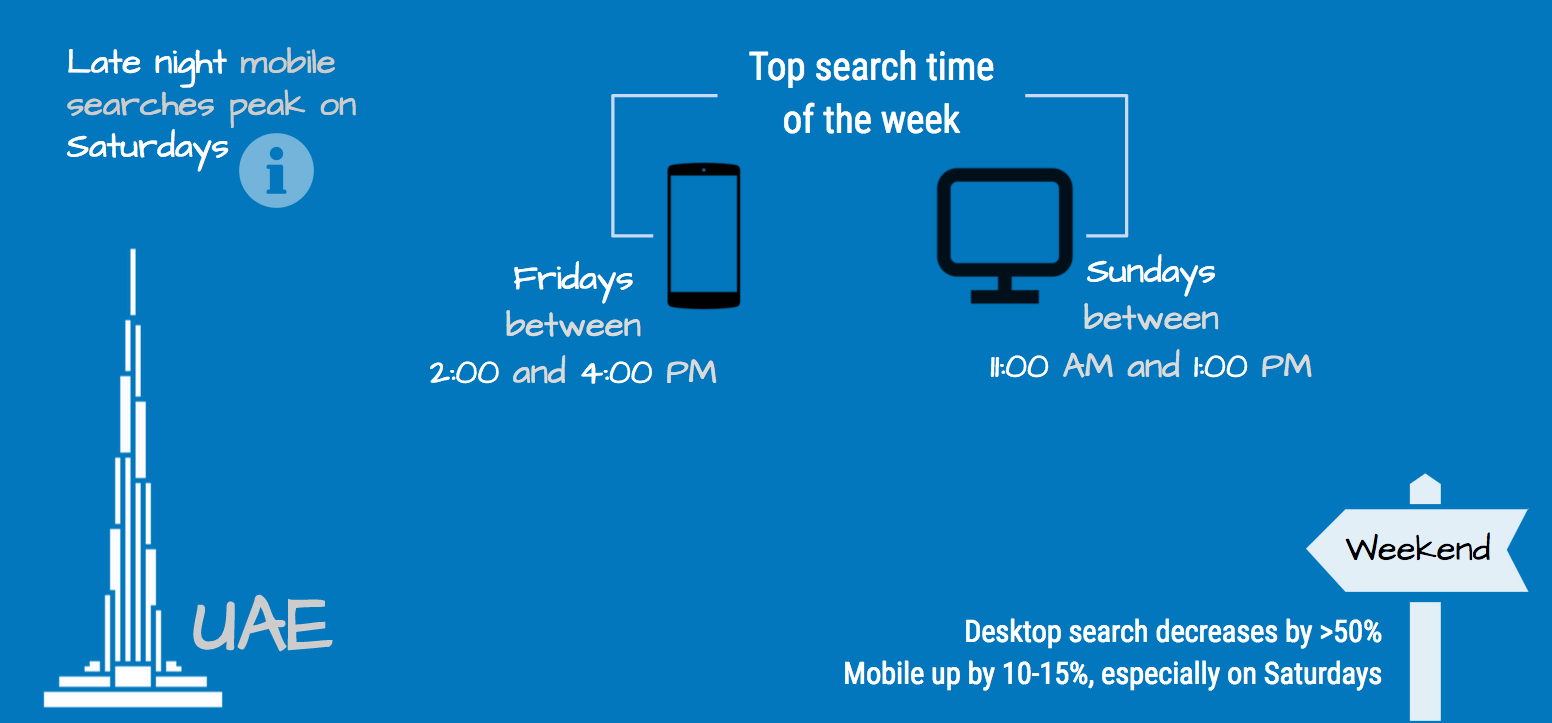 Are you already known in the market?
We also notice that customers have different needs and these shape their search differently. As an example, while German travelers are quite clear on the airline brands they want to compare or use when traveling to the UAE, their hotel choices tend to be more generic. Saudi travelers on the other hand have clear preferences on both airlines and hotels, given the close proximity of the region.
What are the implications for travel suppliers?
Digital media is all about the conversations you have with potential travelers in the hope of converting them to confirmed customers. The above insights present four clear implications for your business as a travel supplier:
Device: Mobile is a necessity, not a luxury. Ignore mobile and you lose out on entire segments of population searching for travel exclusively on mobile.
Language: The growth of native language search makes it imperative that you proactively provide answers about your product to people in a language they are most comfortable with.
Time: Different markets search for information at different times. These peaks and troughs can be leveraged to inform not just the launch and acceleration of your search campaigns, but also for your broader digital strategy including video, email marketing and social media.
Awareness: Different markets have different informational needs and travel preferences. These must be taken into account to craft a bidding strategy on brand and generic terms. Brand protection is a given but some markets need a lot more generic coverage than others.