Patterns of car buying are undergoing seismic shifts in the Gulf. New findings from a recent Google and Netpop study of the automobile shopping habits of people in 19 countries who had purchased a new automobile in the previous 12 months, as well as those who planned to purchase one in the subsequent six months, give automobile brands lots of food for thought when planning their marketing strategies. Below are five key takeaways from the study.
1- No brand loyalty
Brand loyalty doesn't impact consumer decisions in car shopping very much anymore. In the UAE, 92% of auto buyers are unsure about what brand or model to buy at the beginning of the process (in Saudi Arabia it's 77%). Of Emirati shoppers who have an initial favorite, 70% end up changing their mind and 30% actually buy brands they discover during research.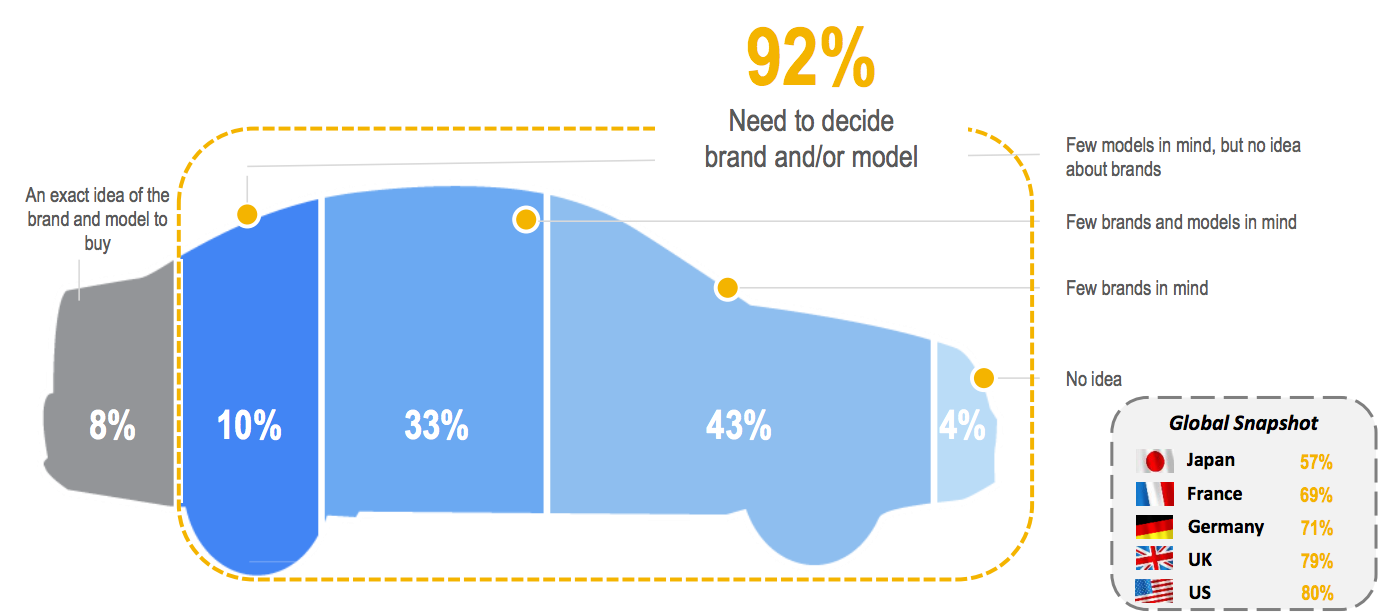 2- Decision-making goes digital
Just about everyone is using online resources in shopping for a car these days, so the brand that neglects digital does so at its peril!
In Saudi Arabia and the UAE, around 96% of auto buyers use online sources to research cars, and up to two-thirds of their research time is spent on mobile devices. Smartphones are always on hand, even at the dealership – where 96% of Saudi and 93% of Emirati consumers use their smartphones to support the physical shopping experience.
3- Start at search
Search engines are where buyers go first and are used more than any other source to decide. Buyers say search engines help them obtain a variety of information, such as maps, reviews, and dealer information.

4- The video game
It's no secret that people in the Gulf love videos, and that doesn't exclude those in the market for a car. Those polled say that video content helps car buyers compare automobiles, understand brands and features, or watch expert reviews.
And these numbers are growing fast. In Saudi Arabia, the number of customers who watch videos when buying a car has grown by 51% since 2012. Today more than two in three Saudi car buyers watch videos, and 75% actively go to YouTube to search for and watch this kind of content.
Meanwhile in the UAE, more than three in four watch auto videos and 77% go to YouTube for car content.
5- Changing role of car dealerships 
Buyers today are making fewer visits to dealerships than ever before, generally only after they've done the majority of their research. In the UAE, 87% of buyers make their first dealer visit after ample research. More than two in three buyers attempt to contact dealers online, but consumers say that most responses to online outreach are unsatisfactory. Some switch dealers due to poor responses – in the UAE 72% of those who switch dealers also switch brands.
Further, the average number of test drives per buyer is also in decline. In Saudi Arabia, 35% take no test drives at all. For users who do test drive, about a third book them online.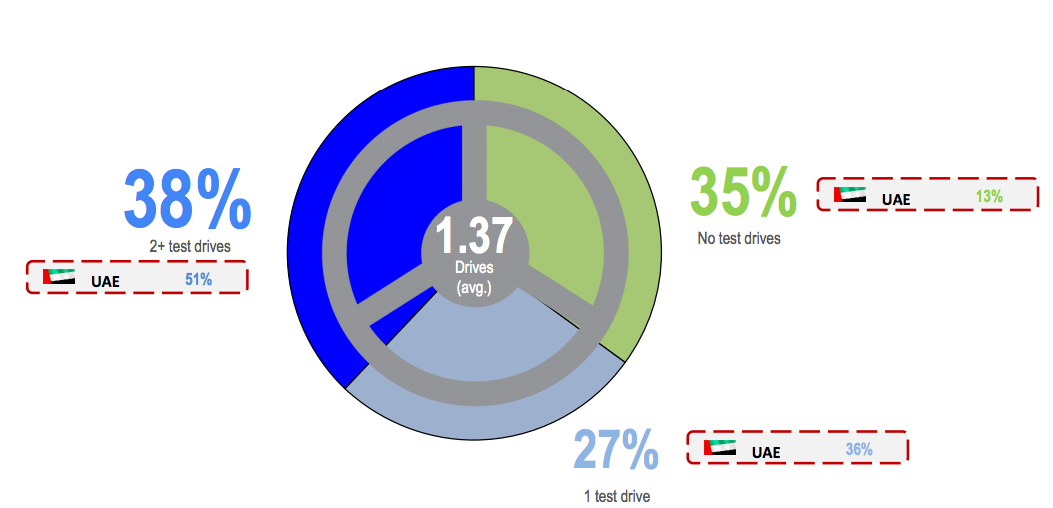 All this adds up to a new landscape of auto shopping where digital plays a much bigger role, and the road to success will be paved with exceptional, seamless usability.
As consumers shift between devices and the showroom, brands will win by meeting buyers on their terms, with the right content, and throughout the whole purchase journey.