Nine months ago, Google launched the Consumer Barometer, an interactive digital consumer insights tool. Since then, we've added more questions, more topics, and more ways to learn. We've also added data on local searches, international purchases, user segmentation, and included 10 new product categories. And it's still completely free. Here's what we've learned about when, why, and how Saudi and UAE residents are using the internet in comparison with their peers in the rest of the world.
People like using smartphones alongside computers / tablets
Whether in the UAE or Saudi, young people are turning to their connected devices more frequently than ever -- but they generally prefer to use their connected devices alongside their computers or tablets. In both the UAE and Saudi, 55% of people under the age of 35 get online equally via their smartphone and their computer or tablet.
If they're forced to choose one, though, young people will go for smartphones seemingly every time. In the UAE, 30% of people in that age group turn to their smartphones more frequently than computers when they want to get online; in Saudi, the number is slightly higher, at 32%. Only 10 and 11% in the UAE and Saudi prefer to go online via their computer or tablet, respectively.
Even smartphone non-users rely on the internet (especially in Saudi)
You might assume that smartphone owners know their way around the internet -- and you'd be right. Seventy percent of smartphone owners in the UAE prefer to complete a task digitally if that option is available. Seventy-four percent of smartphone owners in Saudi agreed.
What's more surprising about this particular data set is the proportion of people who don't own smartphones who still prefer to complete tasks digitally: 33% in the UAE and a whopping 55% in Saudi. This statistic shows how familiar the entire populations of these two countries are becoming with using the internet to perform a variety of tasks and activities.
People rely on the internet more in their shopping: at home, locally, and from abroad
Despite concerns about product quality and online payments, internet users in the Gulf are using the internet more than ever as a tool to buy things. In the UAE, the internet was used in 24% of recent purchase journeys; in Saudi, the number is higher, at 33%.
The internet helps people in Saudi and the UAE find useful information about local businesses, as well as to buy things from abroad. Locally, prices were first and foremost in the minds of people in the UAE and Saudi (54% of UAE users searched for prices of local products online, as did 45% of Saudi users). After prices, UAE users were most likely to search for contact information of local businesses (40% of searches), and then a business' location (34% of searches). Saudi users were next most likely to search for business hours (29%), then contact information (27%) of local businesses.
For users in both countries who shop online for products from abroad, the majority say they do so for better quality products (66% in the UAE and 42% in Saudi).

Online shopping numbers in the UAE and Saudi, while growing, are still low compared to those in the rest of the world, as depicted in the chart below.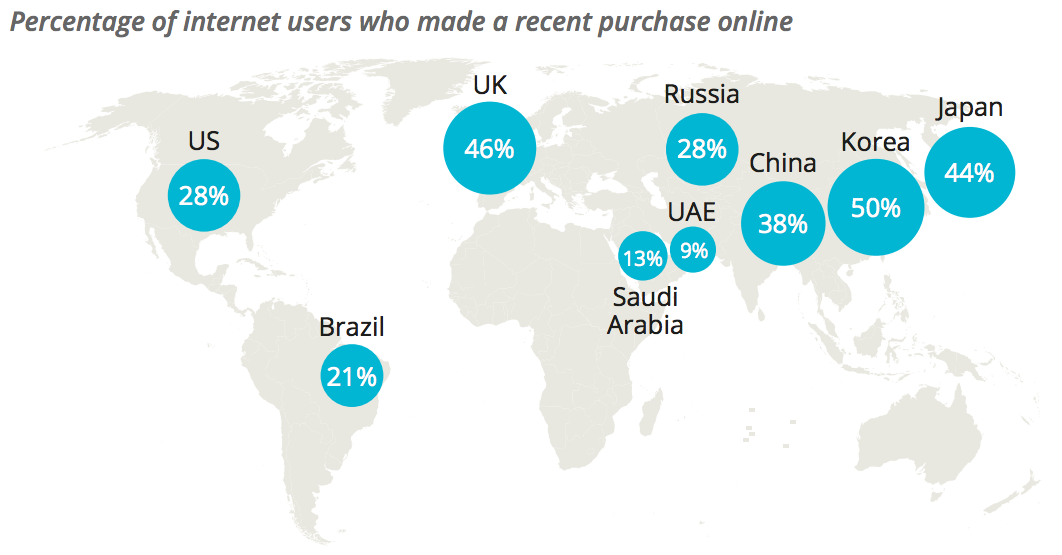 When looking at a country level, across the 20 product categories that covered, the top online purchasers are South Korea (50% of internet users), the UK (46%), and Japan (44%). Saudi Arabia and the UAE are below average, with 13% and 9% of the population respectively making their last purchase online.
People use the internet to research purchases before buying
In Saudi Arabia, the tendency to research a purchase on a smartphone is especially true of younger users. Eighty-four percent of under 25s researched a recent purchase using a smartphone. In the United Arab Emirates, people still like to use their computers to research: 58% of those who researched a recent purchase online used a desktop or laptop. But then again, 57% of people who researched a recent purchase used a smartphone.
People are watching more videos than ever
The prevalence of connected devices and surge in the proportion of the populations who use the internet has changed the way people in Saudi and the UAE watch videos. Bottom line? Connected devices allow internet users to watch videos online more often. In the UAE, internet users prefer to watch videos on smartphones (75% of respondents watch online videos once a week or more on their smartphones), whereas in Saudi, the tablet is king for video watching (82% of respondents there watch online videos once a week or more on tablets).
However, despite the freedom of movement connected devices afford their owners, the vast majority of internet users in the UAE and Saudi still prefer to watch online videos at home as opposed to on the go (90% and 92% respectively, as opposed to 34% and 36% respectively who watch videos outside of the home).
Online video viewers in the UAE tend to be slightly more focused on the content they're watching. Seventy percent of respondents in the UAE reported that they were "highly focused" on the content they were watching, as opposed to 66% of Saudi viewers.
This data from the Gulf shows that respondents in the UAE and Saudi watch a much higher volume of online videos than their counterparts in the Americas. The numbers from the Gulf more closely correspond to those from Southeast Asia and Eastern Europe.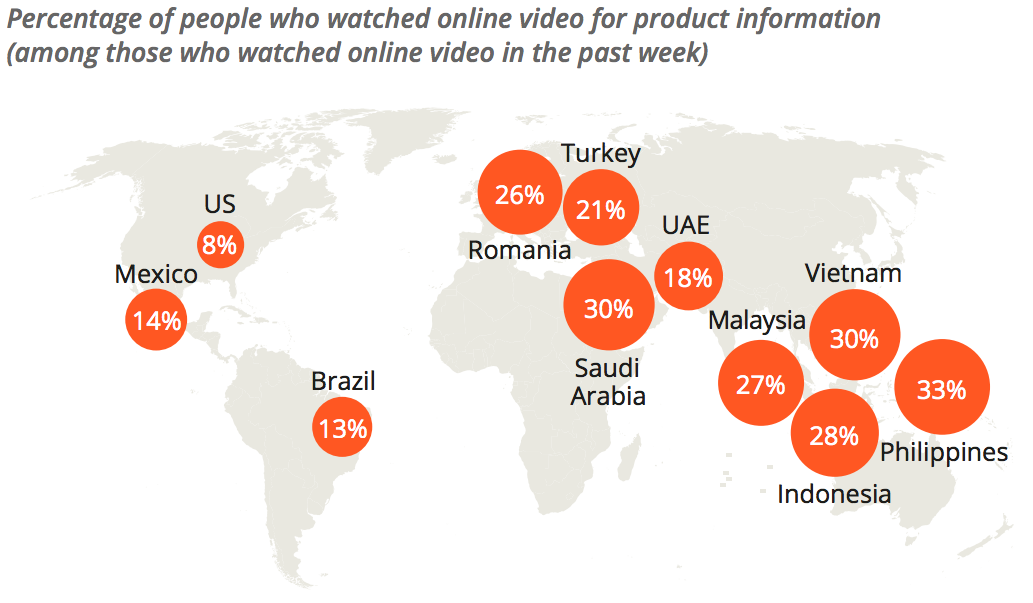 Put the data to use
Are you present in all of the moments that matter to your consumer? Staying on top of your customer analytics helps you create an integrated marketing strategy to reach more of the right people, with the right message, at the right time.
The Consumer Barometer allows us to understand not only how people are accessing the internet and watching videos online, but also how these connections online influence purchase decisions. Visit the www.consumerbarometer.com to gain more insights to inform your marketing strategy so that you can reach more customers in the moments that matter, and connect with engaged audiences.
Data for the Consumer Barometer has been gathered by TNS, one of the world's leading market research companies, based on interviews with over 400,000 respondents across 56 countries.