Travel is in the air! As travel leaders converge in Dubai this week to attend the Arabian Travel Market, Google partnered with Sojern to understand more about the MENA traveler, from the destination decision to in-destination behaviour. We uncovered travel preferences and patterns using Google.com search data, customised research and Sojern, a global performance marketing engine for travel brands, to layer on the company's travel intent and booking data from 350 million anonymized traveler profiles. The result is an unprecedented view of how travelers from Middle East and North Africa dream, research, compare, book and experience travel in an increasingly seamless online-offline world.
1 | The Destination Decision
When MENA dreams of travel, it prefers destinations beyond the region. Dubai tops the overall travel list, but Paris, Istanbul, London, Barcelona and New York are firm favorites across the region1.
Closer home, Al Ain, the 'garden city', tops the trending list, as more travelers look to fly direct rather than to Dubai. Beach destination Hurghada makes its first appearance in a while, suggesting that perhaps Egypt may be popping back up on the tourism radar2.
2 | The Booking Journey
In the past we've partnered to look at US hotel and consumer travel trends, but this is the first time we've layered together MENA search seasonality from Google, and booking seasonality from Sojern. While we always knew that outbound travel searches peak post-Ramadan, our new data shows us that bookings also show a significant peak in August and December - outbound travel planning takes roughly a month.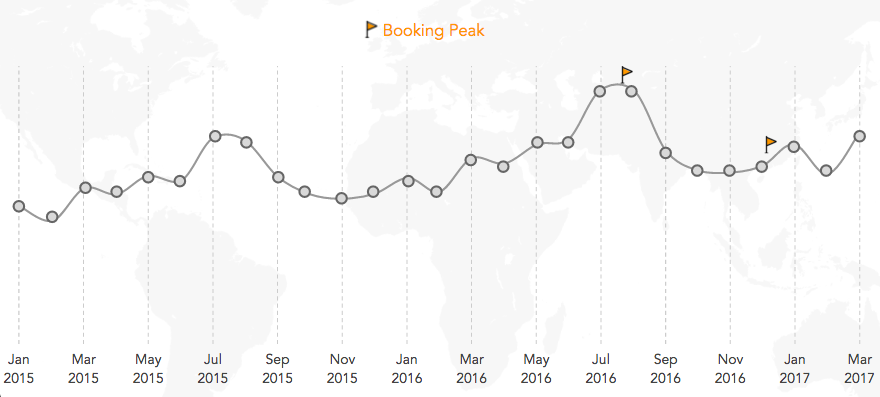 The consumer remains online and connected through the travel journey, the only dip coming into play at the time of booking, where some travelers move offline. But digital is still a significant influencers of that offline purchase with >40% of travelers researching online, purchasing offline (ROPO).

53% of outbound travel queries were generated on mobile, and an even higher 64% queries for regional travel were on mobile. Data from Sojern validates the region's propensity towards mobile first travel planning, and goes on to show that travel bookings are also slowly but surely moving away from desktop-only behaviour.
The drop in mobile users as they move from search to booking demonstrates that MENA travelers are still mobile first, especially higher up in the travel funnel, but are more likely to move cross-device as they come closer to a travel purchase, especially if mobile-unfriendly sites.
Given that MENA consumers are high digital spenders when it comes to retail and dining, travel suppliers must make a consolidated push towards further simplifying online travel purchases. A clear indication of this need is data from a Google IPSOS study that demonstrates that travel bookers in KSA and UAE account for the highest proportional shares of mobile bookings, globally3.
3 | The Brand Decision 
Air travel in the Middle East remains supplier driven, and even within that category, full service carriers dominate the skies. Skyscanner is the highest ranked metasearch or OTA and ranks #11 in search volume4.
The accommodation space is a lot more competitive. The GCC is supplier first, unlike the the Levant and North Africa. Booking.com is the most popular brand across the region, with Trivago the only other OTA in the top 10. The region is warming up to sharing economies given the popularity of Airbnb5.
GCC has a clear preference for luxury and upper upscale hotels, which account for >70% of hotel search queries6. 20% of hotel queries in North Africa on the other hand are for midscale hotels, indicating clear regional differences.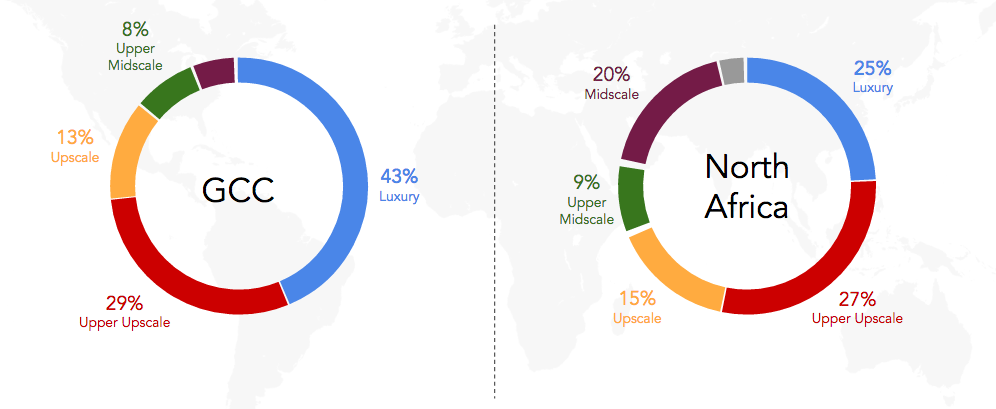 Luxury hotels are also searched more often on mobile, especially in the Levant and in North Africa, indicating a propensity to 'dream' on mobile. 
4 | When and How: Timing and Device Trends
Google searches for travel peak on Mondays. While overall searches decline slightly on the weekends, the share of mobile on those days goes up to way more than 50%7. Sojern data on overall travel search mirrors this pattern, with travel activity peaking on Mondays and Tuesdays. Tuesday are actually the busiest time for bookings in the week. Mobile bookings particularly spike on the weekend, reaching the 15% mark.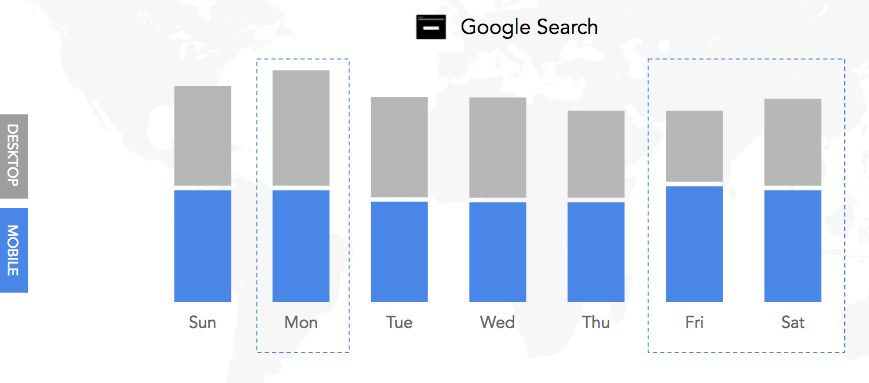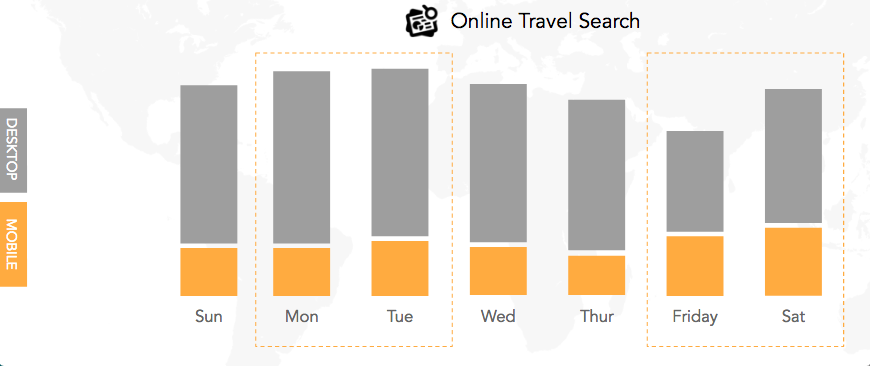 Split by time of day, research and booking activity from MENA travelers increases rapidly after 8am and peaks between 10am and 4pm8, but booking activity enjoys renewed levels of higher activity in the evening, especially from markets like the UAE. In markets like KSA, flight research and booking activity is less pronounced in the evening, but still sees slightly increased amounts of activity after the evening commute.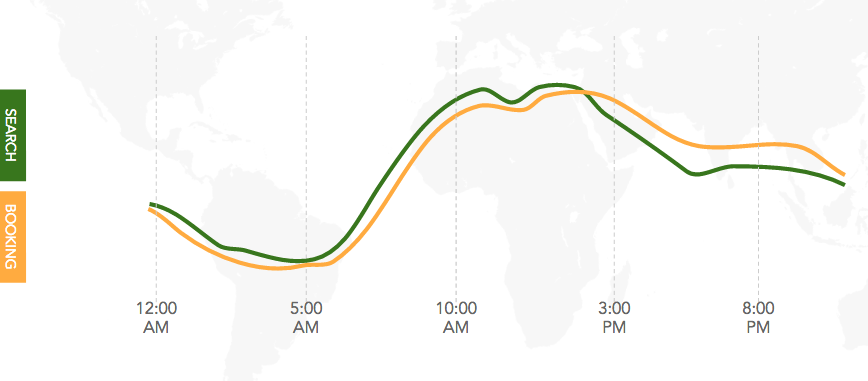 5 | In-destination 
88% of people bring their smartphone with them when they are travelling for work, and 85% when traveling for leisure (the remaining 3% prefer to 'disconnect' and leave their devices at home)9. Smartphones are now pretty much existential extensions of the human mind, and a vacation doesn't change that.
~40% of MENA travelers searched for shopping destinations while on holiday while 35% looked for food and drink options. 20% used their smartphones to search for places of interest and another 20% depended on mobile phone directions locally10.
Summary 
If you're a regional travel destination, you're facing competition from international tourism heavyweights - cities and beaches in particular. Communication is key, especially if you can convince the MENA traveler to get away for a short break when long haul destinations might be more difficult to plan.
The period following Ramadan, and the end of the year are the busiest times but a consistent message and an always-on presence is key to winning the moments that matter. Brand awareness is high, and the GCC in particular shows a distinct preference for luxury hotels and full service airlines.
Last but not the least, it is important to tailor your advertising to distinct types of travelers. Origin, travel segmentation, and emerging trends can greatly influence how a traveler pursues their path to purchase. Travel bookings don't occur at the last click. Travel search is complex and ongoing.