Did you know that travel search activity in MENA spikes during Ramadan? Google data points to unique travel behavior during the holy month.
Across MENA, Ramadan is viewed as a time to reconnect with one's faith and spend time with family and friends, which generally means less work and more rest. This includes daydreaming online about travel quite a lot, apparently. The latest Google data based on 2015 analysis of travel behavior shows that search activity for flights and hotels rises significantly during Ramadan. There is a spike in activity in the second half of Ramadan and immediately after. The combination of more free time and a celebratory atmosphere means that time spent online and consumer spending are higher during Ramadan than any other period - and the opportunities for brands within the realm of travel are huge.
What does this mean for marketers and brands? This is a key time to stand out from competition in the race for a piece of the $80 billion Mideast travel market where 25 percent of customers book hotels and flights online.1 Brands like Emirates NBD, Emirates Airline and Qatar Airways, for example, offer special online promotions and launch digital campaigns targeting online travel daydreamers specifically during Ramadan. Direct supplier bookings are expected to be a $16.9 billion market in the MENA region and growing quickly; online travel agencies in MENA alone are expected to be worth $10.6 billion in 2016 and rising 20% year on year.2
Hotel searches rise in tandem with airline travel searches during Ramadan.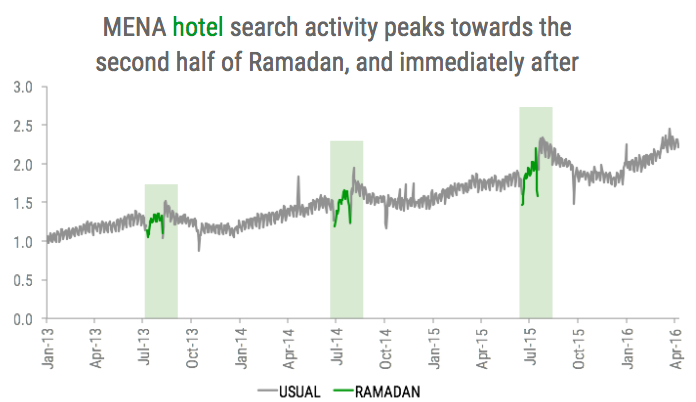 For a more targeted marketing approach, insight into where people want to go is essential. What travel hotspots are most people searching for during Ramadan? A breakdown of searches by city reveals that Mecca is the #1 searched destination in Abu Dhabi and #3 in Dubai. Meanwhile, the top search spot during Ramadan for Dubai, which has a population comprising of nearly 88 percent expatriates, goes to Bangkok, Thailand.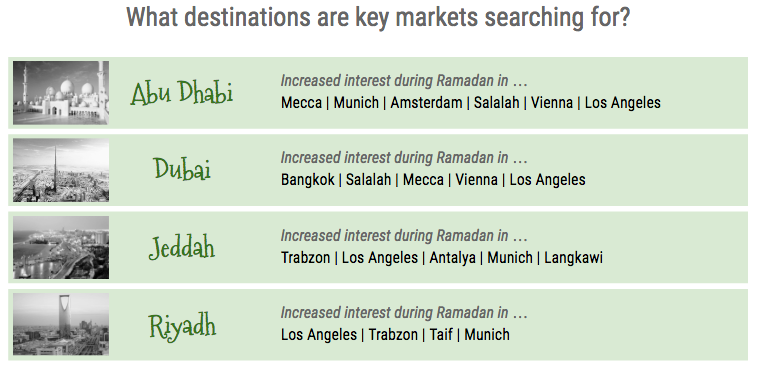 Getting Mobile on Mobiles
If you're under the age of 35, you probably fall under the category of 43 percent of millennials who check their smartphones every 5 minutes in MENA. Globally, 2015 was truly the year of mobile.
In the US - the biggest travel market - more than 50 percent of travel queries were generated on mobile, as were travel queries in India. In 2015, about 44 percent of US travelers booked travel on their mobile devices. This number will increase to more than 50 percent in 2016.
Just to raise your eyebrows about MENA's mobile tendencies by comparison, more than 60 percent of generic travel queries in the GCC were searched on mobile devices - more than in the US. The number is even higher for local travel: more than 90 of brand queries in Saudi Arabia, the largest market in MENA, for regional travel suppliers such as Nas Air and Saudia were on mobile.
During Ramadan 2015, searches on mobile represented more than 60% of total queries. This is approximately 5% higher than the average mobile share in other months – an increase that translates into millions more searches during the Ramadan period.3
Ad dollars follow the customer and this holds true for mobile as well. Mobile advertising constituted almost 50 percent of US travel digital ad spending in 2015, amounting to about $2.4 billion, according to data from eMarketer. MENA travel bookings on mobile may be relatively small right now, but the region holds a big opportunity for brands - particularly during heightened activity in Ramadan. 
Right Move, Right Time 
People in MENA, like the rest of the world, are living online and this extends to travel experiences. Whether watching YouTube videos of a particular destination or searching for the best flight deal, the digital travel experience has become a seamless part of a holistic travel journey. During the holy month, the crowded media landscape produces a challenge for brands aiming to reach consumers using traditional media channels without factoring in a digital strategy. If consumers are using digital channels more than ever as part of a travel experience, brands should meet them there.