Ramadan is a busy time for travel, especially in the GCC. Air travel searches pick up during the last week of Ramadan, while hotel and destination searches peak during the multi-day Eid break. 'Tis a time for 'travel dreaming' - hotel and destination queries in native language on mobile are highest in the year. For the first time, we dug deeper into language patterns to find that travel search activity in Arabic is busiest during Eid. OTAs are searched more often than usual, in an otherwise supplier-first market. Read on to find out more.
Introduction
Ramadan is a busy time for travel. Searches for some categories of travel such as air travel spike during Ramadan itself. Others such as hotels and destinations accelerate around Eid al Fitr when most GCC residents plan holidays around the multi-day break marking the end of festivities. We lay out our big discovery, as well as how search patterns diverge from the normal for hotels, flights and destinations.
The Big Insight: GCC travel search during Ramadan is in Arabic on mobile
Travel searches in English reach their highest levels in the last week of Ramadan, while those in Arabic peak in the week of Eid, just after Ramadan. We also found that this seasonal growth is driven by surging mobile activity in particular. Digging into search patterns by product, we saw that hotel and destination queries in native language on mobile registered the sharpest increases overall - this leading us to infer that travel search during the holy month is defined by 'travel dreaming', often in a manner that is most convenient i.e. native language on your handheld device.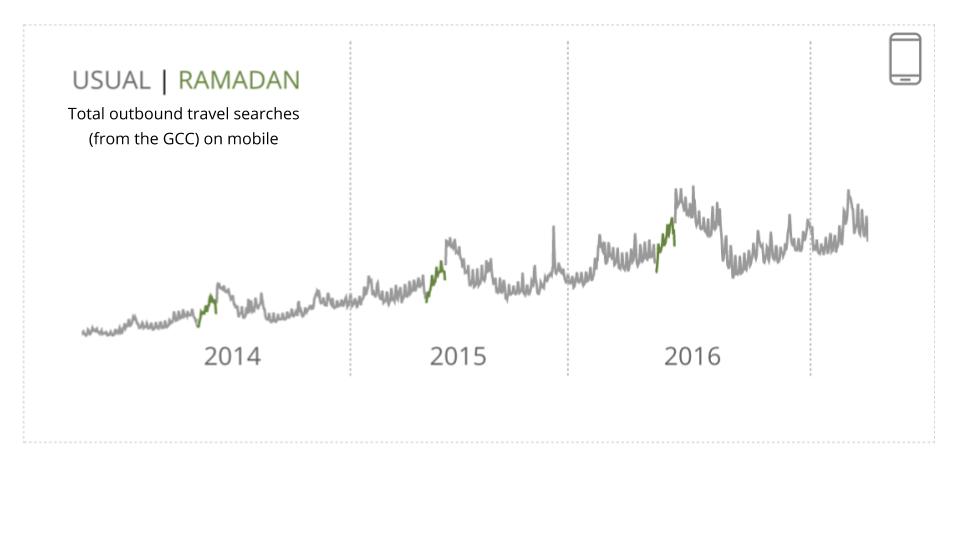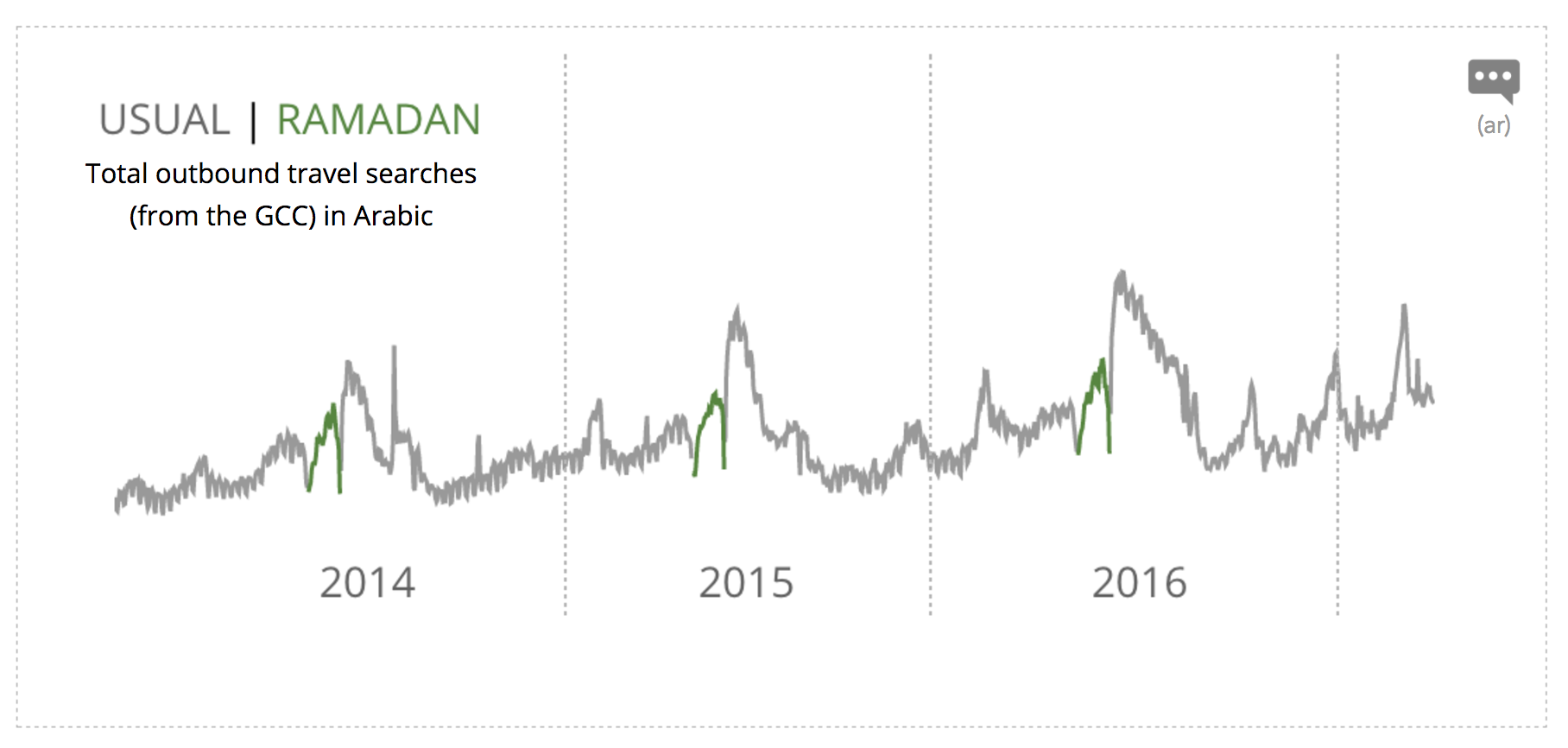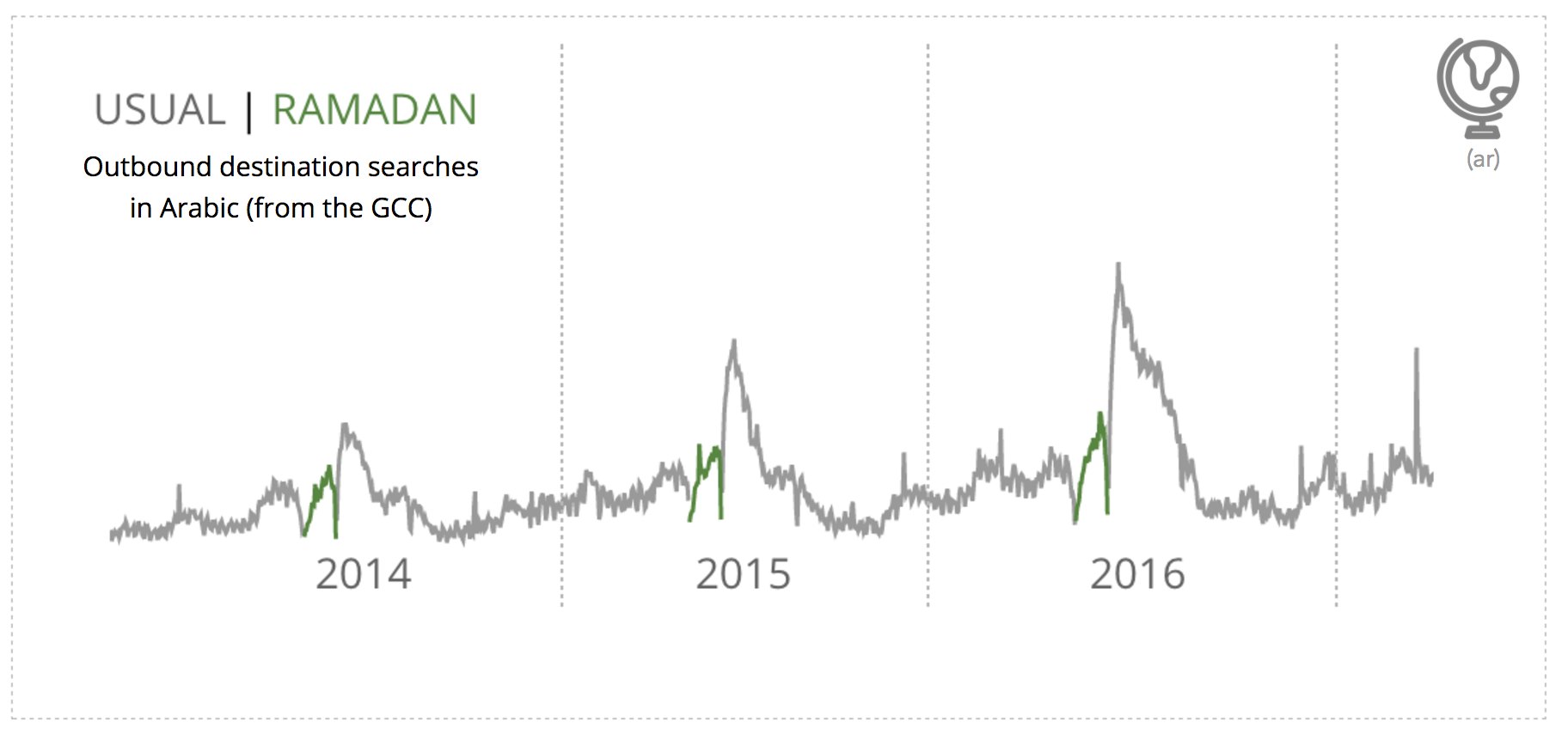 Hotels
Hotel searches typically peak in the Eid period. We found it especially interesting to note the significant uptick in Arabic queries - both on desktop and on mobile. Top search terms were mostly generic, proving that audiences were in 'dreaming' and 'research' mode.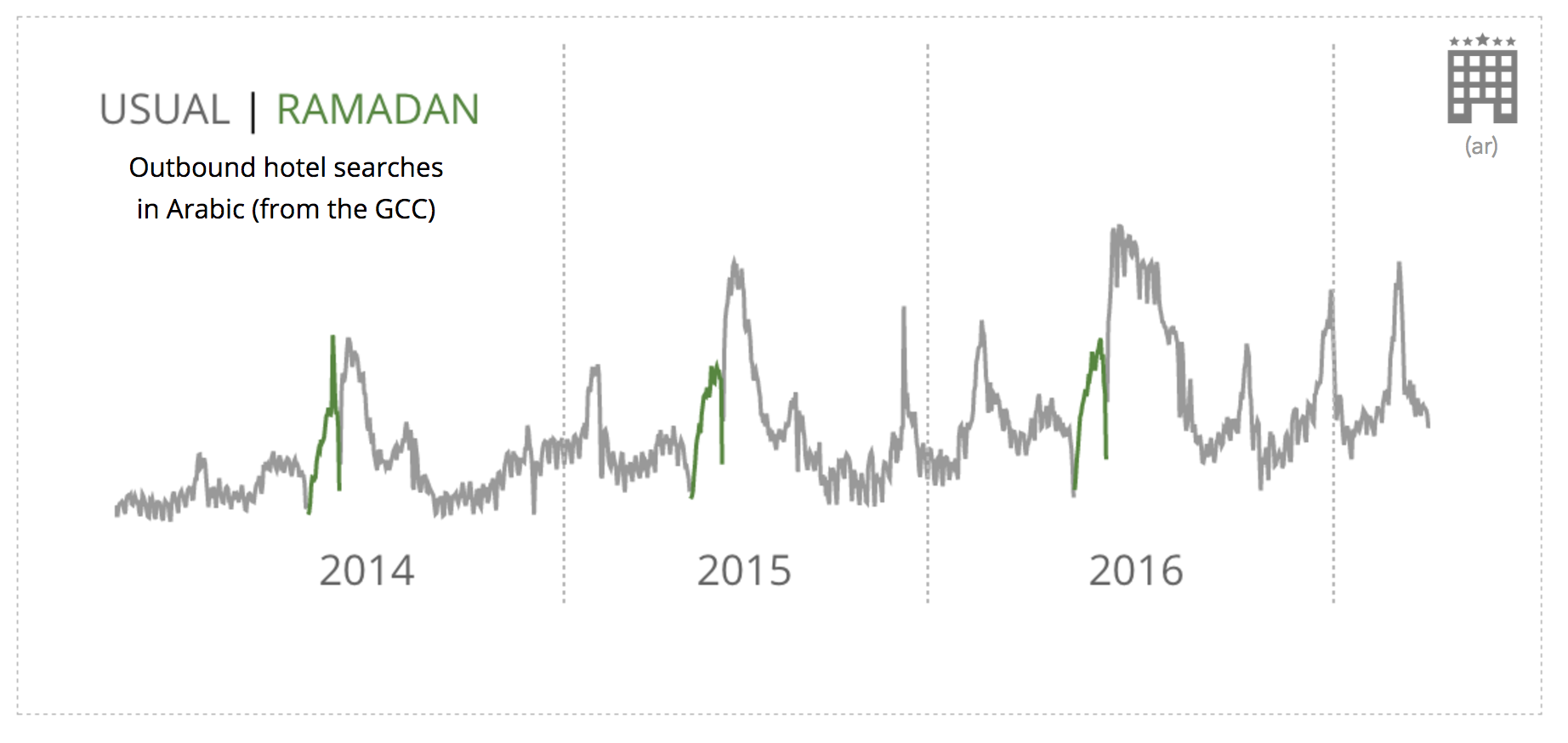 Another interesting dimension to outbound hotel searches during Ramadan was that searches for OTAs were ~3-5% higher than at other times of the year. Booking.com and Trivago and immensely popular in the Middle East, but hotel suppliers usually give them tough competition in terms of search volume. During Ramadan, even a supplier first market like the UAE searched more than usual for OTAs, especially Booking.com.
Destinations
Destination searches in English spiked in the last week of Ramadan, whereas Arabic searches peaked during Eid al Fitr. As we noted last year, Dubai remains the most popular destination for GCC countries, but UAE residents themselves prefer more exotic destinations outside the region. In 2016, the most popular locations searched during Ramadan from the UAE included Greece, Maldives and Sri Lanka. We could infer based on language patterns that while local residents (Arabic speaking) search for immediate travel options within the region during the Eid period, expats (English speaking) tend to plan a bit long term and head out further.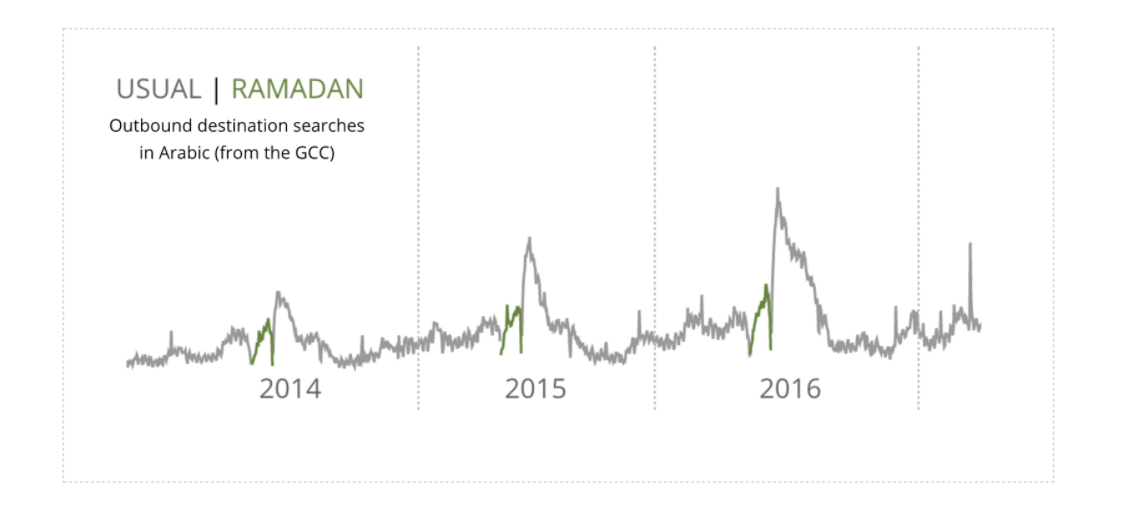 Flights
Air travel searches peak in the last week of Ramadan, and maintain heightened activity during the Eid period before falling back to normal levels. This is in line with intuitive customer behaviour as people might travel to visit families and celebrate the last week of holy month together, or head out for vacation during the extended post-festivity break. Air travel searches continue to remain brand heavy.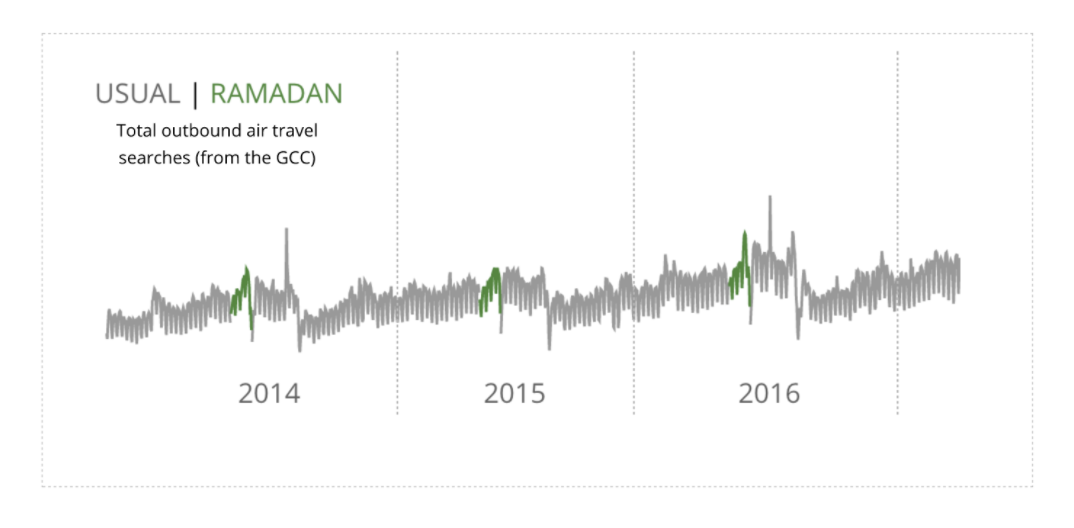 Summary
If you're focusing on the GCC traveler, here are our top three actionable insights for you this travel season:
@Hoteliers, remember that GCC travelers spend a lot of time researching and comparing options online at this time of the year. Spend some time polishing up your informative content in Arabic. This could be on your website, through email marketing, or via online advertising. It's also important to cover all bases - so double check your visibility with OTA partners.
@DMOs, if you're targeting Arabic speaking populations in the GCC region, Eid is the time to be seen - especially online. If your focus is non-Arabic speaking GCC residents, it's best to plan in advance and continue that conversation through the Ramadan period. 'Off the beaten path' seems to be the chief preference (especially for millennials in the region) so think beyond resorts and luxury, to what makes you unique as a destination; build your awareness campaigns around those pillars.
@Airlines, push your regional routes to the Arabic speaking population. Challenge MENA residents to dream of travel further abroad, especially destinations for which visas are easy to obtain on short notice, or that are just a short flight away. Nothing like a four day fun break before we settle into our work routines all over again!