Travelers from the Middle East are starting to head off on vacation as the long Eid break approaches. Families or groups of friends often holiday together, and planning logistics in a large group is not easy. A host of considerations influence the final decision, including budget, ease of travel, and entertainment options. Middle Eastern travelers look for food options, shopping and even the cinema. But one kind of destination activity in particular appears to tick all the boxes, and holds universal appeal for all ages and income brackets — theme parks!
Interest in theme parks - up, up and away!
Families traditionally travel together and groups of young males have started to plan holidays together too. Planning travel as a large group is not easy. A host of considerations influence the final decision, including budget, ease of travel, and entertainment options (ranging from family friendly activities to adventure and extreme sports). Middle Eastern travelers (especially from Saudi Arabia) look for food options, shopping and even the cinema.
Interest in theme parks has grown in excess of 30% over the last five years across the GCC. These fun-filled destinations are increasingly a part of group travel itineraries, especially when traveling to the US, UK and in recent times, the UAE.
The online travel journey is still evolving, but we already have some interesting insight into the decision process.
In for the ride — but where?
Travelers start broad. 50% of travelers searching for theme parks use a generic phrase such as 'theme parks' or 'amusement parks'. Google search is supplemented by YouTube, and the ratio of YouTube to Google searches in the GCC is roughly 1:3.
This search pattern indicates a willingness to travel, but a lack of awareness on specific parks.
The most widely searched brands were local to the GCC — Al-Shallal, Legoland, IMG, Bollywood Parks, and Gondolania. Interest in upcoming parks such as Land of Legends and Oasis Theme Park was also high.
Theme park enthusiasts in the GCC want to experience the largest theme parks in the world, and their searches clearly spell this out. The sheer variety of international brands researched show that they are willing to travel far and wide in their quest to find the best theme park. The most popular international theme park searched by the GCC was Genting Highland; Universal Studios, Alton Towers and Six Flags also generated significant interest.
Interestingly, the GCC uses Google Translate extensively when searching for theme parks, indicating that language may be a constraint when searching in Arabic.
Best get an early start!
Capacity and timings are constraints for theme parks, and make it more likely that the location might sell out. Travelers therefore tend to plan their visit and book in advance.
>50% of online travelers planned or researched a theme park outing prior to departure. 70%+ bought tickets in advance - even if it was just a day earlier in destination1.
Online media is thus a powerful tool to close customers early on in the travel journey.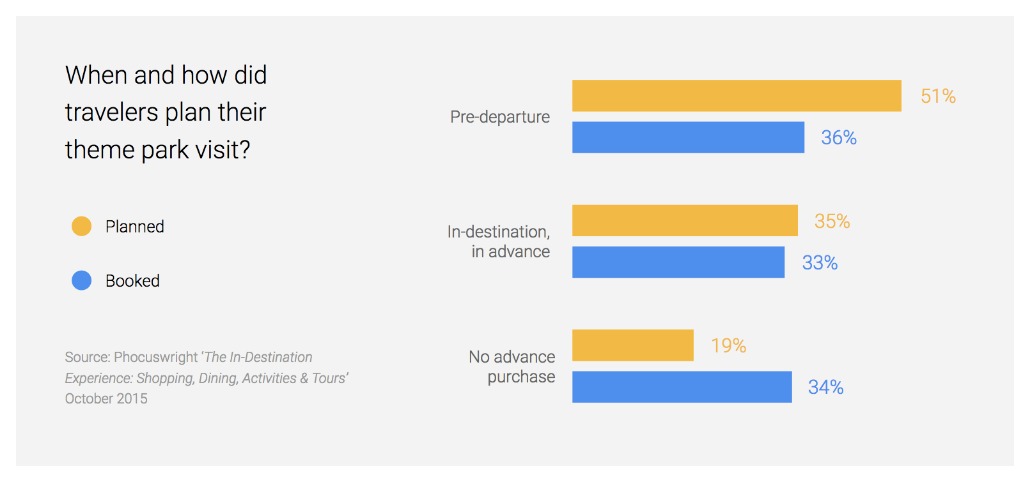 Direct online engagement is the key to success, because OTAs fail to provide a clear value proposition for activities, experiences and tours. In fact, research by Phocuswright suggests that not even 10% of travelers book activities through OTAs.
International theme park enthusiasts - Destination Dubai?
Theme parks and water parks are a key cornerstone of the UAE's tourism value proposition, and are expected to draw ~19M visitors by 20201. This includes operational parks such as Ferrari World, Aquaventure and Wild Wadi, and newly opened parks such as IMG Worlds of Adventure and Dubai Parks and Resorts. In the pipeline are potential projects with Warner Bros., Six Flags and SeaWorld.
Roughly 20% of GCC travelers searching for theme parks use a generic search term in conjunction with a city. Dubai was the most commonly searched city in association with theme parks across all GCC countries.
But outside of the GCC, international travel searches for UAE theme parks are still low. This is most likely a factor of low brand awareness, because the vast majority of theme parks have opened only recently. Ferrari World is among the oldest theme parks in the region, and commands a dedicated following, especially in India.
International travelers searching for theme parks also search for general travel planning logistics, such as tour operators, weather and touristic points of interest. Maps are often searched in correlation with theme parks, especially among European travelers.
Travelers from countries such as France and Australia search specifically for water parks in the UAE, but not so much for theme parks — a potentially significant opportunity for theme park operators. British travelers are most interested in finding theme park destinations suitable for kids, followed by India.
Local search - plans for the weekend?
Searches for theme parks in the UAE in particular have grown by 150%+, fuelled by the opening of several local parks, especially in Dubai.
~60% of UAE theme park searches were on mobile, and the vast majority in English. Fridays are the busiest day of the week. The most common questions asked online center on reviews, prices and offers.
The local audience is made up of millennials, and when it comes to travel and entertainment, millennials value authenticity above everything else. They want to know more about the rides on offer, the stories behind the concept, the inspiration behind the scenes. They want to know what makes a park special - the fastest roller coaster in the world? An indoor park in the heat of summer? Food and entertainment options that one wouldn't find anywhere else in the city?
Learnings for Advertisers
Growing search interest in theme parks, and the large share of generic terms within these searches show that local and international consumers look online for ideas, options and inspiration. The internet is where you can engage proactively with prospective audiences.
Video matters, especially in MENA. For every three searches for theme parks on Google.com, there was one search on YouTube. Especially when it comes to experiential activities, the MENA traveler considers video a key source of information.
OTAs and B2B suppliers cannot offer the powerful authenticity that customers look for, and a theme park itself is able to provide. Video is a tool that you can use to make your brand come alive. Rides and events can be more than pretty pictures. With video, you can generate excitement, elicit curiosity, and build engagement. Use it to tell your story.
Visitors to theme parks tend to research and book in advance, and they do so online. If you are already able to build direct engagement through search and video, you can leverage it to lock travelers in, even before they set foot in the city.
To conclude, the travel environment is such that people are already searching for theme parks. The challenge is to convince them that you are worth a trip. Invite them directly to experience, engage and come back for more!