Popularly known as "White Friday" in the Middle East and North Africa, the region's biggest annual sales season is gaining further momentum this year with many more players looking to cash in the moment by introducing their own promotions and discounts.
As more omni-channel retailers in MENA - specifically Saudi Arabia, the United Arab Emirates and Egypt - go online they have seen the opportunity to increase their sales in this moment.
"The first advertiser to run White Friday in the region was Souq - their first Black Friday - in 2014," says Dalia Chartouny, Industry Manager for Retail & E-commerce in Google MENA.
Apart from the name, there is also a difference in the way the moment has been adapted to the region. Instead of it being a 24-hour sale as seen in the US, regional retailers are extending it to run for four days. In some cases it is preceded by Singles' Day and followed by Cyber Monday, as in the US.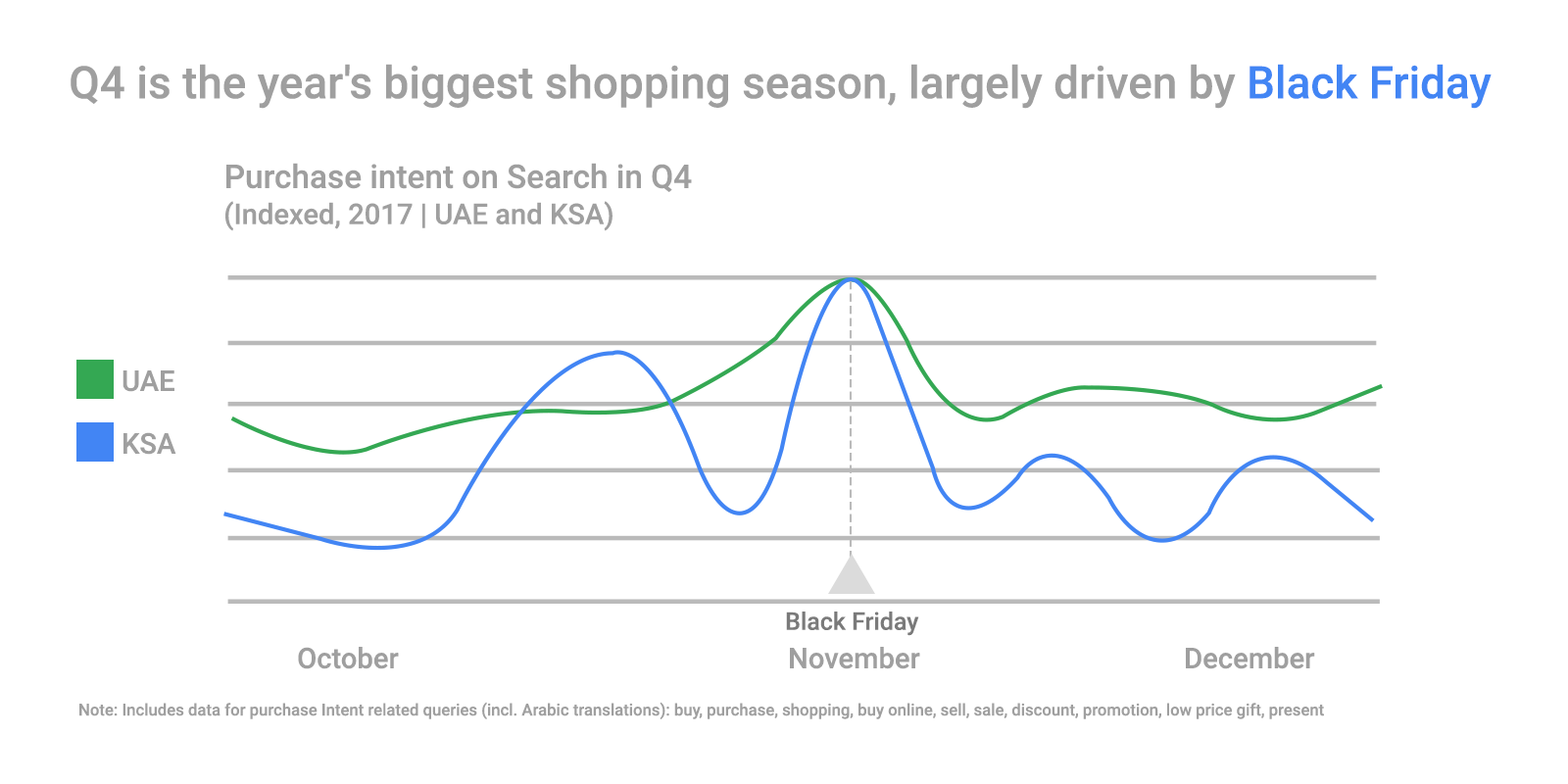 "Singles' Day is a promotion that was started by the Chinese to celebrate being single on 11/11," Chartouny says.
The moment is now popularly referred to as Black Friday Season and since 2017, as more retailers - including omnichannel retailers - join the sales season, it is now being searched for under Black Friday.
In 2017 we saw a lot of new advertisers jump in and have their own version of Black Friday including Namshi and JollyChic.
As Black Friday Season is the biggest sale of the year, it is very popular in the region and advertisers anticipate a significant portion of their annual revenues to come in during this moment.
The online public is also becoming more aware of the moment and more people are starting to search for the season on YouTube and Search.
"Most searches start 5 weeks ahead of Black Friday," says Chartouny adding online people are searching for when the sales starts and ends as well as searching to see if their favorite e-commerce websites are having promotions and sales during this time.
"This year it will be a big season for all the main e-commerce players," says Chartouny. "Online customers are mainly searching for Black Friday queries - they want to know when the sales are happening, what discounts are being offered, and we also see that they are a lot more purchase-driven so the queries related to purchase increase substantially during that period."
Another trend in MENA is the increasing use of apps during Black Friday Season as many pure players in the region are already very app heavy and rely on apps for a significant part of their revenues.
"We see downloads for shopping apps increase substantially during Black Friday and the users acquired are healthy users that remain active after Black Friday," said Chartouny.
In Saudi Arabia especially, where YouTube enjoys the highest watch time globally, online users are searching for content around Black Friday and marketers are pushing TrueView and bumper ads to raise awareness and inform people about their promotions. Some are even doing a countdown to Black Friday.
Marketers are also using display ads to inform customers about special offers and encourage them to visit the retailer's website.
"Display ads are very attractive as you can feature your best deals, find prospective customers, and retarget interested users through dynamic marketing," says Chartouny.
Shopping ads are great for making sure retailers capture any user looking for any of their best-selling products.  UAC burst campaigns are also popular for driving app installs and customer acquisition.