In the year since Google launched the Consumer Barometer, our free interactive digital consumer insights tool, we've learned some important lessons about how and why consumers in four key global categories1 are increasingly turning away from computers and toward smartphones-- and what brands can do to use this to their advantage. Check out our findings here, then go to http://www.consumerbarometer.com to customize the numbers and build charts based on your specific business and data needs.
Mobile is no longer a choice; it's a necessity. It's been a year since Google launched the new version of the Consumer Barometer, our free, interactive consumer insights tool. To celebrate, we've added data on internet access and device usage going back to 20122, as well as deep-dives into four global audience segments: millennials, digital moms, brand advocates, and how-to video users. Here are just a few of the insights we uncovered, globally and from MENA.
People all over the world prefer mobile to computers
In some global markets, smartphone usage is reaching saturation: 100% of under 25s in Sweden, for instance, now use smartphones.3 MENA is no exception to the global trend. In Saudi Arabia, smartphone usage has increased dramatically in just three years, growing from 69% in 2012 to 92% in 2015.4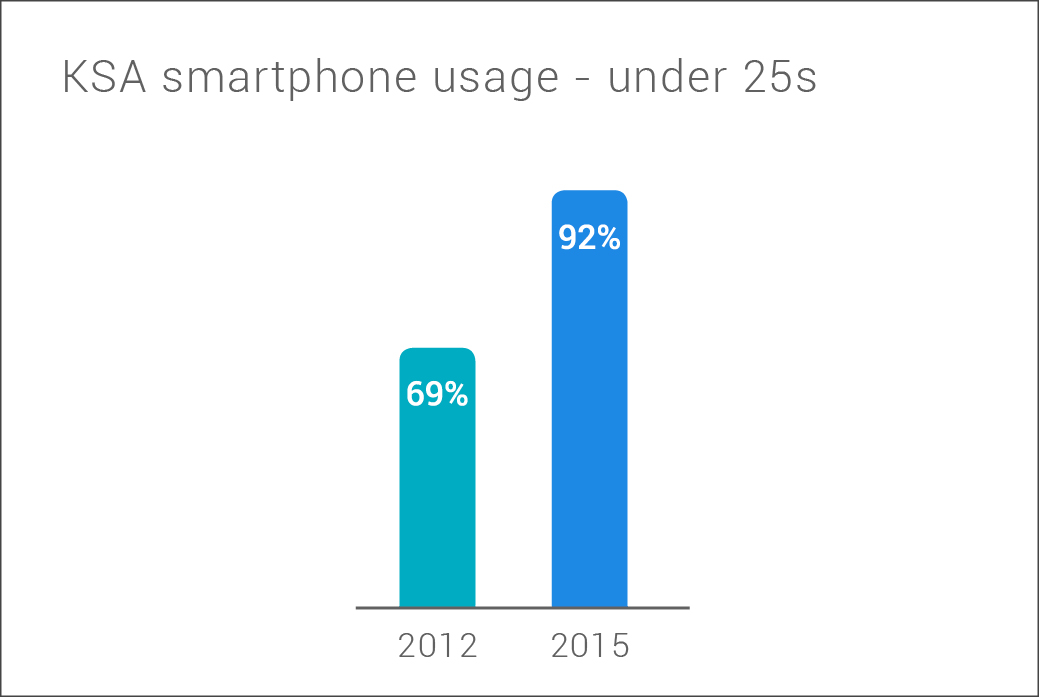 Based on these numbers, it's no surprise that in many of the countries we surveyed all over the world, nearly 80% of web users under 25 go online using their smartphones at least as often as their computer.5 This behavioral shift is not limited to younger demographics. In Mexico, for example, the number of web users aged over 55 who use their smartphone to go online at least as often as they use a computer has jumped from 10% in 2012 to 38% in 2015.6 In Saudi Arabia, the older generations are using mobile devices more as well: in 2015, a whopping 89% of over-55s used their smartphones to get online at least as often as their laptops.7
In MENA, as in much of the rest of the world, consumer preference for smartphones has developed extremely fast. In 2012, only 54% of UAE users under 25 went online using a smartphone at least as often as on a computer, compared to a massive 90% in 2015.8 In Saudi, the number of smartphone users has increased by 26% since 2012, and computer usage has declined by 17%.9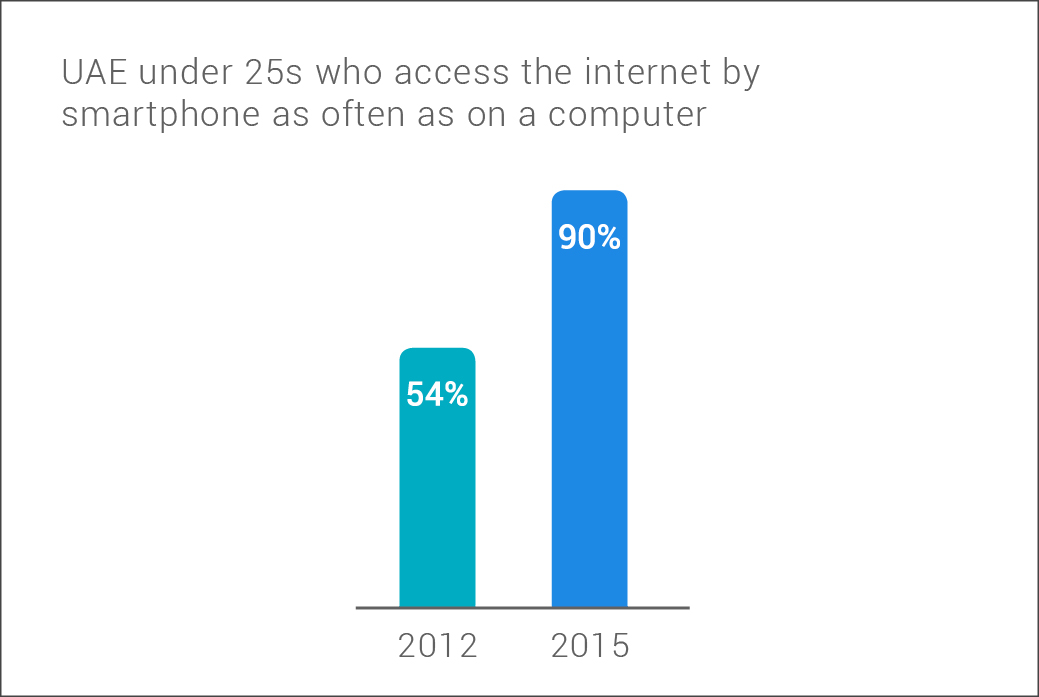 Mobile is crucial to research and purchase decisions
Using data from the Consumer Barometer, we took a closer look at the purchase journeys of four global audiences: Millennials, Digital Moms, Brand Advocates, and How-To Video Users. They all have one thing in common: the internet, now increasingly mobile, plays a crucial role in the research process of the purchases they make.
Getting it right on mobile devices is key to engaging with global Millennials10, as 40% of them-- over twice as many as those over 35-- researched their last purchase on a smartphone.11 Mobile matters even more to millennials in the region: 82% of under 35s in Saudi12 and 59% in the UAE13 researched their last purchase on a smartphone.
Digital Moms14 are a well-informed and highly connected group who intensively research their purchases online. Smartphones are playing an increasingly important role in this process: 26% of Digital Moms globally used their smartphones to prepare for an immediate purchase, for example by searching for a local store.15 Numbers in the region are similar to the global figures: 22% of Digital Moms in both Saudi16 and the UAE17prepared for a purchase using their smartphones.
Mobile is also key to connecting with global Brand Advocates18 in their 'I-want-to-buy' moments. Nearly a third of global users use their smartphones to research something they are just about to buy in-store19 (in the UAE, 15% of Brand Advocates use their phones this way; the figure is 26% in Saudi Arabia). Not only that, this group is more active than ever before: every single day, 50% of global Brand Advocates comment on or like posts and blog contributions, making them valuable influencers in their communities. These numbers in the region-- 36% in the UAE and 40% in Saudi-- are also quickly catching up with their global counterparts.
Brand Advocates are familiar to most marketers, but there's another fast-growing group of highly active online consumers: How-To Video Users20. Globally, two-thirds of internet users watch online videos at least once a week.21 In MENA, these numbers are much higher: 83% of KSA residents watch a video online at least once a week, as do 79% of UAE residents.22
Fourteen percent of those global online video viewers are typically watching videos in order to find out something new or progress in a task.23 These numbers are higher in the region: in the UAE 20% of consumers who watched an entire video did so to find out something new or progress in a task.24 In Saudi, this number is higher, at 34%.25
Delivering the right content on the right device at the right moment to connect with these audiences can have a huge impact on purchase decisions, as one-third of global users watch YouTube to find information on products they'd like to buy.
Use the Consumer Barometer to create your own bespoke insights
Based on our data, brands' presence in the moments that matter on mobile is essential to their success. We see it all around us, but now data proves that people are reaching for their phones more often than their other devices, for information in all stages of the purchase journey. Because of this, brands need to ensure that they can engage with consumers seamlessly across all devices, especially the smartphone.
Visit www.consumerbarometer.com to get fully customizable insights, based on relevant local consumer data and your personal business goals, to develop a more informed marketing strategy and help you reach more consumers with the right message, on the right device, in the moments that matter to them.
Here are some suggestions on how to get started:
Go to the Trended Data section to see how internet access and device usage has evolved over time in 56 countries.
Take a look at the Audience Stories section for deeper insights into the Millennials, Digital Moms, Brand Advocates, and How-To Video Users categories.
Use the Graph Builder to build custom charts exploring device usage, online video viewing, and the role of the internet in shaping preferences and purchase decisions across 20 product categories in 56 countries.