The world's biggest hospitality brands are paying attention to a key consumer: the smart-phone tapping millennial who makes reservations and posts selfies online. Jumeirah Group's Ross McAuley shares his views on why it's become more important than ever for the luxury travel industry to fully embrace the digital age.
Need a break? Here's what planning one looks like today: scroll through pictures online of sprawling resorts on remote islands and hotels with digitally-controlled rooms in bustling cities. Book a flight and hotel room on your cell phone. Post selfies on social media so your colleagues can live vicariously through you while sitting in front of their computers at the office. When you're back at the office, daydream about when you can do it all over again. The biggest brands in the $1 trillion hospitality industry are finding creative new ways to adopt digital offerings because it's become an imperative in order to get ahead, differentiate, and adapt to shifts in consumer behavior. Today, it's all about catering to the tech-savvy millennial who lives online.
"The competition for guests has never been fiercer," says Ross McAuley, Jumeirah Group's VP of Brands, Digital & Loyalty. "A lot of pleasure in going on a luxury break is planning and talking about it with friends and family, so we want to push the boundaries of what guests expect when they visit. By 2017, the digital experience is going to be the key differentiator between brands."
Ross's view developed out of a global experience in the hospitality industry, having lived and worked in Japan, London and Bahrain before making his way to Dubai since leaving his native Scotland. His current responsibilities include leading the Jumeirah Group in leveraging opportunities in the digital landscape.
Consumer Habits
This means consumer behavior is in sharp focus. With over 30 percent of the MENA region's population between the ages of 15 and 29, representing over 100 million youth, this is the highest proportion of youth to adults in the region's history.1 And more and more of these digitally-keen millennials are making and consuming online video, particularly on mobile. In the UAE alone, mobile watch time of YouTube videos is growing by 120% year on year (2014-2015).
Jumeirah is paying attention. Over the past few years, the brand's digital journey has seen them progress from performance-based acquisition campaigns, through branded media, to the launch in 2015 of 'Jumeirah Inside', the world's first integrated exploration and booking engine featuring beautiful 360° video throughout. The new platform was launched to great success, with over 10 million views on Jumeirah's YouTube channel and ad recall of 95%.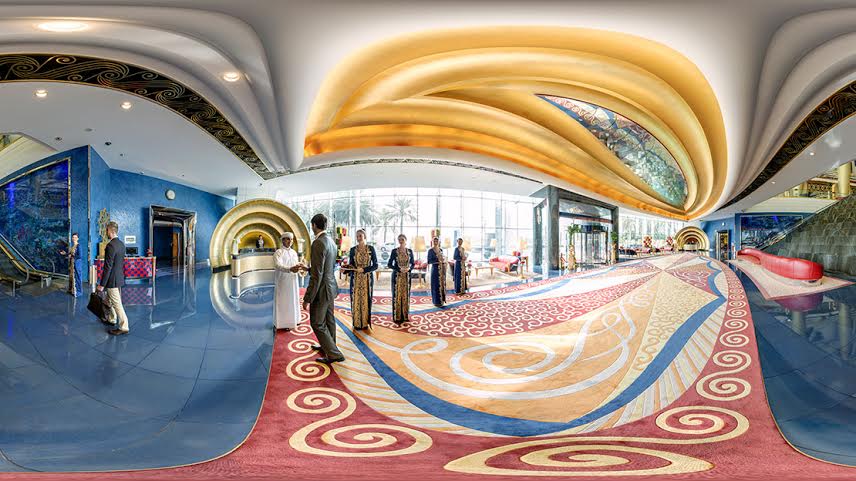 "Three years ago, we realized the importance of rich media assets and invested significant resources in producing and distributing high quality content, particularly focusing on the role of video," says Ross, elaborating on a strategy that led to Jumeirah becoming the world's most viewed hotel brand on YouTube in 2014. "The primary way we tell our story, the way we let guests know who we are and what we stand for, is now through online and YouTube."
The Virtual Experience
Want to know what it's like to stand on a helipad at Burj Al Arab? One way to find out is to splash on an ultra-luxurious stay for a night that includes a private tour. If you prefer to wait until that thought makes your heart race in a good way after you finally get that promotion, Jumeirah Inside offers a virtual way of opening doors to some of the world's most exclusive locations so anyone can take a peek. With 600 content hotspots and 240 spheres available in five languages, on desktop/tablet and mobile, it's an ideal way to engage with consumers and provide holistic travel experiences. So you can experience standing on a helipad while keeping your wallet happy. Fear of heights, anyone?
"The primary way we tell our story, the way we let guests know who we are and what we stand for, is now through online and YouTube."
"We have created a digital experience that closely mirrors the physical experience of our properties," says Ross. "It's pushed Jumeirah to the forefront of the luxury industry in terms of the scope and scale of a digital brand experience, but it's not the culmination of a project - it's the start of our journey into a more immersive, more personal and more rewarding 360° experience."
Consumers are not just watching more video, they are making more videos themselves. Ross explains that Jumeirah's hotels and experiences have far more video content posted by guests than the brand itself could ever hope to generate. This is true across industries; the number of hours of uploaded content on YouTube in Arabic alone is growing by 40% from 2014 to 2015 in the MENA region, according to Google data.
"The question becomes, for a brand, how are you relevant in this digital age? The answer for us was to provide a digital experience that is more than just a snapshot of a hotel. It's a journey through a brand," he says.
With the new platform positioned at the heart of Jumeirah's brand building activities, Ross wanted to ensure that visitors would have the same high quality experience regardless of device. "We have just over half of our queries coming through mobile," he says. "And having just launched our new mobile website in September 2015, we saw firsthand the power of this device when it comes to consideration and booking in luxury travel."
What's Next
By producing a truly multi-device and multi-language platform, Ross feels Jumeirah have set a new standard for online brand journeys - one that gives an insight into the uniqueness of each property in the group's portfolio.
"It's clear to me that the brands that put digital at the heart of their strategy will emerge as the winners."
When it comes to immersive online travel experiences, this is just the beginning. Jumeirah are already exploring the potential of the new technology in their offline marketing. The technology in Google Cardboard provides a unique and relevant way for the brand's global sales teams to bring the Jumeirah experience to life for its travel agency partners. Virtual reality technology also opens up even more possibilities for guest engagement.
"Perhaps Jumeirah Inside is a first glimpse of the luxury hotel website of the future," he says. "It's clear to me that the brands that put digital at the heart of their strategy will emerge as the winners."