As media consumption habits shift towards connected digital devices, brands are evolving their marketing toolkit to remain top of mind.
For brands to efficiently fulfill their objectives of reaching their target clients with the right message, wherever they are, in moments that matter, programmatic arises as a powerful enabler. Whether to build awareness, influence consideration, or further down the funnel, maintain customer loyalty; brands can engage their clients with useful experiences.
Programmatic ad tech has quickly achieved high adoption globally1, with a phenomenal 200% year on year growth in MENA2. Yet MENA brand marketers still have a long way to go in leveraging the power of programmatic's three foundational pillars; media consolidation, data driven marketing and unified measurement. In this article, we attempt  to demystify some of the complexity surrounding programmatic media buying for brands to capitalise on the opportunity of building better user experiences, to ultimately tick off, real-life, business objectives and maintain an edge in their market.
First, programmatic advertising scale continues to expand, providing access to more and more premium content. For example, YouTube's TrueView Ad Product is being traded programmatically and more recently we are seeing TV inventory enter the programmatic market in the US3. Programmatic buying connects you to multiple media sources. Instead of executing buys via multiple channels, for example through fragmented direct publisher reservation buys, you can buy the vast majority of media from one programmatic solution. Through enriching your brand's ad experience with data, you can ensure you are delivering smart, on target, audience buying. With flexible buying models, you can reach only the customers you care about, irrespective of whether inventory is traded on an open-auction4 or reserved upfront through direct deals with publishers.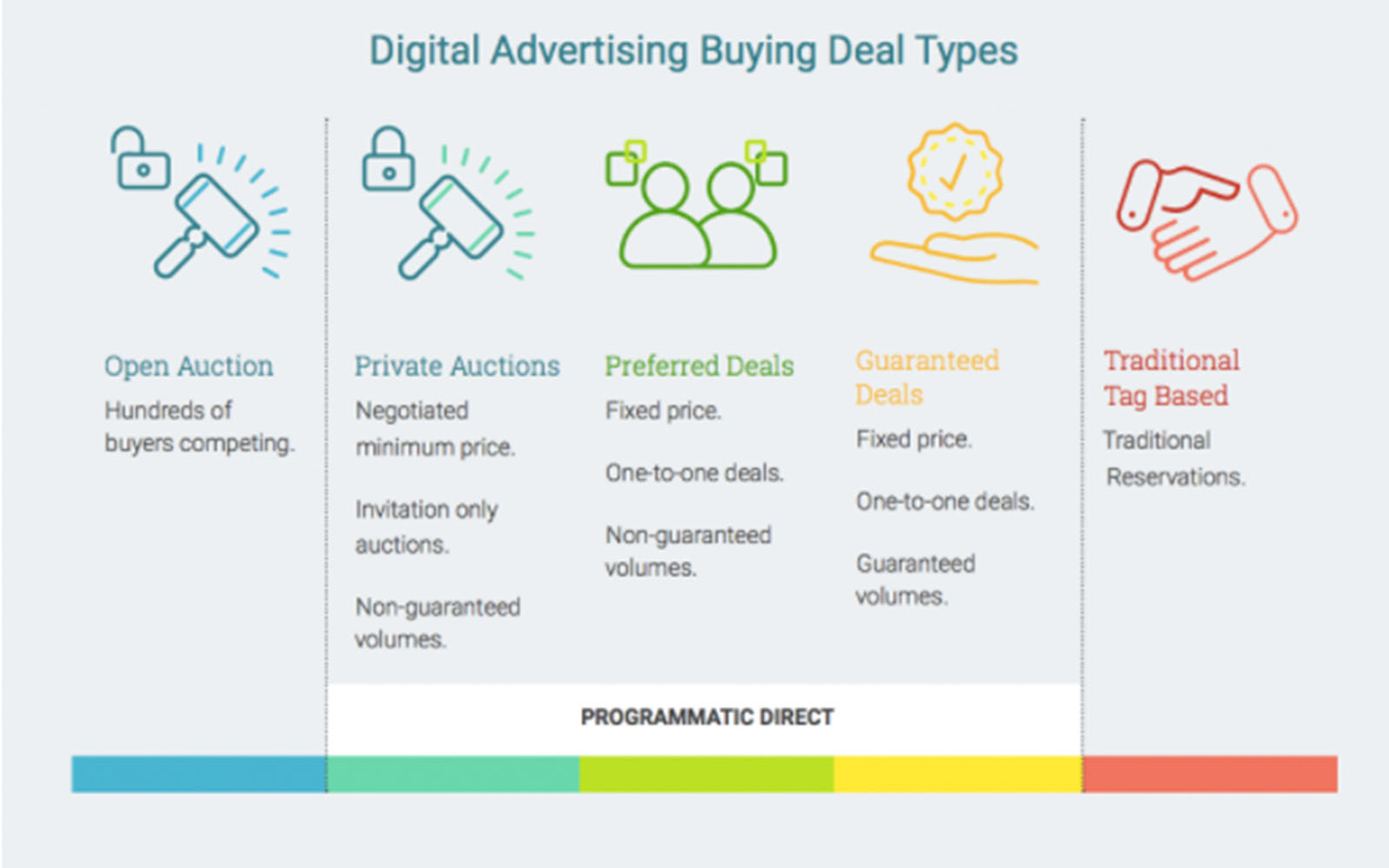 This allows you to maximize your on target, unduplicated, reach while minimizing poor user experiences. The benefit is having a single user view across your digital media buys to continuously optimize the reach and engagement with your target audience, avoiding self competition5. A good example of media consolidation is GSK, who executed premium video guaranteed buys programmatically, thereby achieving a significant shift in brand perception among key target audiences. (full case here)
Second, the essence of programmatic advertising is leveraging data to engage users with your brand's story. A personalized ad experience allows you to efficiently reach your target customers in contextually relevant moments with a non disruptive message based on user characteristics. An excellent example is how McDonald's Japan used data-driven creatives to remain relevant and win customers. The results were remarkable, allowing McDonald's to deliver 25k customized creatives, with personalized messages, driving 3x user engagement and growing coupon usage by >150% the normal rate. (full case here)
Third, effective measurement allows you to learn from your customer's user behavior data across paid and organic media to feed learnings back to your organization's marketing or products. Arguably, navigating data is tricky, but extremely important. Ensuring your success metric is a close proxy to your business objectives is a crucial starting point. This guarantees you are looking at your marketing metrics through the right lens. For example;  a brand looking to drive awareness for a new product release should analyze historic campaign publisher reach overlap to create an informed media plan that efficiently achieves reach targets. Creating a feedback loop to improve your brand's user experience, understanding what works and what doesn't resonate with your customers, is an ongoing learning process. This is fundamental in creating a successful digital marketing strategy.
Programmatic in MENA is emerging as a leading enabler to achieve marketing objectives. Programmatic facilitates data driven advertising, allowing marketers to reach the right customer, with the right personalized message at the right time. The core value of using an ad tech solution is to maximize reach while minimizing waste. With massive inventory reach, you are still able to focus on the customer and create smart interactions, while constantly improving your brand's online experience. A curated experience allows you to create genuine moments and drive competitive advantage.
Annex
The DoubleClick stack facilitates end to end programmatic advertising; from ad serving and automated buying to campaign measurement and optimization.

For a brand looking to re-engage customers to influence purchase consideration, leveraging TrueView's brand lift studies to analyze campaign impact is a relevant measurement tactic.

For a brand looking to collect leads or drive sales, leveraging a multi-touch attribution model is essential to evaluate the true value of different media channels or ad formats. This is especially important when it comes to video formats as users do not instinctively watch and "click" to sign up or buy a product.

Imagine if ads are no longer disruptive, but help customers in meaningful moments, how this can create competitive advantage.