An ad server is, simply put, a platform that serves ads. But as you can imagine, whether it is in-house or managed by your agency, the full truth is a bit more complex than that…
What Does and Ad Server Do and Why Should I Care?
An ad server is, simply put, a platform that serves ads. But as you can imagine, whether it is in-house or managed by your agency, the full truth is a bit more complex than that…
In a traditional reservation workflow, there are around 40 different steps needed in order to place your ads on a publisher's website, from selecting the publisher, to trafficking the ad, measuring its performance and receiving the invoice.
Traditional reservation workflow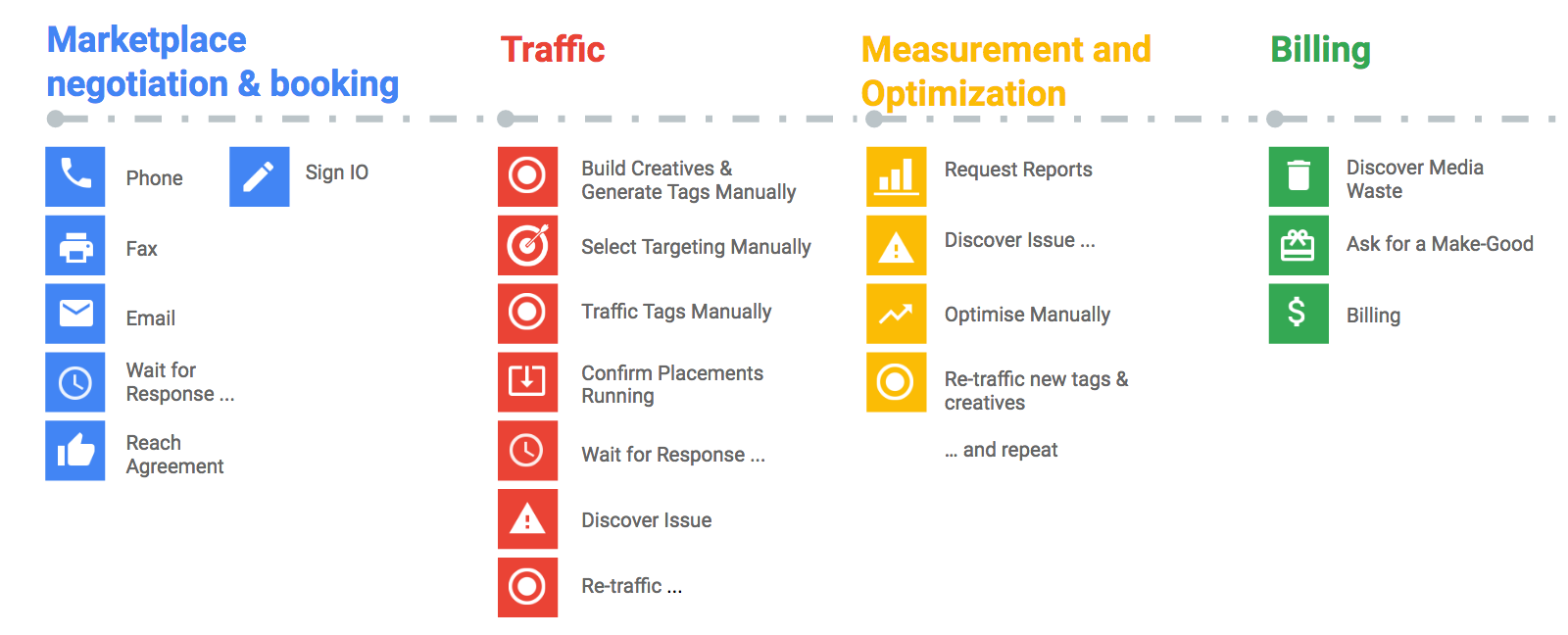 Now multiply these steps by, let's say, 20 publishers and as you can imagine, this is highly inefficient, time consuming and prone to human errors. Managing campaigns across multiple formats and publishers is one of the most significant digital marketing challenges you may face.
In order to efficiently run your ads on multiple websites, you need to make sure that both ad management and reporting are done from a central point.
This is where an ad server comes in.
Centralizing your workflow for operational efficiencies:
By keeping all creatives in your ad server, you do not need to work one-on-one with each publisher every time there is a change to the creatives. In fact, any bulk modifications to your ads can be done from this single platform.
Automating daily tasks can end up saving you hours each week, and focus on the actions that actually bring you value. By centralizing all of your creatives on the ad server, you are able to cut costs and derive greater value from your investment.
Owning and making the most out of your data
None of this ad serving work will matter if you can't measure in real-time what is fundamental for your business. Not only do you need to be able to fully and transparently report on your campaign's' performance, but you also need to be able to own and control all of your campaign's data. This is, as an advertiser, your competitive advantage.
Indeed, if there is one thing that is worth more than gold to an advertiser, it is data. Data tells you who your customer is, what he is interested in, what matters to him and when it is the right time to reach him. By building audience lists in your ad server, you can leverage these segments in your future campaigns. The consolidation of all of your data through one ad server allows you to see your consumers through one lens and make educated decisions about how to reach them, and beyond that, how to tailor your offering to their needs.
This is why, as an advertiser, you need to own your ad server and track your data. If your audience data is scattered or owned by someone else, you lose insights and you give away your source of wealth to a third party.
Reporting and measuring the right insights:
The foundation of measurement is a complete view of your performance across channels and screens, based on a complete and unrepeated view of your audience.
An ad server allows you to build and run deduplicated reach reports to gain insight into how the user interacted with your brand before converting and buying your product. As a consequence, you will be able to make informed decisions about your campaign such as the right frequency cap for your ad to be served, the different devices that were used to lead to a conversion and eventually place your next investment on the right media.
The most important point is that this data will be deduplicated so you can have one view of the user across all channels.
Once you have served your ads, you need to know against which content your ads delivered and if they were actually seen. You need to ensure impressions weren't invalid inflating your costs. An ad server will enable you to check the viewability and content on which your ads served making sure you do not run against undesired content. It will additionally allow you to report on the size and location of your ads to know which ads you should invest more in.
To summarize, an ad server helps you manage the entire scope of your digital marketing efforts in one place: from media planning, ad trafficking and targeting, to serving, optimization, verification and reporting. It will give you the ability to serve your ads to only those most likely to be open to your message and at the end of the day, avoid wasting of your next marketing dollar.