In Part 1 of our Airlines Series, we covered the four major global digital trends on flight bookings and how today's marketers have to serve a better informed public that actions bookings faster than ever before. In Part 2, we take a closer look at the rising popularity of frequent flyer programs, the difference between membership and loyalty, and how marketers can use this data to target the right audience with the right messages.
New research from Google and Kantar reveals the significance of having a strong brand presence throughout the customer purchase journey for members of frequent flyer programs, which are very popular in the United Arab Emirates. Getting a customer to subscribe to these programs is the first step, but after that, digital marketers must translate members into buyers.
UAE Has More Frequent Flyers Than Global Average
In the UAE, 40% of travellers are members of an airline frequent flyer program in the leisure segment. This is an important figure to note because this is higher than the global average of 31% as seen in the graph below. Loyalty program members are driven mainly by the possibility of getting discounts, attractive company rates and positive experiences from booking through to finally reaching a destination.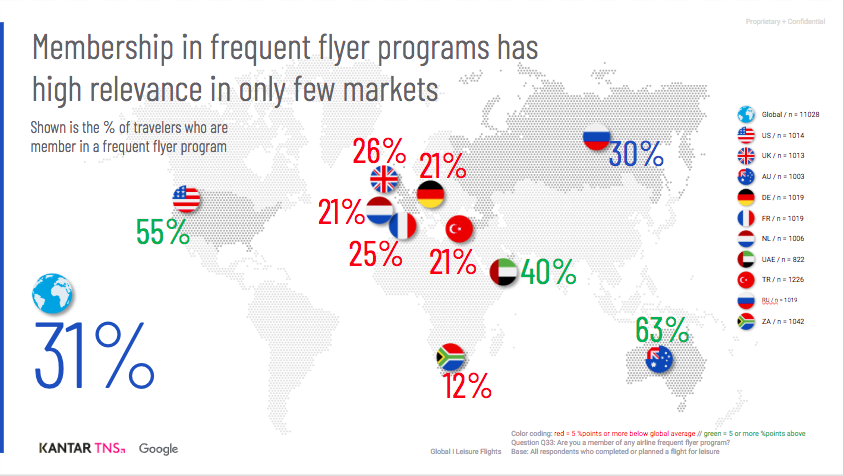 Membership Doesn't Guarantee Loyalty
Among leisure travelers in the UAE, 39% of flyer program members enjoy silver status and 12% have gold status or higher. However, research shows that membership to a frequent flyer program does not guarantee loyalty. These same loyal customers still consider other airlines when planning a trip. In fact, 47% of leisure travelers who have a loyalty membership were open to other airlines in the initial stages of their customer journeys in 2018.
However, when it comes to influencing purchase decisions, members are more likely to book through their frequent flyer programs at 81% versus 70% of non-members who will book the first airline they initially considered.
This is significant because it showcases the importance of directing marketing campaigns to travelers throught the purchase journey because:
1. Membership to a frequent flyer program doesn't guarantee purchase as customers may still consider other airlines, which is why it is important for marketers to maintain a presence with this audience 
2. Despite that, loyalty members are ultimately more likely to purchase a ticket with a brand they have an affinity towards, making them a valuable group to target with the right campaign because of higher conversion rates compared to non-members
Leveraging Data to Target the Right Audience
Research has demonstrated why it is crucial for digital marketers to be present throughout the customer journey. Loyalty memberships also have the advantage of providing marketers with first hand data that could be useful to optimize their digital campaigns. Using this data, you can use tools such as Customer Match that allows marketers to use online and offline data to reach and re-engage with customers across Search, Shopping, Gmail, and YouTube. Using information that customers have shared through loyalty program membership, Customer Match then targets ads to those customers and other customers like them. This is useful in enhancing brand awareness to driving conversions. Similarly, airlines interested in targeting brand new members can then target their campaigns to those who are not loyalty members.
Data from frequent flyer programs can be used to retarget customers on Display Network and YouTube. Furthermore, Google's In-market Audiences, combined with first party data, can be used by digital marketers to segment users actively looking to book flights in the near future or those who have a high propensity to buy. This helps digital marketers acquire new qualified customers who intend to make a purchase in the near future. 
Whether it is targeting new users or gold member loyalists, the key takeaway is that digital marketers can achieve powerful results by paying attention to loyalty membership holders with the right messaging.