ALJ wanted to promote its aftersales vehicle maintenance program to people in the Kingdom of Saudi Arabia (KSA), encouraging the use of Toyota genuine parts and services rather than other independent workshops or service chains.
Abdul Latif Jameel Company (ALJ)
Founded in 1945
Private family company
The authorised distributor of Toyota & Lexus in the Kingdom of Saudi Arabia
www.alj.com
THE GOALS
Drive brand awareness and top of mind recall
Emphasize value for money proposition
Shift audience preference from other independent workshops or service chains
Improve friendly reputation and elevate trust in ALJ
THE APPROACH
Worked closely with agencies and Google to develop a streamlined, collaborative approach
Created engaging local content
Used TrueView and Masthead ads to promote episodes
Employed geographic and demographic targeting
Used positive and negative remarketing
Campaign ran over the course of 6 months
THE RESULTS
11.8 million people reached
Average viewership duration is about 2 minutes
187 years' worth of watch time and counting
202,500 new subscriptions to the YouTube channel, making Toyota Service Saudi the #1 Toyota channel globally
48% of watch time driven by organic views
THE PARTNERS
Creative Agency: FocusAd
Media Agency: Resultrix
The main challenge was that people perceived Toyota service – which operates under the brand Abdul Latif Jameel (ALJ) in KSA – as high quality but unfortunately too expensive. To tackle this, ALJ created a fun animated series, Khebayyes & AbuHurayyes on YouTube. The main objective was to change perceptions about ALJ's value for money proposition by educating customers in an engaging way about the differences between using genuine and non-genuine parts and services. The success of Khebayyes & AbuHurayyes was exceptional, achieving massive reach and gaining vast popularity in KSA.
"We centred our guests in the middle of the communications universe and discovered a big white space to engage and tell them our story in creative ways. Hence, the success of Khebayyes and Abu Hurayyes"
- Munir Y. Khoja, Director of Marketing Communications, Abdul Latif Jameel Motors
About the Series
The series features two main characters to illustrate the two extremes of right and wrong when it comes to conscientious car ownership. On the one hand is the old and wise Abu Hurayyes, who maintains his vehicle regularly. In contrast is a reckless young man named Khebayyes, who likes spending time with his car but isn't very interested in looking after it responsibly. Over the course of the series, the episodes show Khebayyes's behavior changing gradually as he faces various situations and begins to listen to Abu Hurayyes's advice.
Distribution Strategy and Targeting Approach
The series included 20 episodes plus a teaser, which were exclusively hosted on YouTube. New episodes were launched sequentially every Thursday, the beginning of the Saudi weekend.
To accompany this activity, the team launched a six months long TrueView ad campaign and three Masthead ads. The team used geographic and demographic targeting to reach the audience most likely to want to watch the series. Negative remarketing achieved reach as it ensured that an episode would not be promoted to a viewer who had seen it already, while positive remarketing achieved engagement, where it encouraged people who had engaged with the series already to view episodes they'd not yet watched.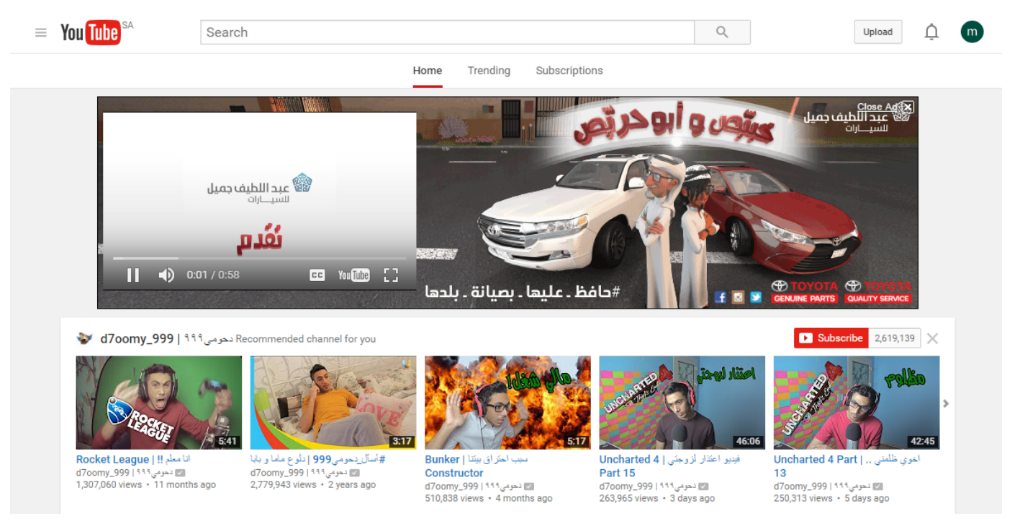 Campaign Results
Thanks to the fact that ALJ worked very closely with its agencies and Google Creative and Sales teams, the partnership produced highly engaging local content, a strong media distribution strategy and a brilliant execution.
The results exceeded expectations, overachieving on all KPIs for reach and engagement. The episodes reached 11.8 million unique users – which represents more than half of the entire online population of KSA – and gained 187 years' worth of watch time!
Thanks to the compelling content, the series gained vast popularity with an unusually high organic viewership (48%) and exceptional levels of engagement in the form of likes and shares. While some episodes were relatively long, the completion rate for the entire campaign was well above average at 57%. The ALJ YouTube channel went from almost zero to 194,000 subscribers, helped in part by the very successful Masthead campaign.
Into the Future
Based on these successes, the ALJ team is already working on a second season, taking on board feedback from users and the significant social interaction that the activity produced. The first request that the ALJ team will try to answer is to lengthen the episodes' duration from three to five minutes on average – the comments asking for longer episodes were overwhelming. Additionally, the ALJ team would like for the second season to be more interactive and related to actual social events so that fans can have better engagement.
Going forward, starting from the ideation process, ALJ is taking a collaborative approach with its agencies and with the teams at Google to produce a new season of Khebayyes & AbuHurayyes that is sure to once again break new grounds.