With Euro 2016 about to enter its knock-out phase, Laura Woods from Sky Sports, and Dean Stobbart of 442oons, paid a visit to the YouTube beach to discuss how they've built passionate audiences for their irreverent football content.
Wednesday's Lightning Talks at the YouTube beach kicked off with a visit from two creators who've led the way in giving football fans the chance to extend their love of the game beyond the 90 minutes. Operating at different ends of the commercial spectrum, Laura Woods, presenter of Sky TV's Soccer AM web show, and Dean Stobbart of 442oons, chatted with YouTube Sport's very own Daniel Pheysey about the secrets behind entertaining one of the web's most passionate audiences.
For Laura Woods, the impetus behind Soccer AM's embrace of online video content is all about reaching a younger audience, who are looking for something different to the traditional highlights beloved of older football fans. "We're realising now that the younger generation aren't consuming content the same way that we did. Sometimes this audience are less interested in the analysis than in the behind-the-scenes detail." Likewise, Dean Stobbart sees his football animations as serving a similar purpose, giving fans a twisted alternative to the post-match media familiar from newspapers and television.
"YouTube is great - you can watch something, and if you like it, you can give it a go yourself."
- Laura Woods, Sky TV's Soccer AM
Both panelists agree that the sense of community created by online video is one of its most powerful qualities. When his videos started taking off, Dean was inundated with requests from fans around the world asking him to feature their favorite players and teams, while Laura explains that since launching Soccer AM's #YOUWOT program in September 2015, audience feedback has inspired several changes in format and content. "They like having the connection with us where they can influence what we're putting out," she says.
At first, the idea of asking for feedback from his audience made Dean nervous, but he soon found that videos where he encouraged comment and debate generated far higher levels of engagement. Laura Woods agrees on the importance of involving the community, but sounded the discussions only real note of caution, warning that creators who ask for feedback have to be prepared to act on it, or else risk losing the sense of genuine communication so important in generating loyalty.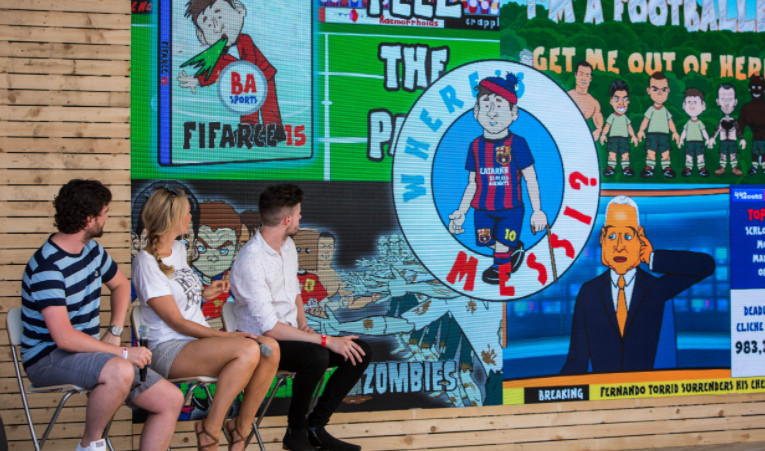 On the question of YouTube's strengths as a platform for innovation, Laura and Dan said that they valued the ability to test new ideas and get an instant response, and that they both felt confident about taking risks, knowing that a loyal audience is likely to be a forgiving one. According to Laura, after many years of working on TV and dealing with the delayed tyranny of ratings, viewer numbers and fan comments make a refreshing change, showing almost immediately if a piece of content is working or not.
In closing, Laura Woods identified passion on the part of both creators and fans as the most important component in the relationship. "If you're passionate about what you're producing, the people who are watching will get that enthusiasm… That's why YouTube is great - you can watch something, and if you like it, you can give it a go yourself."