In 2014 the song Boshret Kheir was released by the acclaimed musician Hussain Al Jassmi, quickly becoming the most viewed Egyptian video that was synonymous with a time of political change. This emblem of the upcoming election rose in the charts internationally (accruing over 1M views in the first 24 hours) and began amassing fan contributions, now boasting over 160K user uploads.
THE GOALS
Increase the channel's viewership and subscriber base
Reach a new, younger, digital audience
Promote fan engagement
THE APPROACH
Develop a sustainable digital channel
Leverage the success of the Boshret Kheir video
Maintain channel activity and re-activate audiences regularly
THE RESULTS
103M views and 161K covers of the Boshret Kheir video
Increased his 18-24yr audience by 88%
Grew subscribers by 600K in a year
Through focusing on the message of the video, optimizing all channel assets to capture the growth in viewership and strategically leveraging fan engagement the channel now has 600K subscribers and 227M lifetime views.
Here are the three strategies that drove Hussain Al Jassmi and the Boshret Kheir video to its current level of success:
1# Focus on the timing and the message:
In the leadup to the first Egyptian democratic election the United Arab Emirates singer Hussain Al Jassmi published Boshret Kheir (translated as good omen), to show his support for Egypt. The video depicted Egyptians dancing throughout the country holding up signs scribed with "vote" and "your voice counts" to rally and motivate the public. The video was released during a heightened political climate with a message that was catchy, concise and most importantly shareable beyond the MENA region.
2# Optimize all associated assets: video, channel & publishing schedule:
Hussain Al Jassmi's channel was launched in 2012, mainly acting as a hosting site for infrequent uploads. When Boshret Kheir was published in May 2014 this changed, with the video receiving 1M views in under 24hrs and quickly surpassing the channel's total views to date. The channel used a series of features and optimizations to entice these new viewers to engage further and convert them into subscribers.
Optimizations:
Redesigned the channel layout so that it closely related to the song
Continuously optimized the video metadata to respond directly to international search queries
Produced subtitles for markets that demonstrated high engagement
Employed info-cards and annotations to direct traffic to the channel
Utilized the campaign feature to promote the original video across user uploads
Increased promotion of the Boshret Kheir track during important political periods since launch to reactivate audiences
 Boshret Kheir has now received 103M views, still averages 200K per day, and has converted 45K viewers to subscribers. Since uploading the hit song, the channel has maintained an active publishing schedule by releasing catalogue and original content to new viewers. The breakout hit combined with maintained uploads has grown the channel by 600K subscribers in a year.

3# Engage with fan content strategically:
After Boshret Kheir was uploaded, the channel witnessed an exponential increase in fan tribute videos. To entice contributions, Hussain Al Jassmi encouraged his fans for submissions through his social accounts and YouTube comments. The first wave of parodies originated from Egypt and then expanded internationally, where specific countries began producing their own local versions of Boshret Kheir. Global talent including Alaa' Wali El Din, Adel Emam, Ismalie Yassein as well as Jean Claude Van Damme, produced and shared covers with their millions of fans. When the video surpassed the 100M view mark, they reactivated fans across social outlets by asking them to speak about a personal good omen that they had experienced.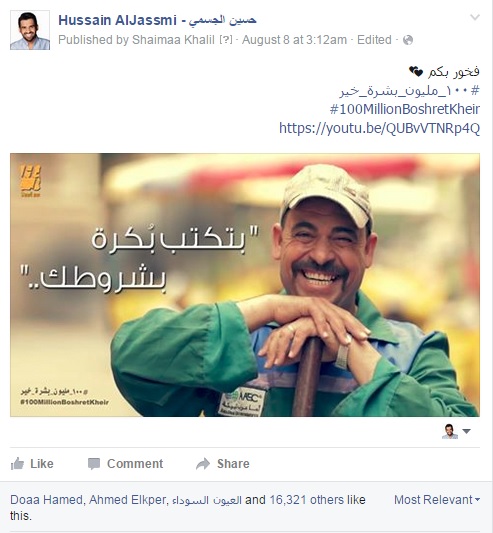 To further promote fan submissions, the channel set-up a policy where they monetized all fan videos that used a short section of their original video and blocked those that exceeded that length. This tactic allowed fans to include a segment of the original which made their creation feel more official and enabled them to participate in a growing international movement. The number of viewer submissions now exceeds over 165k and account for over 500K daily views.