During Ramadan, the busiest ad season of the year, standout content that truly engages an audience has the power to drive decisions for the rest of the year, as we explored in last year's Ramadan series. In our final installment of the Countdown to Ramadan this year, we deep dive into ad spend decisions and performance analysis of a campaign by exploring our WAVE framework to measure success.
Brands place the Ramadan opportunity at the center of their advertising strategies, increasing competition for spots. In the world of television last year, 23 percent of ad spend was dedicated to Ramadan in MENA vs the non-Ramadan period, according to Ipsos 2017 research. The average cost per TV spot rose 180 percent during this period1.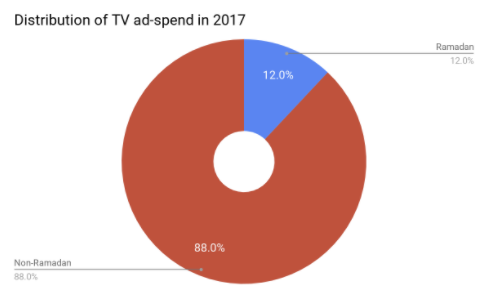 Interestingly, Ramadan viewership on YouTube over the last three years has increased three fold in comparison to TV, while TV viewership remained flat2. YouTube viewership actually rises during Ramadan and for weeks afterwards, with viewers often tuning in to YouTube specifically to watch popular Ramadan ads. The following graph shows that viewers in Saudi Arabia and in Egypt actually prefer watching ads on YouTube to TV, according to Ipsos MENA 2017 Ramadan Insights.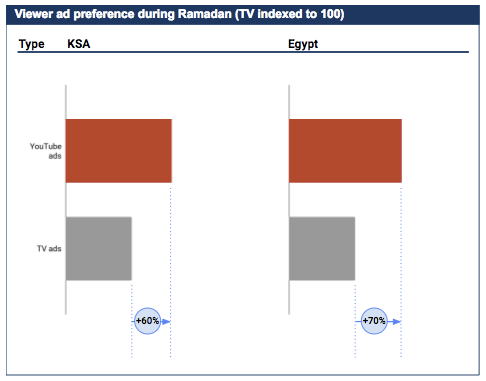 The clutter on TV during Ramadan is twice the norm with ad breaks increasing up to 50%, making your advertising message a lot less likely to be noticed or leave any impression on your target audience. The cost of TV prices also increases by 2.5X during Ramadan in MENA during the holy month3. YouTube on the other hand stays fixed with Google Preferred rates.
Smartphone penetration reached 60% across MENA (91% in UAE) while demand for smart TVs increased by 10X in the last five years, making YouTube the largest ad supported digital platform that works across every single screen: mobile, desktop, tablet and TV.

The Online Video Opportunity

With the Arab world noted as one of the TOP 5 LARGEST in total YouTube watchtime, the opportunities for advertising are endless.
Ipsos MENA 2017 Ramadan Insights shows that YouTube viewers are also highly engaged: 90% of viewers in Saudi Arabia report watching videos fully compared to 80% of TV viewers. The numbers are equally interesting in Egypt, where 78% of YouTube viewers reported watching a complete video, compared to 52% attention span on TV4. In fact, Ramadan audiences prefer YouTube ads to TV clutter, according to Ipsos MENA Ramadan Insights 2017.

Measuring Success
One of the benefits of advertising on YouTube is a clear way to analyze performance of a campaign. We follow the wave framework to measure the success of an ad on YouTube based on four metrics: watchtime, audability, viewability and engagement.

Break it Down

Watchtime: Video platforms must reach a sizeable audience that consistently spends a significant amount of time consuming videos. It has been found that YouTube viewership rises during Ramadan while TV viewing drops. In fact, in Saudi Arabia, there is a decrease in TV viewing of 26% during Ramadan.

Audibility: Ads are effective most when they are heard. They can only make that emotional impact on the viewer when words are spoken or a catchy song is sung. Music, above all creates impact and is remembered. 95% of YouTube ads are audible.

Viewability: Video ads need to be viewed. After all, that is the purpose of the ad. Research has shown us that an ad is more likely to be watched if it is on YouTube. Internal Google research shows that YouTube ads far exceed industry benchmarks for viewability of digital videos.

Engagement: An ad should be delivered when the user is paying direct attention - ideally, delivering a personal message. A person on YouTube has actively chosen to be there, searching, consistently throughout the day. Users value the flexibility and convenience of YouTube over the rigidity of TV.

The Rise in Ad Searches
More so than any other time of year, during Ramadan, users actually proactively search for advertising content on YouTube. This is especially true in Egypt where these ads are highly anticipated, then shared and discussed widely.

Ads that excel online in their search numbers are ads that touch on personal experiences that we can relate to, according to Google research. Last year's Lantern Award winner, a VIVA Kuwait ad, gained a lot of attention during Ramadan for portraying the frustration that women go through when their Tupperware is forgotten at guests' homes - the results were extraordinary. That's the power of creative strategy driven by understanding what audiences watch on YouTube.

Happy planning!