Specialising in sport utility and off-road vehicles, Jeep is a brand of American automobiles owned by Fiat Chrysler Automobiles. In Turkey, Jeep operates under TOFAŞ Group's 14 dealerships.
THE GOALS
Promote new Jeep model in advance of launch
Drive online sales of Jeep Renegade
Generate leads
THE APPROACH
Created car configurator website
Promoted site using Google Display Network and AdWords
Used remarketing, affinity and rival contextual targeting
Generated interest through YouTube videos
THE RESULTS
62% of all visits to configurator website from Google pay-per-click ads
Total number of applications made via reservation system produced 16% conversion rate
12% of Jeep Renegade sales in Turkey transacted online as a result of digital campaign
38 cars sold online in pre-sales campaign alone; around 150 additional vehicles sold through online configurator to date
Prior to the Turkish launch of the Jeep Renegade, the marketing team initiated an online campaign using the Google Display Network, AdWords and YouTube. "At that time there were no Renegades in the showrooms, but hundreds of Renegades were en route to Turkey," says Sales Area Manager Burak Umur Celik. "Our aim was to sell as many Renegades as possible before they arrived. Our campaign slogan was 'Have the chance to own a Renegade before anyone else.'"
Virtual Jeep Renegades becomes reality
Jeep created a configurator website, giving consumers the chance to configure their very own virtual Renegade and access all information about the new model. "Once they built their car, they would see a 'Reserve Me' button pop up on the screen," Burak says. "When they clicked this, the system matched their configuration to a car in the virtual carpark in the right version, colour and options." Next the customers could choose a dealer from the list and submit contact details. A final screen would then appear showing the address of the dealership and the sales manager's phone number.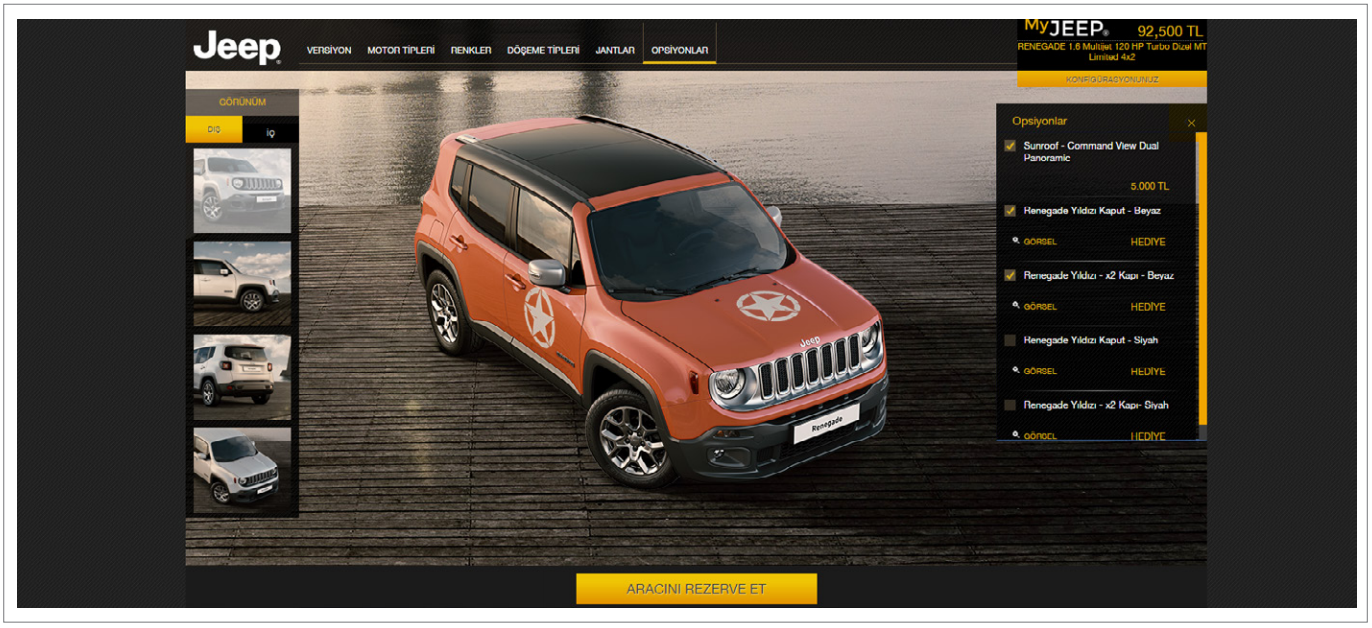 "Once they sent their request, the system reserved the car for one day under the name of the customer – so the customer was obliged to contact the dealer and make the payment in just one day if they were to purchase the car," Burak explains. "When the dealership had the customer's contact information and reserved car details, the sales manager could contact the customer in one hour. During this step, the customer had two options: either to make the payment via money transfer or to visit the dealer and make the payment in person."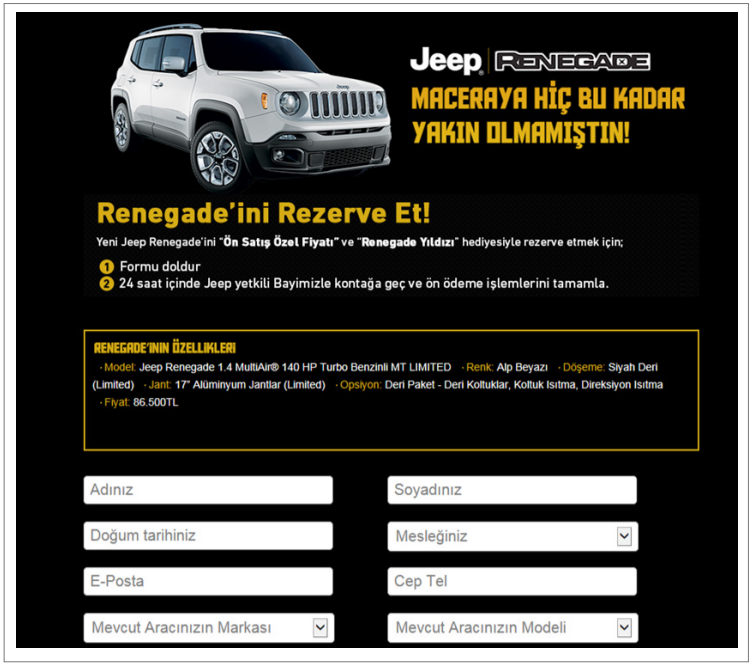 Getting promotional activity into gear
The marketing team used the official website of Jeep in Turkey, AdWords, the Google Display Network and videos about the Renegade on YouTube to promote the campaign. All the leads were directed to the car configurator.
The Google Display Network activity included three components; remarketing, affinity and rival contextual campaigns. "We used a rival contextual campaign because our targeted population was narrow," Burak reveals, "so we concentrated on placing our banners on websites where our rivals' names appeared. With remarketing, we made sure that users who had previously visited the Jeep website saw our configurator. And with affinity, we targeted car enthusiasts and people who demonstrated similar interests."
The decision to include Renegade content on YouTube was an easy one to make. "YouTube is the most important video platform for us," he says. "It is also the primary site where we announce all of our video campaigns, and we can find a suitable and large user base thanks to our remarketing lists. We opt to use Google during every period when we publish our local and global videos."
Riding high with auto online sales
When the reservation program went live, it took just two hours for the first Jeep Renegade to be sold online. During the whole pre-sales campaign, a total of 38 Renegades were sold online. And within seven months, 12% of Jeep Renegade sales in Turkey had been transacted online as a result of digital marketing. The total number of applications made via the reservation system produced a conversion rate of 16%. To date, around 150 additional vehicles have been sold through the online configurator
"Google was so significant to our operations that around 62% of all visits to the configurator website came from Google pay-per-click advertising," Burak says. "In the future, we have decided to extend the online sales to other Jeep models and also to Alfa Romeo cars. By the end of the year, we're also planning an online payment system where the customer can complete all the buying process – configuration, reservation and payment – via the online sales program."