Video viewership, particularly on mobile, is skyrocketing in MENA. Vogon is a unique new tool that allows for multiple customized videos of the same ad, presenting fresh opportunities for brands to advertise to target audiences with more relevant messaging. Note: Vogon is a new technology that is not currently available for commercial use in EMEA. A successful trial was completed by a MENA telco.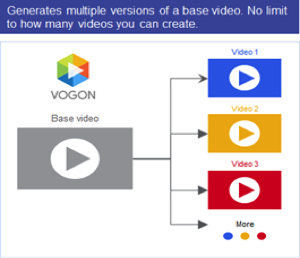 Vogon. It sounds like a concept from a futuristic, science fiction movie plot. Well, it is definitely futuristic: Vogon is a tool that allows brands to dynamically embed text, audio or images within their videos to generate unlimited variations of one video. As a result, brands can customize their videos to target specific audiences and adopt hyper-targeting strategies in their video media plans. Vogon is currently a pilot program in EMEA and the tool was used in a pioneering trial in MENA by the telco company du.
Why is this important, especially now? Because video viewership, particularly on mobile, is skyrocketing in MENA. In this growing space, brands must find innovative new ways to stand out to their target audience. 
Video Rules
The average amount of time people spend consuming online video each day has more than quadrupled since 2014 globally. This trend is on the rise accelerated by mobile device adoption. In MENA, video is king. YouTube Watch time across MENA has grown over by 60% year-on-year between 2015 and 2014, reaching hundreds of millions of hours of video per day1. Mobile watch time in MENA has grown over 60% year-on-year2. Saudi Arabia, more specifically, has the highest viewership per capita and the trend is one of the most exciting globally, with 83% of viewers watching online video weekly3.
Videos for Brands on the Rise
As a result, brands are actively adopting video more and more with relevant messaging aimed at a more targeted audience. Compared to display advertising, video marketing is a far more dynamic and interactive medium to work with, proven to deliver higher engagement and stimulation with customers in a subtle way. A closer look shows that 65% of people in KSA and UAE are fully focused when watching online videos, according to data from the 2016 Consumer Barometer.
The Video Challenge
However, brands are presented with the dynamic video challenge – why aren't videos dynamic? The only issue that limits the potential of a video marketing campaign is the amount of customization that can be done. Today, video ads are generic and communicate in the same way to all users – unlike display ads which are increasingly becoming more dynamic with widely available solutions.
Video production also presents its own challenges: lengthy planning periods, high production costs and long lead up times. Customization adds even more complexity.
A Solution: Vogon
Vogon is a tool to create dynamic videos that allow brands to dynamically embed text, audio or images within their videos to generate unlimited video variations – cutting down on efforts, costs, time, and planning. Text is integrated using the brand's native font type.
A brand develops a single video to showcase its latest offer. With Vogon, a different message can be shown to the user depending on multiple factors. Digi Music, a music streaming app, used Vogon to customize a different message shown to the viewer depending on the artist the user is watching on YouTube.
Here's a photo from the original video: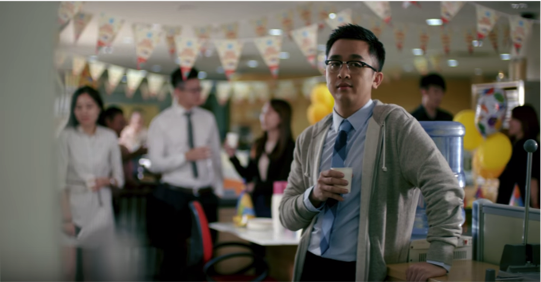 Here is an image of four separate videos generated by Vogon that speak to a viewer's preferences: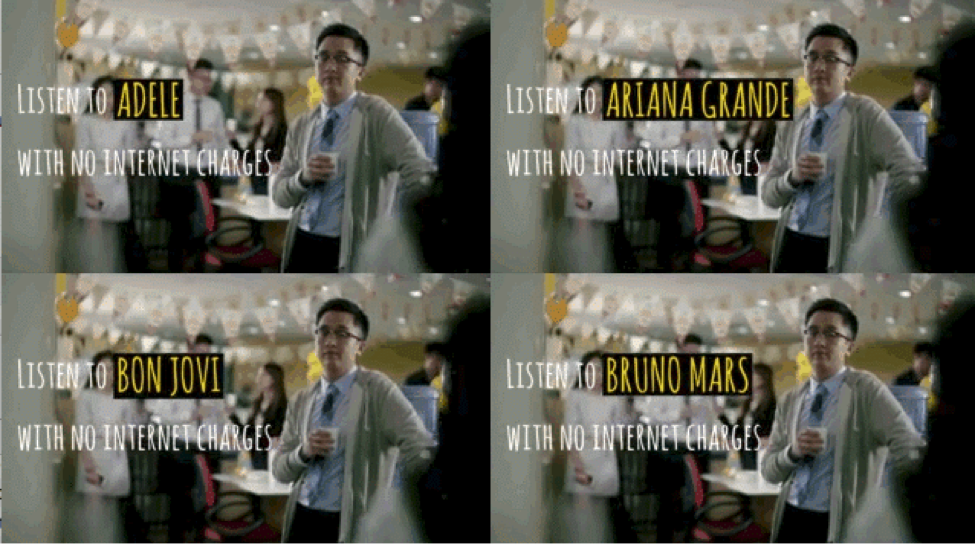 In MENA, UAE-based telco operator "du" used Vogon during a Ramadan 2016 campaign to customize a variety of messages around the themes of cooking, entertainment and religion, such as a 'good appetite' note before a user watches a cooking channel or an hour before iftar. The campaign allowed du to transform their simple greeting video - in Arabic and English - into over 150 powerful and targeted messages delivered to multiple segments.
Example of one of over 150 versions of du's Ramadan 2016 campaign:
With more and more viewers tuning in to YouTube in MENA, Vogon is a clever way to add a personal touch and develop multiples of one video. The future is here.