Google, in partnership with Kantar TNS, conducted online surveys with new car buyers in Kuwait and the United Arab Emirates (UAE) in the first half of 2018. Both countries demonstrated similar trends in new car buyer journeys.
Today, new car buyers in MENA are increasingly going online – and they are searching for professional, easy–to–access videos produced by car manufacturers and retailers. Given the option, the majority would prefer to buy their cars online too and some are willing to replace test drives with advanced technologies such as 360° video and virtual reality (VR).
Changes in lifestyle trigger new car purchases
Whether in Kuwait or the UAE, the decision to buy a new car is mostly triggered by a change in lifestyle – such as an improvement in their financial situation, starting a new job, accommodating a growing family, moving to a new place or children becoming eligible to drive.
In MENA, online serves as a means of discovery for initial research. About 21% of new car buyers in Kuwait said they were made aware of their car for the very first time online compared to 20% in the UAE.
Professional videos are more popular with new car buyers
Video content produced in a professional manner by car manufacturers and dealers is highly sought after by new car buyers. About 86% of new car buyers in Kuwait said they prefer to watch videos that are professionally produced by vehicle manufacturers as opposed to independent third parties and amateurs.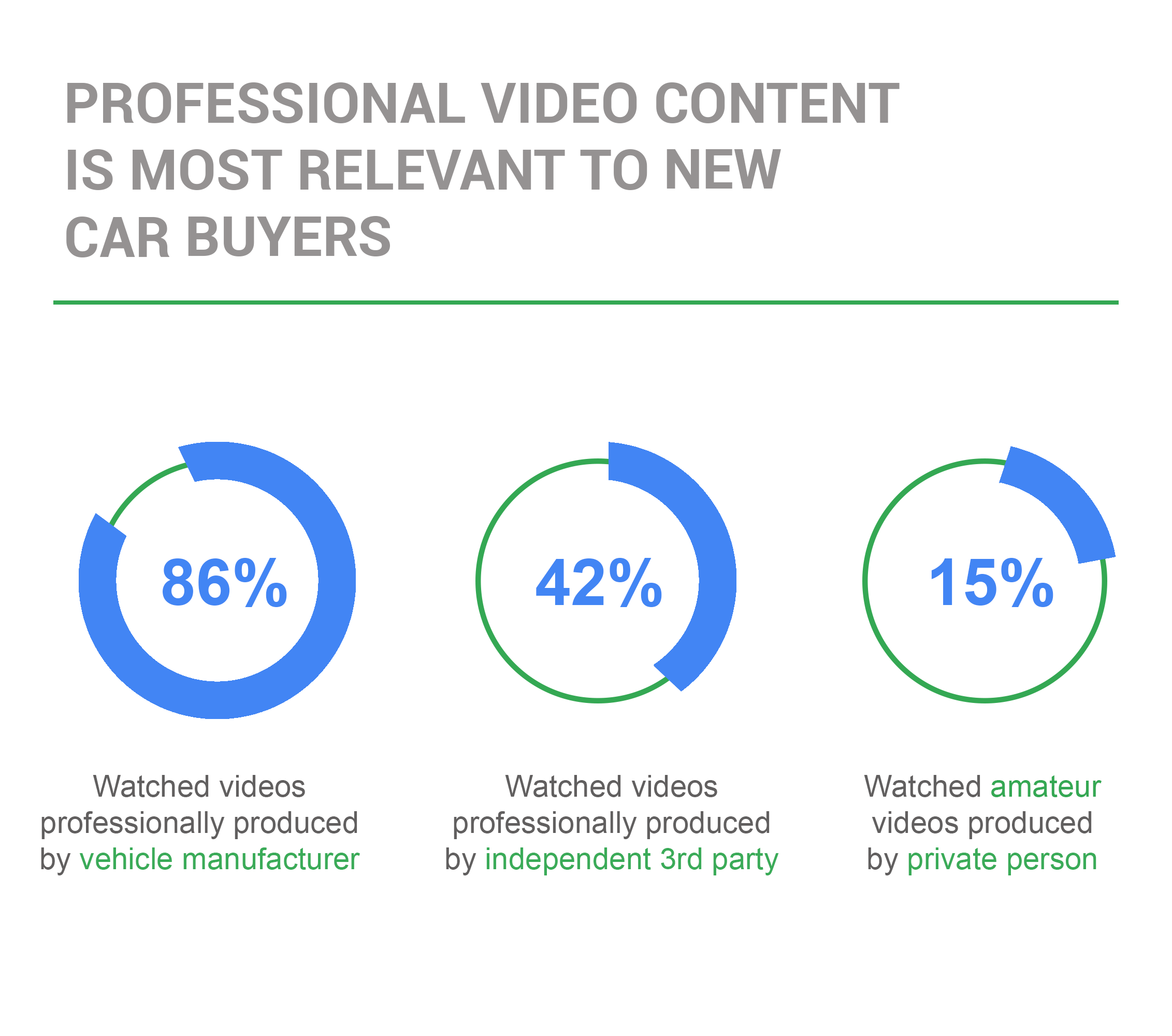 Narrow window for actioning a new car purchase
Not all new car buyers in MENA are experienced when it comes to buying a car for the first time and most are not loyal to any specific brand. However, most will conduct all their research within just 2 months – in Kuwait, 72% of new car buyers actioned a purchase within just 2 months and 29% within 2 weeks. In the UAE, 70% of new car buyers actioned a purchase within just 2 months and 15% within just 2 weeks.
Search and professional videos are key for car buyers
When they start their research online, over half of new car buyers will first turn to a search engine or watch online videos. These channels are used by new car buyers to help them shortlist their favorite brands.
Brands that have easy–to–access online content can quickly become part of the buyer's shortlist early on and inspire buyers at this early stage of their journey.
From intention to purchase, online is an indispensible research source and video and Search are the main research destinations for new car buyers. In Kuwait, 100% of buyers said they researched online, 93% in the UAE.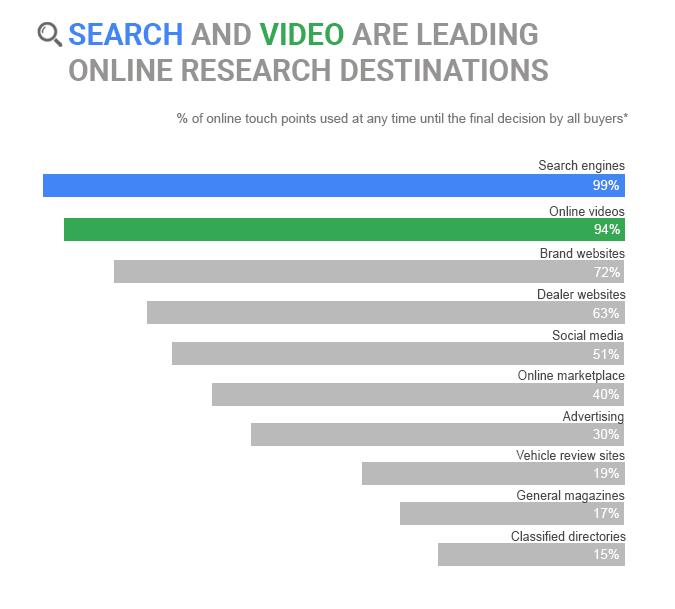 Smartphones prefered by new car buyers
The smartphone remains an important research tool. When researching new cars 90% of buyers in Kuwait used their smartphones and 86% in the UAE. All heavily relied on search engines and online videos during their purchase journey – more so than brand websites.
Video is increasingly becoming a key part of new car buyer journeys but professional video content is the most in demand. Video is often used as a buyer's "consulting zone" and allows viewers to explore the car from different angles such as car design, cars in action and review ads.
From online research to offline purchase
Moving on from digital to the dealership, purchases in the region are made offline. However, most go online to find their dealers with 53% in Kuwait finding their local dealer through a search engine. It also takes an average of two visits to the dealer and one test drive to decide to action a car purchase.
More than half will use their smartphone to research, even when at the dealership. At present the opportunity to purchase a new car online is negligible. However, most new car buyers go online to find dealers close to them and more than half find dealers through search engines instead of brand websites. When it comes to research, most new car buyers want information on car prices, promotional offers and deals. In Kuwait, 88% said they were interested in prices and 78% in promotional offers and deals.
Virtual Reality and 360° videos could replace test drives
More than half of new car buyers in Kuwait and UAE said they would forgo a test drive and could be convinced to make a purchase through advanced video technology alone.  Over 60% said they would be convinced by 360° videos and the number was higher for virtual reality experiences.
The majority of new car buyers also said they would consider buying their new car online if they had the option. This is due to convenience and saving time, price and access if no dealer is close by.