With the holidays fast approaching, retailers need to understand the wider impact of their online marketing and embrace an omnichannel strategy.
Say hello to holiday shoppers
Traditionally, the holiday season is the most important period of the year for retailers. Christmas, Black Friday and Cyber Monday offer unparalleled opportunities to win over the consumer, and with digital channels influencing over 86% of holiday shoppers,1 this is a battleground you can't afford to lose.
Consumers are extremely active during this period, with 3 in 4 buying from a retailer they haven't shopped with before.2 Brands that don't keep up with expectations and provide frictionless shopping experiences will lose out. So, how can you up your game for 2018?
Delivering an excellent e-commerce experience is your first priority. The fundamentals of online retail haven't changed. You need to ensure brand presence in the right moments and on the right channels, and deliver a speedy, reliable user experience on your website.
However, consumers are increasingly searching for local results during the end of year season: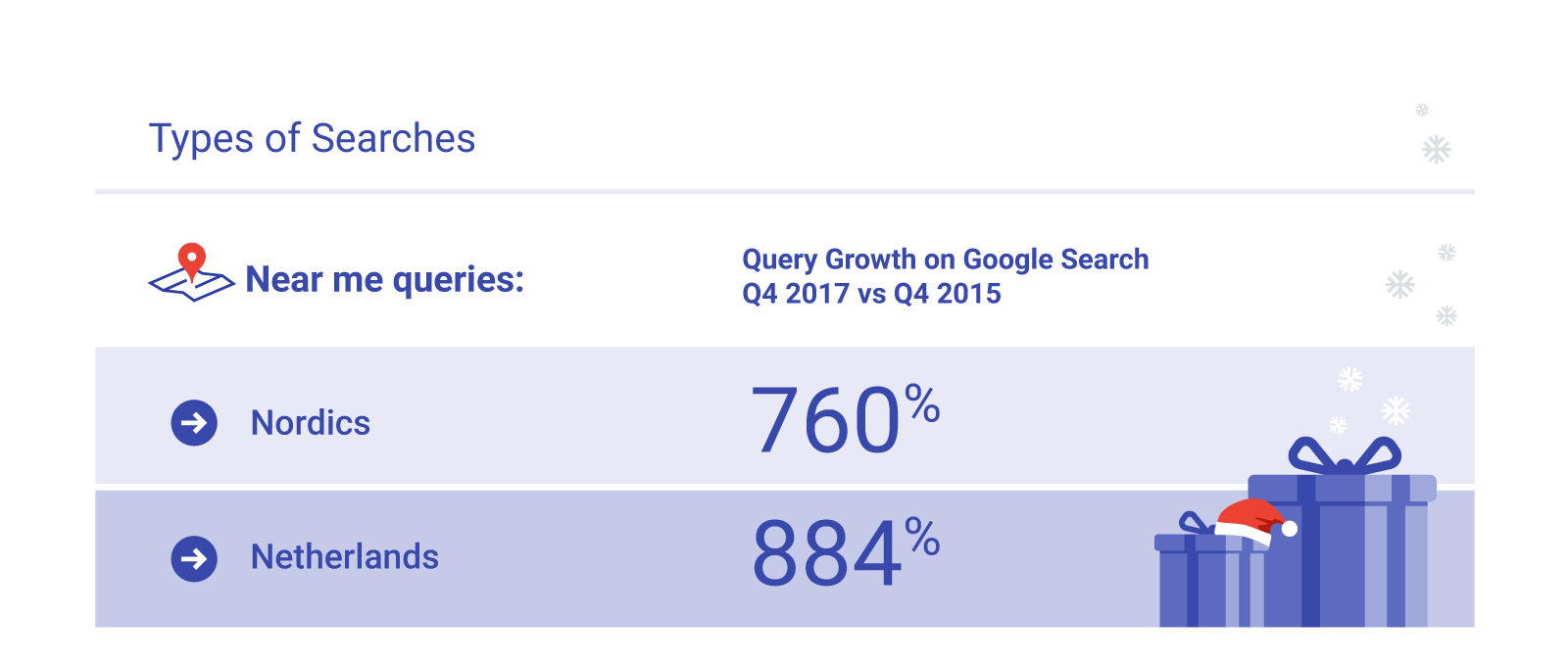 With 90% of retail sales still happening offline,3 and digital influencing 74% of holiday store visits in 2017, it is crucial to treat your digital channels not only as a driver of e-commerce, but as a driver of total sales.
We see the growing importance of this effect in the relationship between digital touchpoints and physical retail transactions. In 2004, less than 13% of non-grocery transactions were influenced by a digital interaction, while in 2017, 58% of those in-store purchases involved a digital touchpoint.4 This almost five-fold increase shows how central digital has become to the overall shopping experience, whether you're talking about on-screen clicks or in-store footfall.
A window onto your business
The first step towards effective cross-channel marketing is making sure that information about physical stores is easy to find online. A listing on Google My Business (GMB) provides a free way to connect with customers, whether via phone, tablet or computer, and allows consumers to search for a company across Google Search and Google Maps. Retailers can choose what consumers see: opening times; images of storefronts; online reviews. They can engage with the consumer by reading and responding to reviews, and integrate with their Google Ads account for an enriched dataset. 
Fulfilling a need
When they need something now, almost 80% of customers will visit a physical store.5 Available in the Netherlands, Denmark, Norway and Sweden, Google Local Inventory Ads show products, availability, and store information to nearby shoppers. Clicking on an ad takes the shopper to a Google-hosted page called the local storefront. Here they can find in-store inventory, opening hours, directions, and more.
Discover and inspire
For 1/3 of shoppers, the best thing about shopping is finding fresh inspiration.6 Newly launched in the above countries, Local Catalogue Ads (LCA) on Display can help inspire shoppers by enabling them to explore your products before they visit your store. This interactive experience features a hero image and outlines your inventory – including in-store availability and detailed pricing information - in an easy-to-scroll, mobile layout. Local Catalogue Ads offers the wider audience and measurement benefits of digital ads to augment your traditional print campaigns.
With the new local feed partnership program, onboarding to both Local Catalogue Ads and Local Inventory Ads is now easy for retailers of all sizes. The program allows point-of-sale or inventory data providers, like Cayan, Pointy, and yReceipts, to liaise directly with Google, meaning merchants don't have to create their own local product feeds. And, as an additional benefit, retailers can showcase their local inventory for free on the 'See What's In Store' feature.
Assess your success
Google Store Visits analyses aggregated, anonymised data from a sample set of users who have turned on Location History to measure the impact of online ads on visits to bricks-and-mortar stores. The data is extrapolated to represent the broader population and is reported only once it reaches a strict, conservative confidence level. 
Store Visits is continually evolving: reports are no longer limited to Search-only, and are also available on the Google Display Network and YouTube. The reports are more actionable, now summarising store visits per individual store, and in context of distance to store to allow location-based marketing.
Store Sales Conversions is now globally available, which helps retailers connect the dots between ads and offline sales. This tool enables retailers or their data partners to upload in-store conversion data to Google Ads for an accurate, omni-channel view of return-on-investment.
A new ethos
For omnichannel marketing to work, you need to get employees on board across the organisation. If ecommerce teams are rewarded only for online purchases, there's no incentive to run innovative digital-to-store campaigns that generate in-store sales. Likewise, store teams should be rewarded for contributing to sales, even those that ultimately happen online.
To implement this, you'll need a supportive organisational structure and a forward thinking mindset. But, with the right metrics in place, you'll be poised to join the list of brands who've enjoyed success. Sportmaster (DK), Elgiganten (SE), Home Depot (US) and Matalan (UK) have all embraced an omnichannel approach, with results ranging from 20% year-on-year revenue growth to conversion rate increases of almost 50%.
With holiday season sales becoming ever more dependent on digital strategy, you can't rely on last year's approach to bring success. As digital marketing evolves, brands must assimilate new technologies and new attitudes and continue to push their campaigns forward into the future.