In recent years, brands around the world have had to constantly push themselves to keep up with economic uncertainty and changes in consumer behaviour.
Now it's time to look into the future. Google partnered with Vogue Business to conduct CUBE: Fashion Takes Shape, a study exploring the behavioural shifts that are likely to drive future innovations in luxury and fashion.
CUBE stands for the four key trends that are to come, from creating character to embracing the extraordinary. We delve into each trend and explain how brands can respond to them.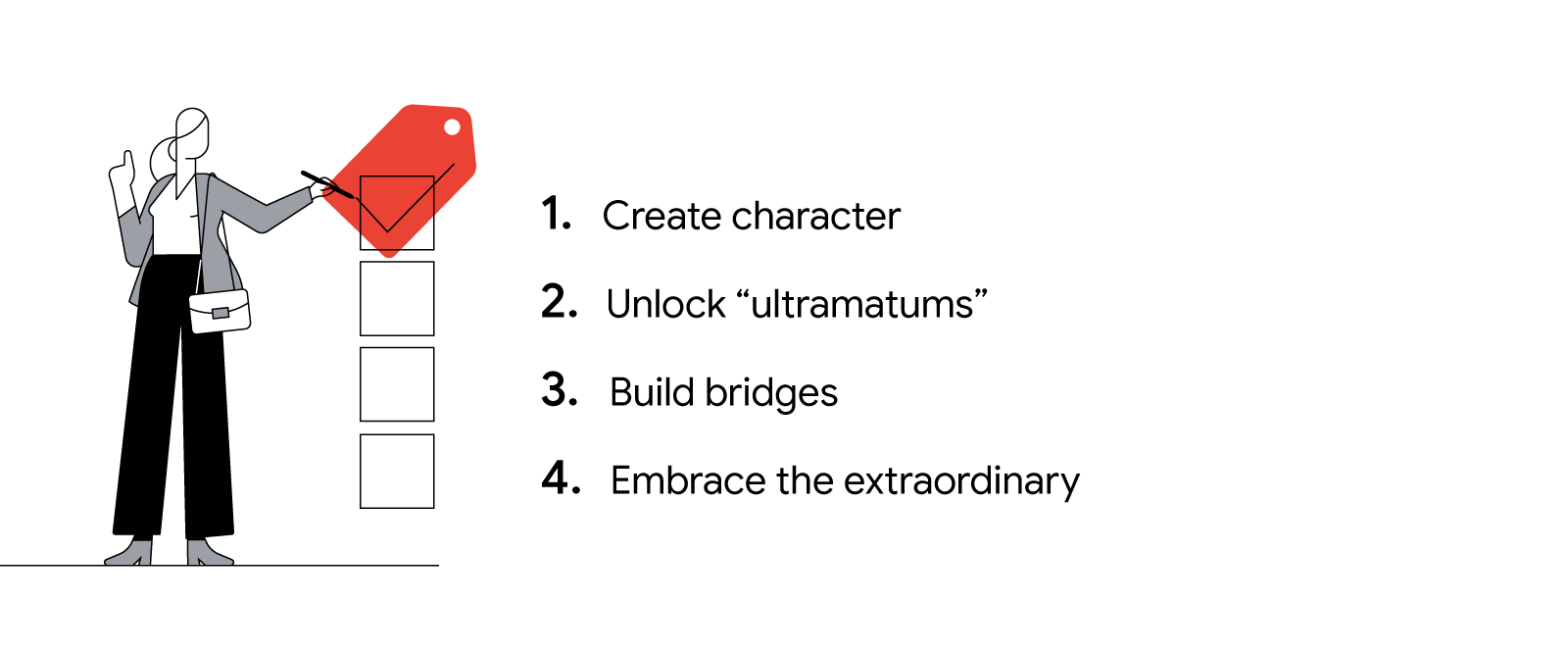 1. Create character: communicate your brand's personality
A global survey revealed that 82% of consumers want fashion and luxury items to help them express themselves.1 Our research with Vogue builds on this by showing that consumers would take the opportunity for self expression over craftship or brand heritage.2
As people are seeking more human relationships with the brands they purchase from, it's becoming increasingly important for brands to authentically communicate their values.
Action: Today's pop culture is marked by content that is value driven and personally relevant. A trend sparked by things like the emergence of personalised platform recommendations and an increase in the number of people sharing online video content.
Brands can tap into this trend by showing more of their personality and values in long-form video content, which, according to a 2022 Ipsos survey, is increasingly popular among Gen Z audiences. At the same time, shorter formats such as YouTube Shorts (15-60s) are great for grabbing attention and helping people discover new content on their phones.
2. Unlock "ultramatums": be there for the conscious consumer
Consumers are becoming ultra-committed to pursuing positive changes in their lives and are expecting brands to do the same. And with global search interest for 'ethical production', 'sustainable clothing', and 'slow fashion' growing significantly in recent years, the issues fashion and luxury shoppers want brands to respond to are clear-cut.
Brands are well positioned to help consumers put these positive "ultramatums" – driven by environmental causes, animal welfare, racial equality, and ethical manufacturing – into action. In fact, people are likely to choose one brand over another based on their efforts.
Action: Brands can help consumers better understand their values by highlighting relevant product characteristics – from recycled denim to biodegradable fabrics and plastic-free packaging – in their online communications and ads, including Google Shopping and Search. In addition, implementing Google Cloud discovery solutions into their platforms can help brands make it easier for shoppers to find the type of products they're looking for, from locally sourced to sustainably produced.
3. Build bridges: strengthen connections between all channels
In a hyper-connected world, the boundaries between online and offline shopping experiences are becoming more blurred. Fashion and luxury consumers will move away from a linear path-to-purchase and instead find themselves immersed in a seamless space between the real and virtual.
In a recent study by Google, 73% of consumers said they already describe themselves as channel agnostic, assessing with each purchase which channel is most suitable depending on convenience or availability.3

Action: Embracing new technologies such as visual Search can help brands provide their audience with a more immersive experience. Multisearch is now available globally in English, and will be expanded to over 70 new languages in the next few months. The feature allows people to search more intuitively by using a combination of images and text, which is particularly helpful for shopping as it makes it much easier to find what you're looking for. In turn, it helps advertisers bring their ads to life with more compelling image assets.
Another tool retailers can use to bring the online shopping experience to life is augmented reality. Enabling shoppers to virtually try on clothes and accessories will not only help them better understand the size and fit, but also make the path-to-purchase more personalised.
4. Embrace the extraordinary: connect (with) communities
73% of luxury buyers choose brands based on their commitment to out of the ordinary technologies for innovation and experimentation.4 Increasingly, this innovation will be driven by local peer-to-peer communities and creators as consumers are looking for online experiences that are social, hyper-local, and relatable.
To connect with this audience, fashion and luxury brands will have to adjust to a new way of communicating, and collaborate with local communities to better reflect their needs and aspirations. From squad shopping – groups of friends shopping together on their phones – to 'socialised' shopping – the need for e-commerce sites to become more like social platforms – there's a lot of expectations fashion and luxury brands will have to live up to.
Action: Harness the power of community by collaborating with creators that share and represent your brand values. Collaborations can take place offline – hosting events, co-designing collections – and online with sponsored videos or YouTube's community tab. Here, creators can help build more human relationships with your audience by engaging them with polls, GIFs, text, images and videos.
Want to learn more about the trends that will shape the future of fashion and luxury? Download the full research by Google and Vogue Business below.