As consumer behaviour has shifted increasingly toward mobile, how can you ensure you can fulfil your customer's needs at any given moment? Google's Magnus Friberg outlines three key steps to help you win these mobile moments.
Ever since I started my career at Google five years ago, each year has been earmarked as the Year of the Mobile. We all wanted to correctly pinpoint the exact time that the big shift in consumer behaviour occurred. In 2016, we can highlight some key facts:
Most people who connect to the Internet for the first time in their life, are doing so via a mobile phone rather than desktop1
In Sweden and much of the Western world, smartphone penetration can be as high as 9 out of 10 people2
The number of smartphone searches on Google overtook the number of searches coming from desktops3
All in all, it seems safe to conclude that the shift has happened, regardless of when it actually happened. It is now more important to understand how to harness the power of this new mobile consumer behavior.
The importance of '150'
A common data point when it comes to mobile consumer behaviour is 150. That's the number of times users on average turn to their smartphone during a day. While it may sound like a lot, functionality is a key driver behind this. You can do so many things on your smartphone; from checking the bus timetable, to paying the electric bill or researching your next holiday to name just a few.
At Google we wanted to have an in-depth understanding of this phenomenon, and in our research we discovered a new customer behavior. Thanks to our smartphones, we can now fulfill needs immediately, in any given moment. We call these incidents 'moments' and for advertisers they provide a golden opportunity to talk to the consumer, as is it at this point that we are most receptive for influence.
Three important steps for advertisers
To win these mobile moments, we have created a framework consisting of three important steps for advertisers:
Get chosen
Be quick and useful
Connect the dots
Let's walk through each of these steps, what they mean and how you tap into them.
Get chosen
Everyday people conduct billions of searches on Google. In Sweden we see as many as 50 million searches4 occurring daily. To 'follow eyeballs' and be where the consumer is, has always been a cornerstone in modern marketing. But solely chasing reach isn't enough anymore, as the consumer demands a lot more from us. Relevance has always been the foundation for Google's consumer product and the advertising solutions we provide. Intention trumps identity; the fact that I'm a male between 18-35 years old is less important than I'm currently in the market for a vacation. It is also true that immediacy trumps loyalty; if you as a company respond to a need in the moment and you actually provide beneficial information, the chances are you are going to get chosen.
One of my favourite examples where these two statements come into play is that of Red Roof Inn5. This US hotel chain came to the attention of how flight delays affect up to 90,000 Americans on a daily basis, and figured it would be a splendid opportunity to create real customer value. Red Roof Inn started to track flight delays and cancellations in real time by tapping into a flights database. They then harnessed that data to trigger search ads near airports with stranded passengers, using relevant messaging (for example "Flight AA123 cancelled? Stay the night with us!"), linking back to their site. The result? A remarkable +60% increased revenue thanks to Red Roof Inn responding to an I-Need-To-Stay-The-Night moment.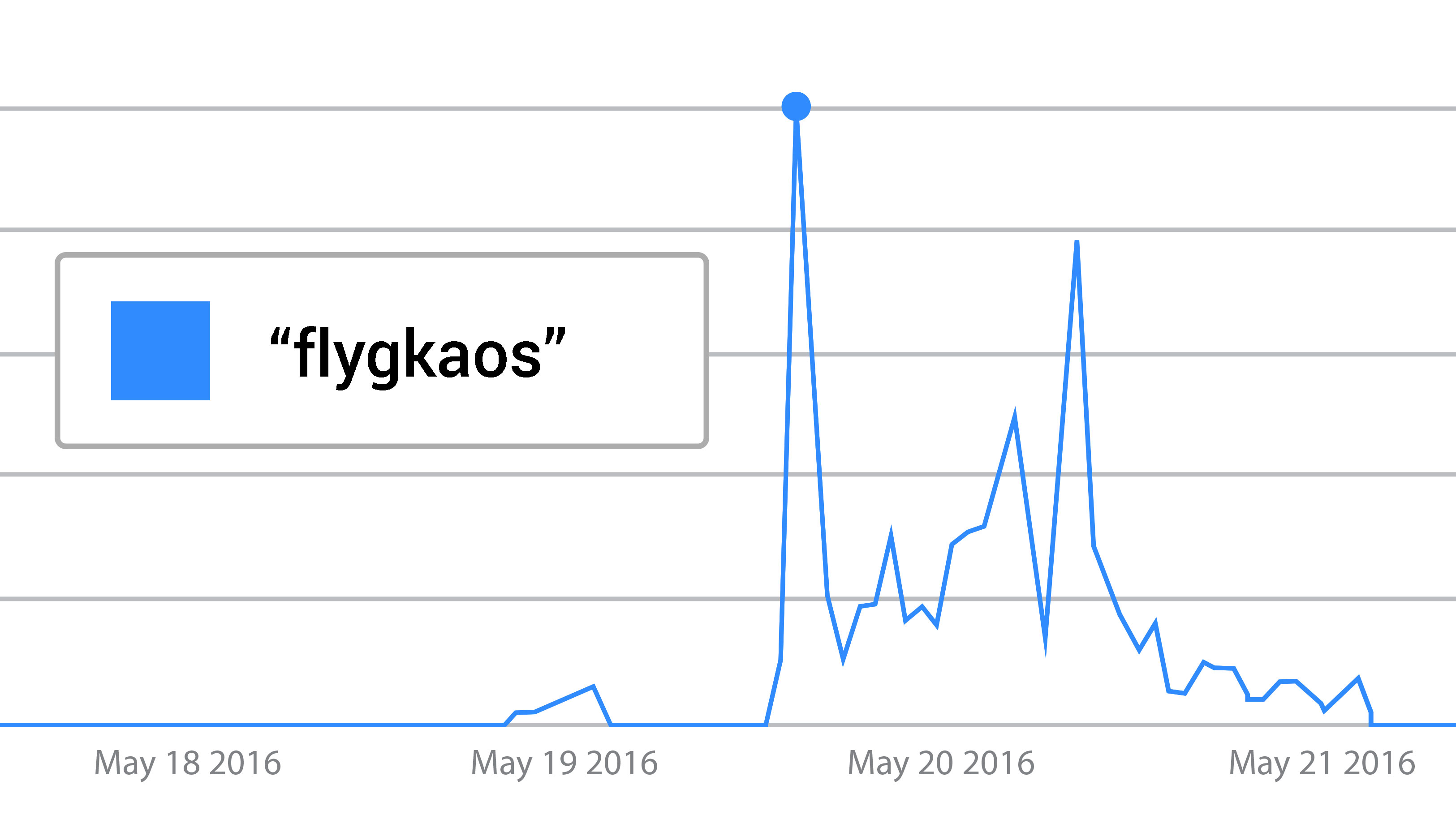 Like Red Roof Inn, many of Sweden's hotel chains could have done a lot of business when the flight traffic was down for an entire day in May 2016. The graph above is data from Google Trends explaining that interest exploded when the 'flygkaos' (or 'flight chaos') hit it's peak on Thursday 19th of May in the afternoon.
How can you get chosen?
Start by identifying the "flygkaos" for your business. You know your customers the best, so think about key issues: what does their everyday look like? What type of needs are you products and services fulfilling? How can you help them? Pressure test your hypothesis with the help of Google Trends.
When you do know where you want to be chosen; understand how often you are choosable. Does your current presence match your ambitions to be there for your clients? Does it even match your overall market share? We often see the gap between reality and ambition being the largest on the traffic coming from mobile phones, even though it's the most important. This is often due to companies being stuck in measuring the value of this new customer behavior in the old fashioned way, which we will cover later in this article.
Even if you do get chosen in the moment, you still have more to prove!
Be quick and useful
According to Kissmetrics, 40% of your visitors leave your site if it takes more than three seconds to load6. Users don't have much patience for bad user design and experiences either. It has been told that our cognitive stress level when encountered with a slow loading mobile page is a similar experience to when we watch a horror movie!7 This isn't something that you would want to expose your potential customers to. One company which has made user experience and fast page loading it's core competence is Amazon. They have realised the business value of being fast: a delay of one tenth of a second is equal to 1% of Amazon's profit!8
So how can you be quick and useful? Two tips:
Utilise Google's Test My Site website: it's a free public tool which gives you information on how to make your webpage load faster. Simply enter your website URL, press 'TEST NOW' and the tool will generate a list of elements that slows the loading time. They are also neatly prioritised so you will know what to take care of first in order to gain the most impact.
Learn Google's 25 mobile design principles to build a better experience for users. User design and experience is a science of its own. The principles we've listed are the result of a large focus group survey where we focused on what users find most useful to them and what a great experience should feel by letting them carry out various tasks across 100 different mobile sites of assorted businesses.
So now we've tackled how to get the user's attention, and are able to provide a better experience for our potential customers, but how do we measure success in the world of mobile?
Connect the dots
Regardless of the end goal that we want our users to achieve on our site, we can rely on one fact: the journey to that goal will not be straight. Nine out of ten people say they use two or more devices when they book a trip or purchase a sweater9. The more complex of a product or service, the more time and more devices/touch points will be involved in the buying decision process.
The problem today is that companies are attributing all sales towards the touch point that was the last interaction the user had with the company. In search, usually the customer journey ends with the user typing in the brand name of the advertiser. But how did they end up choosing you? The decision has most likely already been made earlier in the process. The smartphone is usually most prominent in the beginning of the journey and thus, doesn't look like it is paying off.
But what if that's the moment where the decision is made? You wouldn't want to miss out being present in that moment. After all, advertising is about influence people's decision to choose you, right?
We have to start measuring success on the basis of the new consumer behavior. Zmarta, a loan and insurance comparison service in Sweden, has done just that. Taking smartphones into consideration in the consumer path allowed Zmarta to increase their revenue by +111% (see full case study here).
So what can you as an advertiser do? Here are three key suggestions:
1. Optimise for cross-device behaviour
Let us once and for all realise that smartphones are an important gateway to new customers, a conversation-starter if you may. We should therefore treat and measure it like one. Zmarta used Google Analytics to understand the full digital landscape and Adwords to optimise. Adwords has had the possibility for advertisers to optimise their marketing for cross-device behavior since 2014. With signed-in Google users, you as an advertiser don't even have to to the hard work - implementation is available at the push of a button.
2. Optimise for offline transactions
Over 90% of sales still happen elsewhere than online. Most sales end up in stores but also over the phone. Mobile advertisement is prone to send people instore and, don't forget, you still can make a call with your phone, which is a preferred way to place an order for many customers.
Our success feature Store Visits has been around for a couple of years and is finally coming to the Scandinavian countries (Sweden, Norway and Denmark) this autumn. With store visits conversions you are able to understand how your paid search traffic is sending people to your stores. By understanding how many of those visits translate to a purchase (talk to your store managers) and the average order value in store, you can start optimising your search campaigns towards the value they drive both online and offline.
3. Organise for omnichannel measurement
With all the evidence that consumer behaviour has changed toward omnichannel, it's important for companies to organise themselves accordingly. All too often, I encounter two managers in a company, one responsible for store sales and the other responsible for online revenue, neither of whom drive traffic/sales to one another when we know that customer behaviour suggests that these conversations should be key. Therefore, ensure everyone in the company should be incentivised to drive sales as a whole, and encourage initiatives that drives customer value wherever it occurs.
The smartphone has turned the world as we knew it upside down, just like Internet did when it descended upon us. We no longer "go online", we live our lives online and mainly through our smartphones. This consumer behavior challenges companies to once again overhaul, question and change the way they work to be successful.