Frank Smidt leads the Retail Marketing team at Google Northern Europe. Here he highlights the eight insights retailers in the Nordics and Benelux regions should know about, and shares tips on what they can do to be there for their customers.
Travel restrictions, store closures, home schooling, and more; COVID-19 turned most people's lives upside down overnight — and one area that was immediately impacted was retail. From a shopper's initial research up until the moment of purchase, suddenly many customer journeys were taking place exclusively online.
But what can retailers do to overcome the challenges brought by this major shift? Smart Shopper, a study commissioned by Google and conducted by KANTAR in May 2020,1 shines a light on shopping behaviours during the pandemic to help inform brand, marketing, and consumer strategies — now and in the future.
1. Some retail categories show higher shifts to online shopping than others
With a large number of stores forced to temporarily close their physical outlets in the Netherlands, and operate with significant restrictions in Sweden, there has been a strong shift towards online purchases in 2020. The biggest increase was seen across fashion, home, and consumer electronics as shoppers in Sweden and the Netherlands were encouraged to restrict their movements to essential journeys only. Beauty products, however, were still bought mainly offline — likely because these are available in grocery and drug stores, which remained open.
Action: Be clear. As your physical stores reopen, using ad extensions will allow shoppers to easily see any changes to your operating hours or conditions of opening.
Online vs offline purchases year-on-year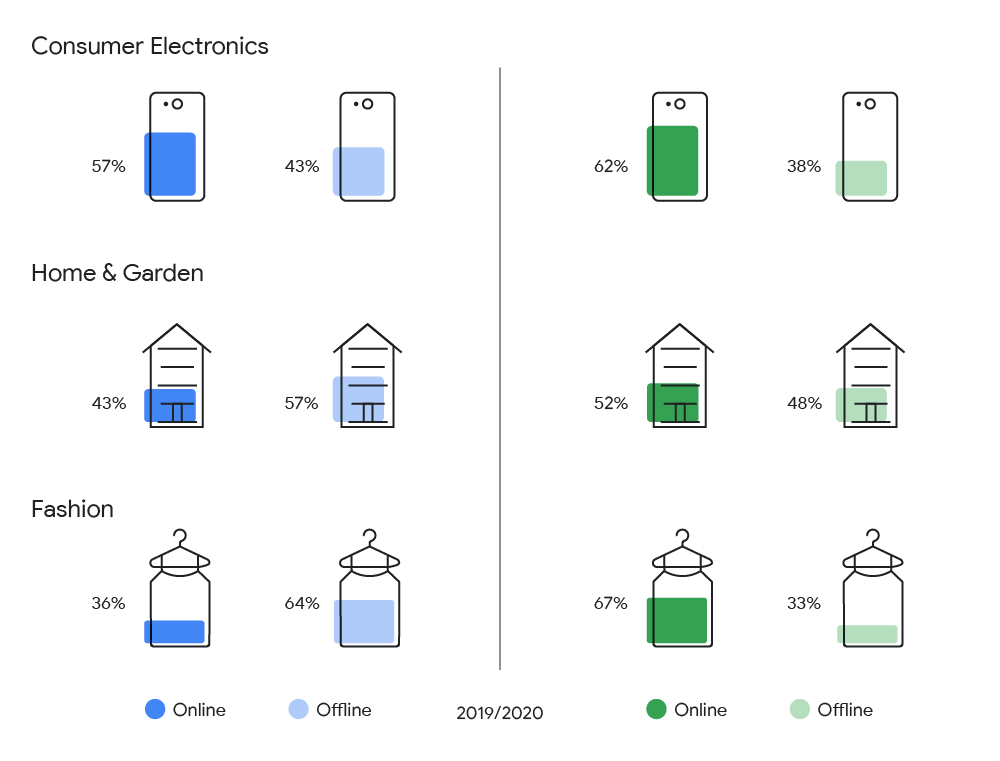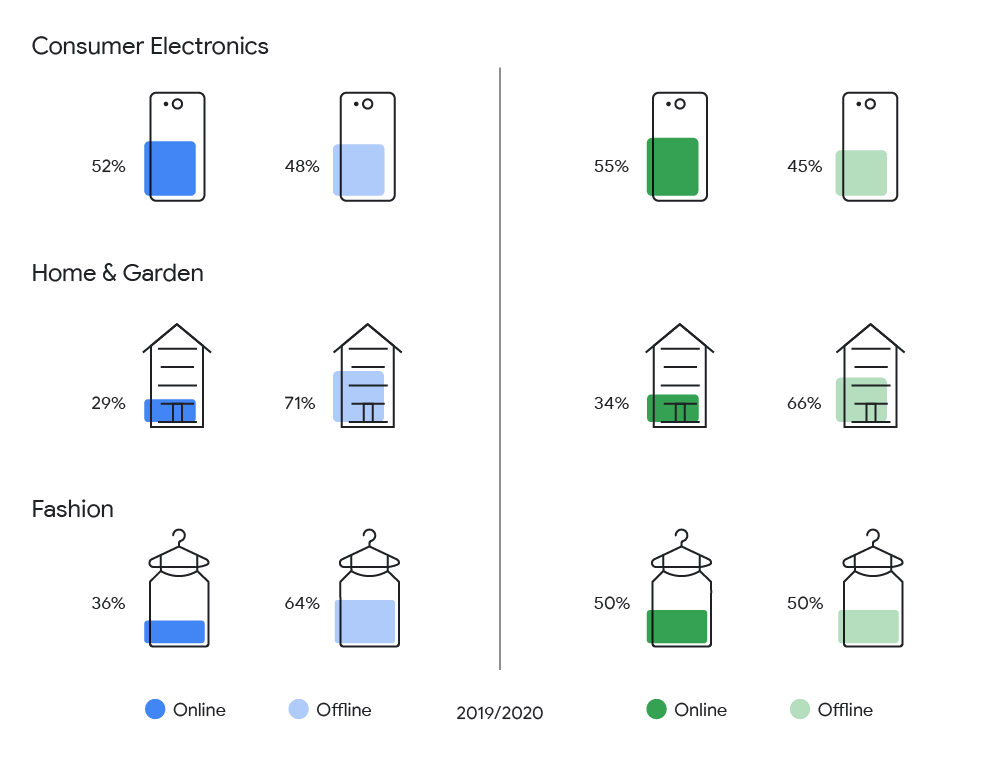 2. Shoppers increasingly prefer online and channel-agnostic purchases
Even in this dynamic environment, physical stores remain a crucial part of the user journey. But as routines and schedules change for retailers, so do the shopping behaviours of their consumers, with shoppers demonstrating an increase in online and channel-agnostic purchase preferences. This shift makes omnichannel strategies, and being present at all touchpoints of a consumer journey, even more relevant.
Action: Be integrated. Ensure your online and offline teams work as one unit by giving them shared KPIs.
Preference of purchase channels across verticals with shops closed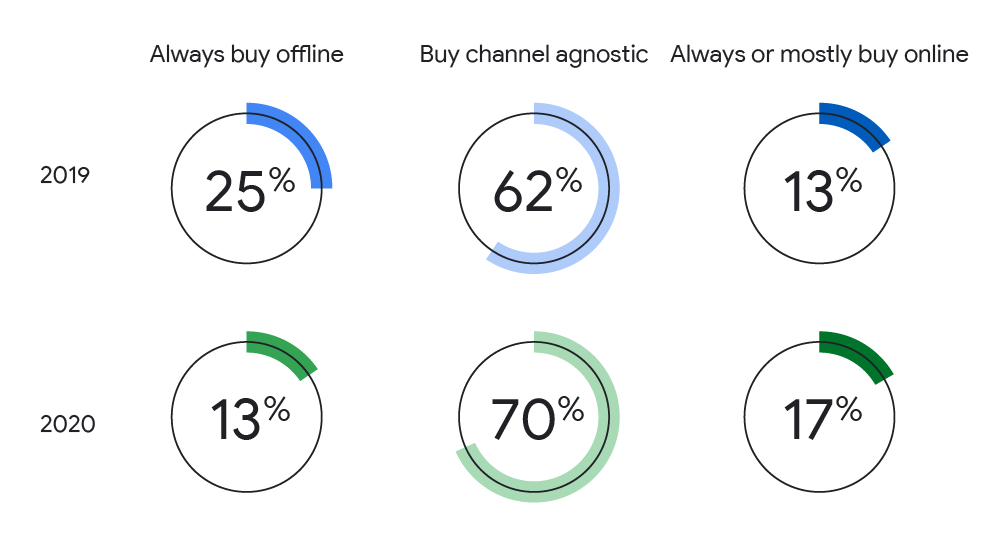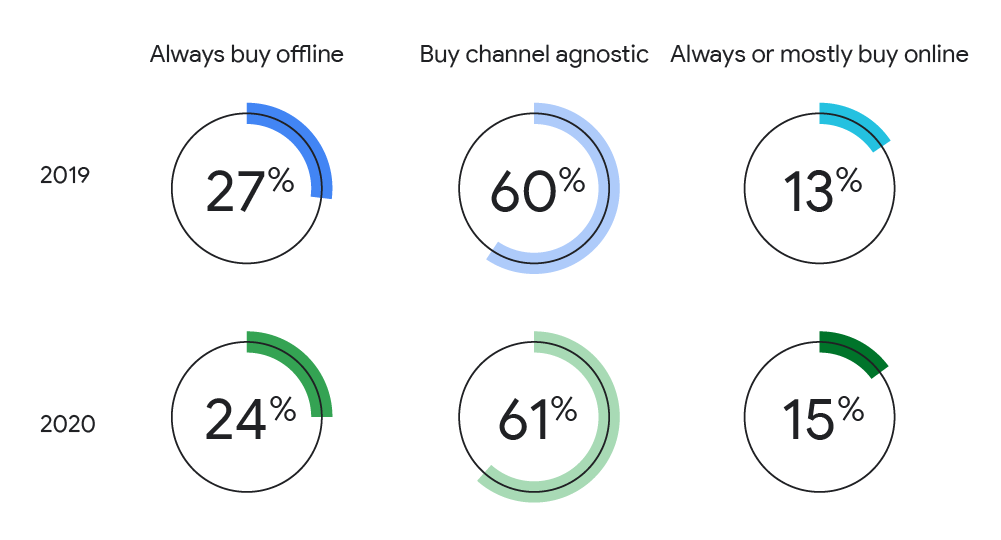 3. Convenience is valued above all else
Despite significant changes in consumer behaviour — from spending more time at home to picking up new hobbies — the motivations behind purchase channel selection remained broadly the same during the first half of 2020. Convenience was still the number one factor across most retail categories. And unsurprisingly, home delivery and availability were also key.
Action: Be available. Display shipping options and availability in marketing messages, and provide an online chat option to address any customer queries.
Drivers of online vs offline purchases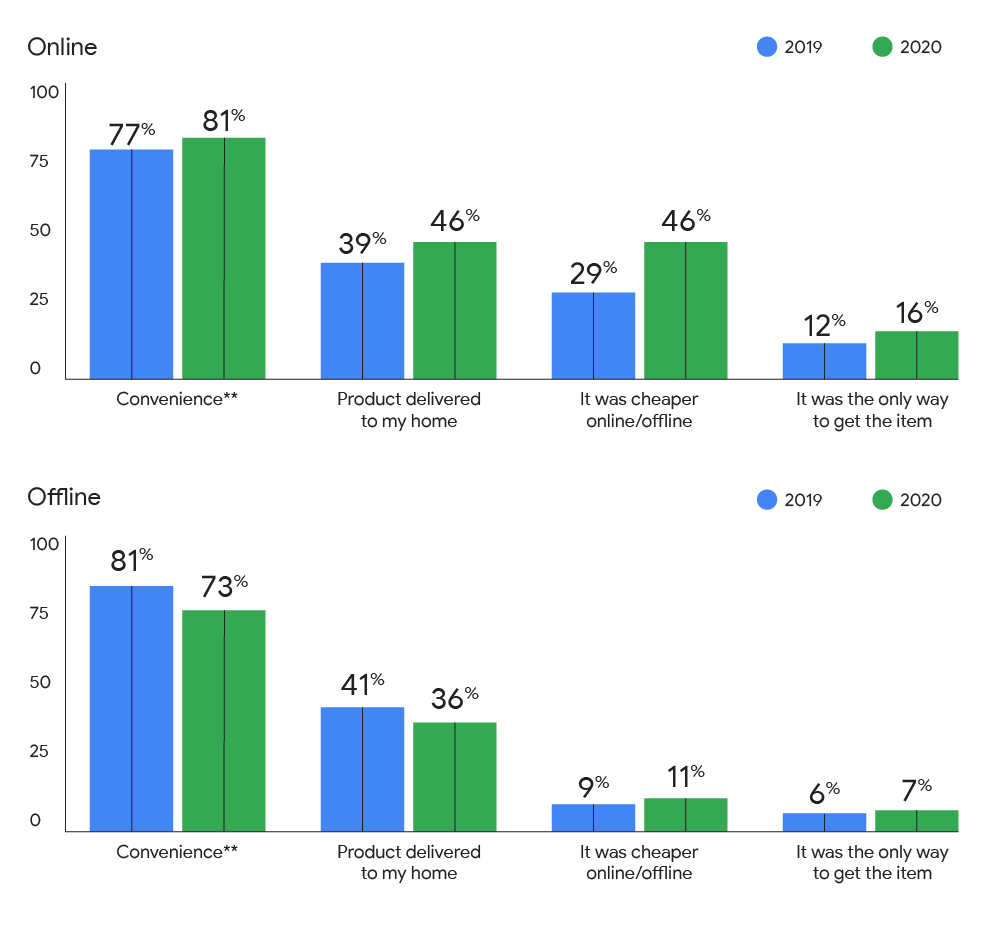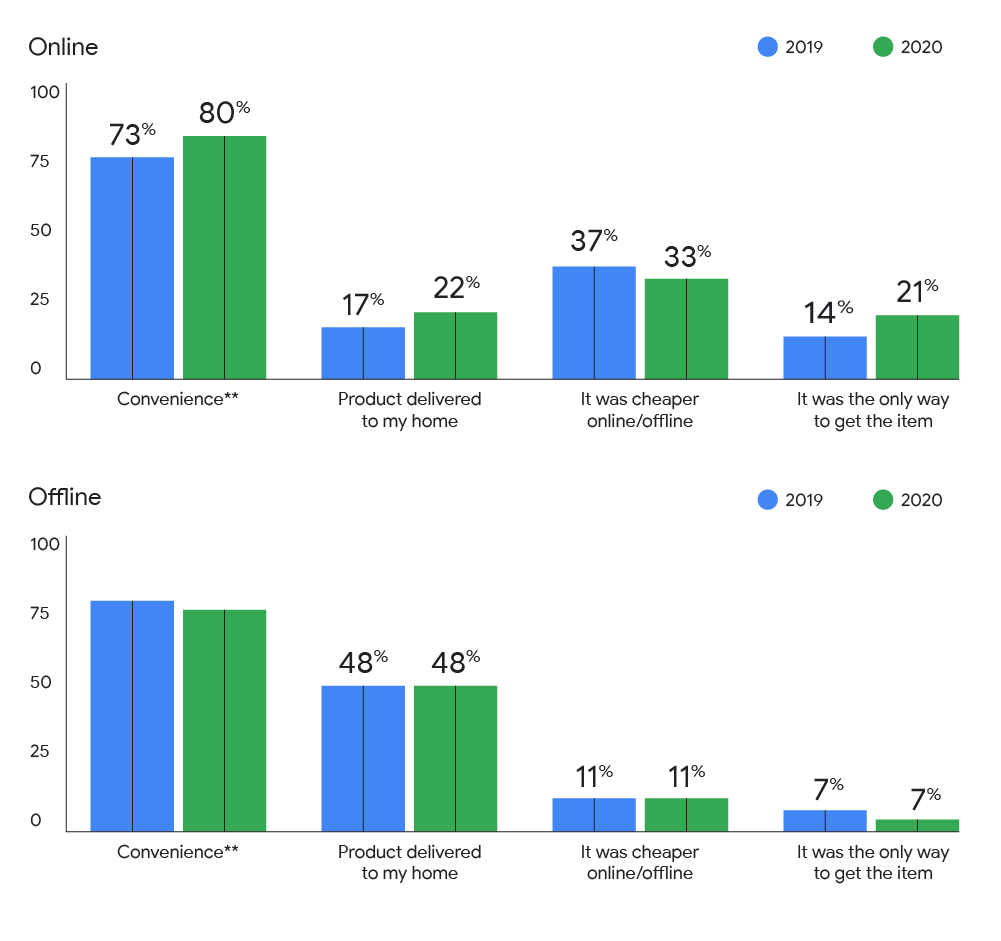 4. More online shopping means more pain points
As the number of consumers shopping online has increased, so too has the volume of pain points faced by buyers. Indeed, 33% of Dutch consumers and 35% of Swedish consumers faced an issue while shopping online in 2020, compared to 24% and 27% last year respectively. The majority of pain points were caused by inconvenient user experiences (too little product information, slow customer support response time, lack of product reviews), registration or login needed, and lack of availability, mostly across the consumer electronics, home & garden, and toys categories.
Action: Be seamless. Ensure users' wish lists and baskets are synched to their accounts, so information is available no matter which device they're on.
5. Search and video play a bigger role in online product research
As they research their products online, shoppers have been using search significantly more in 2020, across all categories. Retailer websites and apps, and online product videos have also grown in popularity.
Action: Be helpful. Give shoppers an additional reason to choose your products by creating instructional videos they can find on YouTube.
Online touchpoints hit by shoppers as they research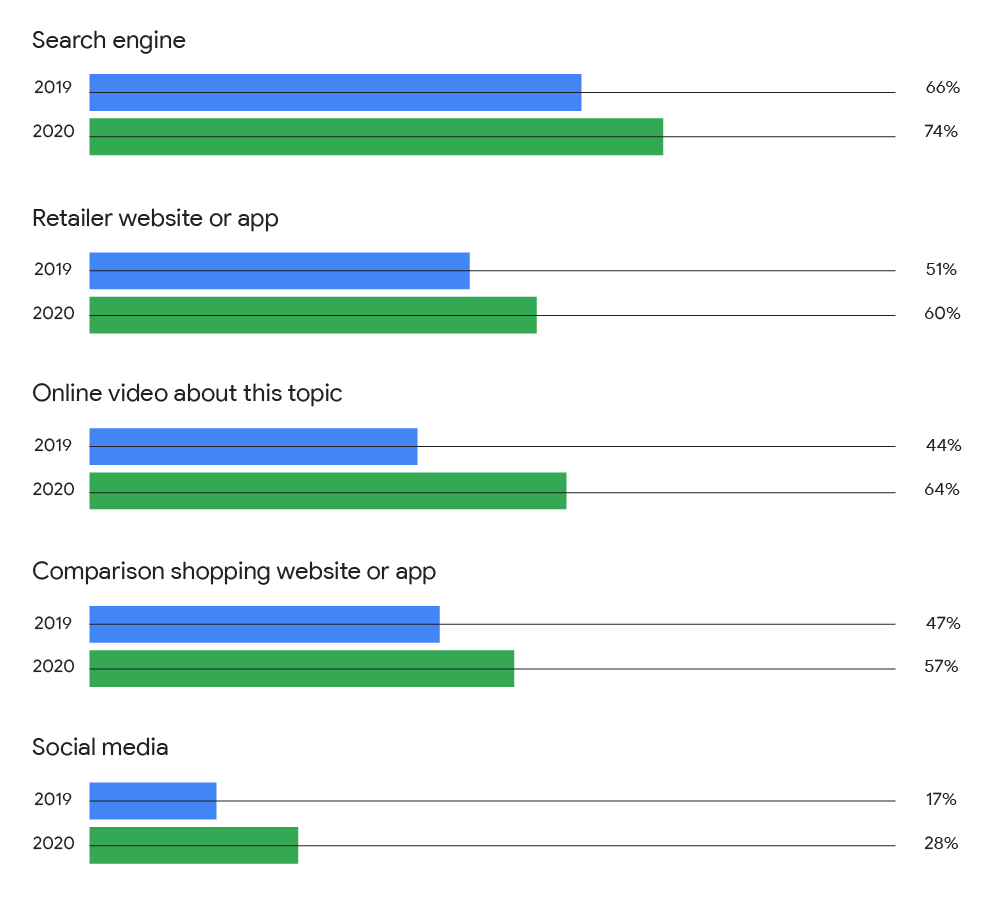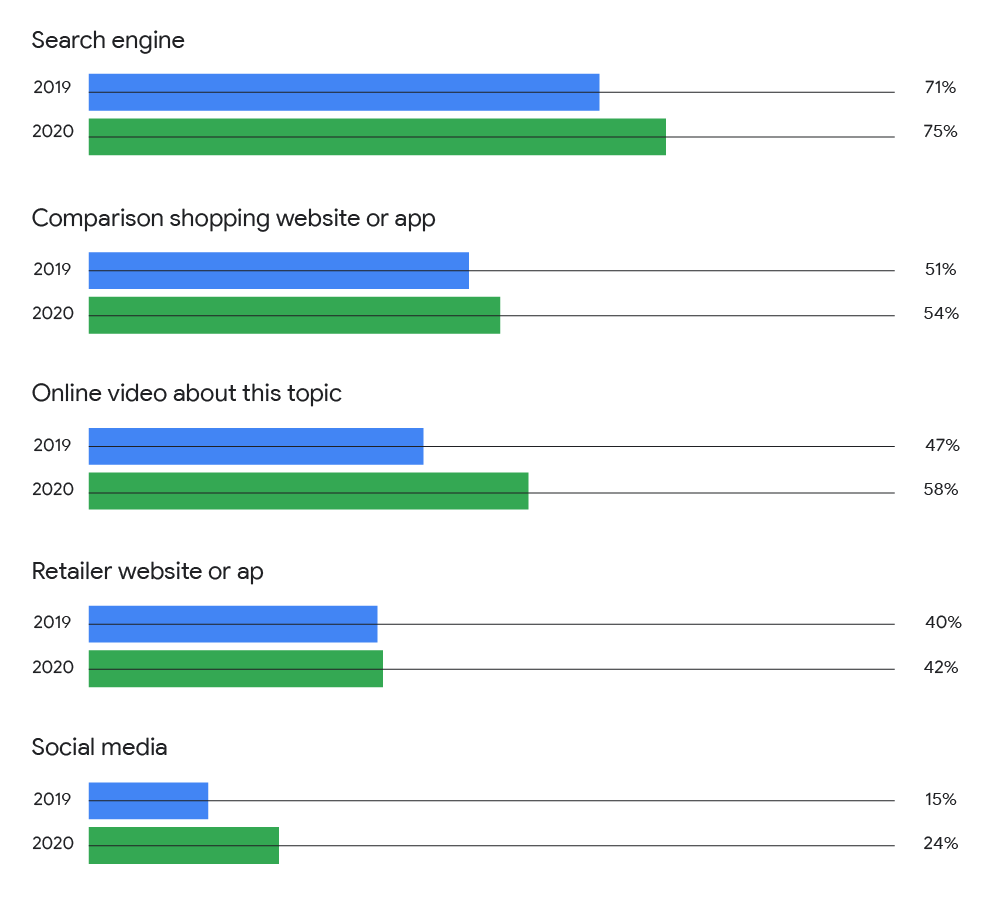 6. Price, availability, and speed are reasons to switch retailers
Consumers who bought new brands, or tried new retailers in 2020, were not overly concerned about quality or recommendations from other shoppers. Instead, for shoppers in the Netherlands, speed (35%), price (30%), and availability (30%) were at the forefront of purchase decisions, with convenience (38%) being the most important factor of all. In Sweden, price is most important (44%), followed by availability (42%), convenience (26%), and speed (20%).
Action: Be fast. Where possible, offer consumers free and/or next-day delivery to increase the likelihood of a purchase.
7. Brands are expected to care about sustainability and social issues
A brand's stance on sustainability or social issues is important to shoppers, with 54% saying that they cared about at least one sustainability aspect when purchasing online in 2020. From fair working conditions and diversity and inclusion to environmentally friendly production and avoiding harmful ingredients — the sustainability factors that impact a shoppers purchase decision were wide-ranging.
Action: Be transparent. If your products are sustainable let shoppers know both in your display ads and across your website and app.
54% of consumers care about at least one of the below aspects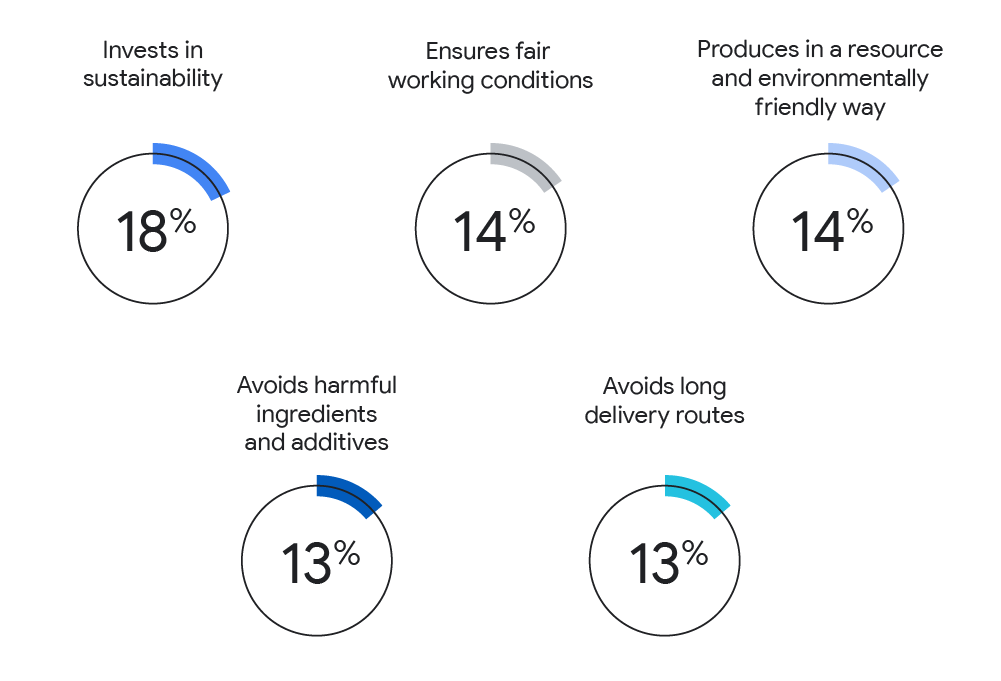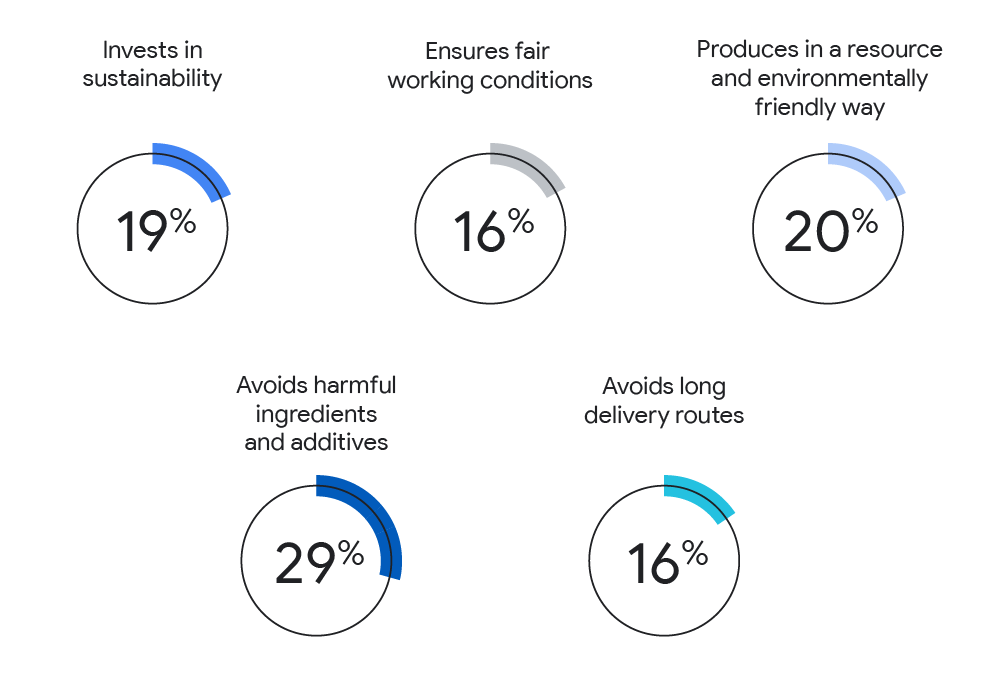 8. Shopping apps are on the rise
Half of all consumers now have shopping apps installed on their phone, compared to 36% in 2019. These apps are a mix of retailer and individual brand apps, with the former being used more frequently in 2020. Shoppers are most likely to have apps from consumer electronics and toys (both 59%), home & garden (49%), and fashion (44%) installed to their phones.
Action: Be always on. Native apps can not only provide a faster, more reliable experience for shoppers but, with their phone always by their side, an app can also increase the conversion window.
Taking action
As the uncertainty and inconvenience caused by COVID-19 continues to have an impact on consumer behaviour, now is the time for retailers to be clear, available, and seamless. Listen to your customer's needs, learn from their behaviour, and adapt your operations accordingly.
Want to share these insights? Download the infographic with Swedish or Dutch data.