Lucy Sinclair is the EMEA director of the insights team at Google, where she and her team analyse changes in consumer behaviour. In this regularly updated article she'll be highlighting what topics are on people's minds right now.
In recent weeks, the trends we highlighted showed us that people are adjusting to their newfound situation and behaviours are starting to become more consistent. We'll be exploring the bigger picture — the macro shifts in consumer behaviour — to understand what the long-term impact might be in the post-lockdown world.
These search trends will cover five key themes:

There has been a particular increase in search interest for more niche 'how to' education (for example, how to take care of tadpoles and how to cut corsets), as people become more innovative in their search for knowledge. And search categories such as apparel, consumer electronics, and real estate have also been on the rise.
1. What people know: Searching for guidelines
As governments begin to relax their lockdown measures in different stages across Europe, consumers are increasingly turning to Search to stay on top of the latest helpful information and guidelines for both essential and non-essential services.
In the Netherlands, there was a huge spike in searches for 'shops open' ('winkels open'), in Germany, people have been searching for "'is it allowed to' ('darf man'), in Italy and Poland for 'guidelines' for restaurants, salons, etc. ('linee guida'), and in France for 'opening of' beaches, campsites, restaurants, and more ('ouverture des').
With wedding season approaching, uncertainty about planning big live events is also increasing. People in Denmark and Poland have been looking into 'wedding coronavirus' ('bryllup corona''wesela koronawirus') and in Belgium, people have increasingly been looking for 'wedding' ('bruiloft').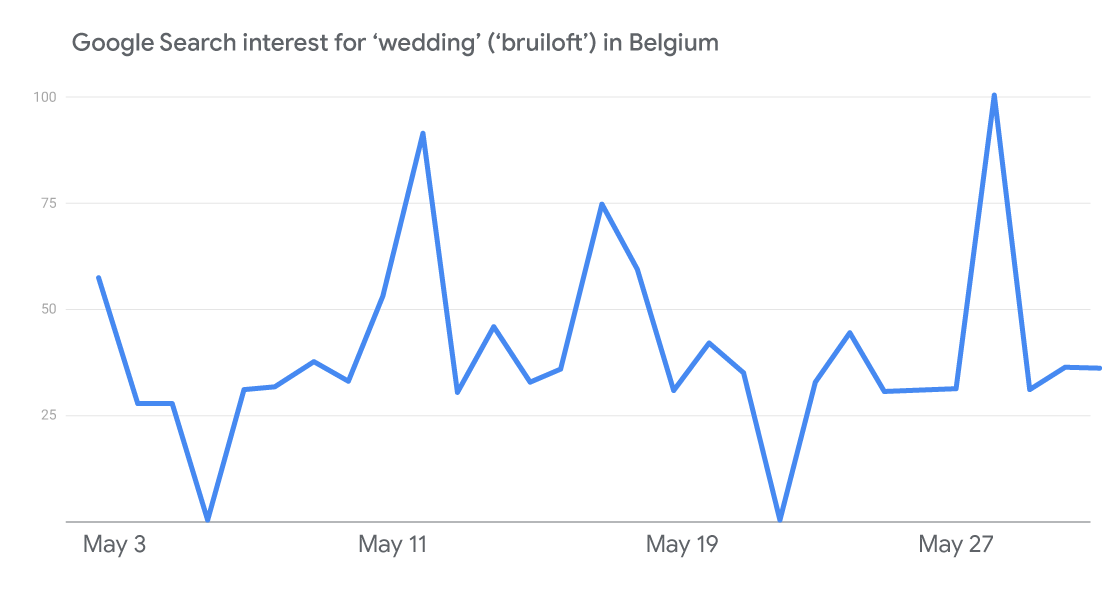 2. How people make a living: Looking for job opportunities and government support schemes
In the past two weeks, searches for new job opportunities and government support schemes have continued to increase across Europe.
Consumers in France were searching for 'seasonal employment' ('emploi saisonnier'), in Belgium ('offre emploi') and Italy ('offerte lavoro') for 'job offers', in Germany for 'part time jobs' ('teilzeit jobs'), and in Poland people increasingly searched for 'start a business' ('na rozpoczęcie działalności').
Google Trends also shows that in the U.K. there has been an increasing search interest for support scheme 'self-employment income' ('self employment income') and in Spain for 'minimum vital income' ('ingreso minimo vital'), the new social security scheme introduced in the country for vulnerable single-parent households.
3. How people feel: Staying fit during lockdown through exercise and a healthy diet
As many countries across Europe have been in various degrees of lockdown for a fair few months now, it is no surprise that many people are prioritising their mental and physical health, even if it's from the confines of their own homes. In many countries gyms and fitness studios have been closed and consumers are travelling and commuting less, all of which is taking a toll on their fitness levels and general wellbeing.
Google Trends shows an increasing search interest for 'yoga journal' ('diario de yoga') in Spain, 'exercise bike' ('exercise bike') in South Africa, 'Keto diet' ('keto dieet') in the Netherlands, and 'how many calories per day' ('günde kaç kalori') in Turkey.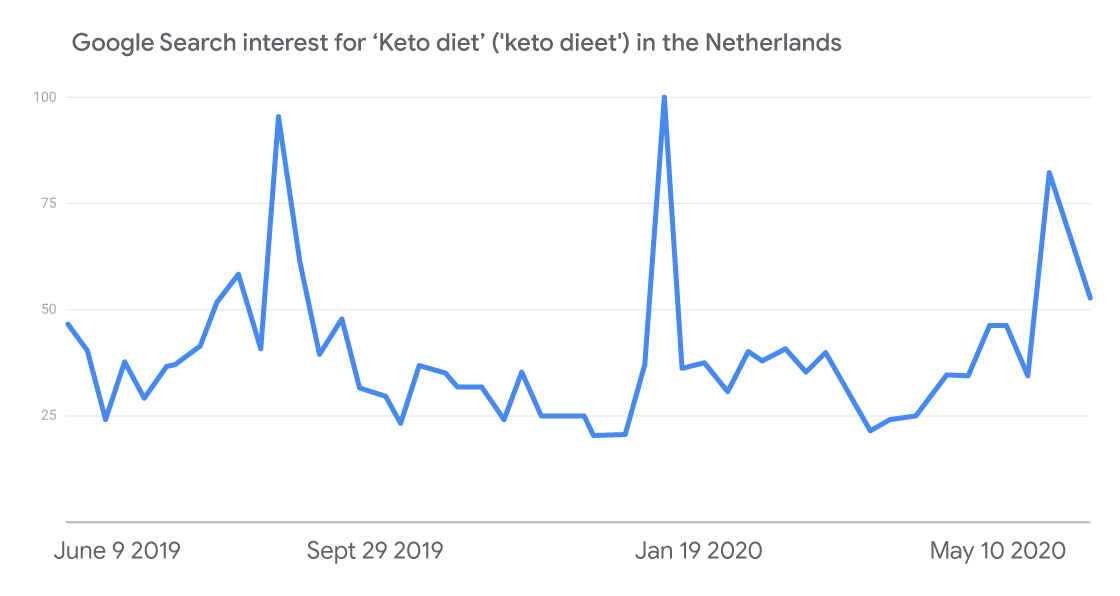 And, where allowed, consumers are also exploring when and where they can venture outside, with an increase in searches in recent weeks for 'gym' ('gym') in Finland, where lockdown measures have significantly eased-up, and 'tennis courts' ('tennis courts') in the U.K.
4. How people learn: Searches increase for niche 'how to' categories
While in some countries in Europe schools are slowly reopening, that doesn't mean there has been a slowdown in online learning searches. In addition, Google Trends also shows an increasing interest for more niche 'how to' categories, as consumers are getting more inventive in their search for new knowledge.
Consumers in Turkey searched for 'online exam publications' ('yayınları online') and 'language learning', while people in Poland have been searching for 'home remedies' ('domowe sposoby'), in the U.K. for 'how to look after' tadpoles, orchids, and kittens, and Belgians wanted to know how to care care of their roses ('rozen verzorgen').
5. What people do: Change in consumer behaviour and search interest
Across Europe, retail categories such as apparel and consumer electronics are starting to rise to pre-pandemic levels again as people are looking to upgrade their wardrobes and personal electronics.
In recent weeks, consumer behaviour and search interest grew for 'checkered pants' ('ternet bukser') in Denmark, 'plus size clothing' ('ropa tallas grandes') in Spain, 'sun glasses' ('solbriller') in Norway, 'bluetooth speaker' ('bluetooth speaker') in Belgium, and 'women's shorts' ('shorts dam') in Sweden.
And on the property front, the real estate category is also on the rise. Google Trends shows a particular increase in search interest for 'house for sale' in Belgium ('huis te koop') and France ('maison a vendre'), and 'house to rent' ('casas en alquiler') in Spain.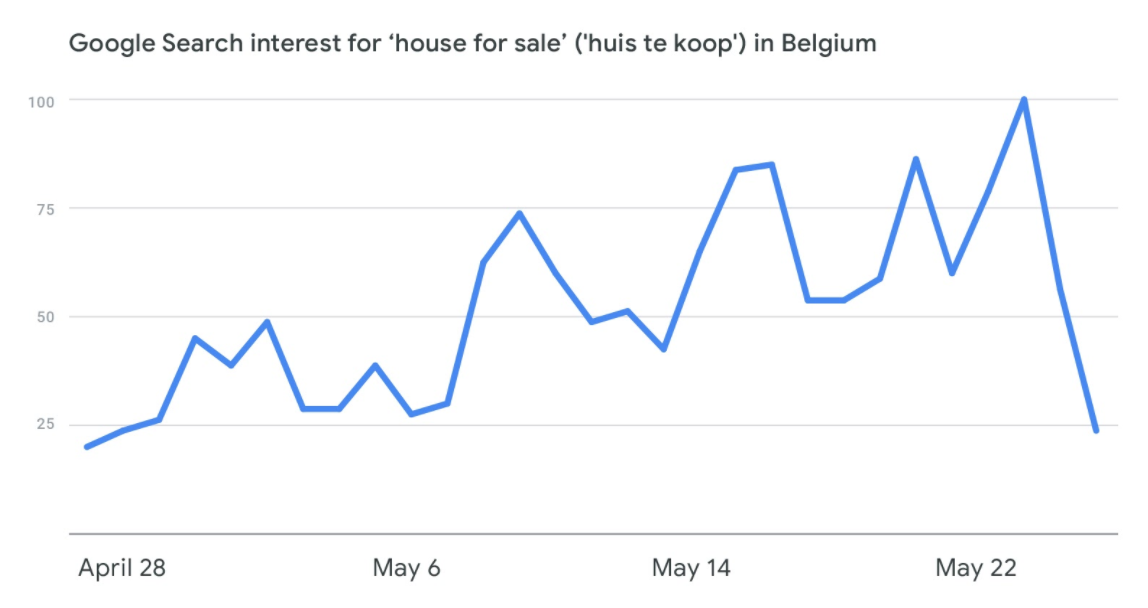 Explore more consumer search behaviour trends
You can view all our recent trends analyses in our search insights collection. While we provide a regularly updated snapshot of consumer behaviour changes and trends across Europe, we understand it may be helpful to review the information more frequently, or for a specific country or region. To explore further insights, here are 10 tips for using Google Trends. By entering a keyword or a topic into the tool, you can explore what the world is searching for in near real time.