Many brands are no strangers to crisis management, but the global scale and continued uncertainty around COVID-19 is a first for us all. Whatever crisis response guidebooks that may have existed weeks ago now seem to be from another era, and even the most nimble advertisers — accustomed to evolving their strategies and adapting ad creatives in real-time — are asking, "How do we meet this unprecedented moment?"
While the answer to that question will be different for every brand, it comes down to one key thing: being more helpful to customers. And, as consumer behaviour is changing daily, search data can help us understand what people need most. At a high level, there are five shifting behaviours we see playing out in Google data across markets, reflected in how people are searching.
5 behaviours reflected in how people are searching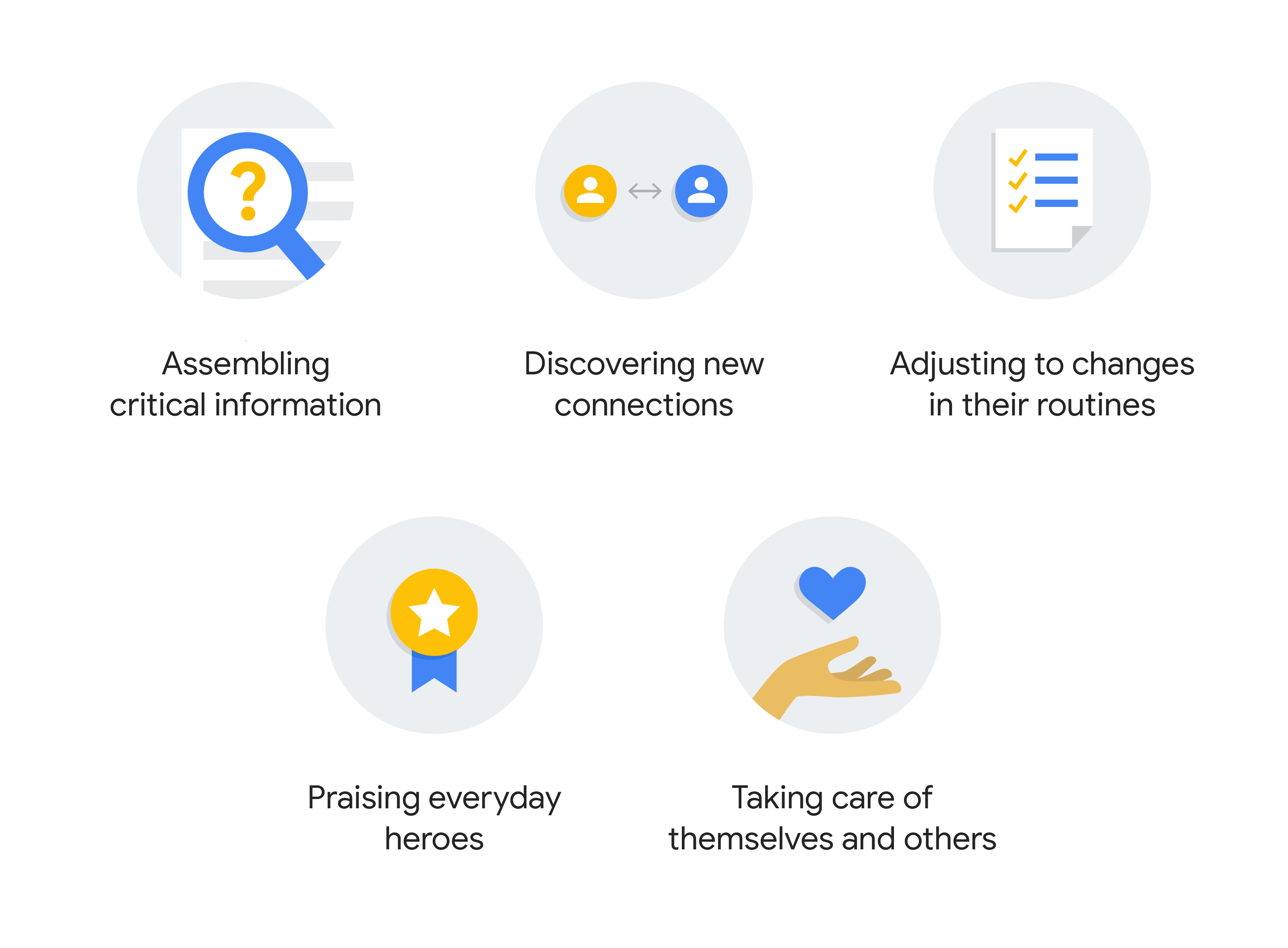 1. Assembling critical information and content during coronavirus outbreak
The coronavirus has made normal life anything but normal. With retailers adapting to delivery or online models, schools closing, and much of the workforce staying home, people are looking for clear, specific information about where, how, and when to get the things they need.
Search interest related to retail has spiked globally over the past few months as people try to find things they need. And as people limit their trips to grocery stores, there's growing search interest in things like "can you freeze" in the UK and "home delivery" ("thuis bezorgen") in the Netherlands. We've also seen rising search interest for "opening hours" ("öppettider") in Sweden.
How brands can help consumers: Be useful as people's needs evolve
Acknowledge the new reality.
Give people credible, detailed, and current information about your operations. Reinforce that you're there to help.
Regularly update communications across your website, blogs, social handles, and even your Google My Business page to ensure people are in the know.
Be flexible. Help customers with cancellations, refunds, and customer service.
For example: Given the rate at which stores are selling out, one of the world's largest toilet paper producers, Cottonelle, delivered a direct message to ease consumers' concerns and discourage panic buying. In Belgium, MINI is helping out local restaurant owners now dependent on home deliveries, by lending out their test vehicle fleet free of charge. "As pretty much our entire fleet was at a standstill due to the national lockdown, we decided to put it to good use," explains Joachim Sas, marketing manager at MINI.
2. Discovering new connections and nurturing relationships
Even as people physically distance themselves, they're discovering new connections and nurturing relationships, whether virtually or in their own household. On YouTube, for instance, we've seen a rise in "with me" videos, where people film themselves going about ordinary tasks like cooking, cleaning, or shopping. In the U.S., views of videos containing "study with me" in the title are 54% higher compared to the same period last year. And YouTube creators around the world are inviting audiences to join them by creating content like "cook with me" or "knit with me."
People are also looking for new ways to connect with people from afar. Search interest for multiplayer video games has spiked globally in the past few months, especially in Italy and Canada. And search interest for "virtual happy hour" is rising, especially in the U.S.
How brands can help consumers: Forge new communities and connections
Look for ways to connect your customers, locally and globally.
Consider if your brand has a role to play in creating or enhancing shared experiences, virtually or otherwise.
For example: IKEA wanted to show that their vision of creating a better everyday life for many people is now more important than ever. "We wanted to show our customers that even in tough times like these, IKEA supports you and your life at home," says Helena Rosenqvist Hallin, marketing communications lead at IKEA Sweden. The video encourages people to use the time that's given to them right now to enjoy their family and home, and take the opportunity for conversation, play, and closeness.
3. Adjusting to changes in their routines
As routines and schedules change to meet the demands of isolation, so do people's online habits and expectations. For example, search interest for "do it yourself" has increased across countries in Europe, including Denmark ("gør det selv").
Workout routines are getting an overhaul all over the world too. There's growing search interest for "stationary bicycles" worldwide, especially in Spain and France, and "skipping rope" ("springtouw") and "weights" ("gewichten") in the Netherlands.
How brands can help consumers: Adjust to people's non-routine routine
Let people know that solutions are available whenever, wherever.
Assess when people need you most, whether through your own first-party data (like site analytics or email opens) or Google Trends, and adjust your communications strategy accordingly.
Update or publish often. There's increasing demand for fresh content that informs, entertains, connects, and promotes wellness.
4. Praising everyday heroes
We've all noticed a growing appreciation for the new everyday heroes among us. From health care workers on the front lines to cashiers and delivery people keeping us supplied, many are risking their own health or safety to help others.
For instance, there's been increasing search interest worldwide in "clap NHS workers" as the U.K. recently celebrated its National Health Service workers, after a Dutch citizen of London organised the viral campaign to replicate what had already been done in the Netherlands. And even beyond those two countries, the notion of "thank essential workers" has taken a sudden upturn in search interest worldwide.
How brands can help consumers: Support heroes
Look for people who are helping, and find ways to support or celebrate them.
Consider who the heroes are among your employees, your customers, or even your local community.
Consider whether you have nonhuman heroes that can contribute, like your technology, your operational rigor, or your equipment.
For example: Walmart is celebrating and thanking its employee heroes in towns across America. Deliveroo partnered with 20 Hong Kong shopping malls to help food and beverage tenants expand delivery service during the crisis. In the Netherlands, Rituals delivered 200,000 goodie bags to all 80 of the country's hospitals to show gratitude to doctors, nurses, and caretakers.
5. Taking care of themselves and others
As boredom, anxiety, and uncertainty set in, people are taking care of their own physical and psychological needs as well as those of friends and loved ones. In addition to rising search interest around relaxation methods such as "mediation" in Belgium ("mediteren") and Sweden ("medling"), there's been growing interest in "virtual tour" ("visita virtual") in Spain and "live zoo" in the U.K. as people look to experience something beyond the walls of home. And even outdoor home projects seem to be trending with rising global search interest in landscaping.
How brands can help consumers: Find ways to enrich people's lives
Facilitate virtual collaborations with outdoor spaces and the cultural institutions people yearn to visit.
Join the conversation about home-based health and well-being.
Pivot to platforms and formats that make sense for people staying home.
For example: Not being able to spend St. Patrick's Day as normal, Guinness knew adults around the world needed a lift, so they responded with a message of resilience and assurance. By piecing together existing footage in a matter of days, Guinness shared that their own brand had endured the test of time by "sticking together." They encouraged folks to toast not physically, but virtually, and lift one another's spirits just as they would a glass.
The more helpful brands can be, the better they'll fare now — and even more importantly, in the long run. Eighty-four percent of U.S. consumers surveyed say that how companies or brands act during the current market is important to their loyalty moving forward. These are trying times, but we'll all get through it together and hopefully come out even stronger on the other side.