Lucy Sinclair is the director of the insights team at Google Europe, where she and her team analyse changes in consumer behaviour. In this regularly updated article she'll be highlighting what is on people's minds during this unprecedented time.
Several months ago, we started these regular Google Trends analyses to identify the changing behaviours due to the coronavirus pandemic and lockdown restrictions. But it has also been a helpful tool to highlight other topics that are front of mind for people at any given time.
The search trends in this edition will cover five themes:

This month's 'how people feel' section shows the increase in search interest for the Black Lives Matter movement. Many people in the Nordics and Benelux, and across the world, are using Google Search to learn, donate, and take action against the structural racial inequity that drives socio-economic deprivation.
Covid-19 has made people stand still and reflect on how their society can work better for everyone. How can brands help? Whilst the long-term political and social implications are uncertain in this new pandemic reality, people want to see brands do the right thing and take action now, through equality in hiring and pay, investing in underserved communities, fighting racial injustice, and more.
1. How people feel: People want to learn, donate, and take action to aid Black Lives Matter
Across Europe, searches related to the Black Lives Matter movement increased significantly in recent weeks. Google Trends shows a particular rise in interest related to learning, donating, and taking action ⁠— in a safe way, as the risk of Covid-19 is still front of mind for many people that are exploring ways to join protests.
Searches for 'how to protest safely' ('how to protest safely') were on the rise across the world. And while Belgians were collectively looking for 'anti-racism' ('tegen racisme') resources, there was a steep increase in searches around 'Juneteenth' ('juneteenth') in Sweden. In the Netherlands, searches related to 'equality' ('gelijkheid') and 'diversity' ('diversiteit') have been growing significantly in recent weeks.
2. What people know: Consumers shop locally by searching for 'nearby' — and book their tables in advance
In our last edition we highlighted that with lockdown measures easing across Europe, searches were shifting from 'what is open' to 'open near me'. And this is a trend that has prevailed in the last few weeks, as more and more consumers across the Nordics are looking to shop locally by using search terms such as 'nearby'.
As restaurants in the Netherlands and Belgium opened up again, people collectively looked into 'bookings' ('reserveren') to secure themselves a seat at the table. And with summer arriving, places with an outside terrace ('terras') seemed particularly appealing to the Dutch.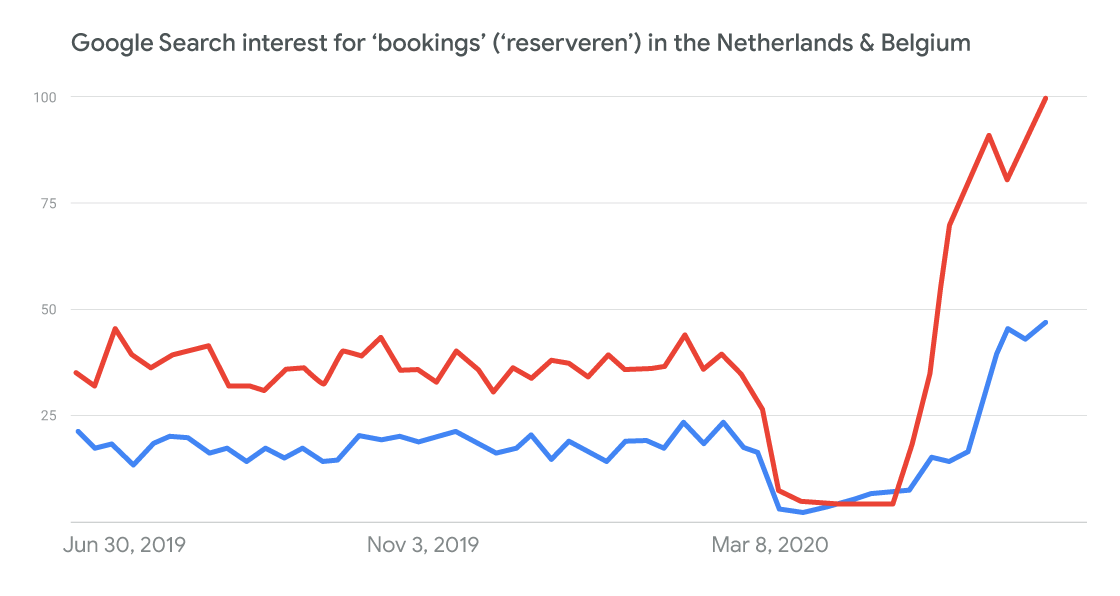 3. How people make a living: Google Trends shows job-related searches are still increasing
Since the start of our search trends analyses several months ago, job insecurity, resumes, and applications have been front of mind for people due to businesses closures and furloughs. This is a trend that is unlikely to disappear any time soon, as the long-term effects of the pandemic and lockdown restrictions have taken their toll on many jobs. It's no surprise then that over the last month job-related searches have steadily increased across the globe. With many high schoolers and students entering the job market during the holidays, people are particularly looking to update their resumes and find summer employment opportunities.
Google Trends shows a rise in searches for 'student resume' ('CV étudiant') in Belgium, and 'making a cv' ('cv maken') in the Netherlands. In Denmark, the annual peak for 'summer job' ('sommerjob') is much higher now than it was in the last three years.
4. How people learn: Searches for 'DIY' and 'creative ideas' are decreasing
In recent weeks, we've shown that consumers turn increasingly towards online resources such as Google Search and YouTube for inspiration and new skills. But with the easing of social distancing measures, people across the Nordics and Benelux regions have been doing much less of this.
Across the Netherlands, Denmark, and Norway, we can see that the 'DIY' trend which peaked in March and April, has gradually been going down — and searches around learning creative skills like 'knitting' ('leren breien') in the Netherlands and 'baking' ('leipominen') in Finland have also gone back to pre-covid levels.
5. What people do: Travel and other summer activities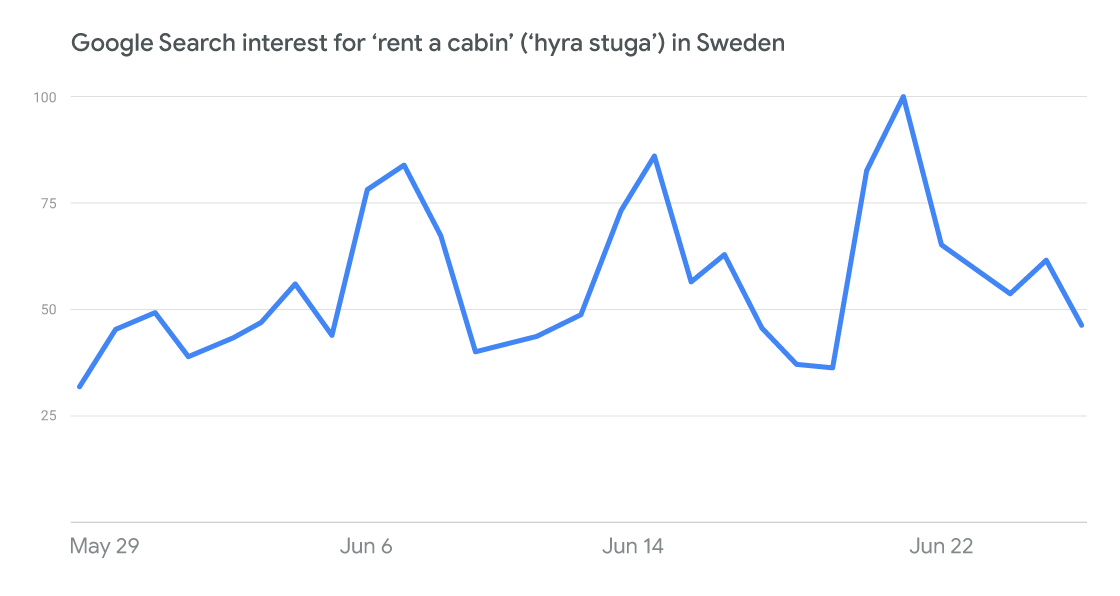 Earlier this month, Google Trends showed us that search interest had started to recover in hard-hit verticals, and this is a trend that has continued to grow in recent weeks. Not only does travel continue to recover, but categories such as home and garden and electronics have also seen search interest steadily increase across Europe.
While for most countries restrictions will only allow domestic travel for the foreseeable future, that does not deter excited holiday-goers from starting to research their best options. Search interest has been on the rise for 'rent a cabin' ('hyra stuga') in Sweden, 'caravans' ('caravan' and 'campervans' ('camper') in the Netherlands, 'holiday lets' ('vakantiehuis') in Belgium, and camping ('camping') in Sweden.
And, as consumers are continuing to look into ways to upgrade their homes and outdoors spaces, they've been increasingly searching for 'barbecue' ('barbecue') in Sweden, 'hammocks' ('hangmat') in the Netherlands, and 'swimming pools' ('uima-allas') in Finland.
Explore more consumer search behaviour trends
You can view all our recent trends analyses in our search insights collection. While we provide a regularly updated snapshot of consumer behaviour changes and trends across EMEA, we understand it may be helpful to review the information more frequently, or for a specific country or region. To explore further insights, here are 10 tips for using Google Trends. By entering a keyword or a topic into the tool, you can explore what the world is searching for in near real time.