In a recent study, Google and brand consultancy Flamingo surveyed internet users in countries across North America, Europe, the Middle East & Africa to learn more about YouTube's Cultural Impact. Through this research, it was possible to uncover how media influences culture, what differentiates YouTube from other modern media channels, and what this means for brands.
In order to measure the Cultural Impact of YouTube and other media, researchers spoke to a range of experts - including media, communications and tech specialists, cultural commentators and brand consultants. The result was the creation of a framework to define Cultural Impact and to identify the different ways in which media channels can deliver this impact. This framework informed an in-depth survey among internet users in 18 countries to measure the different components of Cultural Impact. The quantitative research was supported by qualitative research with YouTube users and Creators in four countries (the UK, France, Germany and Saudi Arabia).
Cultural impact
"Cultural impacts infiltrate our brains and rearrange the way we think."
- Sarah Thornton, Writer, Ethnographer & Sociologist of Culture
Culture can be conceptualised as being the invisible fabric that underpins how people think and act in the world. In this context, we can measure Cultural Impact in terms of the extent to which ideas reach people and shape their lives. So Cultural Impact happens when, firstly, new ideas are generated and incubated; and, secondly, these ideas are then disseminated as widely as possible.
This research was designed to capture the role that media channels play in this process through their ability to cultivate new ideas and enable them to spread. These two drivers of Cultural Impact were broken down into eight components: for the incubation of new ideas, these related to Expression (e.g. creativity and ideas), Information (e.g. finding things out and learning), Opportunity (e.g. new talent and new trends), Belonging (e.g. communities and inclusion) and the Uniqueness of the content. For the spread of new ideas, the components were Reach (the number of people who access the content), Resonance (e.g. passions and personal relevance) and taking Actions after engaging with the content. Our survey asked respondents to rate the strength of YouTube and other media channels (which included both online and offline channels) for each of these components.
The Netherlands and Sweden results show that YouTube ranked highest of the media channels for four of the eight components of Cultural Impact, and fell within the top three (of 10 channels) for six (for NL) and seven (for SE) of the eight components. This made YouTube the most consistently well-performing channel of those considered. Whilst other channels were strong in individual areas, YouTube was the most culturally impactful channel overall due to its ability both to generate and spread new ideas.

In our fast-moving age, where today's zeitgeist is tomorrow's old news, consumers expect brands to keep up with the frenetic pace: to reflect the ever-changing reality of their lives, whether in the latest social movements, up-to-the-minute news, or the newest trends emerging from our evolving digital culture. Brands have to respond to, and be in sync with, consumers' values in order to resonate with them and speak to the shared values that shape their lives. The most successful brands have Cultural Impact themselves, by helping define what becomes part of culture in the future.
The degree to which consumers expect brands to be part of today's culture was reflected in our survey. In the Netherlands and Sweden, 53% / 47%  of respondents agreed with the statement: "I expect brands to understand and authentically reflect the reality of my life." 59% / 53%  agreed that, "I expect brands to reflect the latest social, cultural and ethical movements." And 55% / 59%   felt that, "The brands I admire are often associated with new ways of thinking or doing."
"You get people on YouTube pursuing their passions and interests. It's a very personal time - YouTube is pull, and pull is better than push for a brand, they're actively telling you what's on their mind."
– Dr Tom Chatfield, Tech Philosopher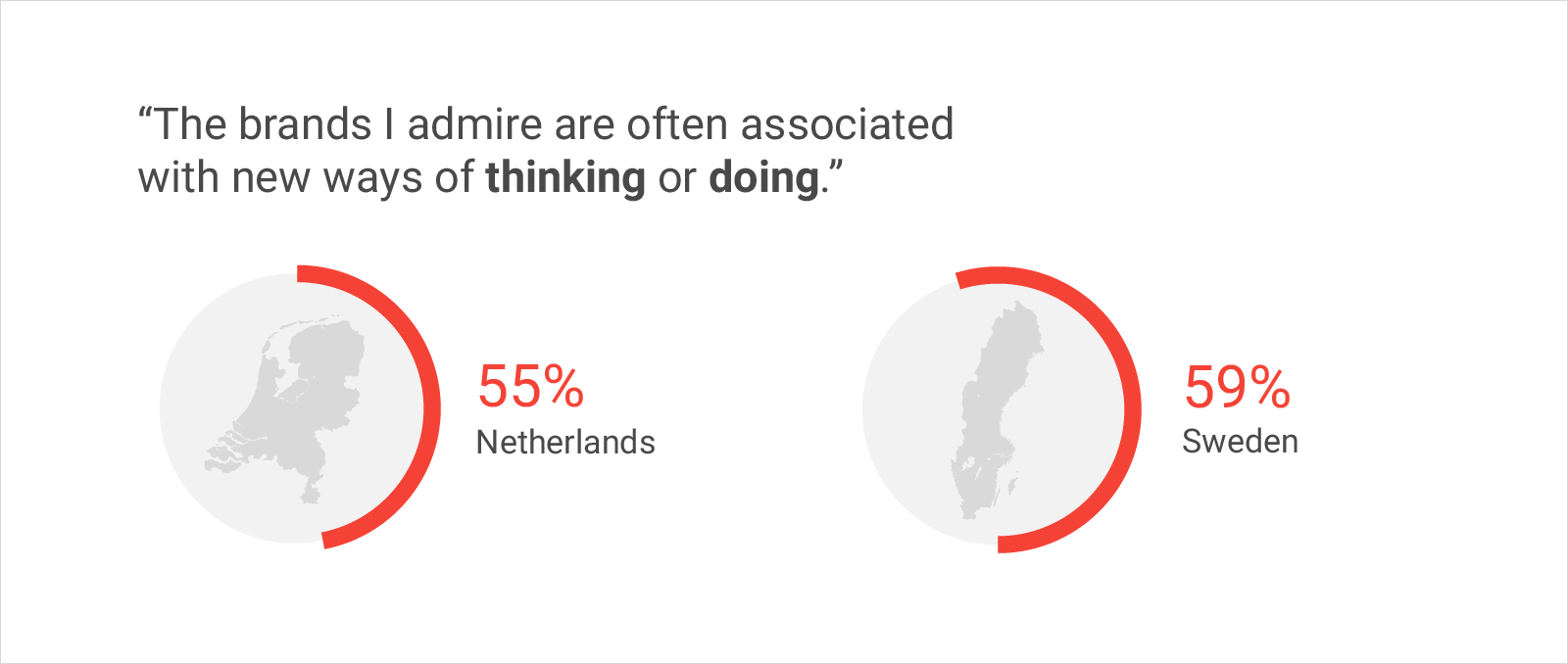 As the media channel that delivers the greatest Cultural Impact, according to our research, YouTube is best-placed to help brands connect to and impact culture. In fact, 68% / 63%  of Netherlands / Sweden respondents agreed that YouTube offers content that everyone is talking about now, making it the second highest-rated channel / highest-rated channel / highest-rated channel of those considered.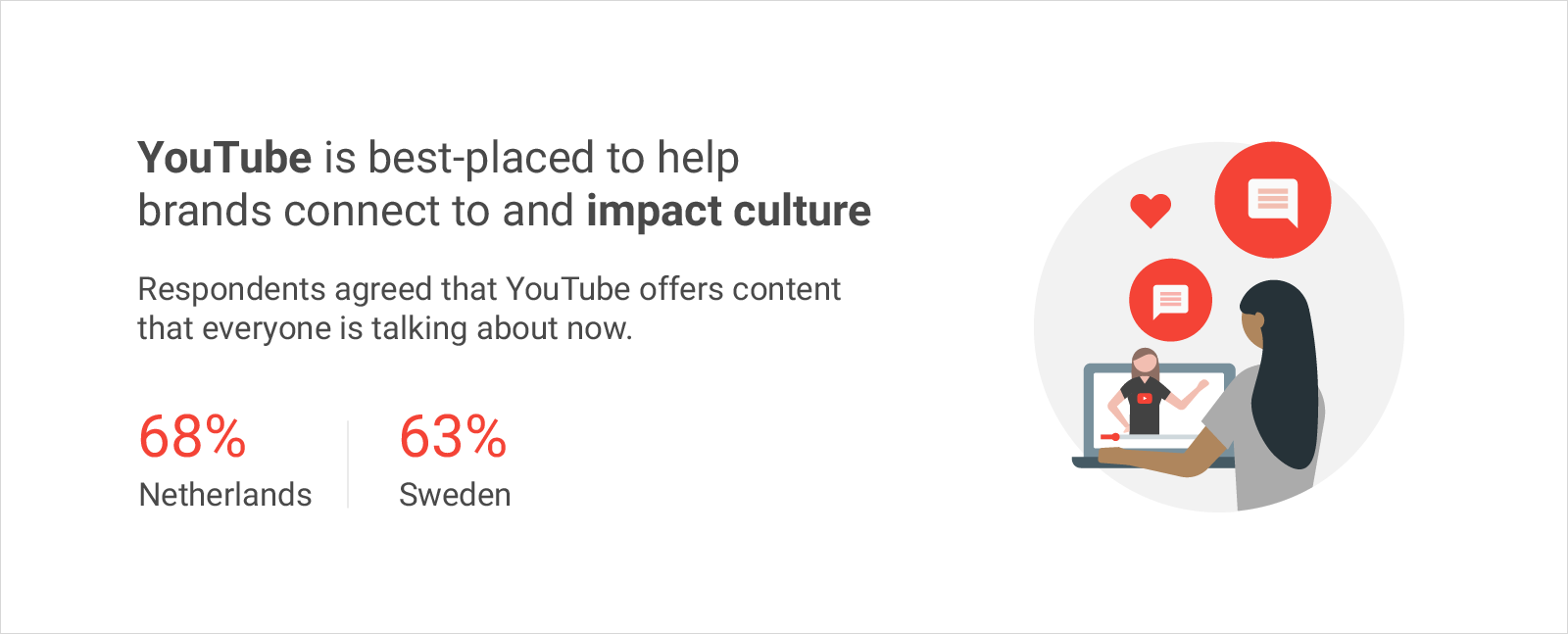 YouTube can help brands in multiple ways. As a planning tool, it can help brands observe and analyse diverse audiences and discover what motivates them. It can provide a testing ground for new approaches, allowing brands to engage with passionate audiences and find a voice that speaks directly to them. It can conceive and nurture new ideas, echoing and amplifying emergent values and helping them gain traction as they move from niche to mainstream. And above all, it can act as a megaphone, bringing messages to the masses, and becoming an influential voice in the global cultural conversation.