Lucy Sinclair is the director of the insights team at Google Europe, where she and her team analyse changes in consumer behaviour. In the third edition of this article series, she'll be highlighting what topics are on people's minds during this unprecedented time.
To help you understand what is top of mind for people during this uncertain period, we'll be regularly mining Google Trends data in Europe across three key subject areas. In the week of April 6th, there was a rise in searches around longer-term implications, do-it-yourself activities, and new forms of entertainment.

Immediate needs
While in previous weeks immediate needs were often tied to food and essential services, consumers are becoming more familiar with the new situation and comfortable with their access to essentials. Instead, immediate needs are shifting to those with long-term implications, such as financial aid and continued education. In the last week we saw an increasing search interest on Google Trends for online payment options, employment support, and mobile usage — as more consumers are spending time on their devices.
Digital banking, financial apps, and loans
Consumers in Belgium were searching for 'online payment' ('online betalen'), while in the U.K., searches for 'digital banking' ('digital banking') were on the rise. Meanwhile, Turkish consumers were increasingly using search to find information on 'loan from bank' ('ihtiyaç kredisi').
Government assistance programmes
Bank loans aren't the only financial aid support that saw a rising search interest in the past week on Google Trends, as Europeans were increasingly searching for government assistance programmes. In Poland, consumers looked for 'social insurance exemption' ('zus zwolnienie'), while Swedes searched for 'unemployment benefit insurance' ('a-kassa'). In Spain, consumers searched 'ministry of employment' ('ministra de trabajo') in higher numbers than the week before.
Mobile usage and education continuity
Finances aren't the only immediate needs on consumers' minds these days. As people increasingly turn to their digital devices to stay connected, we saw search interest for phone hotspot ('telefoon hotspot') go up in the Netherlands, while in Norway, we saw a spike in searches for 'best apps' ('beste apper').
Online education continues to be a much sought after topic, as search interest has increased for 'free courses' ('free courses') in the U.K., the Netherlands ('gratis cursussen'), and Denmark ('gratis kurser).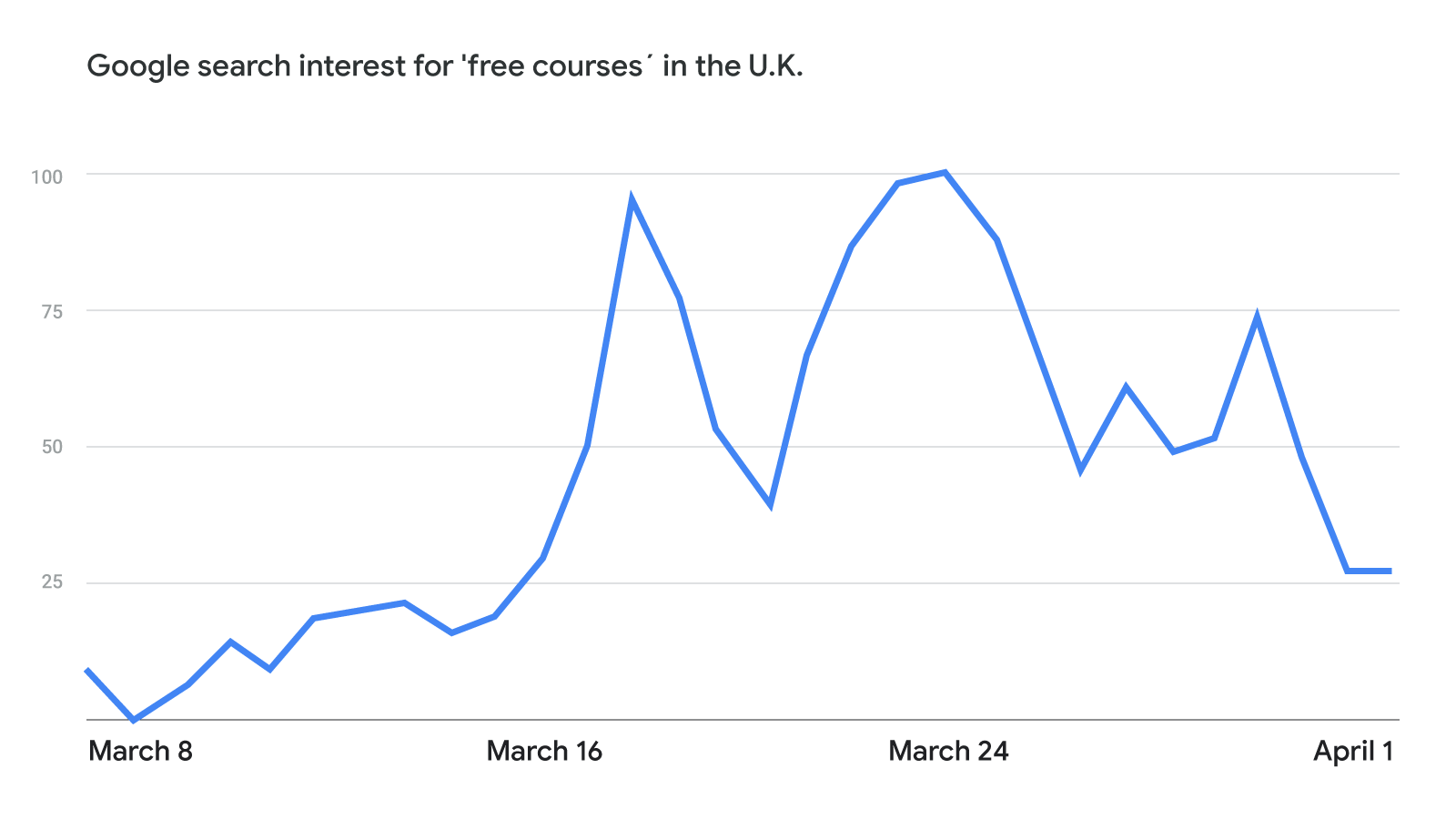 New day-to-day realities
As consumers are settling into spending more time at home, Google Trends shows there is an increase in search interest in making the most from this space. People are reinventing and reorganising their homes, finding ways to work out and relax in the same space, and they're upgrading their appliances for access to at-home luxuries.
Reinventing spaces and chores
As more people comply with government recommendations,, they are looking for new ways to make the most of their space, keep organised, and stay on top of housework. Google Trends shows a rising search interest in 'diy' ('diy') in Denmark, 'bedroom storage' ('rangement chambre') in France, 'DIY room decor' ('diy room decor') in the U.K., 'community cleaning services' ('limpieza de comunidades') in Spain, and car washing ('auto waschen') in Germany.
Working out in new ways at home
People aren't only reorganising their space at home, they're also using it in a different way than before. There is a continued rise in search interest for workouts and meditations to keep bodies and minds active and relaxed that can be done without going to the gym. In the last week, people were searching for 'home workouts' ('trening hjemme')in Norway, 'skipping rope' ('springtouw') in the Netherlands, 'gymnastics for children' ('ginnastica per bambini') in Italy, while in Turkey people searched for 'yoga movements' ('yoga hareketleri'), and the U.K. saw an increase in searches for 'meditation for sleep' ('meditation for sleep').
Upgrading home appliances
We found in previous weeks that dining out saw a decline in comparison to home deliveries, and people are baking and cooking more. As they're getting accustomed to preparing meals at home, both basic and luxury appliances saw an increasing rise in searches. In the past week people were increasingly looking for refrigerators ('køle fryseskab') in Denmark, 'waffle maker' ('waffle makinesi') in Turkey, 'pizza oven' ('pizza oven') in the U.K., 'stand mixer' ('robot patissier') in France, and 'gas grill' ('gasgrill') in Germany. And, as the weather is getting nicer in the Northern Hemisphere, people are looking to upgrade their garden spaces too, with a rise in searches for 'garden pools' ('da giardino') in Italy and 'barbeque' ('barbeque') in the Netherlands.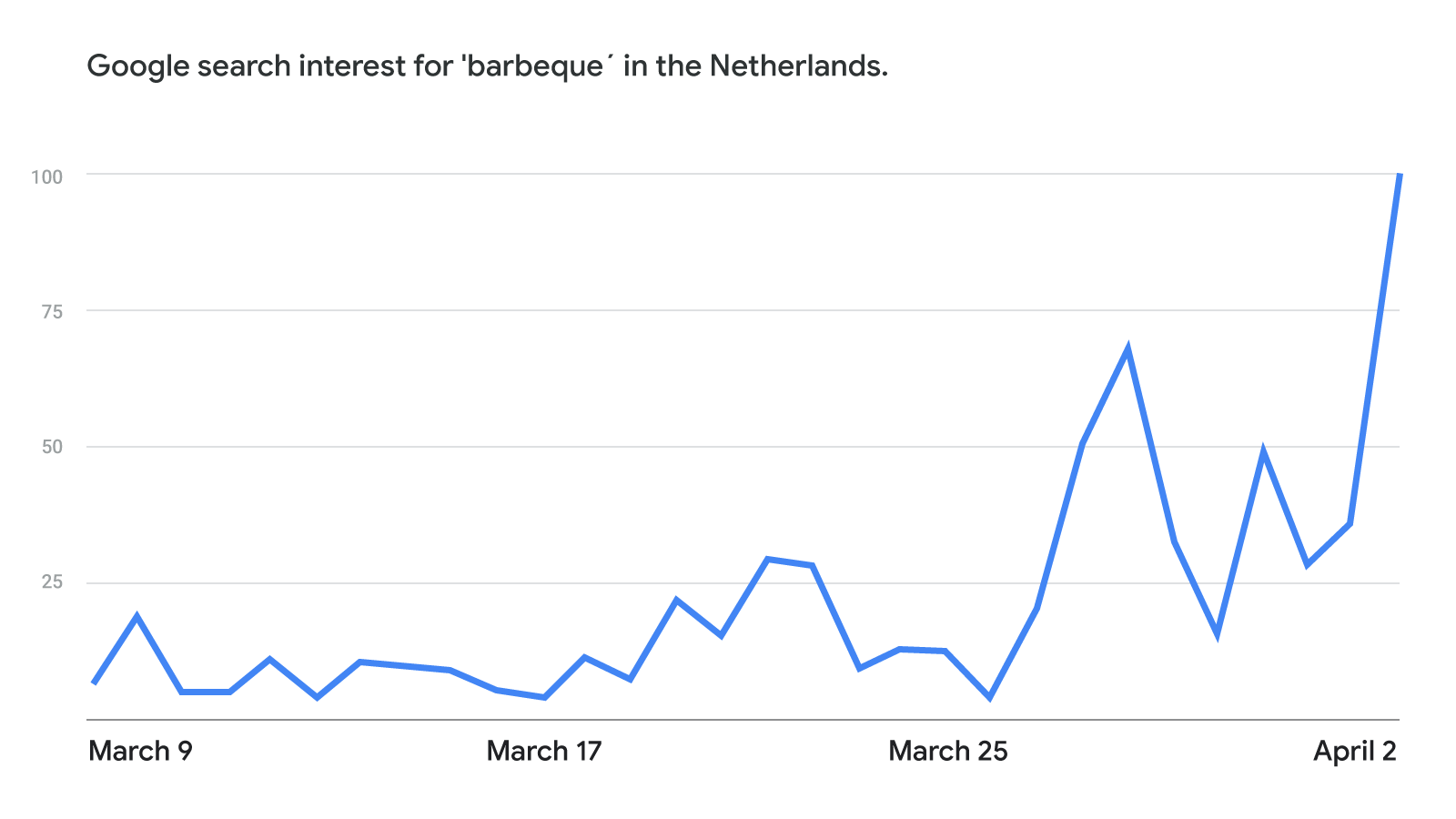 Emerging behaviours
This week Google Trends shows that consumer behaviour is shifting towards accessing at-home needs, food, and entertainment in different ways than before. Not only did online shopping see a rise in search interest, but people are also looking for good deals while they are browsing. For food, there were particularly high searches around sustainability and growing your own fruit and veg. And, as more countries in Europe are on lockdown and venues such as cinemas and theatres are closed, people are turning to online content to entertain and inspire.
In-home leisure on a budget
In addition to even more online shopping, people are also looking to bag a good deal. To that effect, Google Trends shows a rise in searches for 'discount code' ('discount code') in the U.K., 'online sales' ('online satış') in Turkey, 'promo codes' ('code promo') in France, 'shopping vouchers' ('buoni spesa') in Italy, 'shopping week' ('shopping week') in Germany, and 'shopping Sunday' ('niedziela handlowa') in Poland.
Sustainable ways to access and grow food
As people are spending more time cooking their own meals, they're looking for sustainable access to food — and are even experimenting with growing their own. In the past week we saw a rise in search interest on Google Trends for 'buying from the farmer' ('kopen bij de boer') in the Netherlands, and 'vegetable garden' ('le potager') in France. In the U.K., people were increasingly interested in 'seeds for sale' ('seeds for sale') and 'plants online' ('plants online').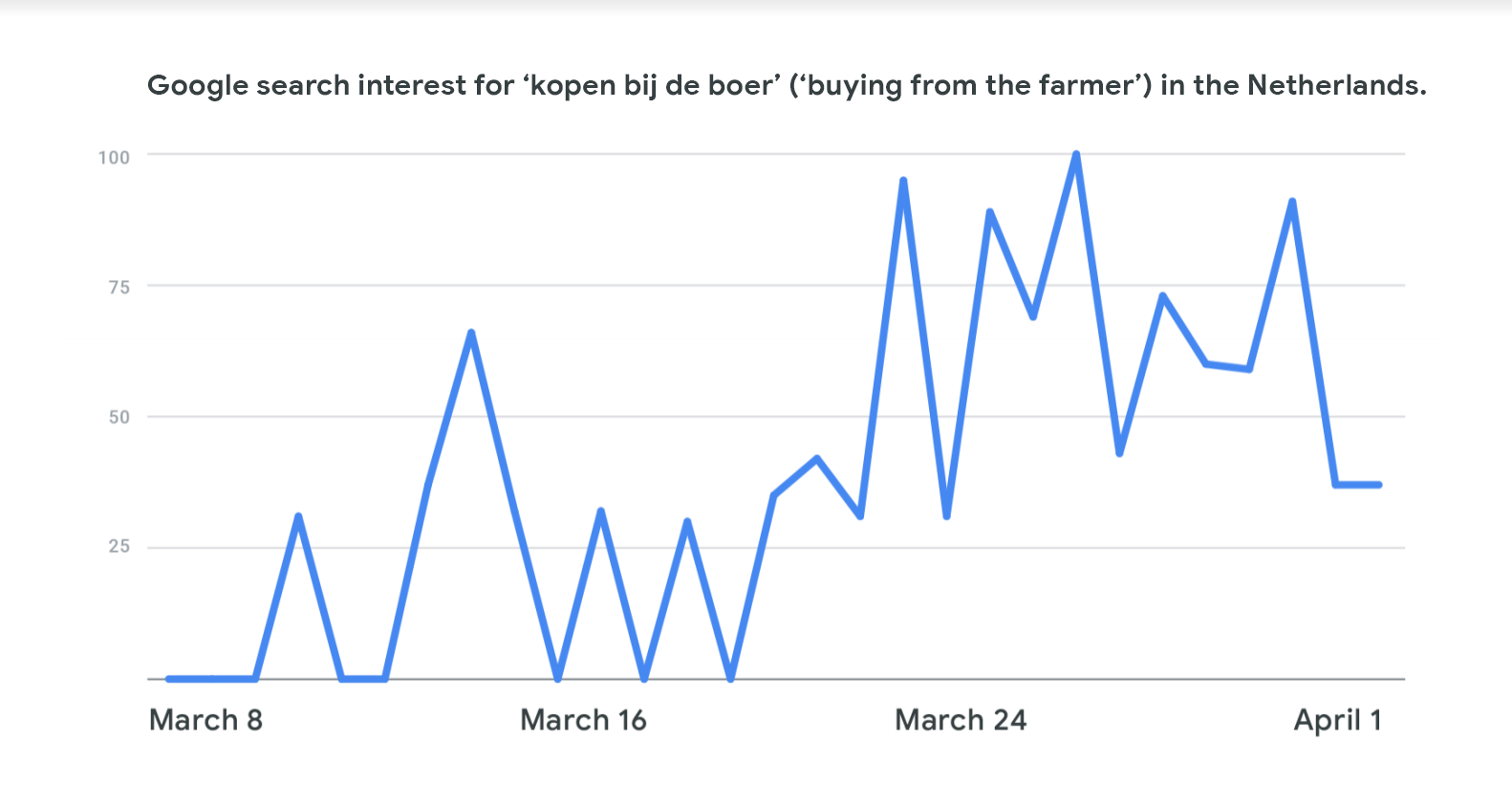 Entertainment and inspiration on YouTube
As more countries in Europe are moving to a lockdown, people are turning to online content for entertainment and inspiration to spend their time. In the past week people searched increasingly on YouTube for things to 'do when you're bored' ('do when you're bored') in the U.K. Across the Nordics and Benelux, YouTube creators encouraged viewers to #StayHome with helpful videos around 'things to do at home' and other 'tips against quarantine boredom.'
Explore more consumer behaviour trends
While this analysis provides a regularly updated snapshot of trends and shifting consumer behaviours across Europe, we understand it may be helpful to review the information more frequently, or for a specific country or region. To explore further insights, here are 10 tips for using Google Trends yourself. By entering a keyword or a topic into the tool, you can explore what the world is searching for in near real time.