Lucy Sinclair is the EMEA director of the insights team at Google, where she and her team analyse changes in consumer behaviour. In this regularly updated article she'll be highlighting what topics are on people's minds right now.
In recent weeks, the trends we highlighted showed us that people are adjusting to their newfound situation and behaviours are starting to become more consistent. So rather than focusing on previous themes, we'll be exploring the bigger picture — the macro shifts in consumer behaviour — to understand what the long-term impact might be in the post-lockdown world.
These search trends will cover five key themes: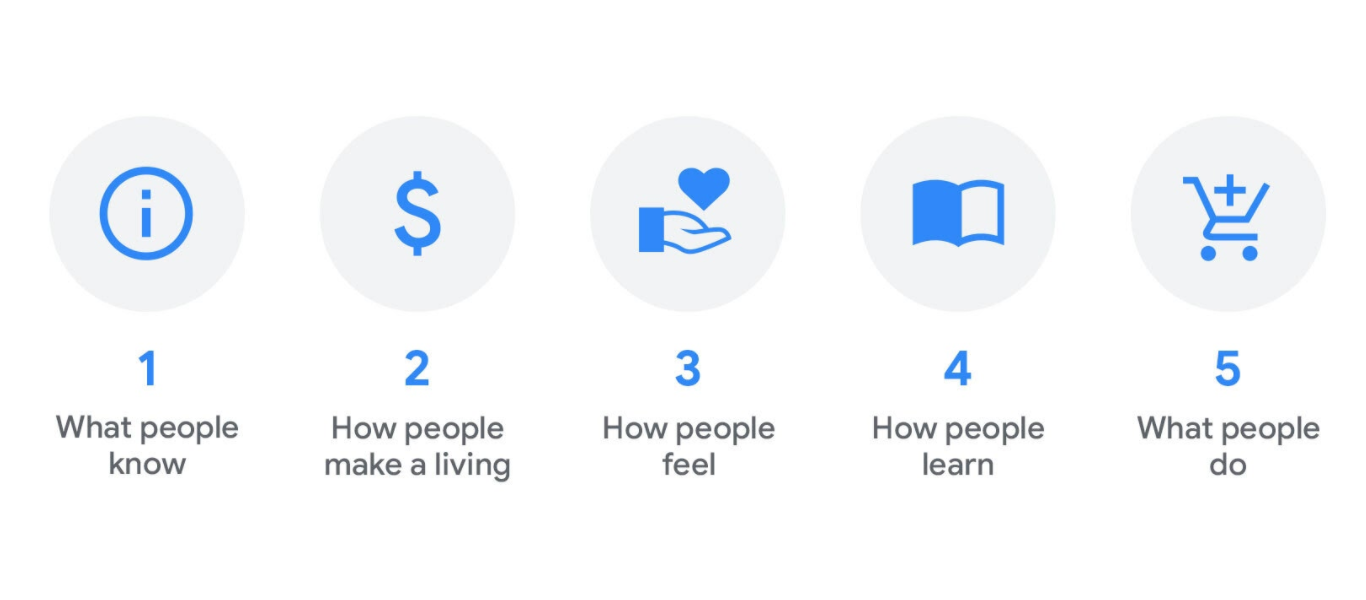 1. What people know: Users are staying up-to-date with the latest COVID-19 rules
Google Trends showed that in the past week consumers had a continued interest in staying up-to-date with the latest (government) rules and regulations in their country. For example, search interest increased for 'what is allowed' ('was ist erlaubt') in Germany and 'curfew permit' ('izin belgesi') in Turkey.
People were also getting optimistic about life returning back to normal, with increased searches for general reopening information in Denmark ('genåbning') and the Netherlands ('heropenen'), and more specific searches around reopening dates for schools and non-essential services, such as 'when will _____ reopen' ('when will _____ reopen', referring to 'hairdressers' and 'schools') in the U.K., 'reopening car dealers' ('riapertura concessionari auto') in Italy, and 'back to school' ('do szkoly') in Poland. In Belgium, searches for 'press conference' ('conference de presse') spiked again, as the government announced a gradual re-opening of the country.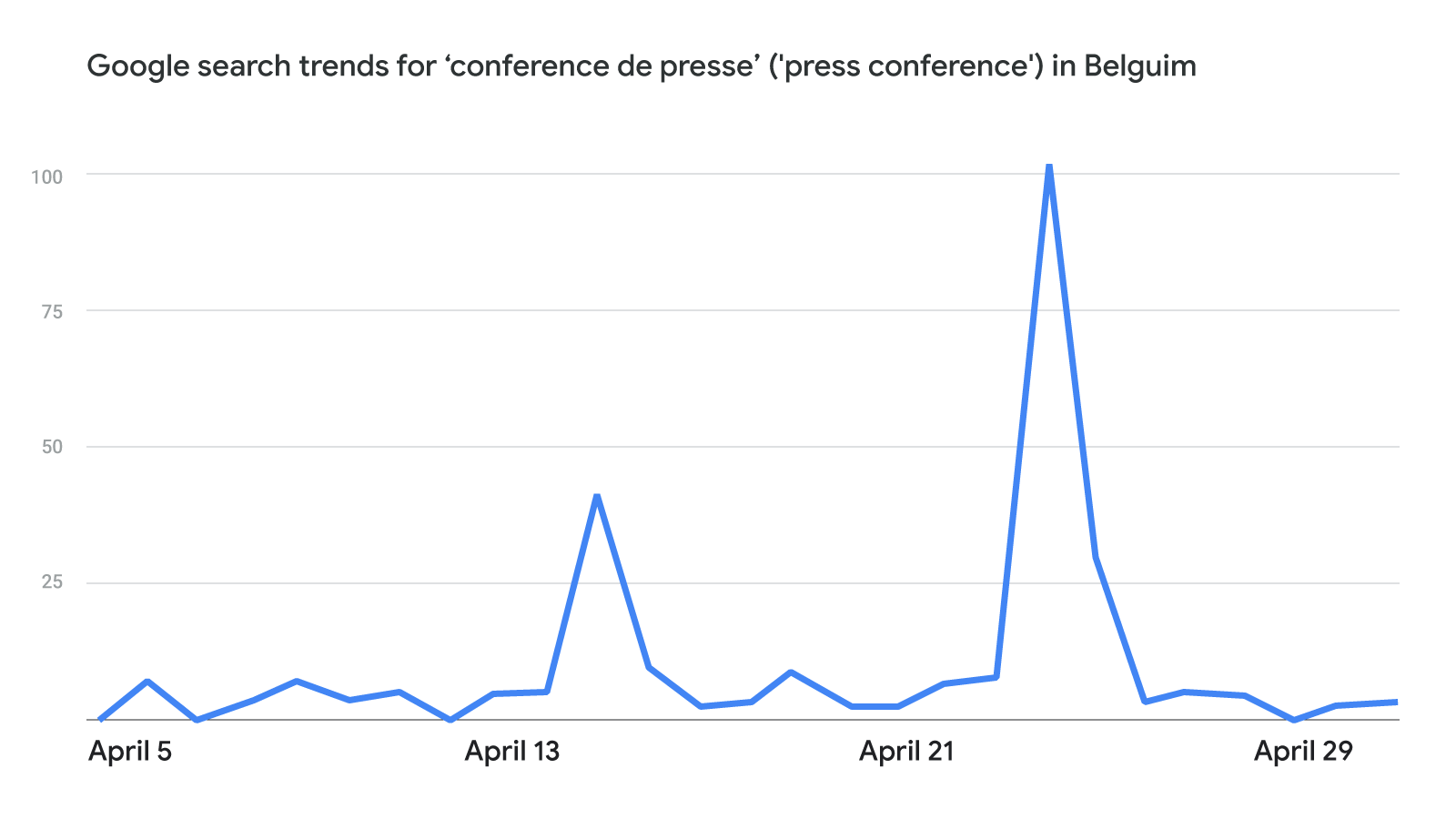 To help get access to this information, there was an increase in search interest for 'customer representative' ('müşteri temsilcisi') in Turkey, and 'contact centre' ('contact center') in South Africa.
2. How people make a living: Consumers are looking for financial security
As many people and businesses deal with changes to jobs and incomes, financial security remains top of mind for consumers as they look for help with unemployment benefits and loan payment options.
In Denmark, students increasingly searched for financial aid ('SU lan'), while there is a rising interest for 'unemployment benefit' ('prestación por desempleo') in Spain, 'furlough claim' ('furlough claim') in the U.K., and 'job centre' ('urząd pracy') in Poland.
3. How people feel: Users are searching for how to stay physically and mentally healthy
The impact of Covid-19 has also been felt physically and mentally, with people lacking access to gym facilities and spending much of their time cooking and baking up a storm at home. As such, consumers are searching for new ways to keep themselves physically and mentally healthy.
Search interest has increased for 'high intensity' ('alta intensidad' ) in Spain, 'women's bike' ('rower damski') in Poland, 'healthy recipes' ('gezonde recepten') in the Netherlands, 'losing weight' ('kilo verilir') in Turkey, 'vitamin D' ('vitamin d') in the U.K., and 'mental hygiene' ('higiene mental') in Spain.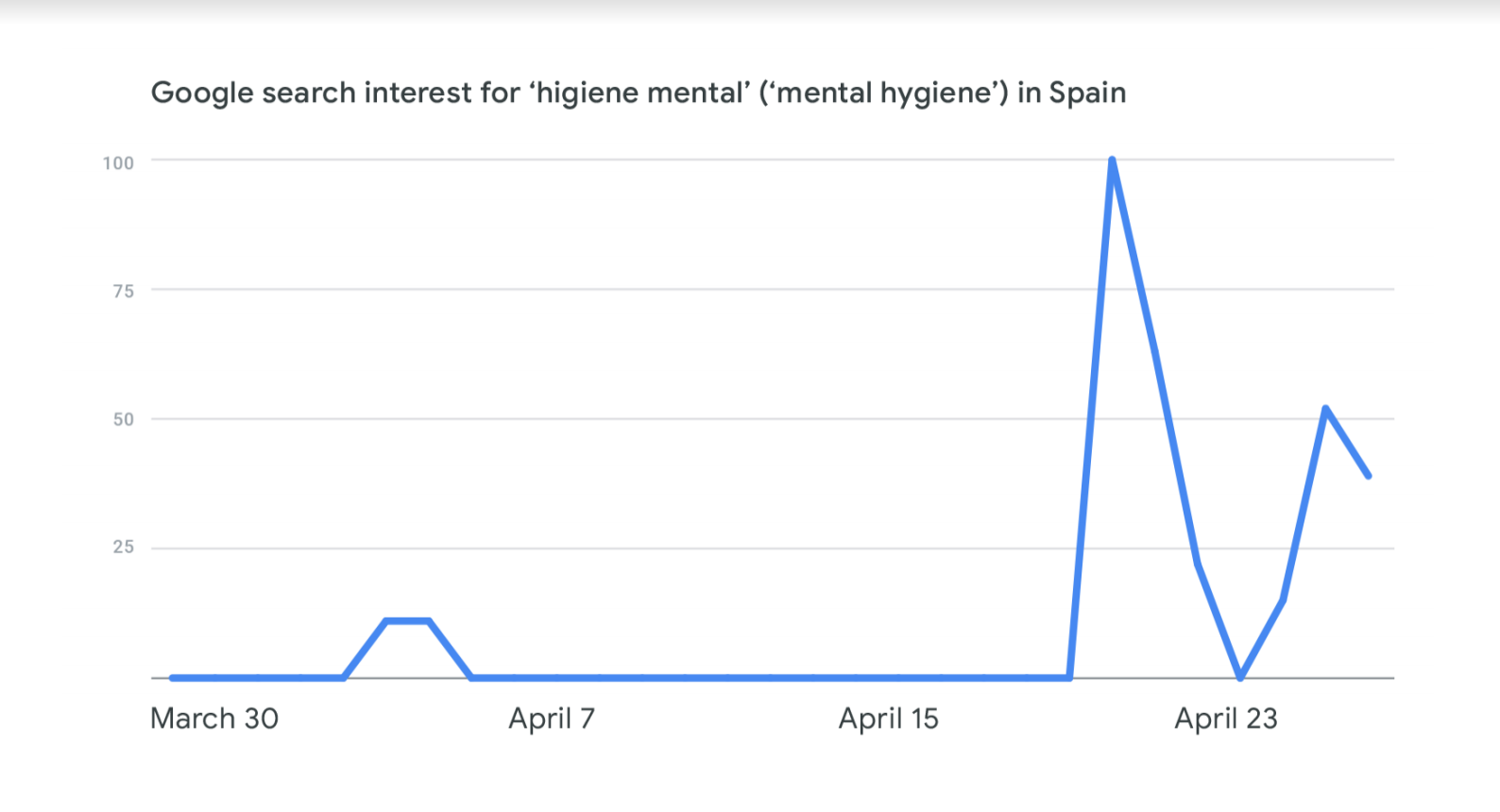 4. How people learn: Educational tools and platforms are highly searched
As people across EMEA continue to homeschool their children — and upskill their own knowledge — they're turning to search to find the tools and platforms that can support them with their needs.
Google Trends shows increased search interest for 'smartschool' in Belgium, 'math tutor' ('math tutor') in the U.K., 'home schooling' (home schooling) in Germany, and for 'online exam' ('online sınav') and 'software training' ('yazılım eğitimi') in Turkey.
Consumers are also exploring learning new things, and they are watching online video content for practical advice and tutorials. To answer these needs, whether that's learning how to knit or how to make your own candles, YouTube creators across Europe joined forces to create local #WithMe playlists.
5. What people do: Buying behaviour and recreational searches have changed
Consumers have found new ways to keep busy at home and in their outdoor spaces, celebrating 'Woningsdag' ('home day') as a lockdown-friendly alternative to 'Koningsdag' ('King's Day') in the Netherlands, looking for 'outdoor furniture' ('utemöbler rusta') in Sweden, and spending time online to look for 'summer houses' to rent this summer ('sommerhus uge') in Denmark.
Despite the lockdown, many countries allow people to take a short daily walk for fresh air and exercise. To help with this, consumers are exploring the right equipment and suitable locations near their home with 'walks near me' ('walks near me') increasingly being searched in the U.K. and 'for running' ('do biegania') in Poland.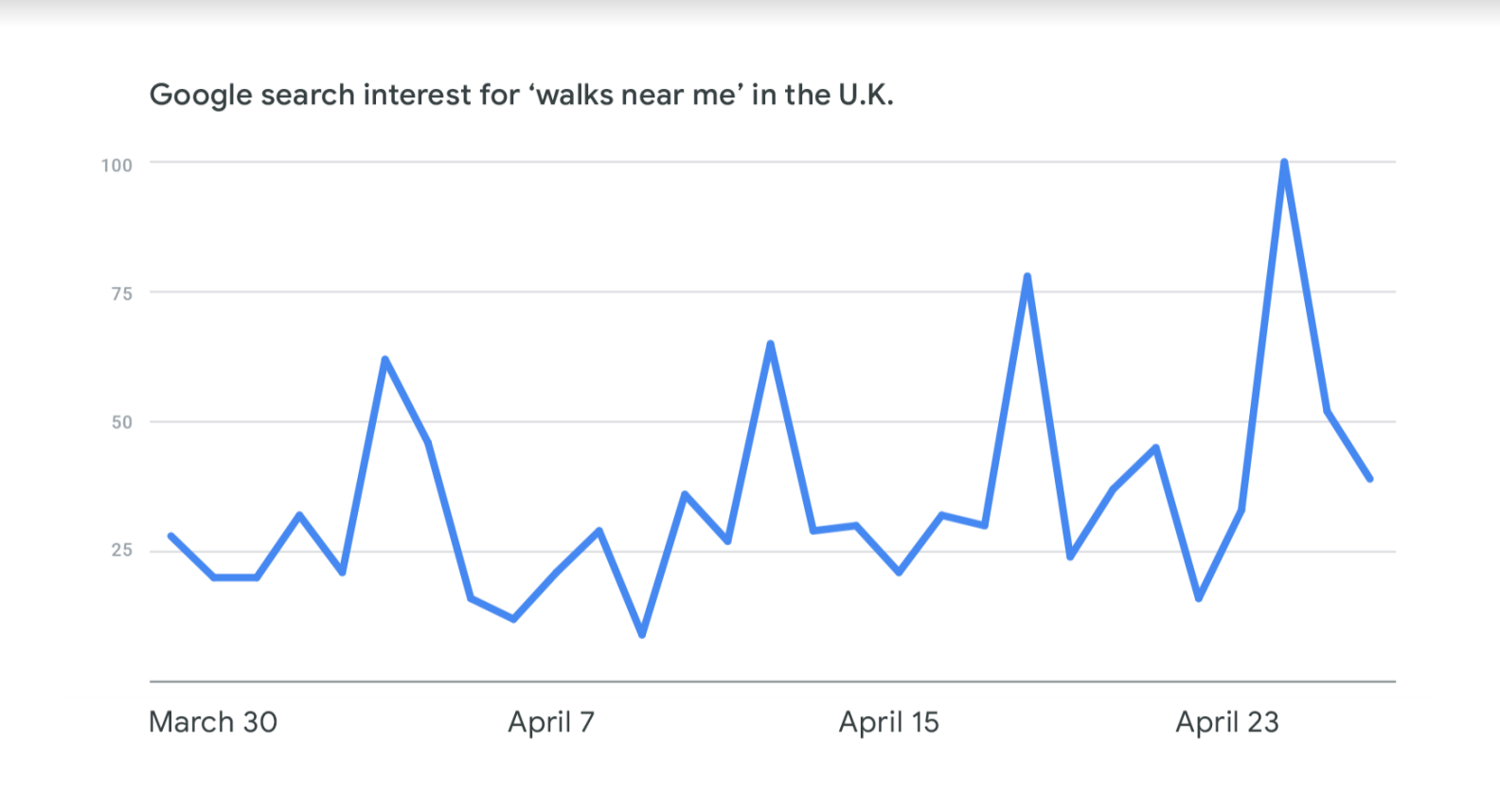 To keep busy, people are playing more games such as 'bingo' ('bingo') in Denmark and 'old-fashioned Dutch games' ('oud hollandse spelletjes') in the Netherlands. Google Trends also show an increased interest in watching online sports — even if no new matches are happening right now — and entertainment. In France we saw increased searches for the '1982 French Cup' football match ('de france 1982') and in Germany for 'Germany vs Argentina' ('deutschland argentien'). People also searched en masse for 'one world together' — a virtual concert to support healthcare workers — in Germany, the U.K, Italy, Spain, and South Africa.
Explore more consumer search behaviour trends
You can view all our recent trends analyses in our search insights collection. While we provide a regularly updated snapshot of consumer behaviour changes and trends across EMEA, we understand it may be helpful to review the information more frequently, or for a specific country or region. To explore further insights, here are 10 tips for using Google Trends yourself. By entering a keyword or a topic into the tool, you can explore what the world is searching for in near real time.