Lucy Sinclair is the director of the insights team at Google Europe, where she and her team analyse changes in consumer behaviour. In the fourth edition of this article series, she'll be highlighting what topics are on people's minds right now.
What were people searching for in the weeks of 13th and 20th April? As search interest in financial support, online learning, and new shopping expectations have now consistently appeared across our recent insight analyses, it looks like people across Europe are getting used to a 'new normal'.
While immediate needs are stabilising, people are continuing to look for new ways to pass their time. Whether it's preparing their outdoors space for the summer, exploring pet adoptions, spending time with friends and family online, or looking to DIY their self-care, beauty, baking, and home decor, people are adapting and being creative with how they make the most of their time at home.

Immediate needs during the coronavirus pandemic
People's immediate needs remain focused on those with long-term implications, such as financial aid and education. In the last few weeks we saw an increasing search interest on Google Trends for financial support in the form of loans and grants, helping others in the community with donations to charities and hospitals, and adapting to a new online learning environment.
Looking for financial support
As the long-term financial implications of the pandemic hit consumers and businesses, Google Trends shows increased searches for financial relief, such as business loans and unemployment grants. In the Netherlands, searches around benefits ('uitkering') and 'money from the government' ('geld overheid') rose steeply, while in Italy, people increasingly searched for 'business loans' ('prestiti alle imprese').
Helping others with charitable donations
Across Europe, people were exploring ways to contribute and help others in need. 'NHS charity' ('nhs charity') and 'donate to' ('donate to') saw an increase in searches in the U.K., 'charity' went up in Belgium ('goed doel') and 'donate' rose in Norway ('donere').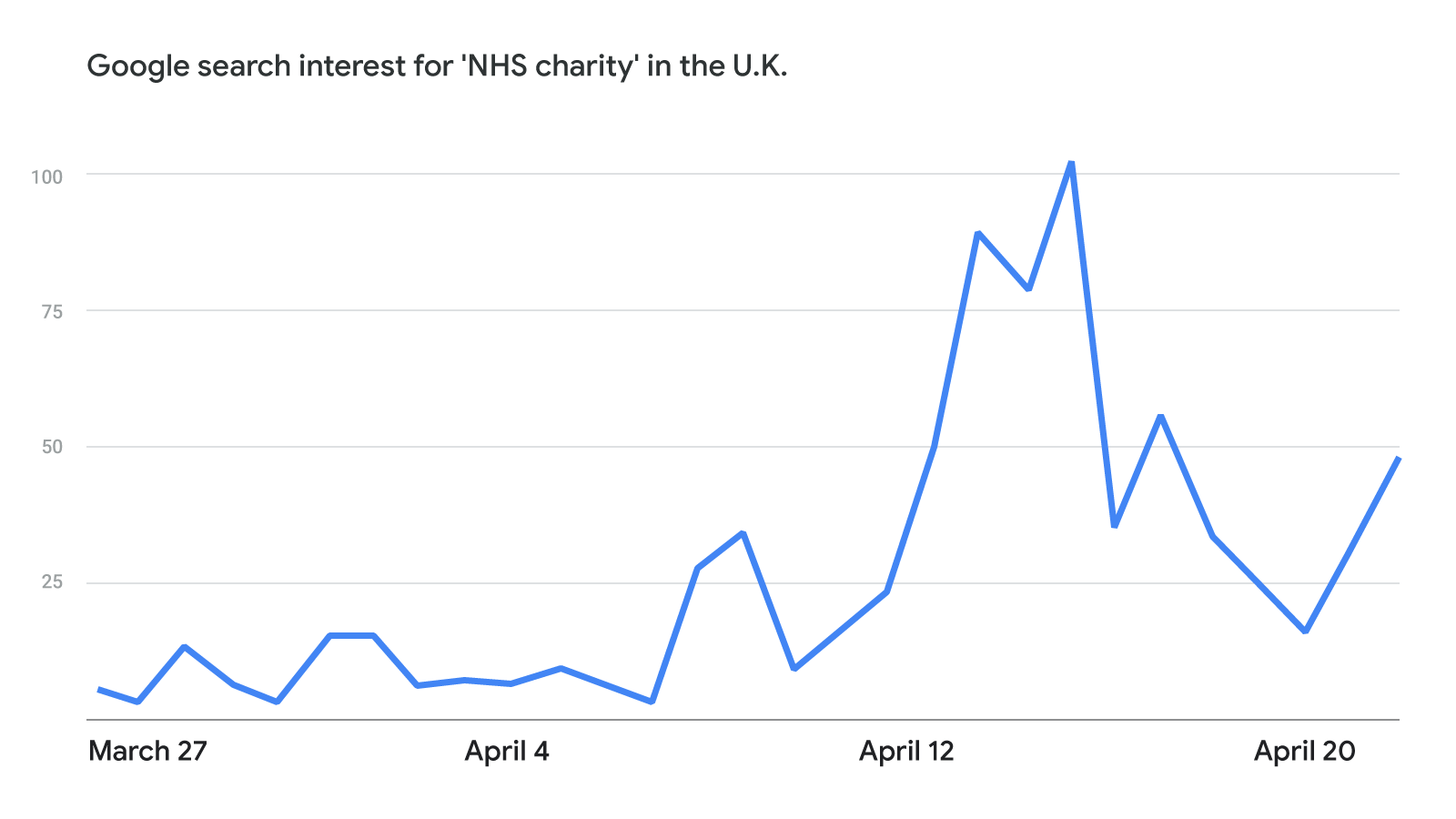 Adapting to online learning
As e-learning continues to proliferate, search interest shows that Europeans are looking for platforms and resources to help them adapt. There was rising search interest around 'distance education' ('distanza scuola') in Italy, distance learning ('distansutbildning') in Sweden, and virtual classroom ('aula virtual') in Spain.
Creating a new day-to-day reality
As consumers are settling into new shopping rhythms, Google Trends shows an increase in queries around store guidance and online deliveries. Additionally, people are spending on new ways to be at home. Whether they're preparing their outdoors spaces for warmer weather, virtually bonding with family and friends, looking to adopt a new pet, or expanding their DIY skills, people are adapting and being creative with their new-found situation.
Understanding new shopping behaviour
Many stores have new opening hours and guidance in place to create safe shopping environments, and Google Trends shows that people are actively searching for these new regulations. In France, people search 'can we do our shopping together?' ('peut on faire ses courses a deux'), while consumers are looking for information on 'opening hours today' ('öffnungszeiten heute') in Germany, 'opening times' ('öppettider påsk') in Sweden, and 'opening hours' in Denmark ('åbningstider påske').
And, as new rules are causing increased queues in front of stores, consumers in the U.K. are also looking for the 'quietest time to go shopping' and 'the best time to go to supermarket' ('quietest time to go shopping' + 'best to time to go to supermarket').
New expectations for online delivery
In order to avoid the physical shopping experience, consumers are looking for delivery of a much wider range of products than before. Hungry Spanish consumers were searching for 'sushi delivery' ('sushi a domicilio'), the French searched for 'chocolate delivery' ('livraison chocolat'), and as the Dutch prepared themselves for King's Day on April 27th, searches for delivery of the traditional tompouce spiked in the Netherlands ('tompouce bestellen').
Getting ready to spend time outside
As the weather continues to improve, we've seen search behaviour change with consumers readying themselves for spending more time outdoors. However, instead of going to the beach or a park, they're looking for ways to catch the sunshine closer to home — and many are exploring trying their hand at gardening. In Denmark we saw an increase in searches for 'square trampoline' ('trampolin firkantet') and 'greenhouse' ('drivhus'), in Norway for 'hammock' ('hengekoye'), in Germany for 'jacuzzi garden' ('whirlpool garten'), in the Netherlands for 'garden lounger' ('ligbed tuin'), and in the U.K. for 'pressure washer' ('pressure washer').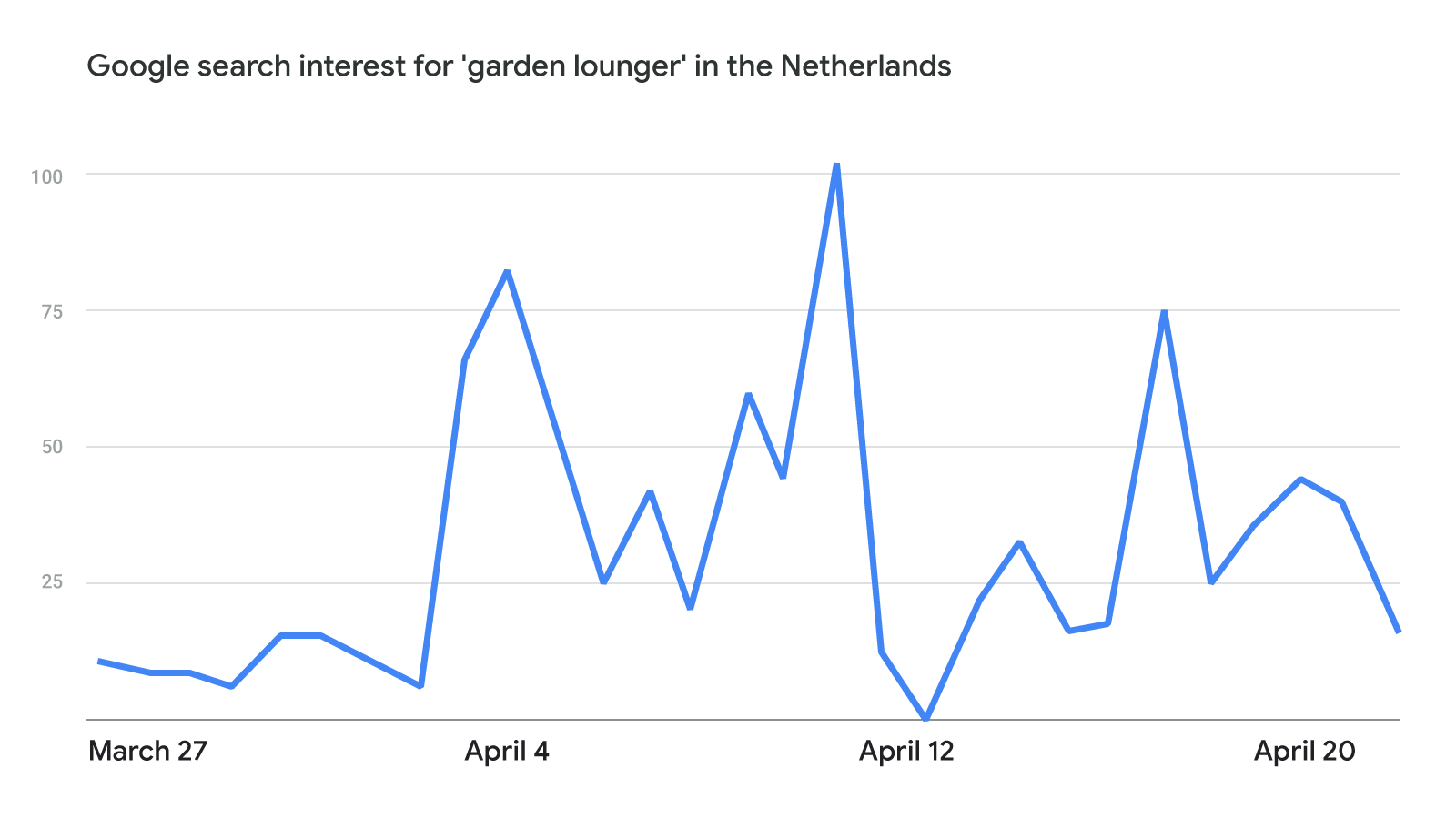 Bonding with family — and pets
House-bound consumers are also finding new, virtual ways to connect with their friends and families, with an increased search interest for 'with friends' in both Norway ('with friends') and Belgium ('with friends'). And, with people spending more time alone than before, animal lovers are exploring ways to grow their family. In France 'cat adoption' ('adoption chat') saw an increase in searches, and in Turkey 'dog adoption' ('köpek sahiplenme').
Continuing with at-home DIY
As the weeks of stay-at-home guidance continue, people have become more creative and self-reliant, and their at-home needs around self care, beauty, food, and home decor continue to centre on do-it-yourself (DIY). In France we saw an increased search interest for 'make false nails' ('faire des faux ongles'), in Turkey for 'cut fringe' ('kahkül kesimi'), in Spain for 'how to whiten teeth', and in Belgium for 'do it yourself' in both Flemish ('doe het zelf') and French ('de bricolage').
Emerging search behaviours from Google Trends
Whether it's product reviews to aid with purchase decisions, apps that can help meet new needs, or watching YouTube live streams and creative videos, the search behaviours we can see from the Google Trends insights show that consumers are using the knowledge and tools available online to help them make the most of the current situation.
Looking for (free) apps and online tools
Demand for free apps and helpful tools continue to rise. Google Trends shows an increased search interest in 'free download' in Germany ('kostenlos herunterladen') and Italy ('scaricare gratis'), 'games free' ('games free') in Sweden and Norway ('gratis spill'), 'free VPN' ('free vpn') in the U.K., and 'free movie' ('gratis film') in Belgium.
And it's not only free apps and services that saw an increase in searches; apps across a wide range of categories gained popularity. Google Trends shows a rising search interest for music apps' ('music apps') in the U.K., and 'bicycle app' ('fiets app') in Belgium.
Watching YouTube for live streams and creative inspiration
With the behavioural shift to online, consumers are also increasingly tapping into online video content to meet their new needs. In the past week, people turned to YouTube for live streams, creative inspiration, and learning. Google Trends shows an increase in interest for 'learning to knit' ('leren breien') in the Netherlands, 'homemade Easter presents' ('ostergeschenke selber machen') in Germany, and live streams of the WHO One World event across Europe, including Belgium ('one world') and Finland ('one world').
Explore more consumer search behaviour trends
While this analysis provides a regularly updated snapshot of trends and shifting consumer behaviours across Europe, we understand it may be helpful to review the information more frequently, or for a specific country or region. To explore further insights, here are 10 tips for using Google Trends yourself. By entering a keyword or a topic into the tool, you can explore what the world is searching for in near real time.