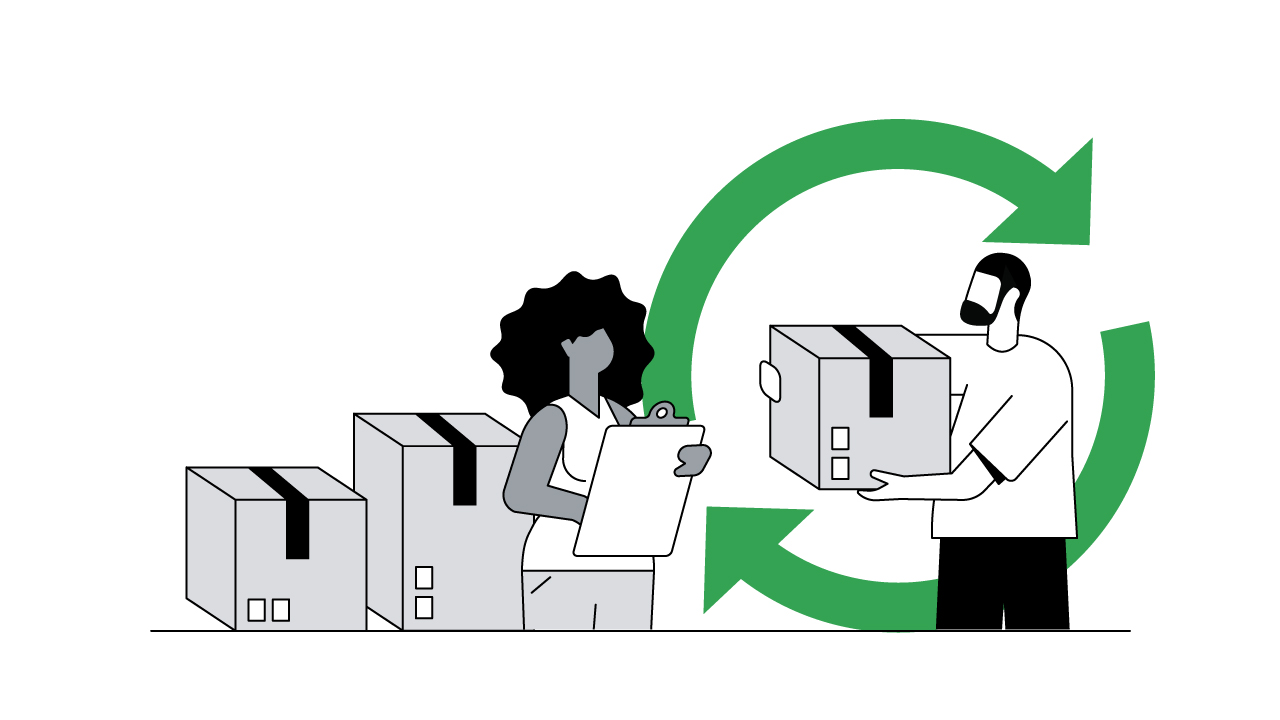 Jackie Pynadath is Google Cloud's sustainability and innovation director for Europe, the Middle East, and Africa. Jacqui Owens is a retail industry lead at Google.
Free returns. It's a huge selling point for online retailers to entice potential customers, making purchases as seamless as possible.
But e-commerce returns are a messy, wasteful process. Not only do retailers lose hundreds of billions in revenue each year, the environmental impact is startling.
Very few experts have been able to quantify the waste generated in regions like Europe, the Middle East, and Africa, but the numbers in the U.S. are sobering: in 2020 alone, an estimated 2.6 million tonnes of returns ended up in landfills, according to a report from Optoro. The process of shipping returned items led to 16 million metric tonnes of carbon dioxide (CO2) emissions that year. That's equivalent to the emissions generated by powering two million homes for a year.
Industry experts estimate that about one-quarter of returns are discarded because it's cheaper to dump them than process and resell.
And the problem is getting worse. In the U.S. in 2021, for instance, consumers returned one-fifth of all online retail purchases. That represents $218 billion in 'lost' sales, more than double the value of the previous year.
Retailers are now starting to examine the sustainability of their returns and exploring ways to minimise them without sabotaging sales. The industry is also trying to change the consumer mindset to encourage fewer returns. In May, for example, fashion retailer Zara began charging for online returns in the U.K., although returns to its physical stores remain free.
We spoke with a range of global industry experts to understand how retailers can improve the sustainability of their returns process and reduce costs. Here's what they had to say:

Understand what your customers don't like about your products
Navjit Bhasin, founder and CEO of Newmine, which runs the SaaS retail returns intelligence platform Chief Returns Officer:
"Returns reduction is a low-hanging fruit that is being overlooked. At a time when returns rates are soaring, we are taking a proactive approach to understanding why returns are happening, helping our customers reduce returns rates by 18%.
"Understanding the root of the problem is key to reducing returns — if you don't know the problem, then you won't be able to put the right solution in for it.
"Previously, the focus for retailers was on how to get rid of returns once they'd happened. The priority was to make it easy for the customer, using reverse logistics to maximise speed and then reaping any extra margin depending on whether the product could be refurbished or resold. Industries have grown up around those solutions.
"But this is a reactive approach to solving the problem. You cannot eliminate returns, but you can learn from them and, based on that intelligence, take proactive action to reduce further returns.
Customers are giving retailers signals that something isn't right
"This is especially important when you consider that at least 70% of the reasons for returns can be controlled by the retailer.
"Retailers can find the root cause by getting the information from places such as retailers' transactional systems and the voice of the customer, which could be social media, call centre transcripts, or customer reviews.
"In all these instances, customers are giving retailers signals that something isn't right. Listen to those signals and find anomalies. The data is already there — it's just looking at it from a returns lens, which gives retailers the ability to reduce returns."

Maximise the user experience to minimise product disappointment
Louise Barry, mobile user experience and conversion specialist at Google:
"Improving the online user experience for customers is key to reducing returns. This helps customers buy the right product the first time.
"We recently helped one European fashion retailer reduce returns by 8%. We recommended that the company add more detailed information to help improve the customer experience. The retailer also used customer measurements to provide context on best fit, and used better quality images of the product.
"Size information is so important. Retailers should add a breakdown of dimensions, particularly for higher-value items, so people can understand sizing and fit.
The more accurate and realistic the visuals, the more likely the consumer is to make a better purchase
"Product images and videos are also crucial. The more accurate and realistic the visuals, the more likely the consumer is to make a better purchase. It's very beneficial when retailers offer customers the ability to turn the product around and look at it from different angles online, or zoom in on details. Using augmented reality for items such as bags, sofas, or even wallpaper and paint, also helps users better understand size and fit in their homes.
"Product comparison showing other similar items gives the user the best chance of discovering the best product for them and, therefore, a reduced likelihood to return.
"User reviews are also really helpful. British fashion retailer ASOS provides a really good example since it shows how accurate products are to the image, whether sizing runs big or small, and the quality. Having that context can help customers make a better decision on whether a product suits them or not.
"Doing this is advantageous from a business perspective as well. It's much better for retail reporting and forecasting since you get a clearer idea of what customers are keeping. That means you can better understand what products customers might want in the future, too."

Nudge behavioural change
Inge Baars, sustainability manager at global product returns management specialist ReBound:
"We aim to get retailers and consumers thinking about the decisions they make around returns. We believe this is where we will start to see behavioural change.
"For retailers, we make sure they have insight into the impacts of their returns, such as the CO2 emissions per carrier, per country and per parcel. We also rate all our carriers on sustainability through our Sustainability Network Index.
"We need to make sustainability of returns as easy and accessible as possible to all retailers and consumers, not just early adopters, so that it's more of a 'why not?' decision.
We aim to get retailers and consumers thinking about the decisions they make
"Our eco-choice feature in our returns portal is designed to nudge consumer behaviour. It allows consumers to see which is the most sustainable option for their product return.
"We are trying to nudge consumers in other ways, too — such as trying to encourage them to drop off products via foot or bike, and drop off their packaging material for recycling with their returns.
"We are also looking at circularity options, such as repair, rental, and donation and how we can handle all these options within our network."
Join Holiday Excellence Week
Now more than ever, it's important for businesses to plan ahead. Join Google's Holiday Excellence week from 5-8 September to get expert tips, tools, and tactics to make the most of the upcoming holiday season.