A new survey from Google and BCG shows that marketers in the Nordics and Benelux regions do not have the digital marketing capabilities they need to engage customers optimally, especially in key areas like mobile advertising and testing. This is in spite of the fact that digital is a core element of these economies, termed "digital frontrunners". Interestingly, the results are similar to a 2015 survey conducted in the UK and Germany – demonstrating that limited digital marketing capabilities is a more universal problem.
In 2016, Google, BCG, and a selection of industry bodies1 surveyed 172 individuals across 27 companies in the Nordics and 515 individuals across 52 companies in Benelux. The respondents roles were varied across digital, PR, brand management, and customer marketing and spanned organisational levels from junior marketing managers to Executive Vice Presidents. We asked marketers to assess their organisations' current digital capability levels across nine skill categories below: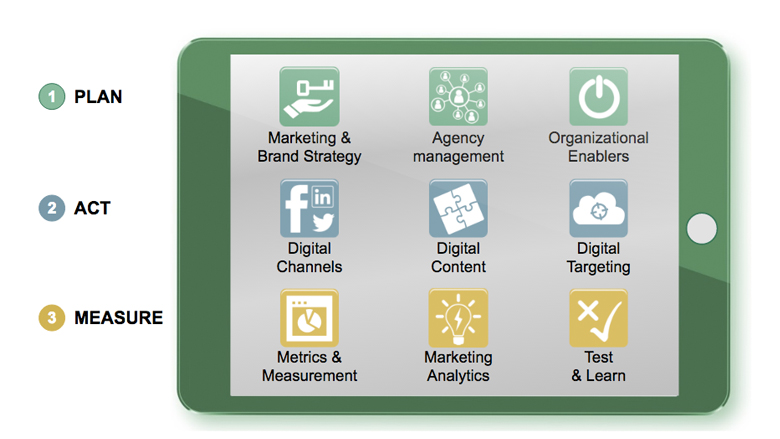 We turned the responses into a 100 point index called the Digital Capability Index (DCI), with 100 representing best in class. We calculated the DCI scores for the Nordics and Benelux and also compared them to the survey we ran in the UK and Germany in 2015 (1100 marketers surveyed across 57 companies). The results were striking, with average scores in the 51-57 range.
Digital marketing should be a critical element of nearly every company in Northern Europe, and there is significant need for improving the current level of digital marketing capabilities.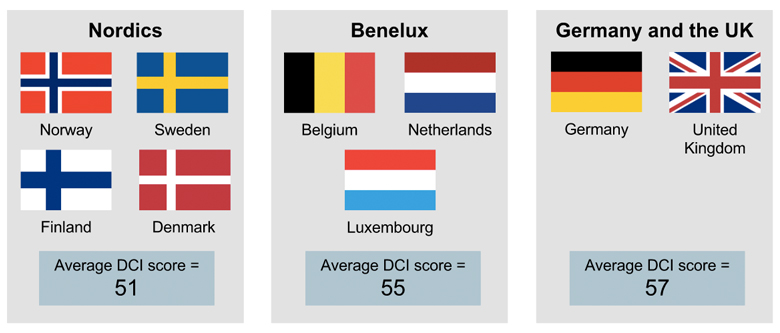 Diving deeper into the results from the Nordics and Benelux, we find the sub-scores to show similar patterns between the two regions. Additionally, they hold similar to the results from the UK and Germany. Areas such as Search and Social Media, which have been the traditional focus areas for digital market capabilities, have relatively high scores (~60), with a majority feeling confident that their organisation builds keyword strategy on the understanding of what keywords consumers use. However the DCI score of 60 is still far below best in class levels (100).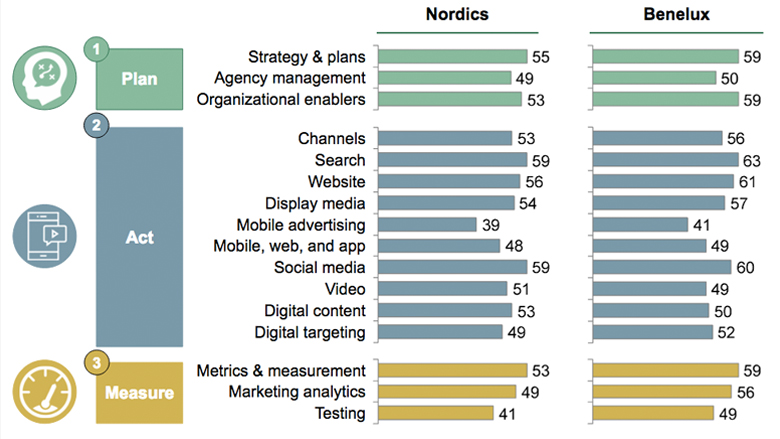 Marketers seem to struggle most with the below two areas:
Mobile advertising (Nordics - 39, Benelux - 41): Mobile advertising capabilities received low scores across the board. Companies should be prioritising this especially given the large flow of traffic from mobile devices today.
Testing (Nordics - 41, Benelux - 49): Marketers are not sufficiently using online channels in order to test, learn, and adapt campaigns. Testing through experiments is critical to breaking old ways of working. If you're not testing, you're not transforming.
Additionally, when it came to learning and development, marketers in both regions gave low satisfaction scores to their employers. The averages for the Nordics and Benelux were only 36 and 42 respectively, out of 100. In particular, employees found it difficult to get enough time to develop their digital marketing capabilities, and found that training materials were not easily available when needed.
The results of this survey were striking and point to the critical need for developing digital marketing capabilities. If you would like to take the free survey yourself to receive a tailored profile for your company within 72 hours, please sign up here.
Finally, developing digital marketing capabilities is one of the many steps of the digital marketing transformation journey. BCG and Google came together to develop the roadmap for this journey. We combined BCG's expertise in traditional & digital marketing and change management with Google's expertise in planning and executing effective digital campaigns. You can read more about it here.