POWER is a prominent Nordic consumer electronics retailer with approximately 170 stores across the region and a large online e-commerce business in each market. Operating in a highly competitive retail market against both online and offline players, POWER harnessed new digital ad formats to successfully drive incremental in-store footfall and transactions. We discover how.
Have you heard about the 'retail apocalypse'? So-called because rapid change in consumer behaviour is having a profound impact on the entire retail structure and landscape. As chains struggle to grow foot traffic and in-store revenue drops, many retailers are closing up shop for the last time.
But despite the doomsayers, offline shopping is far from dead — it just looks different. People still buy in-store but use mobile devices to research and move between the online and offline world before making a final purchase decision. In fact, 85% of consumers within consumer electronics turn to digital before making an offline purchase1.
This complex consumer journey with multiple touchpoints, coupled with the continued growth of e-commerce, is forcing traditional retailers to rethink their strategy and align their business models and measurement capabilities toward this omnichannel behaviour. Traditional retailers have struggled to find new media alternatives that can complement current Print and TV strategies to drive offline impact.
Aware of these challenges, POWER wanted to determine if it could use the online world to drive more sales to its local stores in Norway. Kåre Andrè Jevanord, POWER's Head of Digital, explains: "Our mission is to secure the future of our business in line with the constant changes in consumer behaviour. Our previous goals had been to drive more traffic to our online stores, however the experience we want to give our customers by visiting our physical stores is still at the heart of our business."
Kåre Andrè Jevanord and his team wanted to take a more holistic approach to the customer journey by testing the online world's offline impact, and comparing the results with traditional print and TV campaigns. The results? They were impressive. Here's what they did.
Step 1: Find an efficient digital media to complement print and TV advertising

POWER was confident that online marketing was driving people to its stores but they wanted to pinpoint the exact impact on in-store footfall and transactions. With the goal of testing how digital campaigns could increase local visibility for each store, Kåre and his team turned to Local campaigns (users can delete, pause, or "auto-delete" their location history at any time from their Google Account). POWER wanted to see how online ad formats could be optimised to deliver footfall to store locations.
Step 2: A 4-week experiment: Planning out the test
Having decided on Local campaigns, it was time to plan out the methodology. To find the incremental offline results, POWER set up a geo-experiment where they selected ten treatment stores in the west, middle and north of Norway that were tested alongside six comparable control stores with historically similar revenue trends. This way, the retailer could clearly isolate the effect of the Local campaign and thus find its incremental impact.
The test took place in the month of December 2018, and compared the in-store footfall and transactions in the 10 test stores with 6 other comparable control stores to model the incremental uplift.
The treatment stores were given a budget to run online local ads that promoted special Christmas discounts with offline calls to action that directed customers to visit a store. Machine learning automatically optimised bidding and ad placement across channels — including Google Maps, Place Page, Search, Display and YouTube.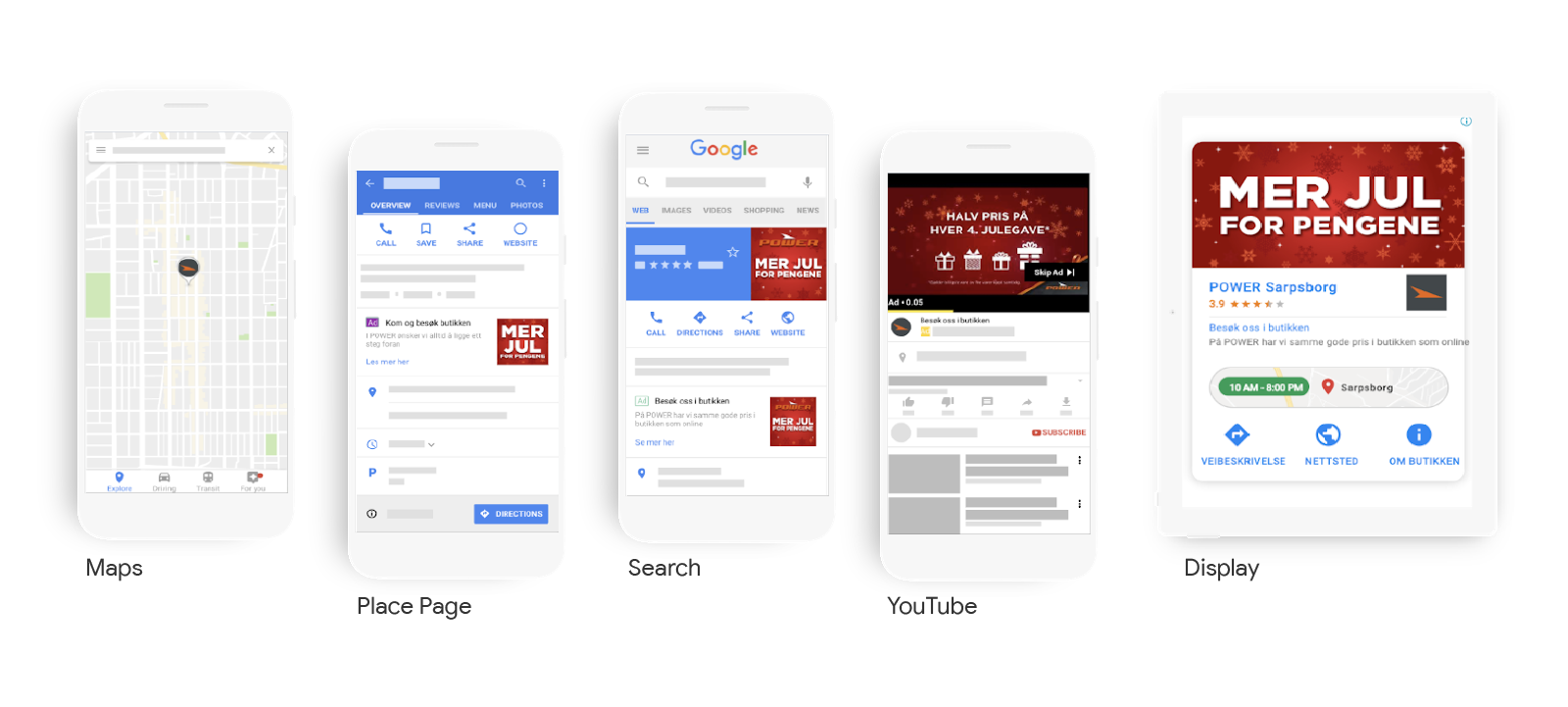 Step 3: Result analysis: Understanding what works
After the four-week trial period the team analysed the performance and transactions of the test stores compared to the control group. The analysis revealed an overall 7.8% increase in footfall and 3.2% more transactions in the stores that ran Local campaigns.
As Kåre Andrè Jevanord explains: "Going into the Local campaigns test we had hoped to see some positive results, but the end result really exceeded our expectations. Being able to prove an incremental growth of almost 8% in footfall is huge – and to also get an increase in store transactions of 3.2% confirms that these type of campaigns are more effective for driving offline impact than we initially thought."
POWERful learnings for the future
The campaign has been a game-changer for POWER both in terms of achieving a holistic view of the customer journey as well as proving the impact of online campaigns on driving measurable business results. It has also convinced POWER to run Local campaigns on an always-on basis.
"Ultimately this will help us make better decisions in the future, and, together with our traditional print and TV campaigns, will help us optimise our marketing-mix to better meet the presence of our customers," Kåre affirms.