When Google Search started, the world was very different. Consumers were searching from desktop devices, at home, during set periods of time. In the 19 years since then, we've seen the world revolutionised by mobile technology, bringing with it a change in search behaviour. The majority of searches are now on smartphone devices and consumers are constantly connected. We've now truly moved from a desktop-first to a mobile-first world.
But while most businesses are still trying to figure out how to adapt to this mobile-first world, a new technological revolution is already underway driven by machine learning and natural language understanding. As we saw with mobile, this new technology is changing search behaviour as consumers are increasingly starting to search using voice inputs.
It is important to make the distinction between two types of voice enabled interactions: voice searches done through search engines and conversational interactions facilitated by digital assistants. Conversational interactions are set to be the real game changer in the coming years.
But are these new types of behaviours already seen in the Netherlands? And what is the potential impact of voice search and conversational interactions on companies' digital activities? iProspect and Google Netherlands teamed up to try to give some first insights and understand how companies might start tapping into this behaviour in the Netherlands.
The two types of voice enabled interactions
Machine learning and natural language understanding are bringing new possibilities for humans to interact with computers in a natural, conversational way. Instead of needing to adapt to technology, computers are now learning to adapt to humans.
Additionally, new products incorporating machine learning are offering new, often unexpected yet delightful experiences. We're already starting to see the first use cases of what machine learning can do once put to use in product development. Take the Google Assistant for example. It was built leveraging the latest advances in machine learning and natural language processing.
Voice search and conversational interactions are two different ways of interacting with brands and services:
These two types of voice enabled interactions are different by nature and impact companies' digital activities in diverse ways. Although the list is not exhaustive, in the section below you can find suggestions about which steps you can begin to take to cater to these new types of voice enabled interactions.
Voice search
With voice search, the main platform consumers are searching from remains the search engine. What changes is the input method of the search query: from written text to voice input.
While we don't have local voice search data from the Netherlands to share, an analysis by iProspect Netherlands shows that the type of behaviour linked to the basic form of voice search (ie, slightly longer and unique search queries formatted in a question-like manner) is already widely used in the Netherlands today.
iProspect analysed the internal search queries on the websites of its clients and looked at how people are searching for information. iProspect discovered that, of all mobile traffic, 41% of internal site searches were formatted in a question-like manner. These searches are mainly complex queries, with six or more words, tend to have a lower repetition rate and therefore represent a long tail in the internal search data. Although these searches were not done through voice, as this functionality was not available to users, these numbers suggest that consumers are inclined to search through voice in the Netherlands as well.
In voice search, general SEO and SEA best practices apply:
How to prepare for conversational interactions
Conversational interactions are enabled by digital assistants. Almost 70% of requests to the Google Assistant are expressed in natural language (1). However, these conversations do not just happen by voice. Instead users can seamlessly transition from voice to typing to tapping – depending on the device – selecting what's most efficient for the task they're trying to complete and the type of device they're on.
Over the past few years, the buzz about conversational interactions and digital assistants has increased dramatically. According to a recent report by eMarketer, 87% of B2C marketers in the US believe that chatbots and digital assistants will play a significant role in marketing before 2021 (2).
We couldn't agree more. In our view, conversational computing and digital assistants represent a new fundamental computing wave that brands cannot ignore.
Whereas it took approximately 10 years for mobile technology to be embedded in our everyday lives, the prognoses are that the use of products like digital assistants, along with conversational interactions, will already be a reality a couple of years from now. By 2021, it is expected that there will be 7.5 billion digital assistants in the world, which is more than the current world population (3).
Conversational interactions in the Netherlands
As digital assistants are not yet available in the Dutch language, this type of behaviour is not yet widely adopted in the Netherlands. However, it's only a matter of time before assistants enter the Dutch market, and Dutch companies are already developing the first experiences that enable this kind of behaviour.
KLM
KLM launched an Action on the Google Assistant named BlueBot (BB) that's available via the Assistant on Google Home or smartphones in English. BB is a self-learning system. It has its own professional, helpful and friendly character and is always eager to learn more in order to be of better service to its users.
Via the Assistant, BB helps passengers in picking the right items to pack in their bags. Based on their KLM destination, the duration of their trip and the local weather, it offers passengers personalised advice on what to take along.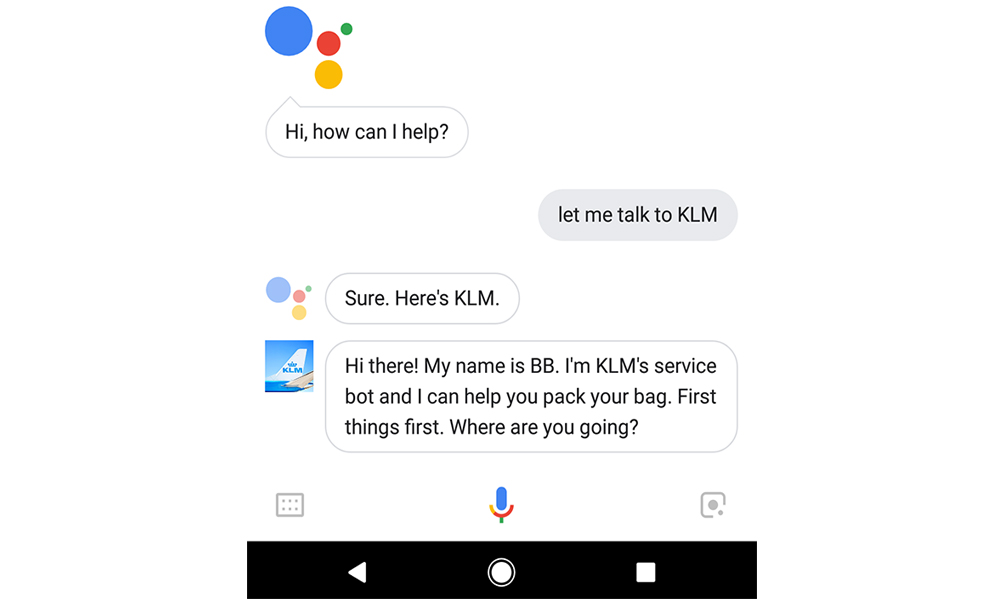 Transavia
Transavia also launched an Action on the Google Assistant which can help users find flights, whether they know where they are going or are simply looking for inspiration.
The Action works with the Assistant on Google Home and smartphones. To improve the user experience when sharing large numbers of flight results via the Assistant on Google Home, Transavia facilitates a smooth handover to the Assistant on the smartphone by letting the user send the list to their phone. This allows the user to navigate through the flight results using cards on their smartphone. The cards include a link to the responsive Transavia mobile site, where users can book their flight.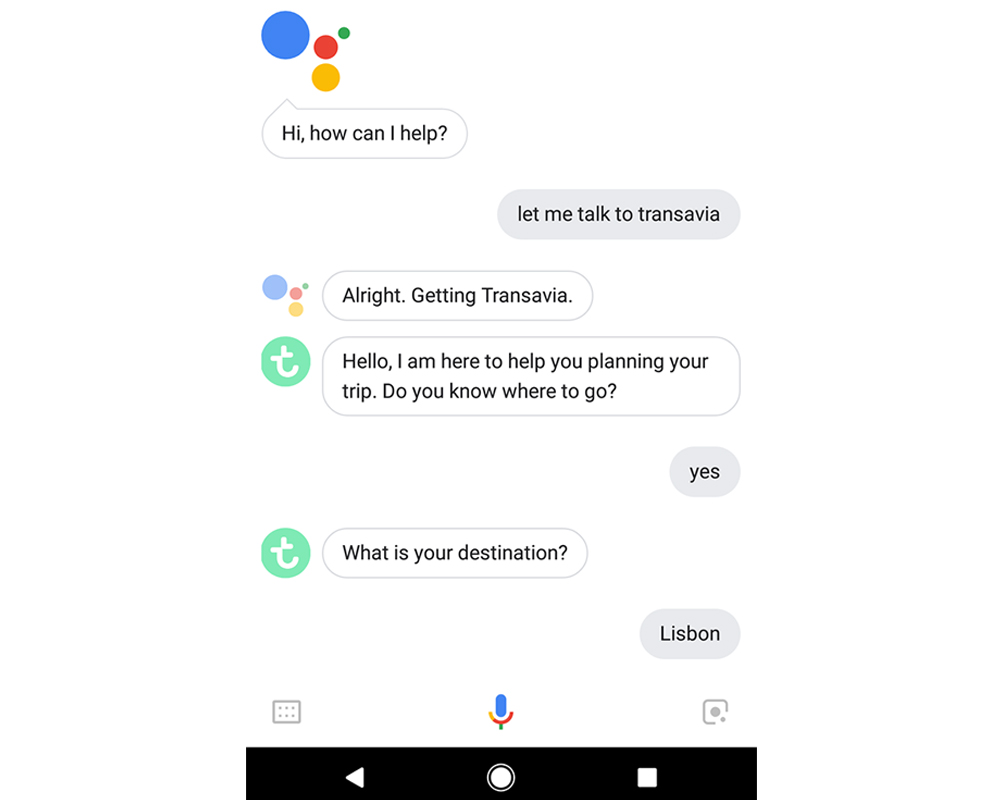 How can you tap into conversational interactions?
For brands, the Google Assistant is a new platform to connect with new and prospective users, fully leveraging the power of conversation and – where possible – creating a personalised experience.
As users transition everyday tasks to assistants, companies will need to figure out how to find their place in this new environment.
In this conversational era, brands will also need to have a personality. Users have already come to expect brands to be able to react in real time to events and offer information and advice beyond simple product facts through social channels. This trend will only be reinforced when every user starts having a real-time conversation with your company — expecting to be engaged, entertained or even consoled. Brands that embrace the conversational era will be able to develop a fully formed, relatable persona and stride through the transition intact.
But before getting started, it's important to ask yourself a couple of strategic questions to determine how conversational interactions will impact your business. The answers to these questions will shape how you need to get started:
In which use cases do people want to engage in conversations with your business, and can they add value to the customer experience?
Which digital persona and tone of voice best fits your brand identity?
How can you ensure that users will want to engage in a conversation with your brand over others?
Which of your content should be discoverable by assistants?
If conversational interactions are valuable to your business, you can start adapting your digital activities by taking the steps listed in the table below:
To conclude
We are evolving towards a world where consumers engage with brands with multiple input and output formats beyond text – increasingly through voice. This type of search behaviour is already present in the Netherlands.
The real game changer in this area is the move towards conversational interactions enabled by assistants. It's still early days for conversational computing. A lot of things are still not well defined, including user engagement best practices and business models. But given the pace of adoption of digital assistants, we also believe that it's important to start experimenting with conversational interactions. While these changes will happen over the course of a few years, we strongly recommend engaging your organisation today to formulate and test hypotheses to help you adjust to this new era.