Mobile usage around the world is soaring, but mobile sites still lag behind their desktop counterparts when it comes to conversion outcomes. To understand more about the barriers to mobile site performance, we surveyed over six hundred businesses across Europe, the Middle East and Africa, to find out how mobile fits into their strategy.
Smartphones are now central to many of the tasks and activities we engage in every day. Whether it's keeping on top of work, catching up with the latest shows, finding somewhere to eat or even buying the things we need, our mobile screen is often the first place we turn.
Despite this, many brands struggle to provide the kinds of mobile experiences people expect, resulting in conversion rates that still lag behind traditional computers. With so much at stake for both brands and consumers, we conducted a pan-EMEA survey looking at the obstacles preventing businesses from succeeding on this crucial platform.
The value of mobile
The first thing we wanted to understand was whether lack of progress on mobile is simply a symptom of brands undervaluing the channel. We surveyed 637 marketing and web development professionals across the region, with 93% saying that they view their mobile website as critical or important to their success and 75% saying the same about their mobile app.
So, if not a question of underestimating mobile's importance, then perhaps the problem is with brands overestimating the quality of the experience they provide? Almost 75% of respondents viewed their mobile site usability as 7+ out of 10, with only 20% prepared to acknowledge that their desktop site provides superior functionality. In fact, more than 80% of brands felt that their speed and user experience were on par or better than the competition.
Barriers to progress
Around 50% of brands say that mobile is a strategic priority, but despite this there are still barriers to progress. Two of the top three blockers in the region have to do with demonstrating the value of mobile, with 33% citing a perceived small impact on business performance, and 25% finding it difficult to build a business case. Respondents also said that a lack of time was a significant issue here.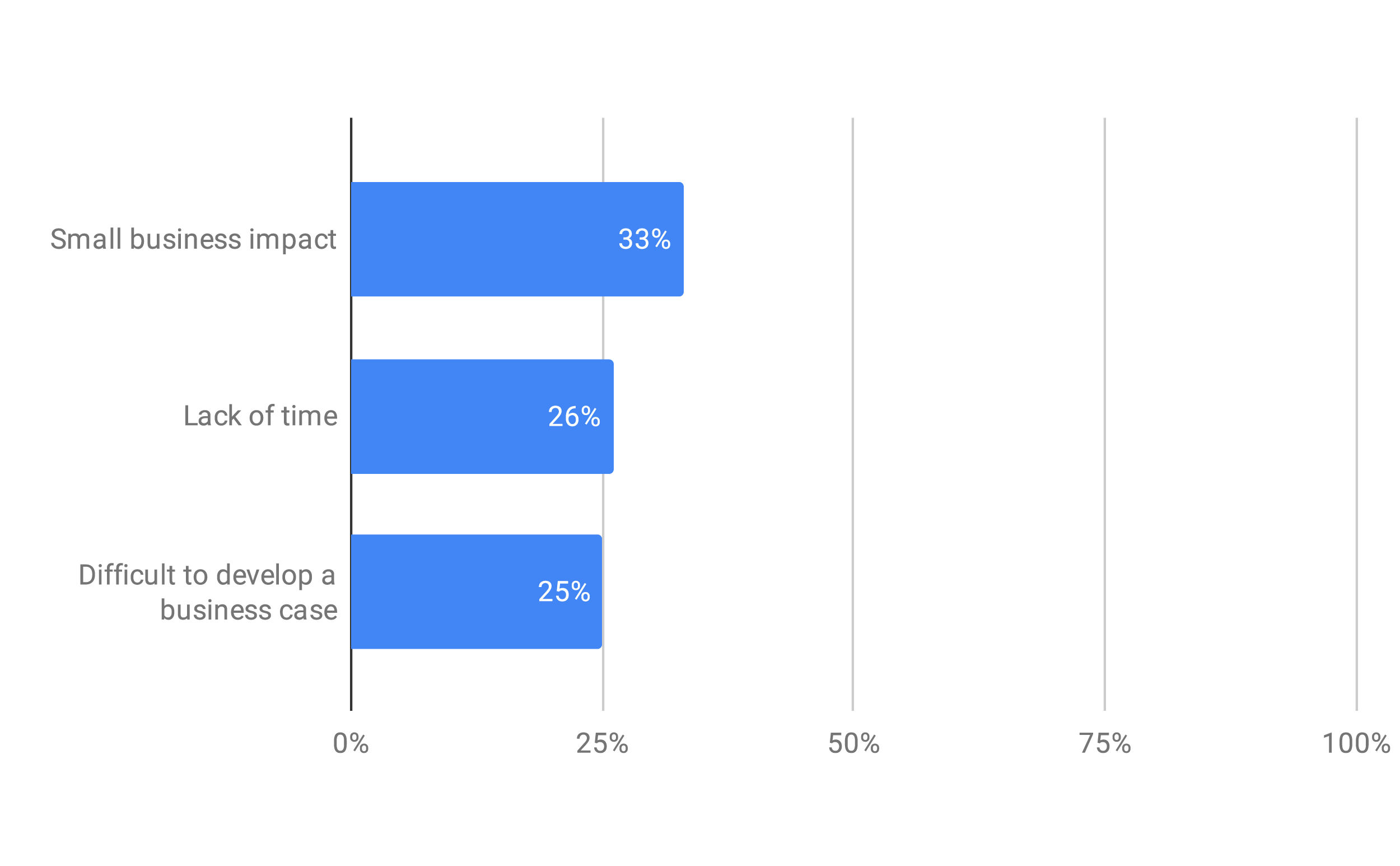 Help is at hand
Brands struggling to demonstrate the value of mobile and secure necessary investment can turn to our Impact Calculator. This tool helps quantify the likely revenue impact of increased mobile speed, and is a great place to start if you're trying to build a business case. Using the interactive slider, you'll be able to see what each second of improved speed will mean to your brand's bottom line.

Simple to code and quick to execute, Accelerated Mobile Pages (AMP) then offer an ideal starting point for mobile improvement.  AMP pages can be up and running in as little as two days, load almost instantly even on 3G connections, and are even compatible with ecommerce.