The IT department at bücher.de used Google PageSpeed Insights as the basis for making changes to important AdWords landing pages. Implementing these measures led to an improvement in load times of almost 2 seconds (-35%, Google Analytics) on mobile landing pages and a faster display of the pages' visible parts.(Webpagetest.org Speed Index 2,5 seconds 1). Better PageSpeed Index scores also reflected the changes, climbing from 63 to 93 points. Over the medium to long term, bücher.de believes these improvements will drive positive effects on cost per order, conversion rate and bounce rate.
THE GOALS
Cut page load times
Improve mobile conversions
Reduce cost per order
Reduce bounce rate
THE APPROACH
Used PageSpeed Index to optimise mobile pages
Addressed render blocking JavaScript and CSS, browser caching, image optimisation and prioritisation of content in visible portion of page
THE RESULTS
Load time of selected AdWords target pages dropped from 5.3 to 3.5 seconds (Analytics)
PageSpeed Index improved by 30 points to 93 points
Bücher.de was established as a joint venture in June 1999 under the name booxtra and has operated as bücher.de since November 2001. The ecommerce company offers free shipping within Germany with no minimum order amount. "bücher.de racks up sales as a pure online player with its wide variety of products, latest titles and speed. That's how it achieves 95% customer satisfaction", explains bücher.de's Search Marketing Manager Ruslan Pakentryger.
Bücher.de operates in a highly competitive market. While the number of competitors is large, competition in the book publishing sector can't be based on pricing because of Germany's Fixed Book Price Laws. Because most customers now access the site and the shop with their mobile devices, site optimisations have been a topic for discussion for a long time. A strong performing mobile page along with streamlined AdWords budgets and campaigns are seen as crucial to long-term success. "The last great optimisation was implemented as part of our responsive shop launch in June 2015", says Martin Wagner, Senior Frontend Developer at bücher.de. "After that, we achieved a PageSpeed Index score of 91/100 on the home page. In the months that followed, the score was sporadically checked, and it declined noticeably, particularly after a distinction was made between mobile and desktop."
Image before optimisation2:

Image after optimisation:

As early as May 2016, the company identified the main cause of the poor score, but couldn't find a simple technical solution to eliminate the problem. CSS and JavaScript files were blocking page rendering, delaying the display of content on screens. They needed a way to deliver critical CSS rules and JavaScript code for the above-the-fold area "inline" to ensure that these CSS and JavaScript files would not load until the end of the page. With fast load times and smoothly functioning pages closely tied to performance marketing success, the topic was revisited in February 2017 and IT pressed ahead with it.
"Every day we are noticing that the number of mobile purchases has risen significantly compared to recent years. Mobile cost per order is enormously important to us for achieving healthy profits. We expect that it might decline because of the improved page load time, since users see the page more quickly, dwell on it for longer and then are also converted to mobile".
-  Ruslan Pakentryger, Search Marketing Manager, buecher.de.
The team turned to PageSpeed Insights from Google, which is based on a number of performance best practice checks. These measure the performance of a page on mobile devices and desktop computers by accessing the URL twice, once with a mobile user agent and once with a desktop user agent. The PageSpeed score can be between 0 and 100 points, with a score of 85 or indicating high performance. PageSpeed Insights measure the possibility of increasing performance according to the time required to load the visible content without scrolling as well as the time required for the page to load fully.3
Before the current optimisation, the website had a score of 63/100. What followed at bücher.de was a full-scale analysis of the shop. All types of pages – home page, product pages and category pages – were tested with the objective of finding the best possible solution for each page type. "The mobile optimisation was expensive, but feasible", Martin says. "The technical solution for critical CSS yielded the most results. It took about a month from running the analysis to implementing all of the measures." Thanks to these changes, the display of images improved, particularly in banners. Now, all images are automatically sized correctly and the file size is optimised when they are uploaded into the banner management system.
"For us, the key to better page load times lay in optimising CSS and JavaScript files, which had been negatively impacting rendering and blocking the display of the visual portion of the page".
-  Martin Wagner, Senior Frontend Developer, buecher.de
Another step was to ensure that web fonts and JavaScript reloaded asynchronously and as consistently as possible. External third-party providers whose pixels and widgets were integrated into the buecher.de page turned out to be a challenge, since some widgets were not well optimised. For example, some would wait for jQuery synchronously, whereas they had been initiated asynchronously at bücher.de for years, often resulting in extra implementation costs.
The run time of the browser cache was also modified for images and scripts, with dynamic loading of images yielding additional improvements on individual pages. Now images only load if they enter the area visible to the user. Finally, the elements in the document object model (DOM) were prioritised. For example, the flyout menu now only loads if needed.
"Obviously, the marketing objective behind these optimisations is to improve the conversion rate", Ruslan explains. "Better load times lead to a better user experience, which directly supports our AdWords activities and our efficiency and revenue targets, particularly in mobile." Numerous studies bear this out, with an established connection between load time and conversion rate – even a tenth of a second can reduce conversion rates by up to 7% on mobile devices. The impact of load time on bounce rates has also been demonstrated, with one or two seconds standing to increase the bounce rate by up to 103% on mobile devices.4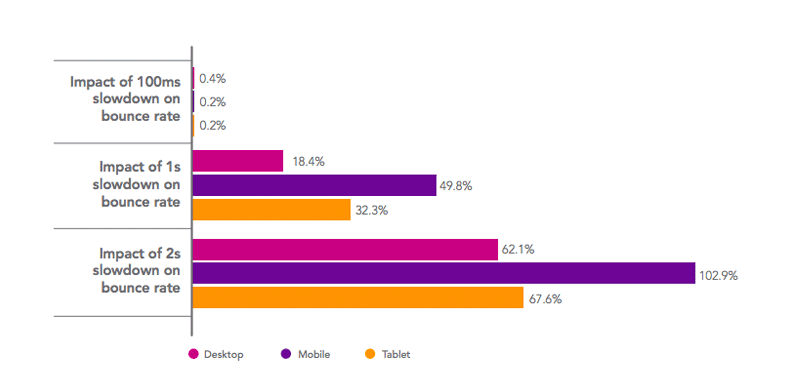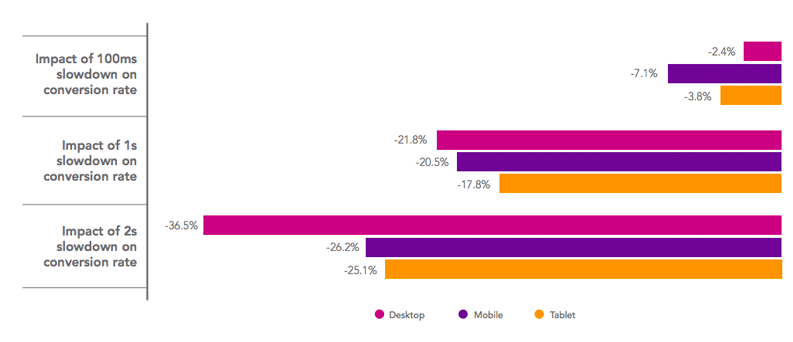 As a result of this optimisation process on the basis of Google PageSpeed Insights, buecher.de has implemented permanent monitoring of mobile load times for its own and competitor pages. The 15 monitored bücher.de pages, which encompass all page types, now reach a Mobile PageSpeed Insights score of at least 92. The mobile home page now loads significantly faster – in about 3.5 seconds rather than 5.3 seconds. "We're pleased that since successfully implementing these measures we're now the frontrunner among the top five mail order media vendors when it comes to the mobile score", Martin and Ruslan report.
They both appreciate how easy it is for their areas to collaborate. "We have an open-door policy anyway," says Ruslan. "And because we completed the project from within IT, there was less need to communicate during the optimisation process", Martin says. "Our structures ensured that we also had direct contact between the departments." Many of the measures implemented have been permanently integrated into the shop development process, and these ensure that loading speed remains excellent over the long term.
The team has big ambitions for the future: "We're trying to maintain the current score and, if possible, to continue to improve it", Martin reveals. "Recently we again tied Google PageSpeed Race 2017 resources to this project, and we've already seen further improvement. Our ambitious objective is to reach an average of 95/100."