Consumers are shopping from home more than ever and increasingly use their mobile devices to do so. However, a recent study of more than 20,000 people shows that seven out of 10 mobile shoppers do not end up making a purchase due to experiential barriers.
While this shows that shoppers do want to complete their order on the mobile web, the growing complexity of the (mobile) consumer journey means they need more help when exploring and evaluating their options. It's this research stage of the path-to-purchase, during which consumers look for information across a huge array of online sources, that we also refer to as the "messy middle".
To help marketers untangle this vast space between trigger and purchase, we list four of the barriers mobile shoppers encounter when browsing products — paired with examples from brands that successfully tackled them.
1. Delay and friction
If there is one thing that can quickly drive potential customers away from your website it's slow loading pages. Today's consumers expect fast and frictionless mobile experiences, and brands who deliver on that will see higher conversion rates and average order values. That's why loading performance and speed (along with interactivity, mobile-friendliness, and safe browsing) are among the key metrics that Google uses to measure real-world user experience in Search results.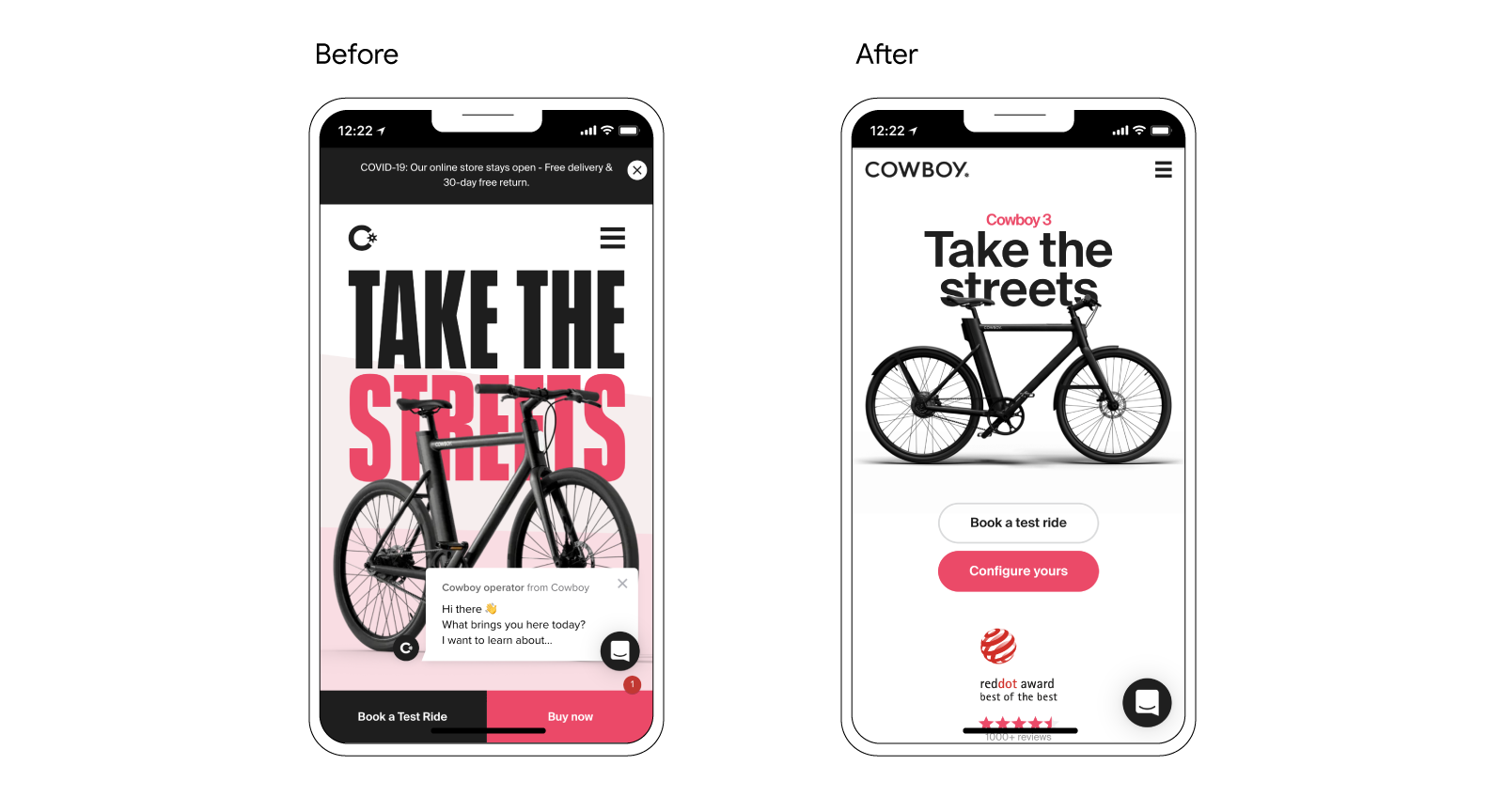 To speed up their mobile site, Cowboy, a Belgian electric bike manufacturer, took to Lighthouse, a tool that measures web performance and reveals areas for optimisation. They reduced unnecessary code, made sure below-the-fold images no longer loaded automatically, and reduced on-screen distractions by delaying their chatbot pop-up by 20 seconds.
As a result, their overall page speed quickly improved by 2.5 seconds — and as loading time decreased, mobile conversions increased, ultimately by 1600%. In addition, introducing the chatbot at a later stage bumped up user replies per session by 15%. With these optimisations, Cowboy was prepared to answer the sudden surge in demand for e-bikes as COVID lockdowns took hold in Europe.
2. Scrolling fatigue
In the browsing phase of a mobile consumer journey, customers have many decisions to make and even more products to sort through. On top of that, mobile shoppers are often multitasking, whether it's filling in short gaps of free time or responding to immediate shopping urges. And when time is scarce and attention spans are short, a large product catalogue can be overwhelming.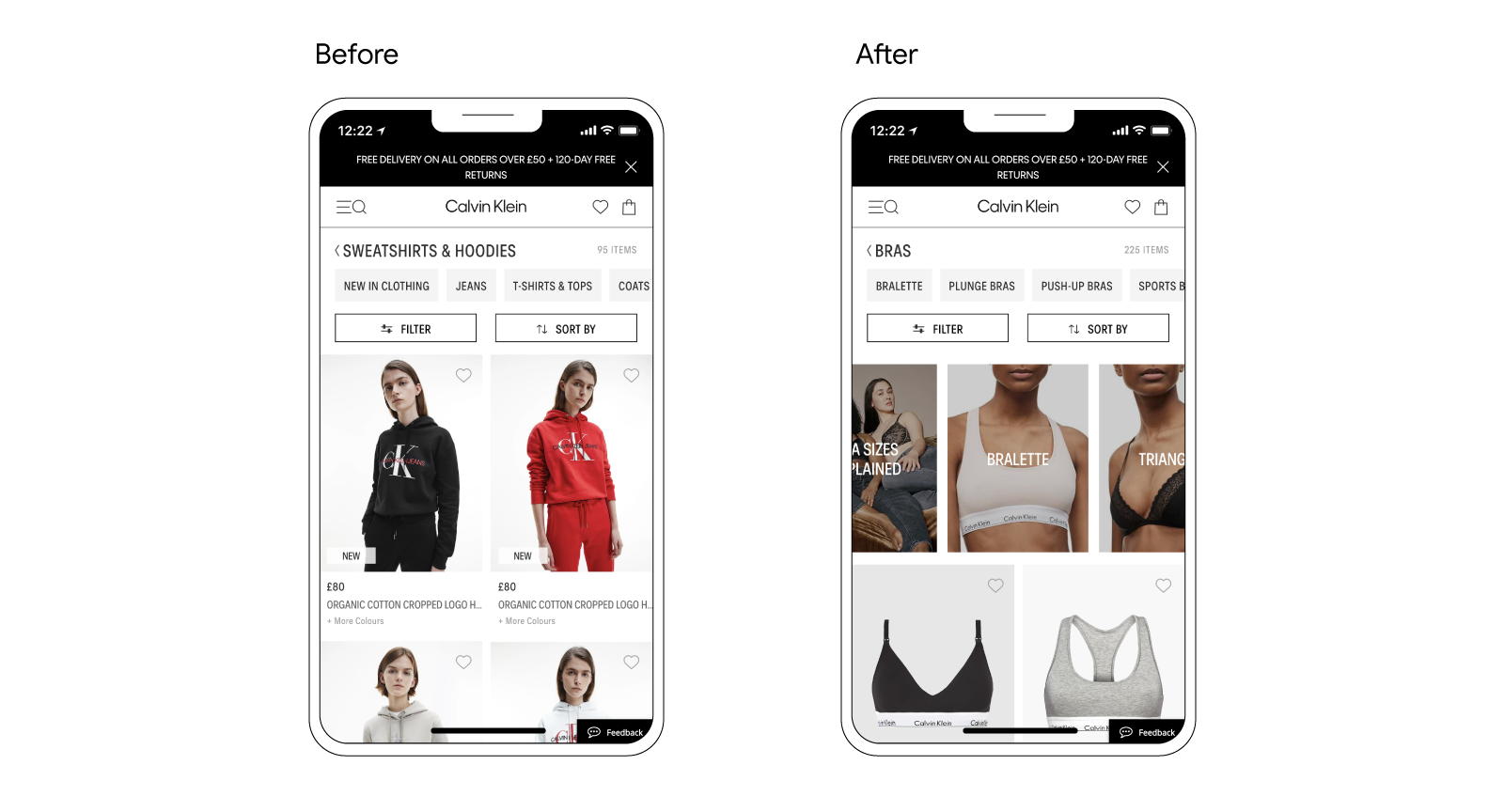 Based on website data, Calvin Klein's e-commerce team discovered that mobile shoppers were often filtering for the same categories. To make it easier for their customers to find what they need, they decided to streamline the process by highlighting best-selling categories through text-based quick links, an image-based carousel, and different combinations of the two.
Testing revealed that text-based category quick links without images were used 25% more often than those with images, ultimately increasing mobile cart additions by 2.2%. On the bra listing page, image-based carousels proved more effective than image-based category links. Committed to finding the solution most helpful to mobile shoppers, the team continues to test and iterate on different optimisations of this carousel design.
3. Fuzzy product comparison
As consumers narrow down their product search, comparing between sites and offers can be a cumbersome experience, especially on mobile. Luckily, there are several actions retailers can take to make their products easier to skim and evaluate when screen space is limited.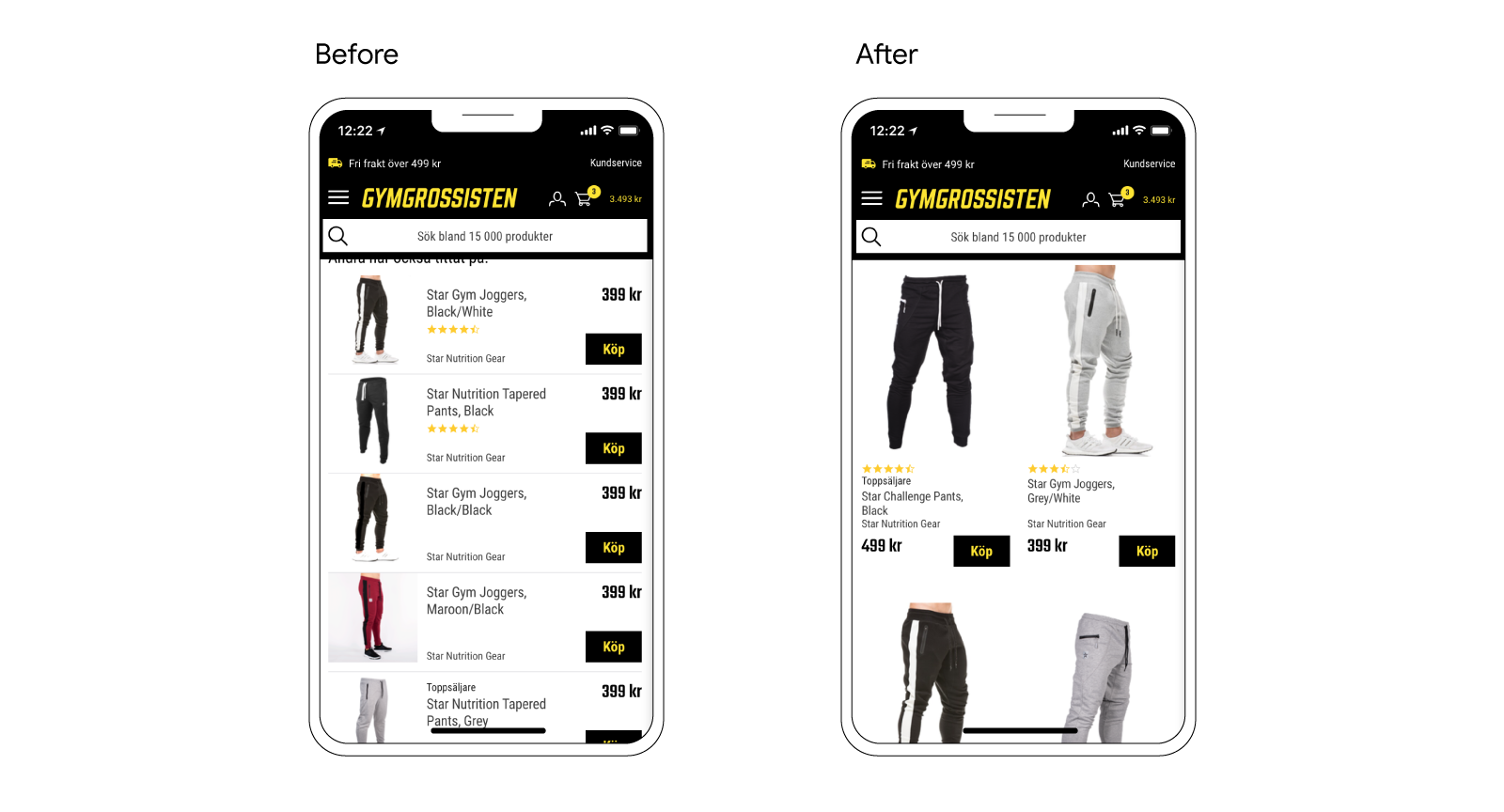 Through remote user testing, Swedish online health and sport nutrition company Gymgrossisten was able to observe real customers trying to complete a purchase on their mobile site. Based on this, they discovered that many mobile shoppers found clothing images on their listing pages too small, making it hard to compare different products.
They A/B tested an alternative interface that placed more emphasis on the product photography, with great results. The new approach boosted clicks to the product page by up to 34% and ultimately drove up to 40% more revenue from visitors to the product listing pages. The brand has now scaled the solution to more categories across all markets.
4. Insufficient product details
When evaluating a product for fit and compatibility, many customers have trouble understanding what an item will look and feel like in real life. Without this information, they are at risk of abandoning their shopping cart to avoid disappointment or having to deal with returns. In showing products with more detail and accuracy, retailers have the opportunity to give customers more confidence about the purchase they are about to make.
NA-KD, one of Europe's fastest growing fashion brands, brings their product range to life with videos of models showcasing it on the catwalk. Giving shoppers a wider view of how a garment fits around the body and what it looks like from different angles, it offers an effective alternative to the 'touch and feel' experience otherwise unique to shopping in-store.
Since the approach was introduced, the brand has seen mobile conversions increase by 2%. This indicates that seeing a product in action makes consumers feel more confident in making a purchase.
What other retailers can learn
It's clear that pain points occur in each phase of the messy middle, but it doesn't have to be this way. Understanding what's keeping your customers from making a purchase can already empower your marketing team to make meaningful improvements to the mobile consumer journey.
Start by ensuring that your team is equipped with the research behind the mobile barriers and other tips on how to overcome them. Then, take it a step further by conducting your own user research to understand how your customers behave. With these insights, you can continue to test, learn, and adapt to the constantly changing consumer behaviours.
Watch: 3 reasons you're losing customers on your mobile site