Continuing our series of articles on digital marketing transformation, we look at the importance of providing fast, frictionless experiences across all the channels used by your customers.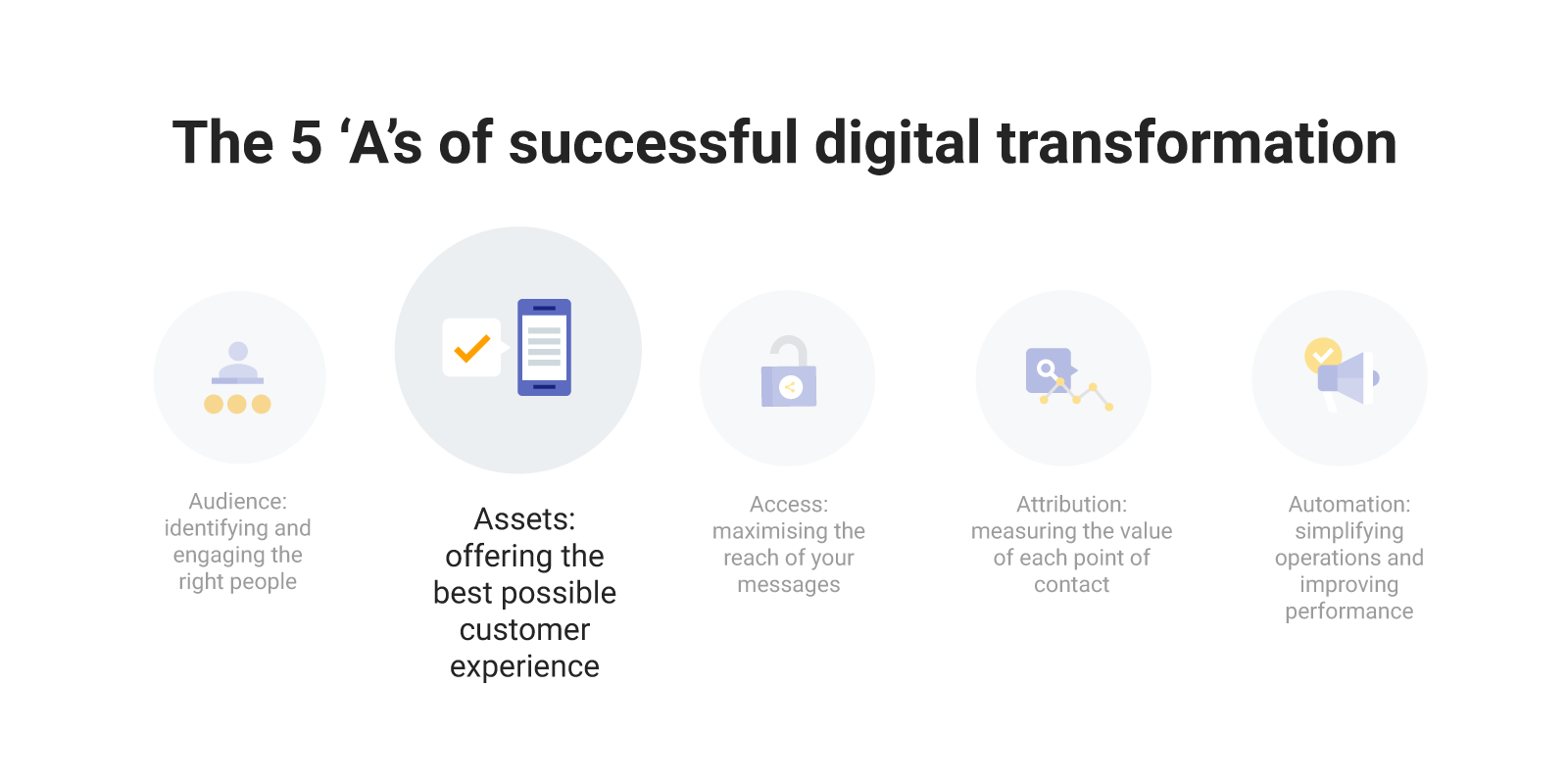 As we outlined in our previous article on audience, marketing activity needs to respond to the needs of your users by identifying and engaging the right people. With digital user experience (UX) growing ever faster, smoother, and more personalised, brands need to push even harder to distinguish themselves from the competition, and nowhere is this more true than on mobile. While more consumers than ever are using their smartphones as a gateway to the web, the experience is often marred by friction. By mastering mobile, companies can gain a critical advantage, resulting in higher growth and better results.
Customer expectations of usability are twofold. Firstly, they want a frictionless experience that allows them to achieve their goals quickly and seamlessly, whether that's finding information or making a purchase. Secondly, they expect the experience to be fast. Slow sites are a quick way to lose customers, whether on landing pages or throughout the rest of the purchase journey. Retailers with faster websites often have better conversion rates, but the total UX needs to deliver or else consumers may take their business elsewhere.
A company-wide commitment
There's a lot that can still be done to optimise mobile user experience. Research conducted last year reveals that many mobile sites have confusing navigation and unwieldy checkout processes requiring multiple steps. These kinds of obstacles are likely to make consumers abandon a site. In the UK, for example, 65% of consumers said they would switch from a poorly-designed mobile site to one that makes purchasing easier1.  
Conversion Rate Optimisation (CRO) can help avoid this. CRO is the process of researching and evaluating a site, and then adopting a cross-functional approach to improving the user experience. A/B tests can be used to test ideas for development against real users, basing decisions on live data and making dynamic adjustments to the site.
VidaXL, a Dutch online retailer, adopted this test-and-learn culture to help drive success in their highly competitive market. Their UX strategy involved conducting between three and five A/B tests per week, and led to a 10% increase in conversions from returning visitors.
This online course explains the concept of CRO in more detail, and our heuristics framework and UX playbooks (Retail, Travel, Finance) offer further resources to help review and optimise sites. To ensure a website works for all users, check out accessibility guidelines here, and consider using Lighthouse to evaluate current accessibility performance.  
New tech, new possibilities
In the Netherlands it takes an average of 8.6 seconds to fully load a mobile landing page, in both Sweden and Denmark it takes an average of 9.5 seconds, while Finland is the slowest with an average of 9.7 seconds to a fully loaded mobile page. In the US, mobile sites that loaded in 2 seconds or less had a 17% higher conversion rate than average. Clearly there's serious room for improvement, and technology can make a big difference.
So, how to achieve faster web experiences? Accelerated Mobile Pages (AMP) are a good place to start. AMP is an open-source library providing tools to create web pages that are engaging, smooth, and near-instantaneous to load. No longer limited to static content, AMP is now used by many e-commerce businesses to speed up their user experience, with the technology allowing landing pages in Google Ads to load in under a second.  
AliExpress, a successful online retailer2 launched their new AMP mobile website in February 2018. The result was a 40% decrease in load time and a 4.3% increase in conversion rates for new users.
Progressive Web Apps (PWAs) can also help deliver a faster user experience, regardless of platform. PWAs are mobile websites that behave more like a native app. Functioning even with flaky or interrupted connections, and providing familiar features such as push notifications and 'add to homescreen', PWAs combine the engagement of an app with the reach and searchability of the web. Consumers no longer need to find and install apps - they can just navigate to a site on any browser, including Chrome and Safari. You can learn more about the technology underpinning PWAs here.
Expedia Group formed a team to rethink their mobile website experience, and identified PWA as a key opportunity for improvement. In 18 months they developed a fully mobile optimised website that is based on PWA technology. Aaron Price, Expedia's CMO, explains: "The most common mistake I see is marketers investing more in desktop because desktop drives better results. However, today's desktop conversion rates won't do anything to provide the great mobile web experiences your future customers will expect."
Exceeding expectations
Consumer expectations are becoming more demanding every day, and improving the user experience on mobile is an easy way to ensure you stand out. One resource to help get you there is the updated Test My Site tool. It helps users understand the speed of their entire site, or even individual pages within their site, and provides a complete report summarising results that can be easily shared within your company.
Recognising the importance of mobile is the first step – then, it's about making the mobile experience smooth, fast, and consistent. By reducing frustration and helping your customers achieve their goals, you'll be giving your business a vital boost.