With smartphones now the most common means of accessing the web, mobile site speed has become an increasingly important factor in customer advocacy and consumer loyalty. Since Denmark is reputed to be one of the happiest places on earth, we decided to make it our testing ground for site speed — and customers' patience.
What happened last time you tried to buy something on your mobile? Did you glide through your purchase, or was it all a bit stressful?
Research shows that 85% of consumers take a relevant action on their phone before making a purchase1 and in fact, many people would sooner give up a vacation, or even a day off per week, than lose their smartphone. With customers adopting a mobile-first approach to the internet, and mobile websites a key tool for decision making, a company's mobile website is now critical to business growth.
We already know that businesses are expected to deliver an effortless surfing experience. But we also wanted to understand the full impact of mobile website speed on consumer satisfaction and willingness to recommend a business.
Despite the spread of 4G we still see load times of up to 12.8 seconds across Northern Europe. There's clearly a challenge here for businesses to address. But just how significant is it?
Setting up shop: creating the test environment
We wanted to test the following theory: 'As mobile page load time increases, consumers' willingness to recommend a webshop decreases significantly'. We also wanted to understand how much worse it is for a mobile website to load in 13 seconds than 3 seconds - so our second hypothesis was, 'The longer load time a webshop has, the larger the negative impact is on consumer advocacy'.
To understand exactly how mobile page load time impacted consumer response, we created an interior design webshop for a hypothetical brand we named Nordic Interior. We ran the test in Denmark, one of the happiest places on earth2.
We had full control, allowing us to give individual visitors different load times. We asked them to evaluate the website on multiple parameters such as navigation, assortment and aesthetics. And then we asked whether they would recommend the webshop to friends and family.
Next we asked two groups of consumers to test our webshop and report their experience. First we used a panel test in which 1,633 online panelists tested the site and completed a questionnaire. Secondly, a hall test, where 12 consumers were invited to a small event to test the site and provide feedback (on camera) for promotional purposes.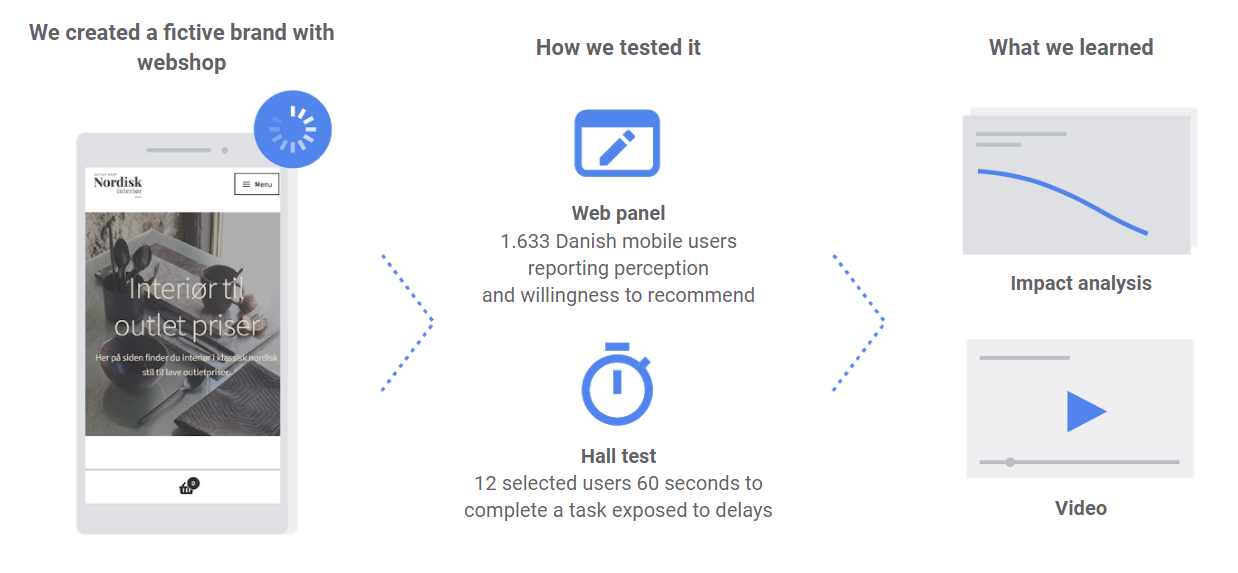 Page (still) loading: The results
We asked one of the participants of the hall test if they'd enjoyed the experience. "No!" was the emphatic response. "It's a terrible site!" You can see more of the results in this short video:
The video gives a flavour of what the participants experienced. In our panel analysis,  we found a significant relationship between mobile page load time and consumer advocacy. On average, consumers were 10% more willing to recommend the webshop if load time was reduced by 3 seconds from 13 seconds to 10 seconds. A further reduction — from 13 seconds to 3 seconds — gave an estimated 26% increase in advocacy.
The relationships were non-linear, suggesting that load times longer than three seconds have an increasingly negative impact on consumer advocacy. When load time dipped below three seconds, impact was limited.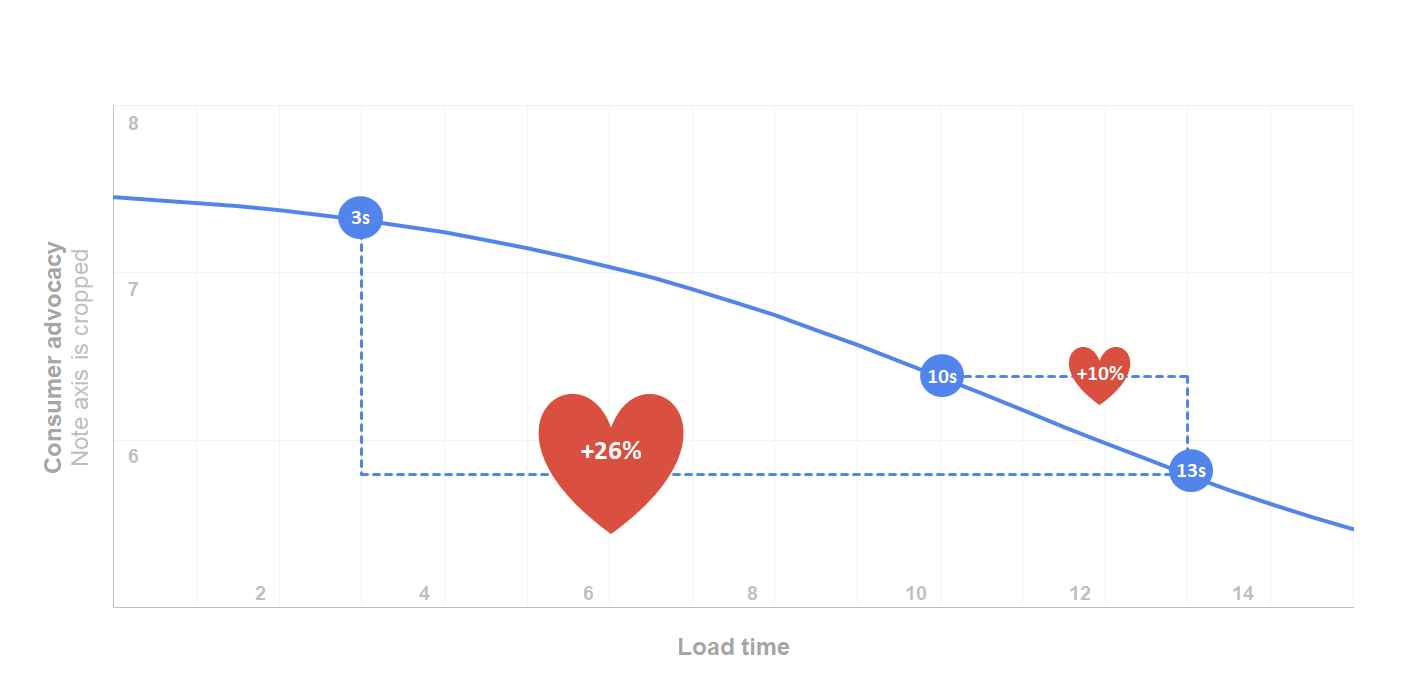 The need for speed
The impact of consumer loyalty on long term revenue is well documented. This study indicates significant potential for increasing consumer loyalty — and therefore revenue — by optimising mobile website speed. And the slower the website, the bigger the potential.
Keen to speed up? Here's how
Based on our results, it's clear that investing in mobile website speed should be a priority for businesses. Making these crucial decisions means measuring your current performance and then fine-tuning your website to give users the best possible experience. If you're starting out on your journey to a faster mobile site, we have several helpful tools to guide your next steps:
Test My Site helps businesses understand, measure, and benchmark their mobile site speed.
AMP is a web component framework to easily create fast, user-first websites.
Masterful Mobile Web allows you to explore how the world's top brands create smooth, fast, and engaging mobile experiences – and how you can do the same.