Yousician is an innovative Finnish company whose revolutionary music education platform is changing the way people around the world learn musical instruments. After the early success of apps WildChords and GuitarBots, the team launched their flagship Yousician product in 2014 on the Windows platform, and have since gone on to release mobile apps for both Apple and Android operating systems. Two years later, the company's music apps have experienced strong growth, with more than 40 million downloads across both app stores.
THE GOALS
Target people interested in learning to play an instrument
Use video to explain the value of Yousician to increase brand awareness and to drive installs
THE APPROACH
Used YouTube to target advertising globally to an English speaking audience
Worked with Google to find the best possible targeting methods
Testing, measurement and frequent creative iteration to improve marketing messages
THE RESULTS
136% more app installs with just 55% increase investment
Successful scaling of campaigns to a global audience using earlier learnings to ensure more efficient targeting and storytelling
Acquired customers in over 50 countries with the help of YouTube advertising
With mobile apps at the core of their business, Yousician have put mobile advertising at the heart of their marketing strategy. "Yousician is available for iOS, Android, Windows, Mac and even Linux, but despite this we're a mobile first company," says Chris Thur, CEO. "Our goal is to find people who are motivated to learn to play a musical instrument, and make sure they stay motivated to continue practicing, and becoming better musicians," adds User Acquisition Manager, Miika Kenttämies. "App promo campaigns are a great way for us to find these people when they're most engaged – browsing their mobile devices."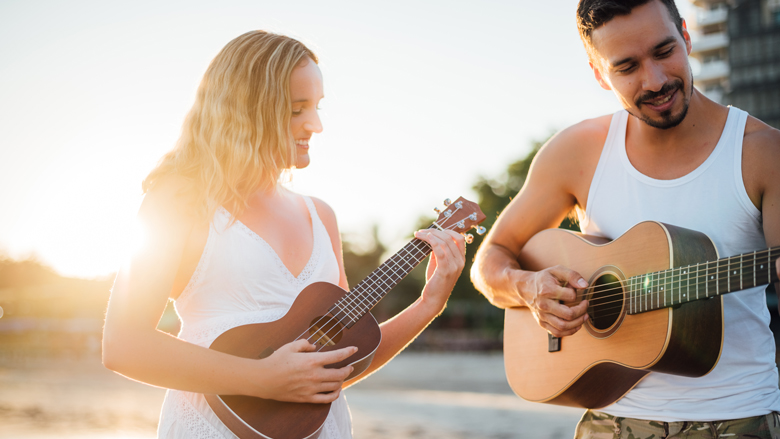 As part of this strategy, Yousician have made extensive use of TrueView for App Promotion campaigns on YouTube. Playing a musical instrument is an inherently interactive experience, and with a rich audio-visual user interface underpinning their learning technology, Yousician have found that their product is best appreciated when seen in action. "Explaining how Yousician works in a static banner is far more difficult than in video," explains Miika. "Video is a great way to explain what Yousician does in a matter of seconds, and YouTube is a great place to be seen."
With a free-to-play version of the app downloadable on both mobile platforms, Yousician's key metric is uptake of premium subscriptions, while campaigns are measured and optimised against a user's Lifetime Value. As you'd expect from a business forged in the agile world of mobile apps, testing, measurement and frequent iteration are core to the marketing team's DNA. This is particularly clear to see in the brand's creative strategy, with different creative versions constantly in rotation to test different marketing messages.
Equally central to Yousician's philosophy is the importance of data in validating their tactics and informing their understanding of user behaviour. "It's crucial for an app developer to know who their audience is," says Miika. "It isn't just about putting an advertisement out there, it's about putting it to the right people." The data available from YouTube and other targeted marketing channels has enabled Yousician to scale a niche product to a global marketplace, while advances in the quality of cross-device reporting are slowly unravelling the complexity of measuring marketing effectiveness in a multi-device world.
Yousician's approach of marketing to highly engaged music lovers certainly seems to be paying off, with app installs growing by more than 130% during the first half of the year compared to a cost increase of just 55%. Reflecting on the importance of YouTube to Yousician's growth, Chris Thur is unambiguous: "Youtube performs very well for us. It provides an engaging experience for viewers, and has provided a great way for us to tell our story to people who are passionate about learning to play a musical instrument."