Globally, Financial Technology (FinTech) ventures are challenging large incumbents with new services and solutions that are disrupting the status quo of traditional banking. Those of us at Google who work extensively with financial institutions found this intriguing and endeavoured to delve a little deeper into the causes of this trend.
We quickly discovered that technology, communication and consumer behaviour were the driving principles of change. For example, unlike with today's banking experience, in the bricks-and-mortar age of banking it was the the physical location of a bank which was the primary point of contact between it and its customers. Since then, available touch points have proliferated as a result of technology and customers can now chose to consume financial services in a plethora of ways. This shift means that innovation in banking is no longer about simply providing a financial product at an attractive price, but rather about developing new ways to interact and solve problems for the consumer.
This was the backdrop for the first FinTech Forum @ Google event held in November at Google Norway's offices. Here we gathered representatives from traditional banking, FinTech ventures and digital specialists to discuss how to navigate the financial industry in the future. We also explored how to use Google's unique position in the market to help drive their businesses.
The Event
For the event we divided financial service providers into two groups; established actors and digital challengers. We defined established actors as those often operating local branches, using legacy technology systems and generally continuing on the archaic path laid by banks before them. The digital challengers on the other hand use technology to a much larger extent, being native to digital banking and using digital platforms to their advantage. These new ventures emerge in the gap created by rising consumer expectations and what consumers perceive as underwhelming services offered by traditional banks.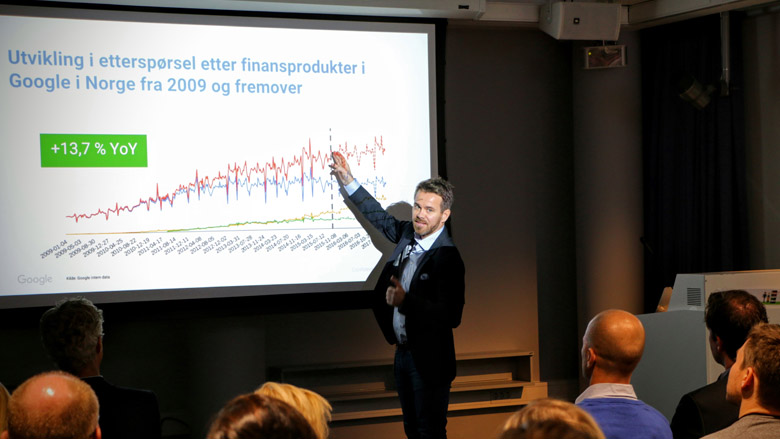 Google facilitates millions of touch points between these financial service providers and customers every day. In that sense, the role of Google is to help consumers make informed decisions, by connecting the right customer to the right service at the right time. Fintech is as much about meeting the customer when it matters as it is about providing better, cheaper and more efficient solutions to existing problems.
So how did some of the world's largest organizations end up being threatened by what sometimes just amounts to a few smart people in a garage? The Millennial Disruption Index1ranks banking as the industry that is most prone to disruption in today's environment. Part of this is driven by young people who don't believe there is any difference between banks. Thus traditional banks are not succeeding in differentiating themselves in the eyes of millennials; in fact as many as 71% would rather go to the dentist than to listen to what the bank has to say to them2. Clearly, the business models of the past are not resonating well with the young and always-connected consumers of today.
Digital Challengers vs. Established Actors
Digital natives are taking an ever increasing share of the retail banking market, to a large extent driven by the behavior of these young customers. Finance Norway, the Norwegian financial industry organization, claims that more than a fourth of consumers in Norway have changed their bank or renegotiated their mortgage in the last year alone, the highest number ever seen3. Clearly, the Internet is an important driver of this change, allowing consumers to research their options online before purchasing. For example in Norway 67% of consumers use the Internet for research purposes before purchasing a personal loan4. A digital presence is therefore extremely important to meet these potential customers.
Are the digital challengers better at capturing this purchase intent driven behaviour than the established actors? To find out we conducted a study for the FinTech Forum @ Google on who captures the most clicks on Google based on the top 500 search terms for different financial service categories. We divided the 40 companies with the most clicks into established actors (16) and digital challengers (24). The results clearly tells us that they are.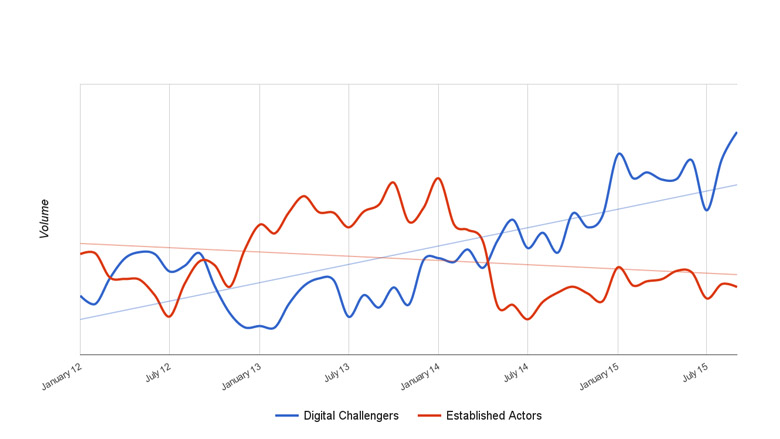 The graph above is based on the indexed amount of paid clicks resulting from queries for home mortgages. It clearly shows that Challengers are steadily capturing more of the clicks on Google, mirroring the development in consumer behaviour. This development is driven by mobile, as we can see below. When considering that mobile represents an ever increasing share of search (more than 50% worldwide) and growing at more than 10% year over year5, an underinvestment in mobile is simply untenable for any company looking to engage with new customers. A similar development is seen in other financial categories as well.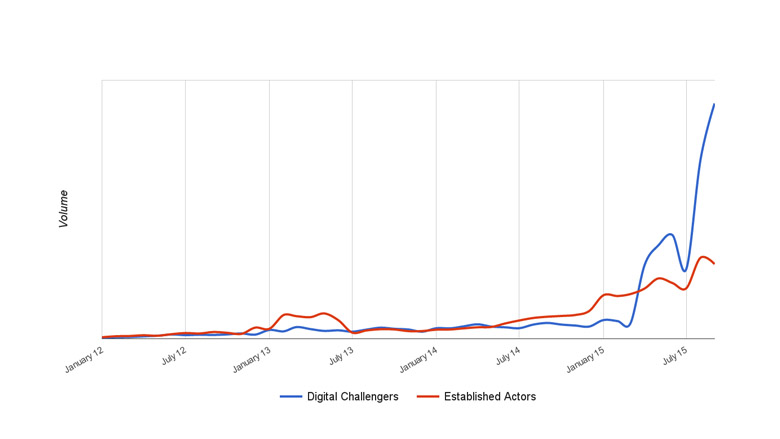 The divergence of visibility on mobile search between the two groups is rooted in the fundamental change taking place among consumers. Digital challengers recognize that financial services are consumed in a multitude of smaller interactions, many of which taking place on mobile, they then adapt their consumer interactions accordingly. Traditional banking, on the other hand, tends to continue operating under the assumption that financial services are consumed in one go. This is likely a consequence of when they operated local branches where all financial services were consumed during one in-store visit.
What will the future hold for established actors and digital challengers? At a point where the rate of change in consumer behavior is outpacing the rate of innovation at traditional banks, there is plenty of room for disruptive new ventures to flourish. As a result, at the current trajectory the global banking industry is likely to look very different in the future, something that's underscored by a tripling in funds invested into disruptive financial technology companies this year6alone.