The main challenge currently facing marketers is trying to prove to customers just how much technology and data can enhance their brand. With machine learning and artificial intelligence set to take off even more next year, it stood to reason that the Think2017 event focused on these key topics.
The future of Google Search
"Ok, Google - what does it mean to build a personal assistant?" Zineb Ait Bahajji, Program Manager in the Google Assistant Team was on hand to explain this by discussing the recent launch of Google Assistant.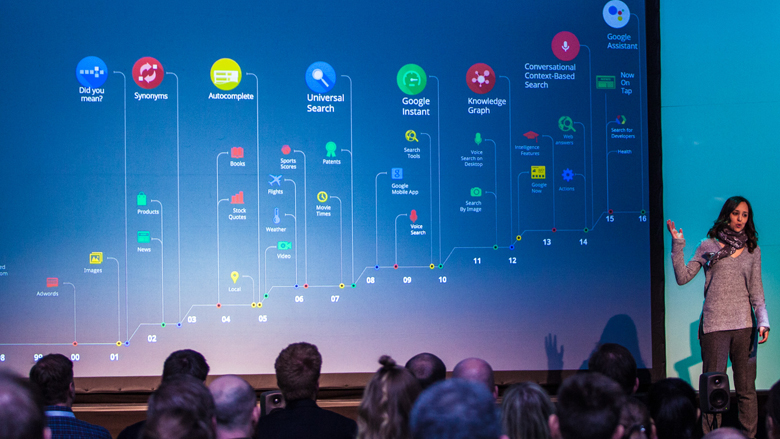 Today's world is focused increasingly on mobile and other interconnected devices. Assistant, for example, is launched on three surfaces: on Pixel, Google Allo and on Google Home. With its understanding of natural language, the Assistant works seamlessly across these surfaces with the voice as the primary form of input.
It is not enough, however, for the Assistant to simply understand what its users say. A conversational interface is a unique opportunity for the Assistant to use its understanding of natural language to talk back and engage with its users in a much richer dialogue. To do so, the Assistant should have knowledge of:
The world in general (e.g. What is the capital of Denmark?; Who played James Bond in Goldfinger?)
You and your world (e.g. When is my next meeting?; Who is my brother?; Show me my selfies)
Your current context (e.g. What's the weather like outside?)
As well as being informative, Google Assistant retains data that you have given it and adapts it your own personal needs (e.g. Google Assistant will remember if you are a vegetarian and therefore only bring up vegetarian options when you search for restaurants). On the whole, the experience should be a fun one.
Finding harmony through evolution
Remember the sound of the internet dialling up in the late 90s/early 2000s? Fast forward to 2016 and the web is a different place; in fact, 50% of the world's media is consumed on the Internet, the majority of which comes via mobile.
The number of Tweets, LinkedIn accounts created, hours of YouTube video, Amazon sales, Google searches, e-mails sent and received, have skyrocketed over the years. It generates a vast and exploding amount of data. The question is: how can we best use the insights that are being surfaced?
James van Thiel, Strategic Partnerships Director EMEA DoubleClick, Google revealed that harmony is the answer. Harmony of people, data and technology is the answer. How well do your teams use the technology you provide? How does data empower your colleagues to make the right decisions? Is data powering your technology to be more efficient and effective?
The diagram below illustrates the sweet spot of where data, people and technology meet. What we really need to be successful is the point in the middle: that's where marketing nirvana is.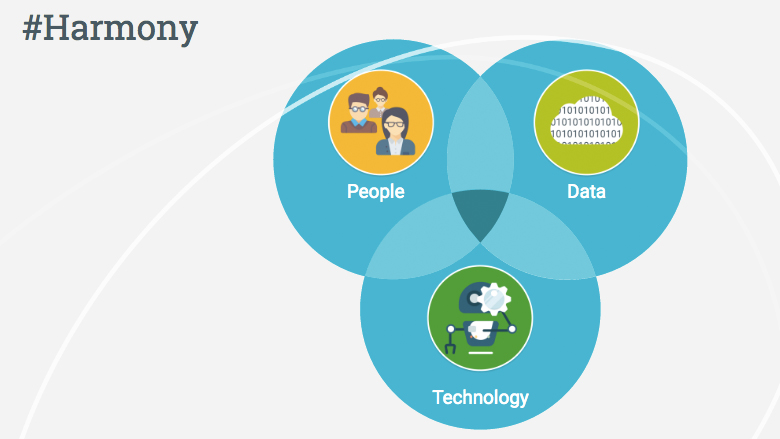 In-house organisation with DoubleClick's full stack solution
Dag Olav Knutsen, the Commercial Marketing Manager for Komplett Nordic, explained how Komplett build a new in-house organisation as an effect of taking on DoubleClick's full stack solution.
Choosing the right platform that covers all online media channels has helped in their centralisation, consequently breaking down the silos that they previously operated in across the Scandinavian markets. When it came to vetting platforms in their platform RFP, they used a rigid model looking at 12 different points of platform characteristics; DoubleClick was chosen thanks to media targeting, cross channel and measurement/attribution capabilities.
Dag Olav's advice for those who are considering bringing their operation in-house is to have patience, as the transformational impact pays off. You can find out more Komplett's DoubleClick experience in their case study.
Engaging audiences: Your consumers are more than a demographic
Katie Erbs, Google's Platforms Brand & Creative Solutions Lead in EMEA raised the issue that marketers have a wealth of data at their fingertips, enabling them to go far beyond traditional demographics used as proxies in traditional media buying.
Research shows that when you target for demographics alone, you risk missing out on a big share of your potential audience. This is because your consumers are more than a demographic and there are deeper layers to who we are besides age and gender.
How we live our lives on the web day-to-day that we generate signals. At Google we call these the 'I want to moments'; it's when consumers want to know, watch, find, or buy something and turn to the web that they reveal the most valuable signals.
Programmatic is the technology that helps both marketers, media and creatives to capitalise on all those data signals, in real-time, to communicate more effectively. It's in how you capture and activate data that will shift programmatic from just being about efficiency in marketing to being truly effective.
Making magic: Combining rich media creatives with the right data
Stig Martin Fiskå, Head of Innovation at digital media agency Keyteq, stressed the importance of combining a rich media creative with the right data. Such an approach resulted in the success of Møller Bil's Volkswagen campaign.
In this case, everything from first party to third party data was used together with a geographic connection to Google Maps in order to triangulate a prospective client. Affinities and the ability to use other car brands as a targeting starting point stresses how fluid and non-loyal many potential car buyers are in specific segments. Getting tech right is essential - users today expect a seamless user experience.
Let's make some banners. Creatively.
Display Advertising Director André Rood and Global Program Monk Mena Nadaraja from creative production agency MediaMonks shared three key trends around programmatic marketing with examples of how the agency has helped clients leverage these trends.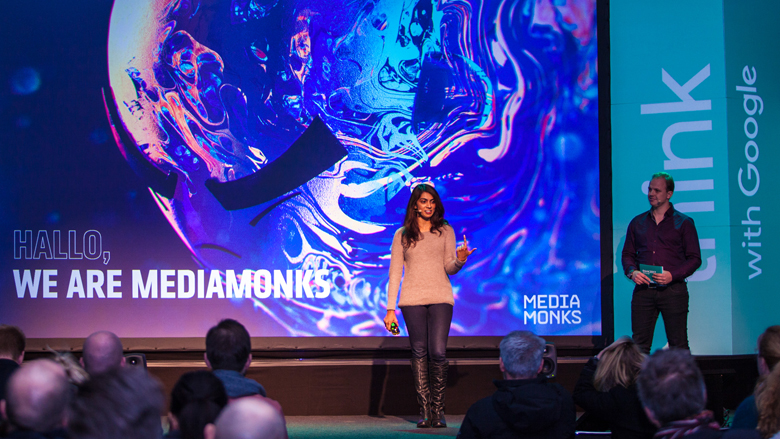 The trends that MediaMonks holds key are:
Marketing in the moment - MediaMonks found a creative solution for their customer Netflix. Based on audience data, they identified 12 universal formats. For each of them, they optimised the design and created dynamic content accordingly. As a result, each individual gets to see a banner with individualised content. To take it a step further, MediaMonks gave Netflix complete access to tweak and amend their copy and assets to reflect real-time events to stay constantly relevant.
Sweat the customer journey - For Google, MediaMonks developed a campaign around the Olympics in Rio that personalises the experience of anyone interacting with these banner. For every single sports at the Olympics, the agency created a mini-game that was playable on the web and on mobile phones. The mini-game led to a website offering detailed information about that specific sport, such as the best next game to watch. The site was personalised by cookie data in combination with programmatic data. In this way, the campaign was both tactical, relevant and personal, with each consumer determining the journey on which they would like to go on with the Rio Olympics.
Pile on creativity - Make banners that encourage engagement. For IKEA, the media agency developed the IKEA Passport Challenge. Using a banner as a call to action, Skype users were challenged via live video to find and show their passport within 30 seconds. If they were successful, they stood a chance of winning a holiday. If they couldn't find their passport, IKEA offered a free storage unit to help them get organised
Using measurement for growth
We are entering a world where artificial intelligence or machine learning, will help us make better decisions and free resources for strategic exploration, as Google's Performance Lead for Northern Europe, Erick Arnberg, explained.
This intelligence presents a unique opportunity for marketers to achieve user centric growth. Instead of blind marketing activities, machine learning can now guide us to achieve growth together with our consumers.
First, we start with intelligent measurement. We have all heard the buzz about attribution but have a difficult time understanding it. Machine learning now can use data to help marketers understand which are the most impactful touchpoints in their marketing activities.
Machine learning helps determine the ROI of an interaction. Once we understand the value, then we need to action upon it. This is perhaps the greatest barrier facing measurement and attribution - difficult actionability. Here too, machine learning can help us.
It can take in vast more data than a human possibly can, taking into account signals beyond what's available for manual actionability, and can help us make a decision, within a set of parameters that we provide.
The future is here. Artificial intelligence can help you achieve user-centric growth. Be sure to experiment, or you'll be left behind by those that define the future.
Data is Beautiful: Harnessing the power of visualisation to surface insight, pattern and stories from numbers
Data Journalist and Information Designer David McCandless demonstrated how visualisation helps us to understand information and put it in the right perspective.
Just one data point on its own doesn't mean that much; you need to see it in context with other data before you can draw conclusions. Visualising data allows you to literally see that context - the connections, the contrasts, the hidden relationships - between data points, which in turn enables you to make meaning out of numbers.
Data is not just the new oil - a new kind of fuel to power our businesses - but also the new soil: a new kind of material that we can dig through to find insight. Working with big data is all about gathering, handling, structuring and examining this soil to find the insight that matters - and then delivering that insight back into our organisations and teams.
Using data requires new kinds of skills. One way to learn is to allow yourself to play with data. Be open-ended, curious, experimental, courageous with your data. You might be surprised by the results!