Search is a key online marketing channel for businesses. It allows you to target your customers by intent and tap into the I-want-to-know, I-want-to-go, I-want-to-buy, and I-want-to-do moments that are happening all the time as people search for information and solutions to their needs.
When advertising on Search, one of the key challenges for advertisers is maximising presence (impression share) for all relevant (high value or potential) searches. This article will introduce and outline the basic pillars of the Search 2.0 methodology, which aims to provide you with a simple Search campaign setup and optimization guide to help you tackle this challenge in a clear and consistent way.
The focus in this article will be on keyword-based Search advertising, which oftentimes forms the centerpiece of Search advertising strategies. This guide is not intended as the only or single best way of doing Search Ads. Rather, the methodology is presented to offer you a sounding board and companion when thinking about how you work with Search Ads.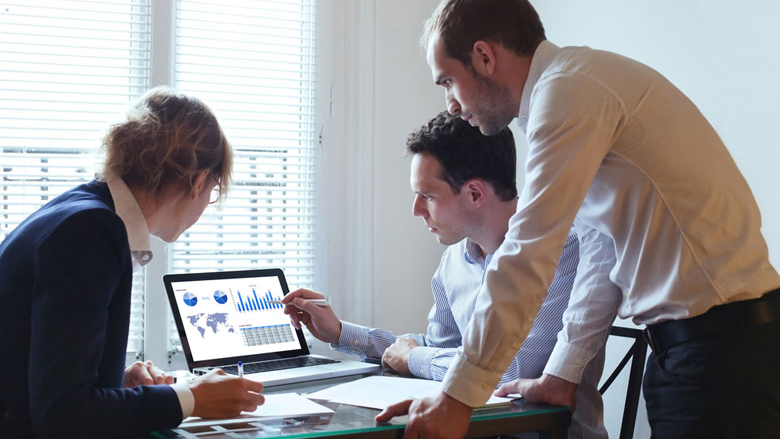 Search 2.0 can help you save time, be systematic and maximize your control over your Search Ads. It aims to make sure you are well positioned to understand how to get the best return on investment (ROI) from Search advertising with AdWords. Search 2.0 is relevant for you whether or not you are a beginner or an advanced user. It can be used on new and existing AdWords accounts. Overall, the methodology allows you to keep things as simple or as scientific as you wish. You can match it to your need and use it to align your Search Ads with your business goals and ultimately drive growth.
The Search 2.0 Methodology
The Search 2.0 methodology is a three-step approach for creating an AdWords account structure where every relevant and high performing query matches with an exact match keyword in the account. Structuring your AdWords account in this way (i.e. where each performing keyword has its own Exact Match ad group) will help to give you control of all key optimization levers that impact your ad's visibility (i.e. Ad Rank) including budget, bids, ad copy, and landing pages at the search query / keyword-level.
Tip: Find out more about the importance of Ad Rank here.
The main reason to use one keyword in each Exact Match ad group is to control the relationship between query, keyword and ad headline to maximize ad relevance. This level of granularity will on one hand help you understand how valuable the market for a given search query is for your business. On the other, it allows you to start designing great customer experiences and purchase journeys based on data. These will allow you to grow your competitiveness and ROI in all business critical keyword auctions.
The next section outlines the three steps that are repeated until the desired AdWords account structure is in place.
Step 1 - Campaign Map
The goal of the first step is to map out which campaigns should exist in the account. The mapping process has keywords related to your business at heart. It is important to note that keywords are not born equal and have a strategic nature (e.g. branded keywords are usually closer to the purchase decision than generic keywords) that needs to be considered when structuring your account. In step 1 you therefore differentiate between three keyword types by structuring campaigns into these three types:
Own Brand: All accounts should include a search campaign with your own brand to make sure you have the possibility to control your message at all times. This campaign will include all keywords related to your brand.
Brands: If you sell brands that are not your own, each brand should have its own search campaign. These campaigns will include all keywords related to that brand.
Categories: To show up on generic queries (e.g tables or chairs) each category should have its own search campaign. These campaigns will include all non-brand keywords in that category.
Step 2 - Campaign Build
The goal of the second step is to implement the Campaign Map in the AdWords account. Search 2.0 campaigns follow a strict structure where each ad group contains one keyword. Search 2.0 by default uses Broad Match Modifier (BMM) keywords and Exact Match keywords. BMM keywords are used to research business-critical search queries that warrant their own Exact Match keyword in its Exact Match ad group. For each campaign this means that you start out with two ad groups, one BMM and one Exact Match ad group.
Tip: Read more about Keyword Match Types here.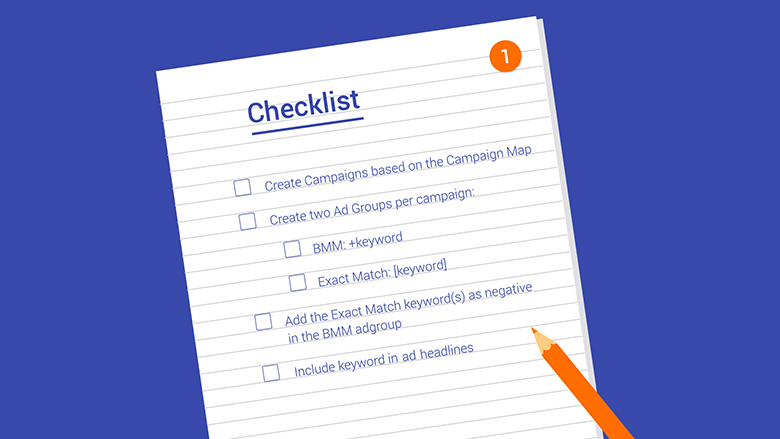 Below is an illustration of what each Search 2.0 campaign looks like for the fictional company Furniture House in:
The Keywords tab: Name ad group after keyword.
The Ads tab: Include keyword in ad headline.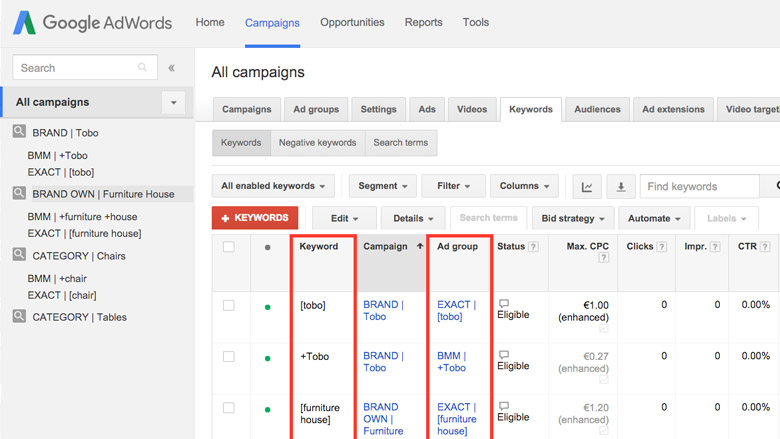 Ads tab: Include Keyword in ad headline (see image below).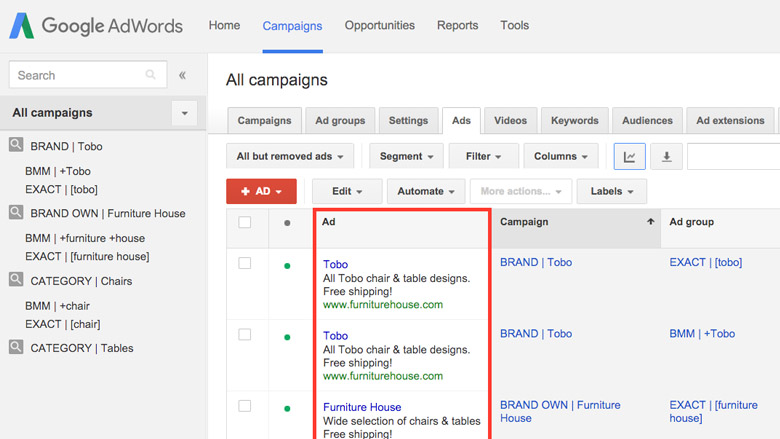 Tip: Use AdWords Editor to create Search 2.0 campaigns in bulk.
Step 3 - Campaign Optimization
The goal of the third step is to analyse campaign performance data to determine what to adjust, remove or add into the existing Campaign Map. Campaign Optimization should be based on a consistent, data-driven way of optimizing the account against a goal. To be ROI-driven it is important to make sure you are tracking actions on your website/webshop that have a monetary value for your business.
Moreover, it is important to understand that each keyword plays a different role in the customer journey and therefore should be evaluated based on its role. For example, keywords in a brand campaign and a category campaign would most likely have different ROI metrics and targets. The role will be different depending on each individual business.
Tip: In order to best evaluate the success of your ads, make sure you are using Google Analytics and AdWords Converstion Tracking.
Each Search 2.0 campaign optimization starts with having a clear performance metric(s) and target(s) by campaign type (own brand, brand, category). Based on these you systematically identify the keywords that deserve their own ad group.
The assessment takes place in the Search terms report. You would identify queries that trigger keywords in the BMM ad group that are performing and therefore deserve their own exact match ad group.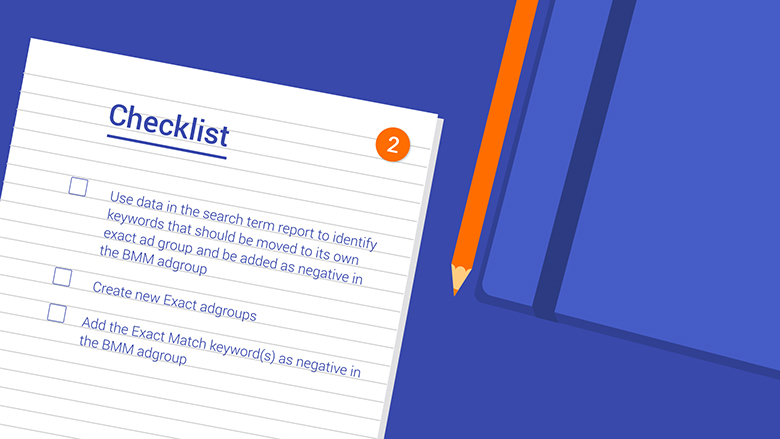 Repeat Steps 1-3 until Desired Output is achieved
The end goal or Desired Output of Search 2.0 is a highly performing, business-driving AdWords account where you will have maximal control over all the key optimization levers to achieve and maintain your competitiveness across business-critical keyword auctions.
Campaign Comparison: Pre & Post Campaign Optimization (outlined below - only for illustrative purposes)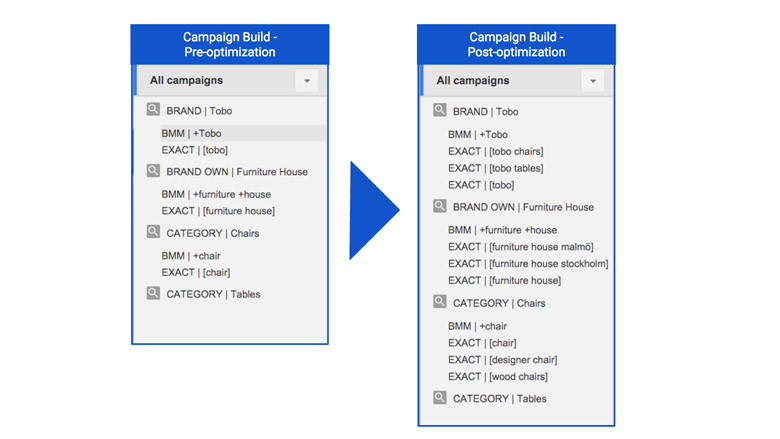 Summary
Search 2.0 can help you save time, be systematic and maximize your control to make sure you are well positioned to understand how to get the best return on investment (ROI) from Search advertising with AdWords. It will help you tackle the challenge of figuring out how valuable the markets behind each relevant keyword are and how to maximize your presence in those markets in a clear and consistent way.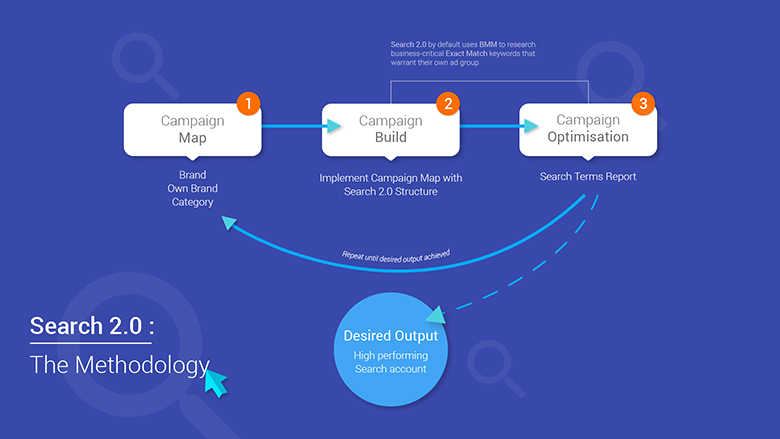 How to get started?
Follow the three-step Search 2.0 methodology to:
Make a test on 1-3 campaigns (own brand, brand and/or category)
Evaluate short term results against relevant metrics after 1-2 Weeks
Launch for additional brands and/or categories that are key for your business
Evaluate and continuously optimize your Search 2.0 campaigns
Good luck - and have fun!