fakta is part of the largest grocery chain in Denmark. When the company discovered public perception of the brand could be improved, it decided to launch a rebranding initiative to emphasise its positive attributes.
THE GOALS
Change customer perception
Bring back humour to brand's advertising
Increase footfall and sales
Reach younger audiences with an appealing alternative to traditional advertising and doordrops
THE APPROACH
Created content using hidden in-store camera footage
Ran YouTube TrueView campaign
THE RESULTS
Videos vastly outperformed YouTube benchmark for Danish retail
One video achieved 30% view-through rate
Campaign delivered more than one million impressions and 280,000 full views
Fakta wanted to position itself as nice, approachable, easy going and quality minded. While the primary goal was to change customer perception, the brand also wanted to reintroduce the humorous angle to its advertising that was once its hallmark, as well as increase sales and reach a younger audience.
Candid cameras tell a fun story
To kick-start the rebranding initiative, fakta made two videos using hidden cameras within shops. Initially, the team envisaged the campaign would run only on television. However, YouTube emerged as an extremely efficient option offering very broad reach and rich insights into customers' perception. Also, TrueView campaigns are longer lived than TV campaigns because videos can be watched at any time on the fakta brand channel.
Positive results push YouTube to the fore
The results were enormously positive with both videos vastly outperforming the YouTube benchmark for Danish retail. For example, the first video achieved a view-through rate of 30%. Overall the campaign delivered more than one million impressions and 280,000 views.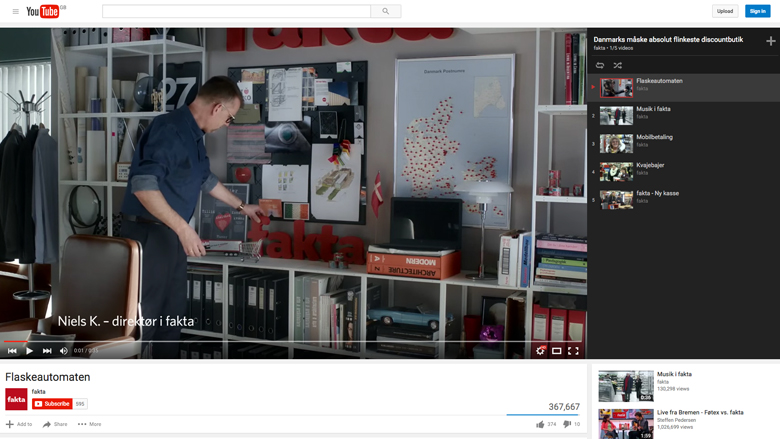 According to Niels Karstensen, CEO at fakta, the work illustrates the value of great content and has really demonstrated the power of YouTube to the rest of the organisation. "When things go well together, they work better," he explains. "We believe that you shouldn't just use one channel strategy; we believe that all channels can support each other. We try to think holistically and we believe you should reach people at different times when they are in different buying modes to make sure we are always top of mind."
Based on the learnings from the campaign, the brand has already created a new set of videos tailored to YouTube. "Now when we plan our campaigns, we always include YouTube in the initial creative process to make sure we end up with videos cut specifically for YouTube. The platform is great for storytelling and ideal for videos that do more than just show discounts or offers." Going forward, the plan is to include remarketing in the new YouTube spots because fakta has now identified a large group of people who enjoy the brand's content.
"I am happy to see that the idea, the humor and the opportunity to use a large variety of formats has been performing so well on YouTube," says Lars Samuelsen, Chief Strategy Officer & Head of Digital at creative agency UncleGrey. "TV formats are expensive and this is often a limitation, so the really great campaigns in this type of format will often be digital."
He points to a range of benefits YouTube offers to advertisers, including segmentation and the ability to foster a direct dialogue with consumers. "The option to try out stuff on YouTube is also great. This is something we can't really do on TV or other traditional analogue media and get immediate response. In this way, YouTube is more like a playground. If we can learn how to use the tools available for YouTube, I believe that it potentially can become a stronger branding platform than TV."