Pure Blonde by Jupiler is Belgium's first low-cal beer aimed at people with an active lifestyle. AB InBev was determined to use audience insights to reach and engage at scale across the customer journey.
Fitness enthusiasts drinking beer: quite the paradox, but a challenge that the world's largest brewery wanted to put to the test. Anheuser-Busch InBev had an exciting new product they wanted to launch in the Belgian market: Pure Blonde by Jupiler, a low-calorie pilsner. They were determined to match the innovative product with a pioneering approach to the launch campaign. Here's how they did it.
Understanding the customer
Media company Vizeum carried out research that helped the brewery source information and insights into the behavioural patterns of active consumers. A proprietary CCS survey of 5,000 people laid the groundwork for an audience-first approach that would go beyond traditional socio-demographic targeting.
AB InBev understood that data was key for understanding who their customers were, and where and when they could reach them. As Arnaud Hanset, Marketing Director at AB InBev, explains: "Data is the baseline for better creative. When we know who we're talking to the conversation is more meaningful, the same logic applies to online campaigns. Understanding an audience makes for better interaction."
The research revealed that the core audience were sporty men and women between 35 and 54 years old, who enjoy working out and going out — busy people who liked to award their efforts with a guilt-free beer. This demographic also tend to ignore ads, so the brewery decided it would have to put relevance at the heart of its strategy.
Personalised content at scale
Digital agency Isobar created twenty unique, six-second Bumper ads. These were tailored to twenty specific target groups, encompassing five sports (running, cycling, fitness, crossfit and yoga), in two languages and for two genders. The team matched these sports to online behaviour and served personalised creative at scale to precise audience segments.
The range of simple, short and straight-to-the-point videos were hyper-targeted based on a viewer's interest in a certain topic. This would position Pure Blonde as an extremely relevant product aligned with viewer individual interests, goals and lifestyles.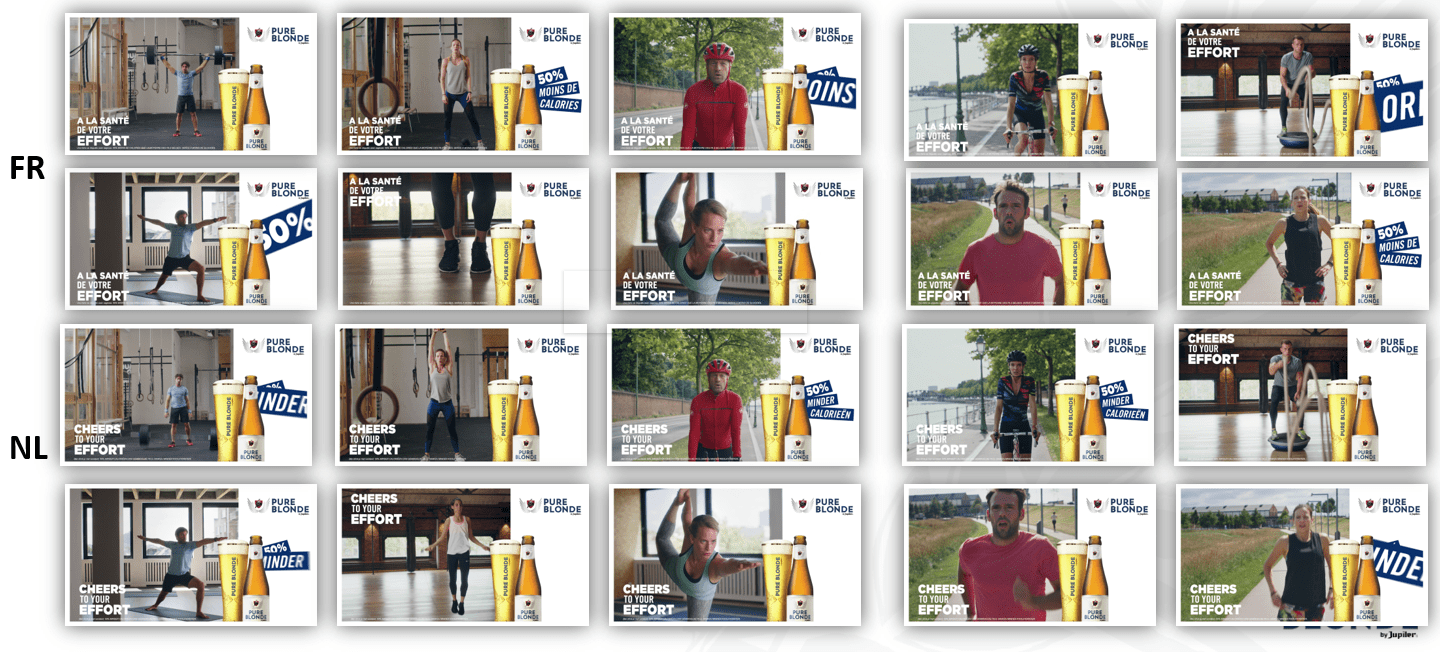 Women watching "how to run training intervals" would be served the Pure Blonde ad featuring a female runner. A man interested in "crossfit" would see an ad with a male lifting weights in a crossfit gym. A woman watching yoga-related channels in French would watch a female striking a yoga pose. The tagline "Cheers for your effort" would appear in the most relevant language for each individual viewer. 
Cheer-worthy results
Thanks to the valuable data and insights, the right creative was able to be served to the right people at the right time and, crucially, in the right context. This allowed the brewery to successfully tap into the personalisation power of digital to build affinity based reach and convey relevant messages to the different smaller target groups within its total target group. The individual nature and relevance of the adverts meant that Pure Blonde was able to engage consumers who had traditionally ignored and even avoided ads.
"Customers today expect highly personalised experiences. The challenge for marketers is delivering this at scale," Sabrina van Cutsem, Vizeum's Managing Director, explains.
By segmenting its target audience and serving personalised content at scale, Pure Blonde was able to achieve incredible results, with the campaign driving a record 32% consideration uplift. But even more impressive was the impact on brand awareness. Out of more than 450 Brand Lift studies on YouTube, the Pure Blonde by Jupiler campaign reached an all-time record with an awareness uplift of 53%. These results were particularly felt in sales during August 2018 as Pure Blonde saw a 101% sales uplift compared to June, with volume more than doubling during the summer months.